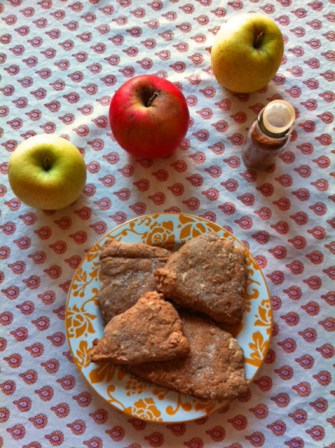 And here we go. I really really really hope you like apples because I went apple picking this weekend with some friends. Between me and my three roommates, we brought back pounds of apples so the apple recipes will be pouring out over the next few weeks. I took loads of pictures at the orchard on Saturday but I'll do another post about that in a few days (because we all know I'll have made more apple goodness things by then anyways) and I wanna talk about where I got this recipe in this post.
So I don't know if you  have ever been to Bloomington, Indiana but there is this non-profit bookstore called 'Boxcar Books' that is the mecca of independent writing (Boxcar Books) and a great place to browse when looking for some inspiration. It's an old house transformed into rooms of independently published books and magazines and articles and zines and it's sooooo good.
Anyways, it was 65 and sunny yesterday (woah, I thought it was October?) so we went on a nice walk downtown after dinner and ended up browsing at Boxcar. You may or may not have known this but I am a consumerist at it's finest; I like to consider myself a vintage expert but most would consider my Goodwill and garage sale splurges as a sign of hoarding. Anyways, I found a few jewels last night and one was this adorable little European zine about Vegan cooking (go figure). This zine is called 'The Cake Scoffer' and it's tag line is 'Cheap n Easy Vegan cooking'. The thing that really sold me on this was that all the recipes have hand drawn animals making these baked goods which is just too adorable to pass up (I'll add a picture of the zine later so you can get a better grasp of what I am talking about).
Anyways, as I mentioned this is a EUROPEAN zine soooooo the measurements are in ounces instead of cups! Oh coooool! What a nice small challenge for a super simple recipe!  Okay, so I kept the recipe in ounces and I promise it's not as hard as you'd think (if nothing else then just use liquid measuring cups for everything since they always have ounces on them anywayyys).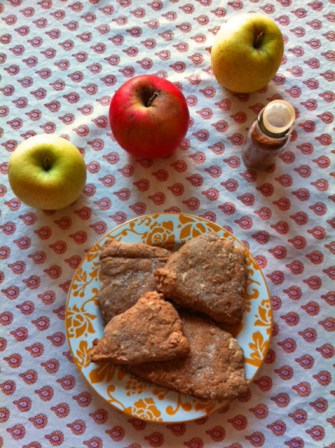 Also, these cookies were called scones in the zine but honestly they are too soft for me to bring myself to call them this. Feel free to eat them for breakfast or with your coffee to pretend like they are scones. I made mine triangles (kinda) since I thought they'd be scone like but you can just make them into yummy circle cookies
Cinnamon Apple Cookies
5 oz of all purpose flour
5 oz of whole wheat flour
1 oz of soy milk powder
1 1/2 tablespoons cinnamon
dash of nutmeg
2 teaspoons of baking powder
2 oz of sugar
1/4 teaspoon of salt
4 oz of Earth Balance
1 tart apple, grated (but not peeled! Get rid of the core though. yuck!)
1/4 cup of cold water
Preheat oven to 425 degrees (Ronny refers to this as gas mark 7, weirdo European).
Combine the flours, soymilk powder, cinnamon, nutmeg, baking powder, sugar, and salt in a bowl. Cut in the Earth Balance (honestly just use your hands because it'll get the job done so much faster…in fact, get a volunteer that wants to eat the end product to do the dirty work by sticking their hands in it). Next, mix the grated apple and slowly add a splash of water into the mixture until it forms a ball and all sticks together.
Roll into 12 seperate balls and put on a greased baking sheet.
Cook for 15 to 20 minutes.
Sprinkle with sugar.
Share with your hand helper.