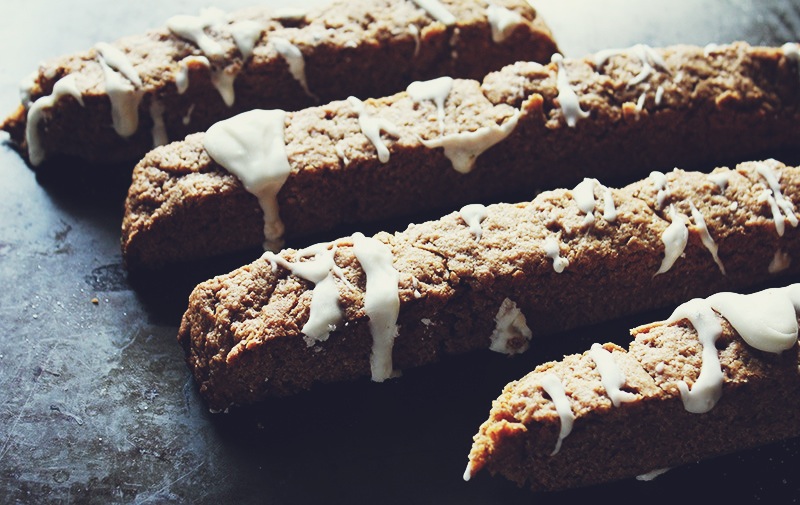 Vegan Gingerbread Biscotti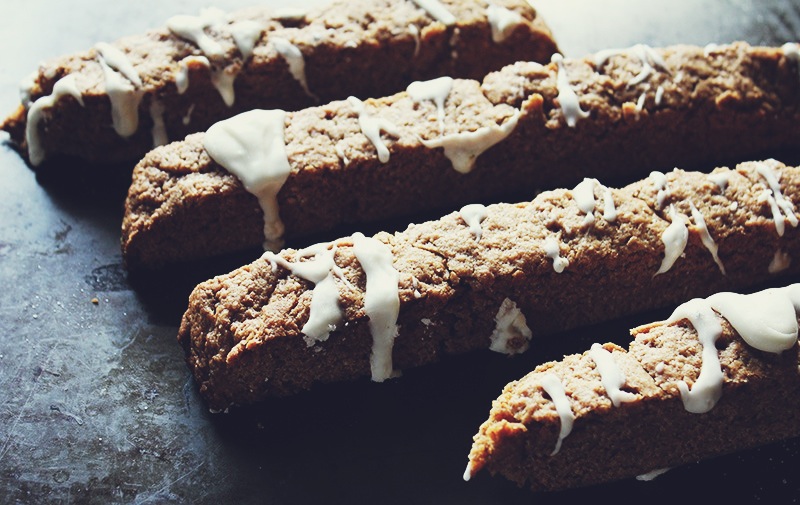 And its time to push on with the holiday baking! Yesterday I posted about those beautiful candied orange peels and last week there was the Peppermint Dipped Brown Butter Shortbread cookies…and now I'm here again with some biscotti! Are you sick of all the sugar yet? Yeah, me neither!
This is a perfect accompaniment to your morning cup of coffee [or tea] for you to enjoy on your lazy holiday mornings. They are firm but soften up beautifully when dunked in a big cup of coffee and give a wonderful gingerbread flavor tint to your cup of joe! I topped my biscotti with frosting since I had just made some for sugar cookies but feel free to drizzle with chocolate or caramel or whatever you are feeling!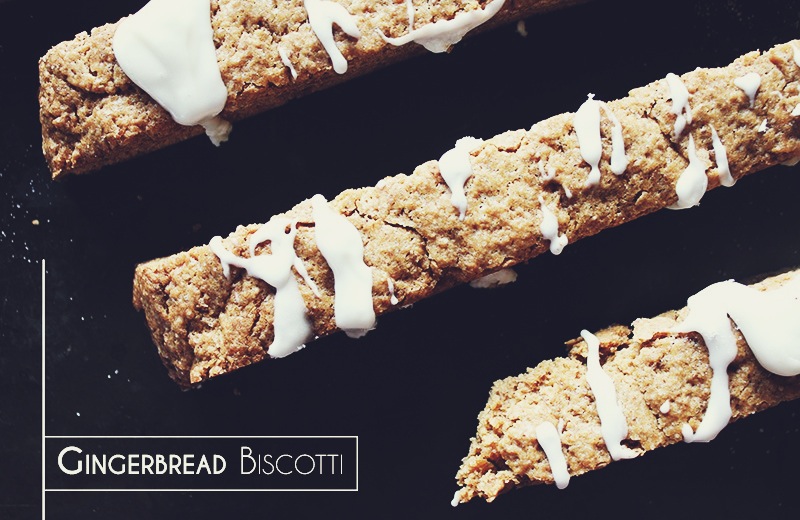 Vegan Gingerbread Biscotti
1/4 cup molasses
2/3 cup sugar
2 Tablespoons ground flaxseed
1/2 cup coconut oil
4 Tablespoons of unsweetened almond milk
1 teaspoon vanilla extract (I used my homemade stuff)
1 3/4 cup of flour
2 teaspoons ginger
1 teaspoon cinnamon
1/2 teaspoon nutmeg
1 1/2 teaspoons baking powder
1/2 teaspoon salt
Preheat oven to 350 degrees and grease a baking sheet.
In a large mixing bowl, whisk together the molasses, sugar, flaxseed, coconut oil, and vanilla extract. In a separate bowl, combine the flour, cinnamon, nutmeg, baking powder, and salt. Pour the dry ingredients into wet and stir until combined and crumbly. Finally, add in a the milk a tablespoon at a time until the dough comes together (you want to keep the dough on the dry side so you may not use all 4 tablespoons).
Roll the dough out into a 11 inch by 4 inch long and place on greased cooking sheet. Cook for 30 minutes or until the edges just start to brown. Remove from oven and let cook for an hour.
Reheat oven to 325 degrees and use a sharp knife to cut diagonal strips into the biscotti log. Turn the pieces so that the inside part is facing up (this will help dry out the middle) and stick back in the oven for  20 minutes. Let cool completely to reach that desired crispiness.