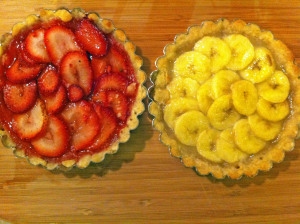 These things are really freaking adorable. Miniature pies that you get to hog all to yourself? Genius! And they are vegan and guilt freeee!
I recently received Isa's new 'Pie in the Sky' cookbook (Vegan Pie in the Sky) and immediately, like a little kid with a new toy, wanted to make everything in it. I restrained for many weeks (having 2 jobs and going to school really cuts into my free time and I didn't want to half ass these recipes) I finally decided last week that I was going to tackle one of them. The fruit I had on hand was strawberries so I settled for the Strawberries and cream because anything with coconut milk in it is a winner in my book. Of course, half assing began when I was suppose to put the coconut milk in the fridge for 8 hours before hand (Hellllooooo freezer!) so feel free to stick yours in the freezer for  half an hour or so if you don't think of it 8 hours in advance (mine turned out fine anyways).
I associate making crusts with making bread and assume it's super time consuming but that is a ridiculous myth that my mind seems to have made up. This crust was so simple and vegan and oh so yummy. Don't feel intimidated and go go go for it! Also, this recipe is done in steps (separated by each part of the pie: crust, filling, and cream) so take it step by step and you'll be fine
And lastly, I didn't have enough strawberries on hand so I substituted bananas for one of the pies which was delicious. I highly recommend experimenting as well. Bananas n' cream. Peaches n' cream. Pears n' cream! Get creative! Something great about using miniature pies is you can mix and match whatever.
Strawberries and Cream Tartlets
For the Crust:
1 1/2 cups all purpose flour
1/3 cup confectioner's sugar
1/8 teaspoon salt
3/4 cup Earth Balance
Prepare to get messy!
In a large mixing bowl, combine the flour, sugar, and salt. Add the Earth Balance in chunks and then use your (clean! hands and mix it all together so it creates a dough.
Divide the dough into five parts and use one for each miniature tartlet tray. Press the dough firmly into the pans and on the side. Use a fork to poke (plenty!) of holes all through the dough so that it doesn't puff while cooking.
Stick in the freezer for a half an hour or until frozen (this is the part you where you switch to preparing the inside while it freezes- like cutting the strawberries!).
For the Filling:
4 cups of strawberries, sliced thin and evenly (this is where I used less and substituted bananas!)
2 1/2 Tablespoons starch (potato starch, corn starch, etc)
1 Tablespoon fresh lemon juice
1/3 cup sugar
Preheat oven to 375.
Mix together all of the filling ingredients. Let set for a few minutes so a syrup can form. Pull the crust from the freezer and bake for ten minutes.
Once done baking, line the insides of the tartlets with strawberries and then pour the syrup over the top. Bake for 25 minutes.
Prepare the cream while it's baking for the last ten minutes.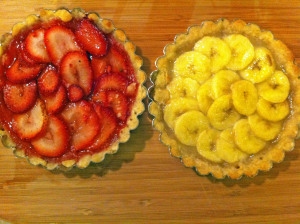 (before cream is put on top)
For the cream:
1 cup coconut milk
1/2 cup confectioner's sugar
dash of vanilla extract
Blend together with a mixer until light and fluffy.
Once the pies are done baking, top with cream (pour over the whole thing so they get in the cracks of the strawberries) and let sit for a few minutes and blend.
Munch down. Be selfish and eat it all for yourself. Share the other ones with your friends after you've had your fill.
Done. Pie Yumminess.