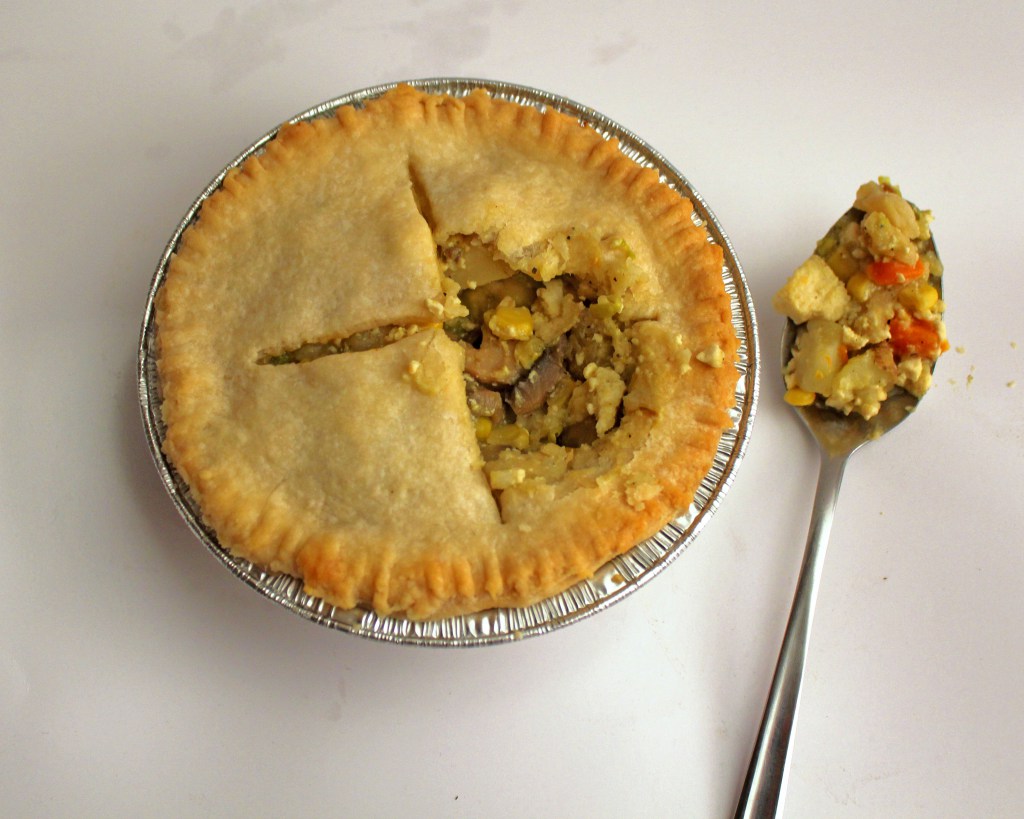 Veggie and Tofu Pot Pie
Well, after enjoying 40 and 50 degree weather for all of November and December, the winter is finally here and we are officially in the jittery January months with 20's and below temperatures. This means the excitment of wearing layers of sweaters and scarves has worn off and my day dreams are wondering to Florida beaches and porch nights. The only thing I am still excited for this winter is cooking winter things…you know, stews, chili, warm biscuits. And the time as finally come for me to stop denying that it is winter and start cooking.
So I started off my acceptance of January by whipping up some tofu pot pies. I made it a personal goal to make pot pies after eating Bloomingfood's tofu pot pies at the farmers market over the summer. I also waited five months to actually make them because I had hoped to have stolen the Bloomingfood's recipe by now but it seems that they keep those recipes on lock down and I am too much of a wimp to go snooping. Anyways, I decided it was time to make my own recipe and stop day dreaming about theirs. And it was honestly just as good (if not better- if you ask me!).
Anyways, so about the recipe: feel free to substitute whatever veggies you have on hand (because that is what I obviously did! I mixed canned, fresh, and frozen so do whatever you're feeling). Also, I made the filling in the morning and stuck it in the fridge (because I've been working at the record label in the afternoons) so that when I got home for work all i had to do was whip up the crust and pop them in the oven. Yeah, the point of me telling you this is to let you know that you can make the filling ahead of time. Yup. Oh, and I made 6 mini pies with this recipe and froze 3 of them (but feel free to make pie size pot pies- I'd just recommend cutting the crust down).
Veggie and Tofu Pot Pie
Filling:
1 large onion, diced
1 Tablespoon olive oil
1 large potato, cubed
1 carrot, cubed
1 can peas
1 can corn
1 small can of mushrooms
1 package tofu, drained and cubed
3 garlic cloves
2 bay leaves
1 1/2 cup vegetable broth
Crust:
4 cups all purpose flour
2 teaspoons salt
1 1/3 cup shorting
1 cup water
For the Filling:
Warm the olive oil in a large pot over medium heat. Add onions and saute until they become translucent (and start to have that amazing aroma smell. you know what I'm talking about!). Next, add the vegetable broth and cubed potato and cook for five minute. Finally, add everything else that is in the filling and cook, covered, for 30 minutes. Make sure to check it after 20 minutes and if it seems dry then add a bit more water. After 30 minutes, remove from heat, take out the bay leaves, and set aside while you prepare the yummy crust!
For the crust:
Preheat oven to 425 degrees. Mix the flour, salt, and shortening in a mixing bowl with your hands or a pastry blender (I obviously used my hands because I'm a college student and things like 'pastry blenders' don't exist to me yet). Next, add the water in parts to achieve the right dough consistency.
Divide the dough into six parts (if you're making miniature pies- otherwise divide it in half). Using a rolling pin, roll the dough ball until they are long enough to fit into your pie pan. Layer the pie dough, filling, and then top with another layer of dough. Press the edges with a fork and cut a few slits in the top dough so that the filling can breath (yes, it needs oxygen too!) while cooking. Repeat with the rest of your dough and filling.
Cook for 20 to 3o minutes or until the tops have browned.
Serve warm while staying cozy and warm under a blanket with your kitty.