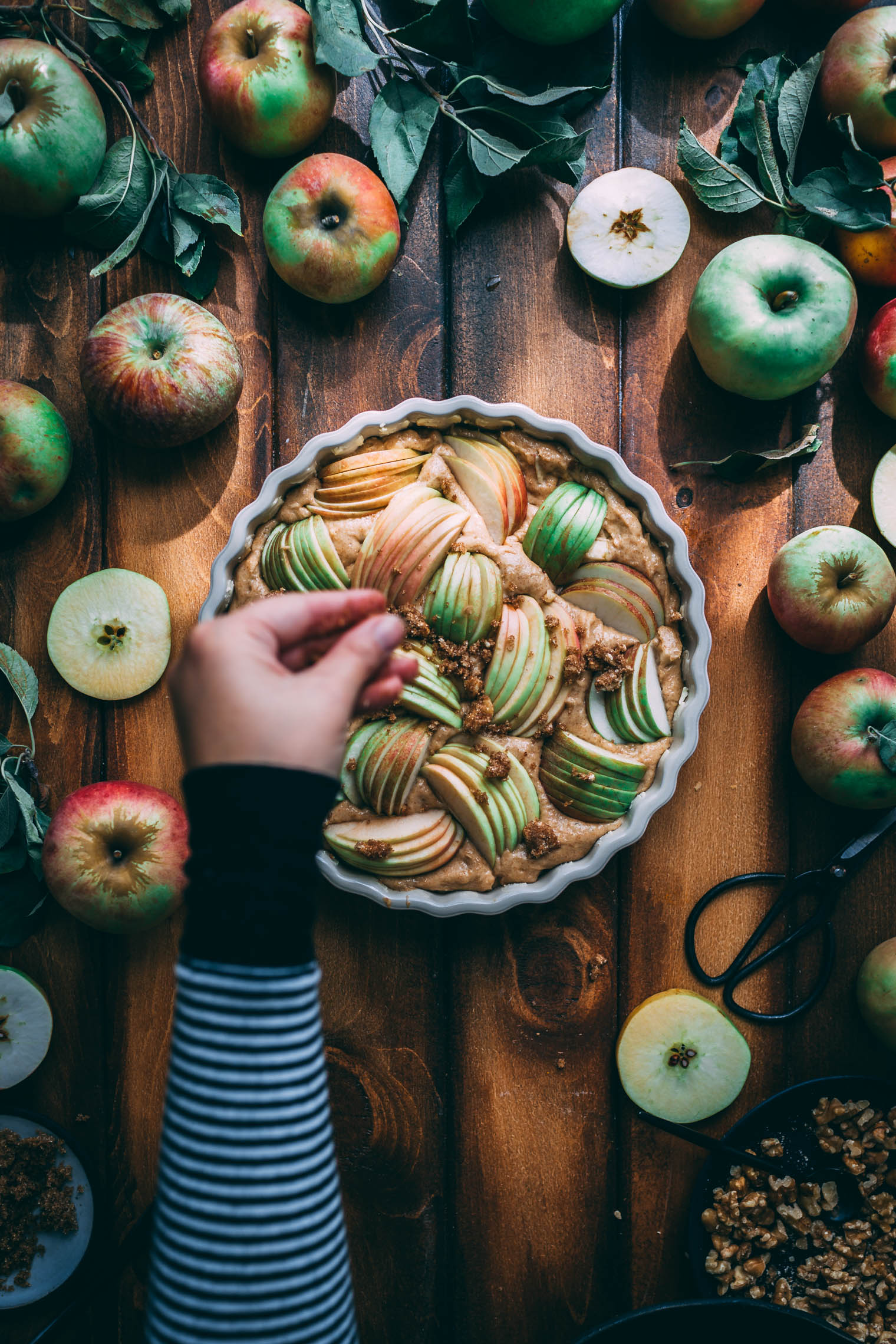 Apple Walnut Yogurt Coffee Cake
In a hurry? Click here to JUMP TO RECIPE!
This Apple Walnut Yogurt Coffee Cake recipe is the perfect fall sweet breakfast or afternoon snack. Serve it with a cup of coffee or peppermint tea.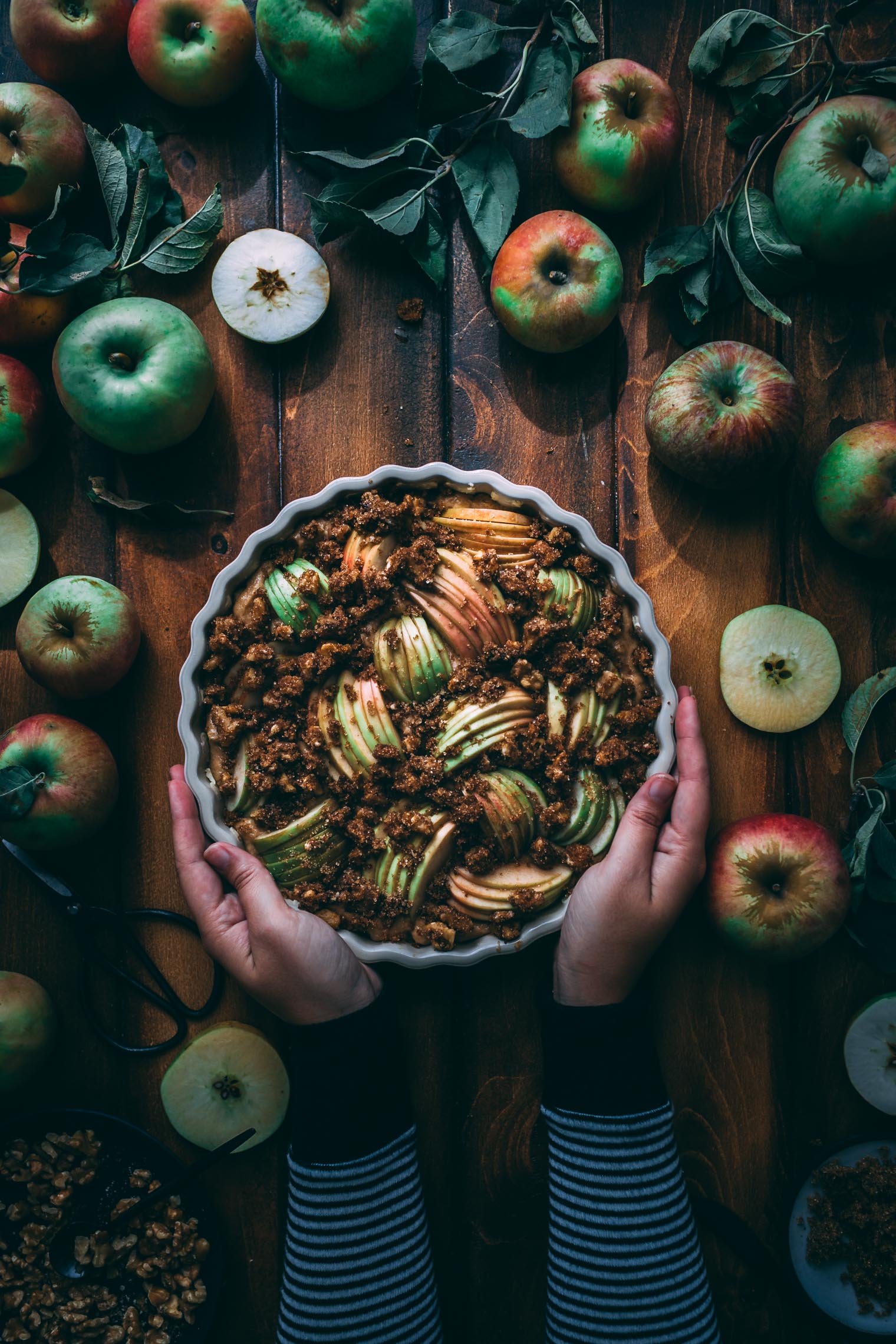 Picture this: windows open with a breeze gently pushing in the curtains, dressed in a flannel half buttoned up and cozy leggings, the scent of apples and cinnamon wafting through the house, and blues tunes coming from the house speakers. This, to me, is fall. The shortening of the days is our reminder to slow down and cozy up in the house. And what better way to relax than to whip up this effortless apple walnut coffee cake?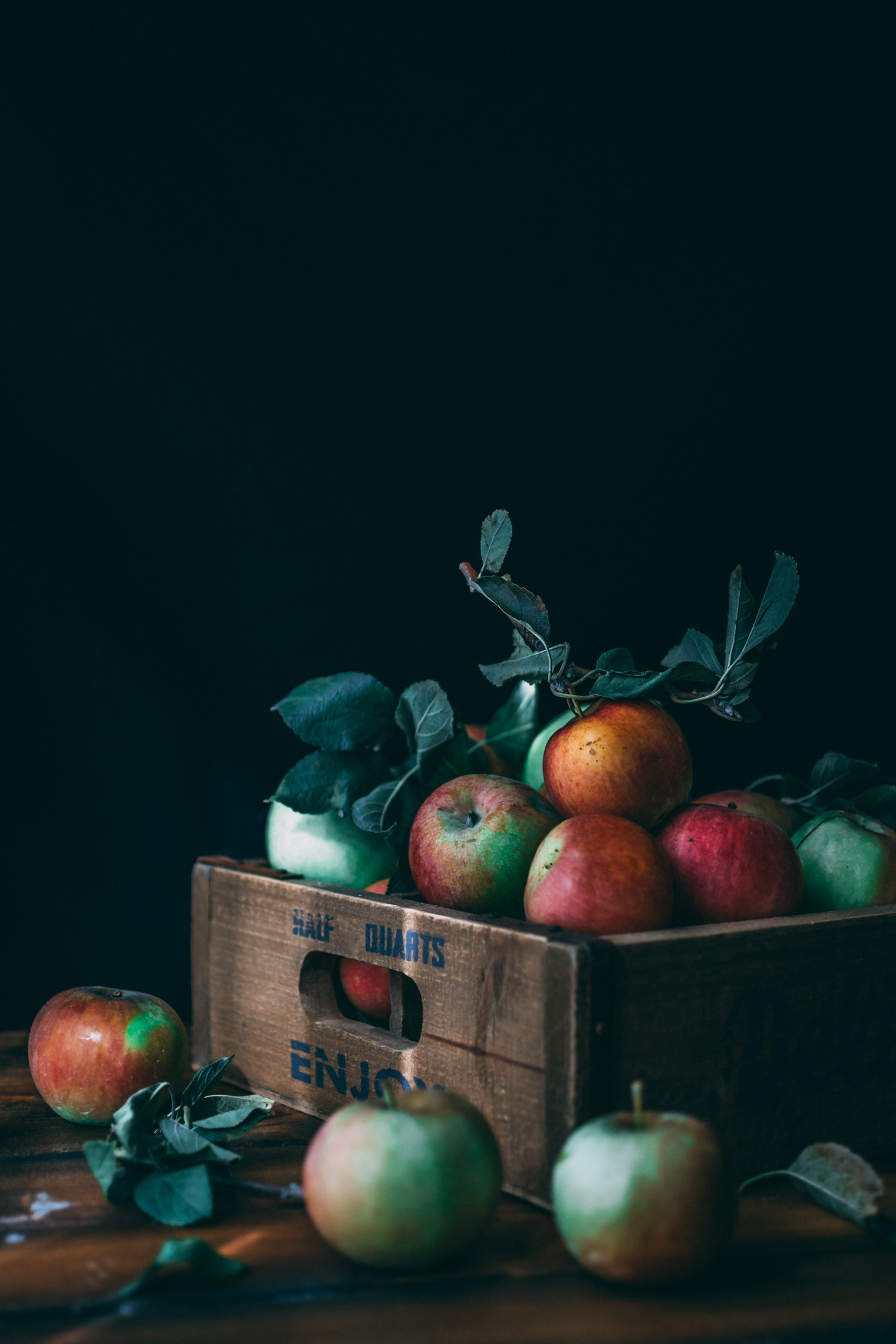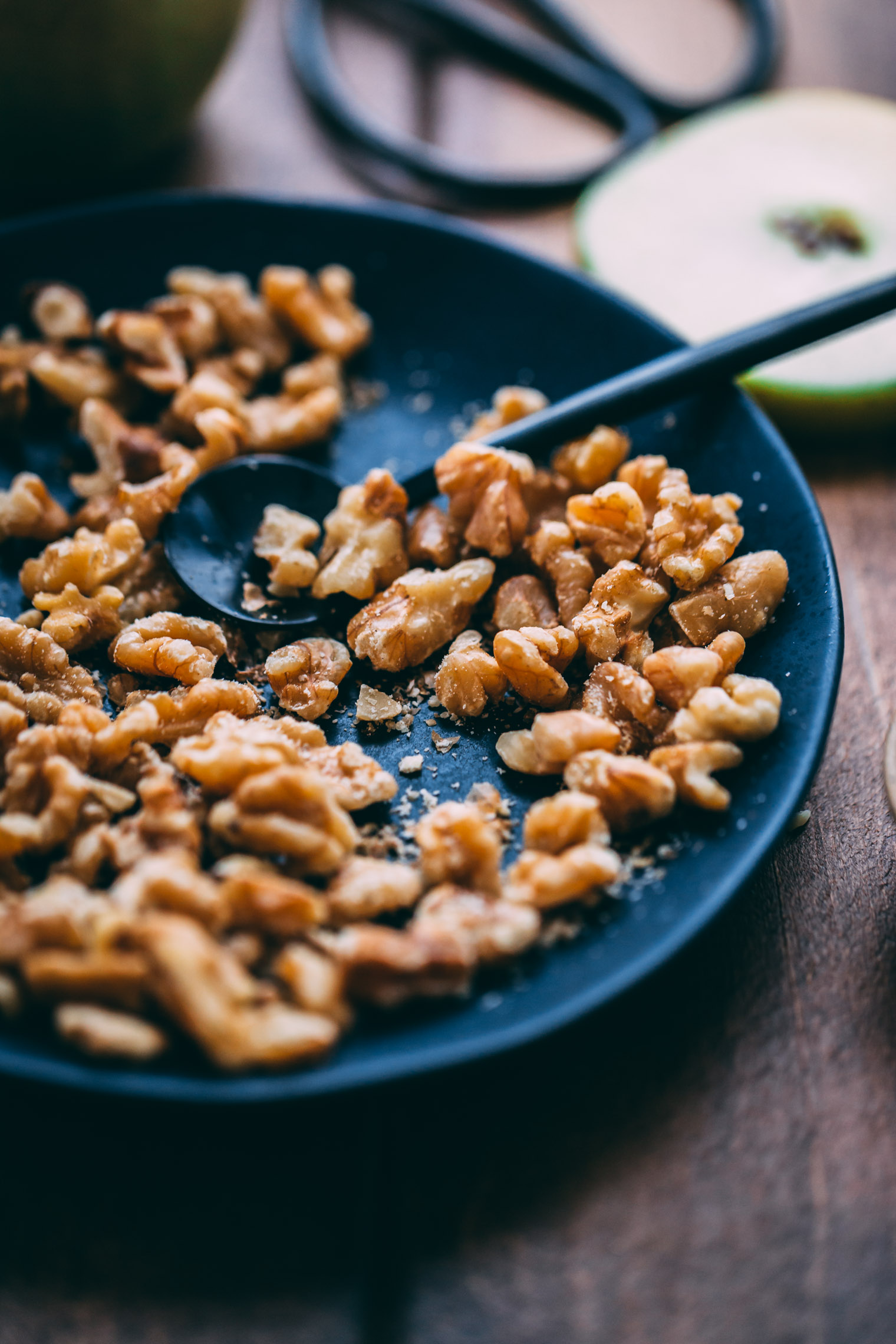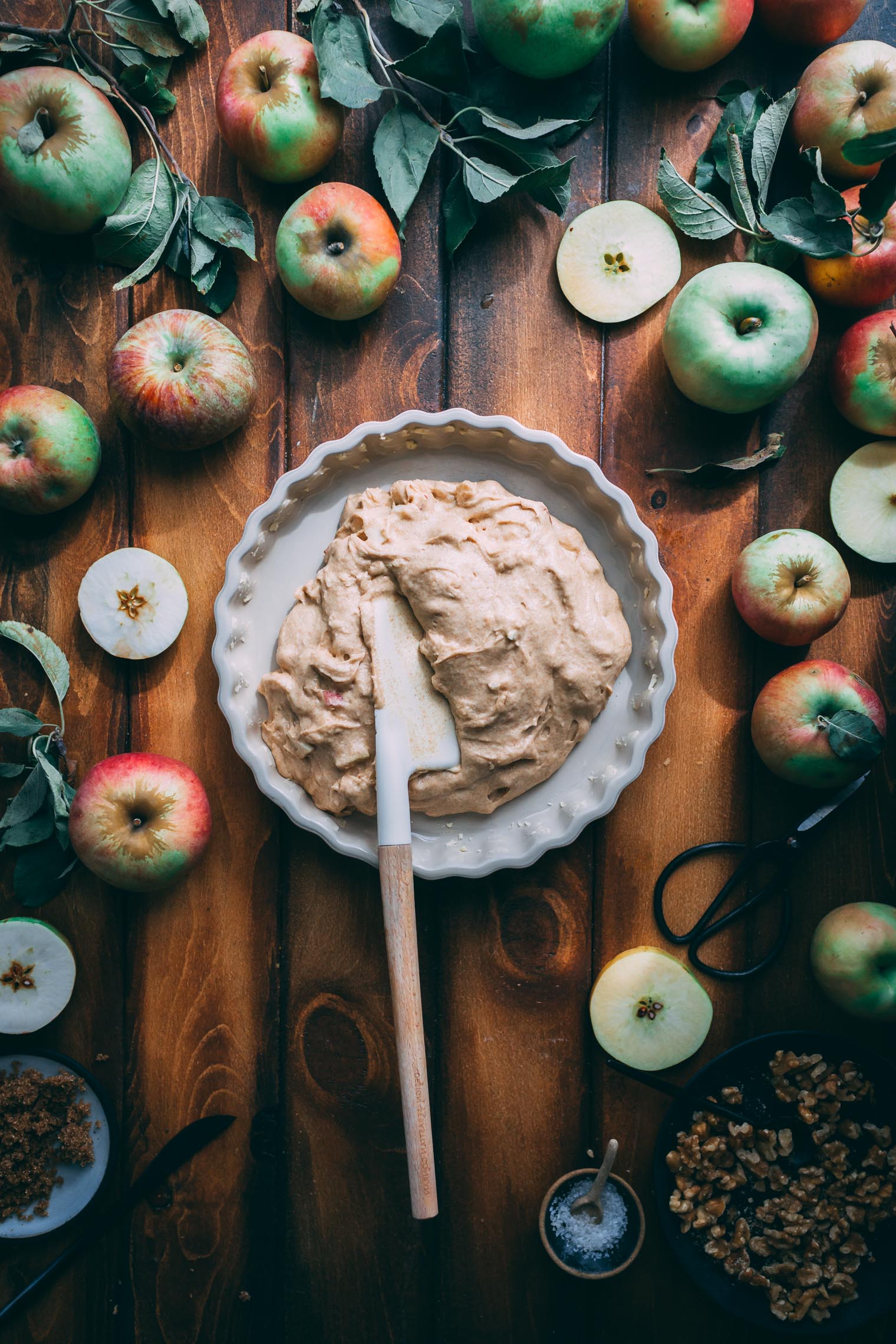 This apple walnut coffee cake is your reminder to get out there and go apple picking this fall. It's such a fun and festive way to forage for your own food and there is nothing better than biting into a perfectly crisp apple just picked off the branch.
This cake can be made in under an hour and requires no special piping or frosting skills (two things I am pretty terrible at). I used a mix of apples from our local orchard for this recipe. The apple I enjoyed the most here was the pink lady variety but any apple will do depending on how sweet or tart you like your apples. The walnuts are only in the topping so you can omit them if you'd like but I find them to give it a nice extra crunch.
For some strange reason, I was really intimidated by doing this sliced apple top that you see here. However, it ended up being one of the easiest designs I've put on a cake. The trick is to slice the apple as thin as you can and then slightly fan out the slices before you lay them on the cake. To achieve this, I cut the apple into four pieces (avoiding the core in the process) and then thinly sliced those four pieces and used each section on the cake. I made sure to put the apple slices in a random order on the cake, rotating the pieces in different directions to achieve a look that doesn't feel uniform in any way. That's it!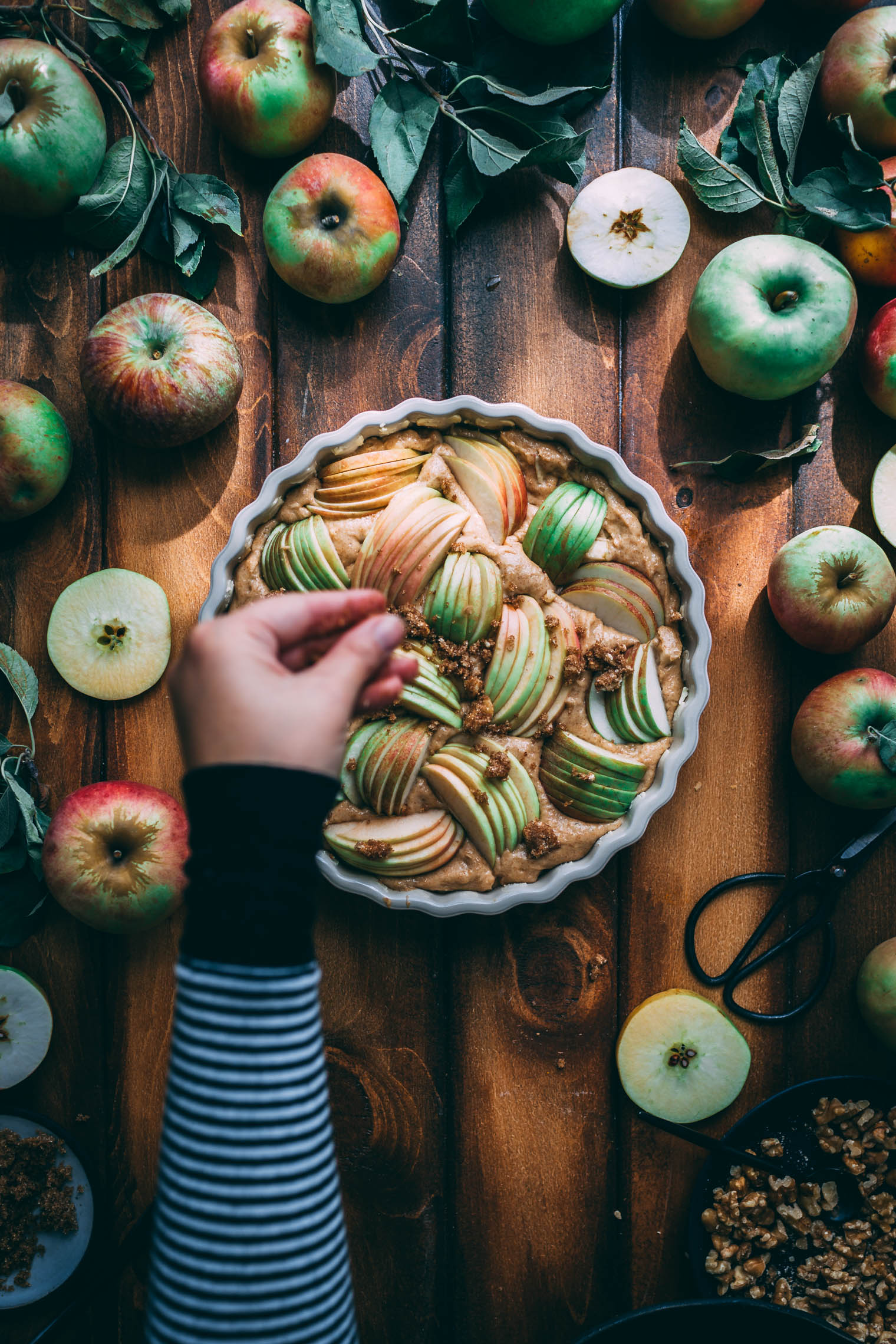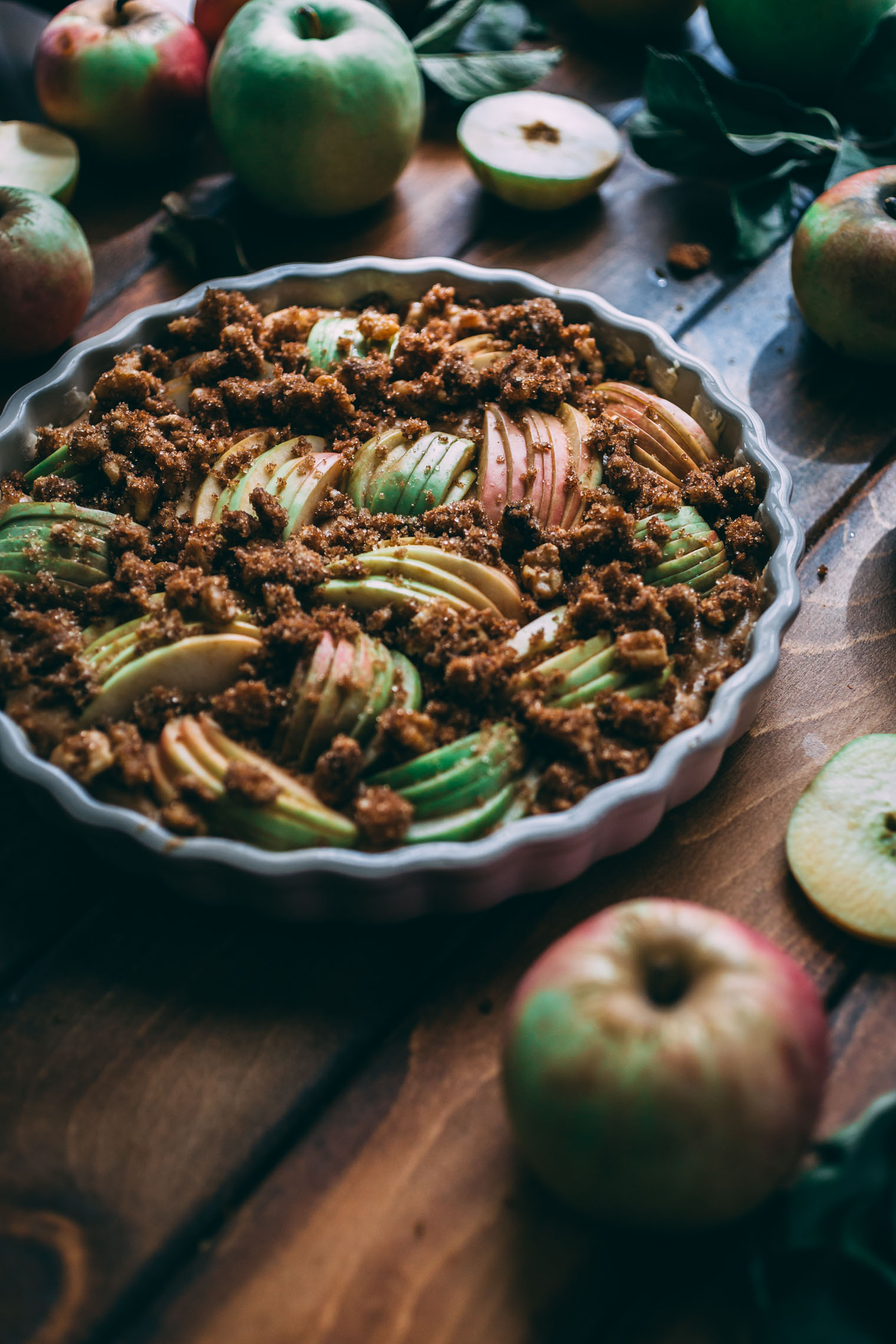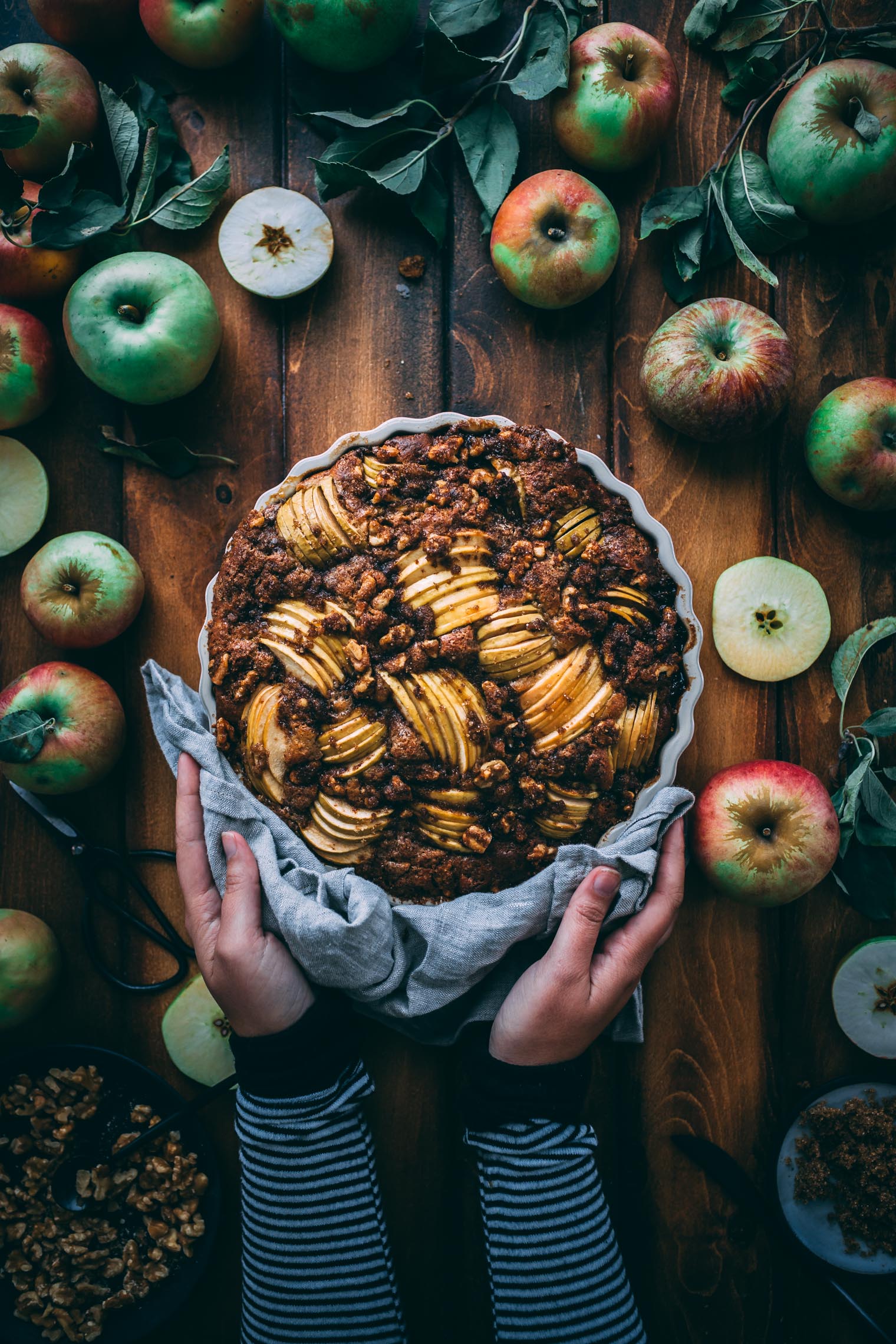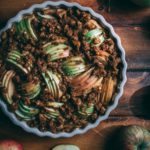 Apple Walnut Yogurt Coffee Cake
This Apple Walnut Yogurt Coffee Cake recipe is the perfect fall sweet breakfast or afternoon snack. Serve it with a cup of coffee or peppermint tea.
Ingredients
1

cup

all-purpose flour

1

cup

whole wheat flour

1

tsp

baking soda

1

tsp

cinnamon

1/2

tsp

nutmeg

1/2

tsp

salt

1/2

cup

unsalted butter

+ more for greasin the pan

1/2

cup

brown sugar

2

eggs

1/2

cup

maple syrup

1

cup

greek yogurt

1

tsp

vanilla extract

1

apple

cored and diced small
For the topping
1/2

cup

light brown sugar

1/2

cup

all-purpose flour

Dash

cinnamon

1/4

cup

walnuts

chopped

1/4

cup

cold unsalted butter

4

apples

cored and thinly sliced
Instructions
Preheat oven to 350 degrees and grease a 10" round baking dish.


In a small bowl, whisk together the flours, baking soda, 1 tsp cinnamon, 1/2 tsp nutmeg, and 1/2 tsp salt. Set aside.


In the mixing bowl of a stand attachment, cream together 1/2 cup butter and 1/2 cup brown sugar until light and fluffy.


Add eggs, one at a time, beating after each addition.


With the mixer on low, alternative between adding the flour mixture, maple syrup, and Greek yogurt. Beat in vanilla extra.


Turn mixer up to medium and beat until completely combined.


Fold in apple chunks and transfer to greased baking dish. Spread out evenly.


Combine 1/2 cup brown sugar, 1/2 cup all-purpose flour, walnuts, and cinnamon in a small bowl. Use your clean hands to work the cold butter into it until a coarse consistency has formed. Set aside.


Grab 1/4 thinly sliced apple (trying to keep the pieces grouped together) and lightly press it down on top of the batter. Repeat with the rest of the apple slices, alternating directions and filling any gaps with extra slices.


Sprinkle the brown sugar topping mixture over the top and transfer to the oven.


Bake for 30 to 35 minutes or until browned completely on top.


Remove from oven and let cool on an wire rack for at least ten minutes.

Nutrition Facts
Apple Walnut Yogurt Coffee Cake
Amount Per Serving
Calories 564
Calories from Fat 189
% Daily Value*
Fat 21g32%
Cholesterol 87mg29%
Sodium 391mg17%
Potassium 349mg10%
Carbohydrates 86g29%
Protein 9g18%
Vitamin A 655IU13%
Vitamin C 5.2mg6%
Calcium 105mg11%
Iron 2.3mg13%
* Percent Daily Values are based on a 2000 calorie diet.