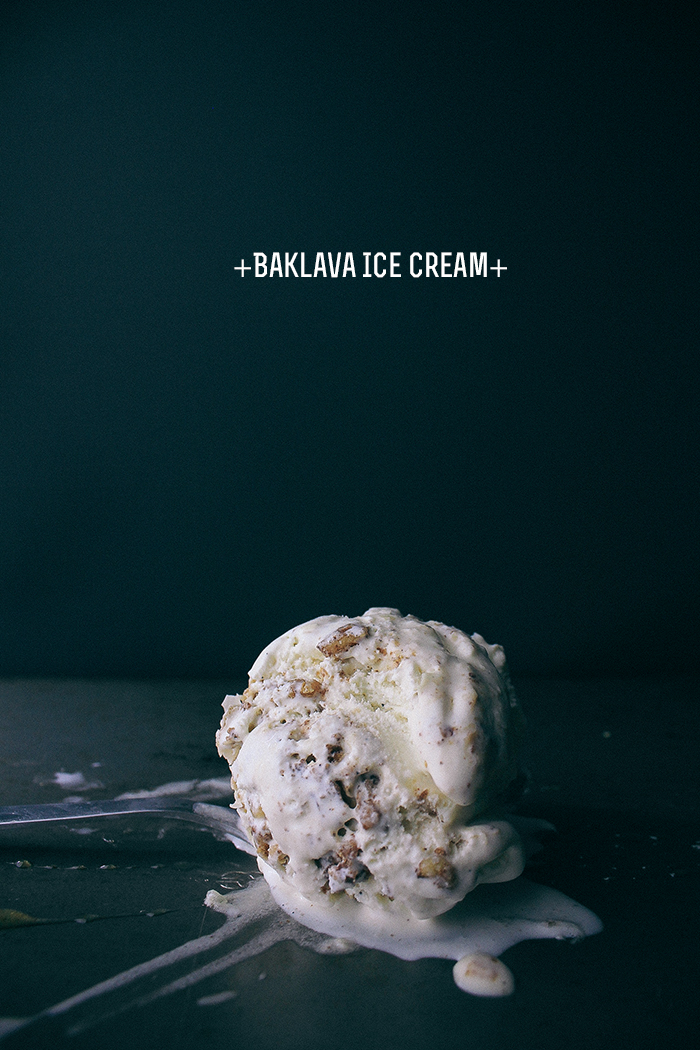 Baklava Ice Cream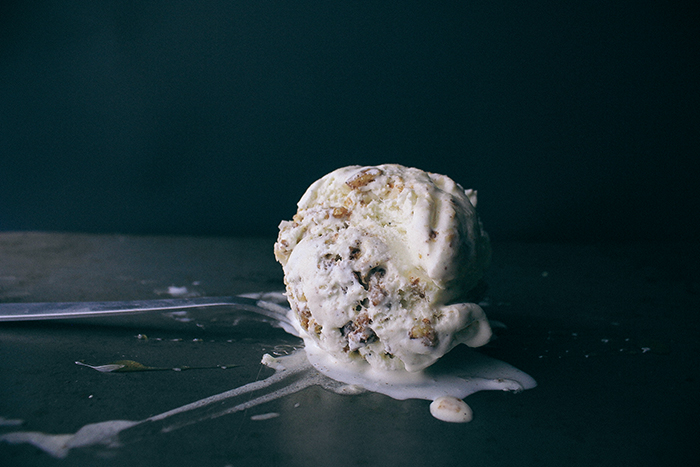 This was my first time making ice cream from scratch. I borrowed my Mother's ice cream maker with the promise of returning it alongside a delicious pint of frozen goodness. My ice cream making interest peaked a few weeks back when I was enjoying a particularly irresistible piece of baklava with a side of ice cream. Scooping both chunks of baklava and the ice cream into my mouth, my tastebuds were trying to grab the flavors as one. Which is when my mind realized I should just combine the two..into a delicious baklava ice cream.
I had a plan – I was going to find a simple vanilla ice cream recipe and customize it with baklava ingredients. However, when I got home and started looking at recipes, I began to feel overwhelmed. So overwhelmed I wondered if it would have been better to just go and buy a pint of ice cream at Kroger. I mean do I use whole milk or heavy cream or eggs? Do I let the mixture sit for an hour in the fridge or overnight?
This wasn't the kind of  kitchen tool that I grew up watching my family use. I was totally clueless and, for the first time in years, the internet seemed to be throwing too much information at me to process. I sat on the idea of making ice cream for a few days. Comparing online recipes with my recipe books until I came onto a decision. I'd just wing it…like I've done with so many successful (but also…some unsuccessful) recipes in the past. I chose to go with heavy cream AND milk and to let the mixture sit overnight (just in case).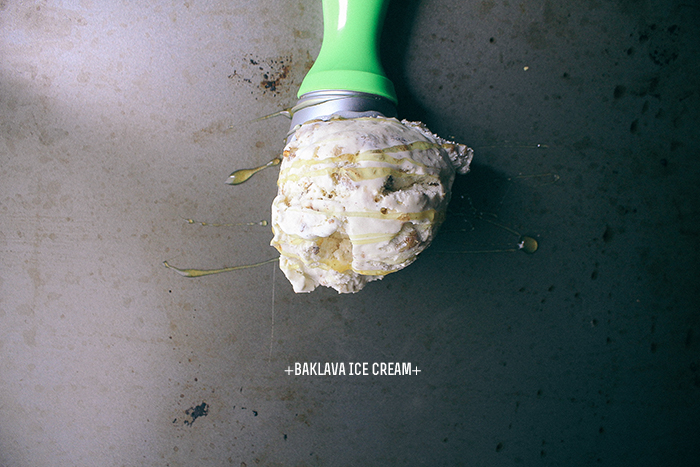 And let me tell you – I am SO glad I didn't give up and run to Kroger for a pint instead. All the worry and reluctance was so worth it. This ice cream is like nothing I've ever had before. Better than store bought and better than my local ice cream stand. It's creamy and tastes fresh and full of cinnamon-walnut-honey-baklava amazingness.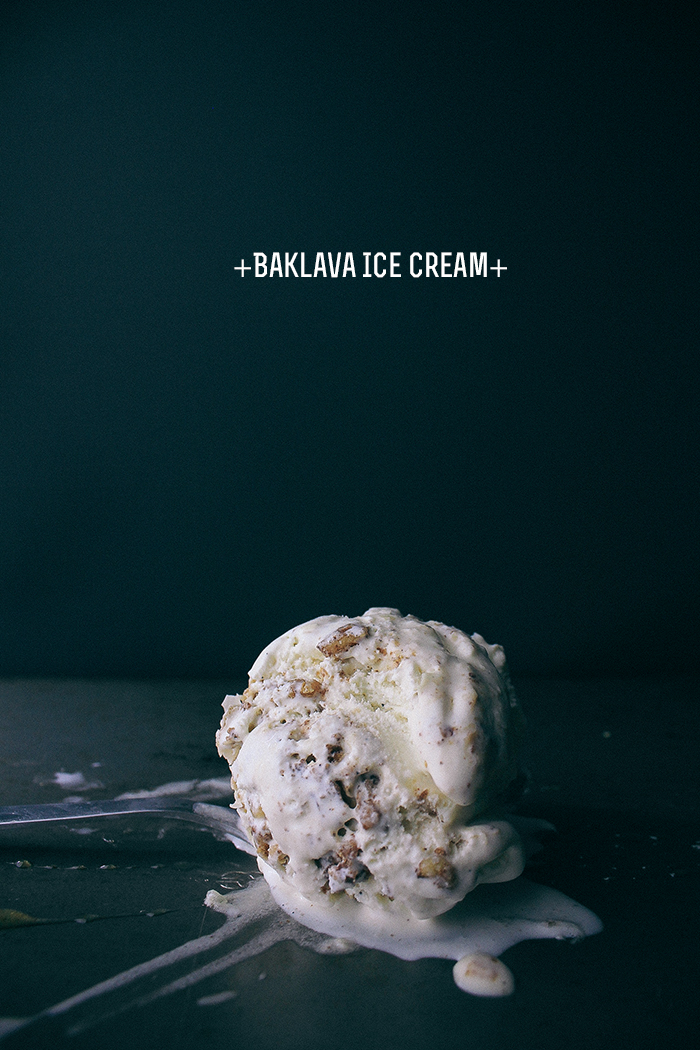 Baklava Ice Cream
2 cups heavy cream
1 cup milk (I used 2% but whole would work well too), divided
1 tablespoon cornstarch
1/8 teaspoons salt
3 Tablespoons cream cheese, softened
1/2 cup + 1 Tablespoon honey, divided
1 vanilla bean, split in half
2 cinnamon sticks
3/4 cup walnuts, finely chopped
1 Tablespoon brown sugar
1/2 teaspoon nutmeg
1/2 teaspoon cloves
1 teaspoon ground cinnamon
8 sheets phyllo dough, thawed
2 tablespoons butter, melted
In a small bowl, whisk together 1/4 cup milk with the cornstarch. Set aside.
In a large mixing bowl, combine the cream cheese and salt. Set aside.
Combine the cream, remaining milk, vanilla bean, and cinnamon sticks. Bring to a simmer (just until tiny bubbles start to form around the edges) and let simmer for three minutes. Remove from heat, stir in the honey and cornstarch mixture, and return to heat. Bring to simmer, stirring constantly, and let cook until thickened (one or two minutes). Remove from heat, whisk in the cream cheese mixture, and chill the mixture overnight.
The night day: Preheat oven to 350 degrees. Mix together the walnuts, brown sugar, cinnamon, nutmeg, and cloves and transfer to a baking sheet. On a separate baking sheet, place 4 phyllo sheets down and brush with butter. Place the other four on top of those and brush with butter. Mix any remaining butter with the walnut mixture. Cook both in the oven for 25 minutes or until the phyllo has browned and the walnuts are giving off a nutty aroma. Remove from oven and let cool completely. Break the phyllo dough into large chunks.
Remove the cinnamon sticks and vanilla bean from the chilled cream mixture. Prepare the ice cream according to your ice cream maker's instructions (mine has me stick the cream mixture into the ice cream maker for 20 minutes). 1 minute before the ice cream is done churning, add in the nuts and phyllo dough.
Enjoy right away or transfer into an airtight container in the freezer to enjoy later.