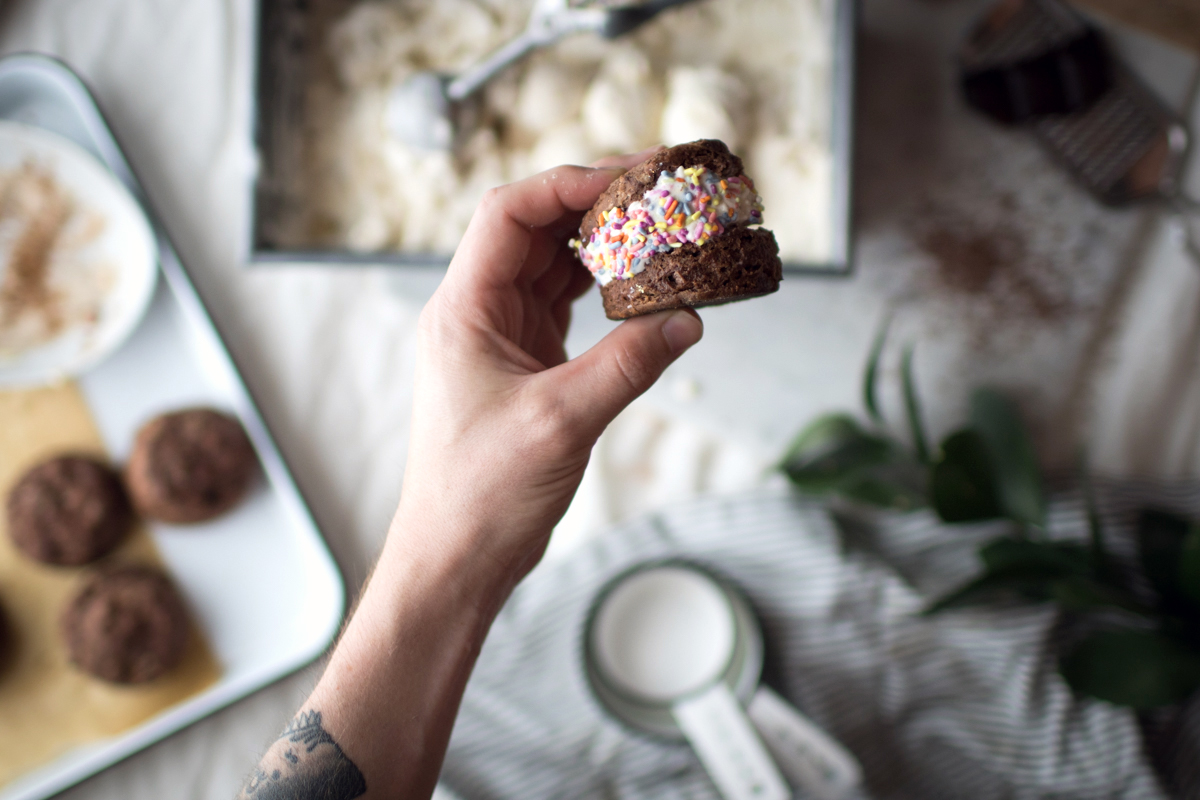 Cocoa Biscuits With Cinnamon Nut Ice Cream
In a hurry? Click here to JUMP TO RECIPE!
I've spent the last couple of years trying to get my biscuit game down as biscuits and gravy are one of Wyatt's favorite foods. I still remember the first time I made biscuits and gravy; it was Wyatt's first birthday that we were together for and I wanted to make him B&G that I could serve him in bed. I had never had B&G before since all the Midwest gravy I had been exposed to had meat in it so I was totally shooting in the dark. I remember having my roommate try it to make sure that it tasted like the real deal – her response was 'it's not the same but still really really good. Maybe you should try to make the biscuits again?'. That was her nice way of saying that the biscuits were as hard as rocks. I was used to working with bread dough and kneaded it like there was no tomorrow.
Fast forwarding five years later, I finally feel confident to say my biscuits are right where I want them to be (after, what feels like, hundreds of tries). I even went as far as taking a biscuit making class at a local bakery and have tried every flour I can get my hands on to see what protein and gluten consistency works best. Here are a few of my tips for making the perfect biscuits:
– Shred your cold butter ahead of time (like it's cheese!) and stick it in the freezer for at least 30 minutes before using. This probably sounds really weird but it's so easy to then mix it into the batter without the butter getting too warm.
– Don't overmix but make sure that it's mixed enough so all the flour is wet. I know everyone says this tip with biscuits but it can't be stressed enough! I was so notorious for overmixing though, that I began under mixing so much that there would be chunks of flour in the middle of the dough that just tasted awful once baked.
– Replace part of the all-purpose flour with cake flour as the low-protein flour will yield a light and fluffy biscuit as the protein
And that's it! Oh and, for this recipe, let's add cocoa powder because chocolate makes everything better.
Cocoa Biscuits With Cinnamon Nut Ice Cream recipe below: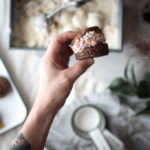 Cocoa Biscuits With Cinnamon Nut Ice Cream
These Cocoa Biscuits With Cinnamon Nut Ice Cream bring a whole new meaning to ice cream sandwich! / Biscuits adapted from Local Milk
Ingredients
For the ice cream:
2

cups

heavy cream

1

cup

milk

(I used 2% but whole would work well too), divided

1

tablespoon

cornstarch

1/8

teaspoons

salt

3

Tablespoons

cream cheese

, softened

1/2

cup

+ 1 Tablespoon honey

, divided

1

vanilla bean

, split in half

2

cinnamon sticks

3/4

cup

walnuts

, finely chopped

1

Tablespoon

brown sugar

1/2

teaspoon

nutmeg

1/2

teaspoon

cloves

1

teaspoon

ground cinnamon

1

tablespoon

butter

, melted
For the biscuits:
1

cup

all-purpose flour

1/4

cup

cocoa powder

3/4

cup

cake flour

1

teaspoon

kosher salt

1

teaspoon

sugar

1/2

cup

unsalted butter

, cold and shredded

1

cup

buttermilk
Instructions
In a small bowl, whisk together 1/4 cup milk with the cornstarch. Set aside.

In a large mixing bowl, combine the cream cheese and salt. Set aside.

Combine the cream, remaining milk, vanilla bean, and cinnamon sticks. Bring to a simmer (just until tiny bubbles start to form around the edges) and let simmer for three minutes.

Remove from heat, stir in the honey and cornstarch mixture, and return to heat. Bring to simmer, stirring constantly, and let cook until thickened (one or two minutes).

Remove from heat, whisk in the cream cheese mixture, and chill the mixture overnight.

The next day: Preheat oven to 350 degrees. Mix together the walnuts, brown sugar, cinnamon, nutmeg, 1 tablespoon butter, and cloves and transfer to a baking sheet. Roast in the oven for 25 minutes, stirring halfway through. Remove from oven and let cool completely.

Remove the cinnamon sticks and vanilla bean from the chilled cream mixture.

Prepare the ice cream according to your ice cream maker's instructions (mine has me stick the cream mixture into the ice cream maker for 20 minutes).

minute before the ice cream is done churning, add in the nuts mixture. Transfer into a sealable container and stick in the freezer until ready to eat.

For the biscuits, preheat oven to 425 degrees and line a baking sheet with parchment paper. Whisk together the flours, cocoa powder, salt, and sugar. Next, add in the butter and use your clean hands to cut it into the dough until a crumbly batter forms.

Pour the buttermilk in and stir just until the dough comes together (don't overmix!!).

Dump the mixture onto a floured surface and gently fold the dough onto itself twice (this helps create the air bubbles in the biscuits).

Gently pat or roll the dough down until it's about an inch thick and use a biscuit cutter to cut out even biscuits that should then be transferred to your prepared baking sheet. Make sure your biscuits are almost touching each other on the baking sheet and bake for about 10-12 minutes or until cooked all the way through. Remove from the oven and let cool.

To assemble the sandwiches: Split the cocoa biscuits in half, use an ice cream scoop to scoop out a portion of the ice cream onto the bottom of the biscuit, and then place the top biscuit over the ice cream and gently push down until the ice cream starts to ooze out the sides.

Optional: Roll the biscuits in sprinkles, cocoa powder, or any other fancy and delicious topping you may have on hand.