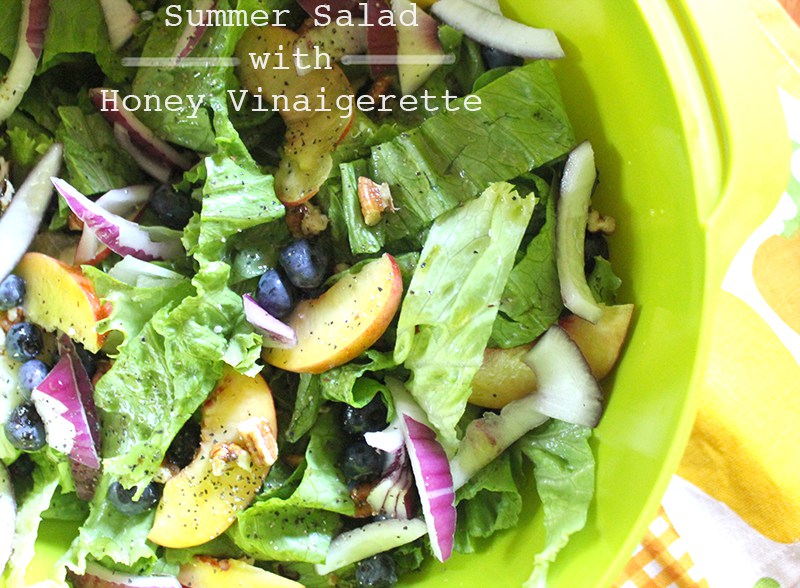 If any benefit that has come from the previous heat wave, it is that it was too hot for me to crave anything but a huge, juicy salad. The thought of greasy french fries and the sluggish afternoon they would lead to in this 100 degree weather makes my stomach twist.
From years of salad experimenting, I've discovered the key to a really satisfying salad is as follows:
Greens (spinach, iceberg, kale, etc) + a sweet (usually fruit- fresh or dried) + a savory (nuts or baked tofu) + veggies (everything is better with veggies) + light salad dressing (to bring the flavors out but not over bear it).
I have been playing around with many variations on these combination a whole bunch recently and this Berry Pecan salad is probably my favorite one so far. The light honey vinaigrette brings out all the veggie fresh flavors and the peach/blueberry duo adds beautiful color and just enough sweet to tame the salty feta.
I am not going to put exact measurements for the contents of the salad because that is all up to you and what you enjoy. Feel free to experiment and swap out whatever you have on hand!
PS-  Substitute the honey for agave nectar and omit the feta to make it vegan!
Berry and Pecan Summer Salad
Mixed Greens assortment (mine was just from a farmer stand)
Blueberries
Sliced Peaches
Chopped Pecans (bet it would be even better if you roasted them before hand!)
Feta
Bell Pepper
Red Onion (I soaked the slices in water for about 15 to tame the flavor – it works great!)
For the Honey Vinaigrette:
1/4 cup olive oil
3 Tablespoons honey
1 Tablespoon apple cider vinegar
Salt/Pepper
Whisk all together in a small bowl and pour over salad.
Veggie hotdog dressed All American Style + Summer Salad = Mmmmmmm.