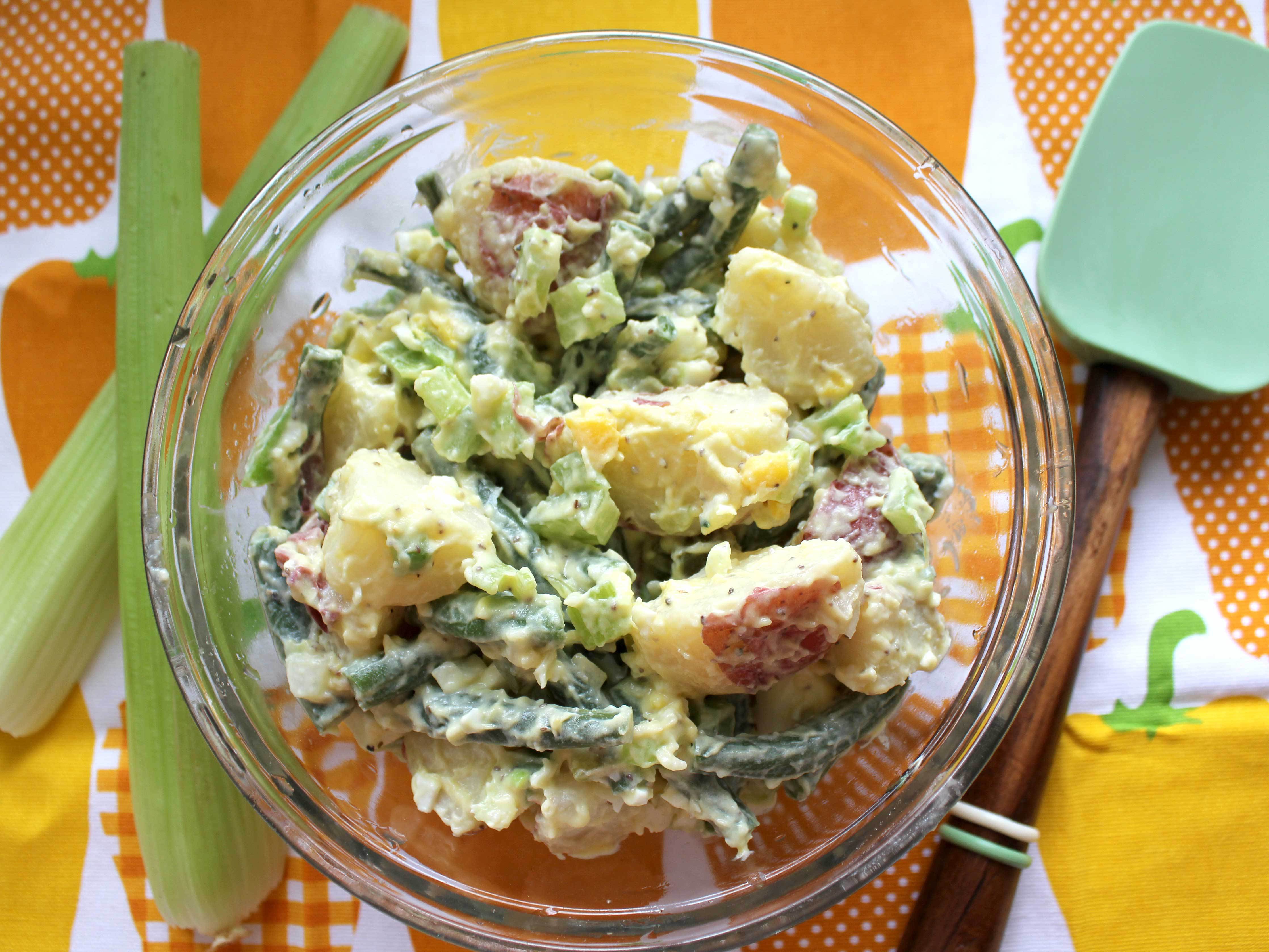 Summer Potato Salad
I finally (!!) made it to the Farmer's Market this weekend for the first time in a month. Oh, what a wonderful experience! Last time I went there was loads of vegetable and herb plants but not so much actual produce yet. But this time…this time there were endless rows of fresh basil, lettuce, spinach, beans, strawberries, potatoes, scallions, local honey, and homemade cheeses. What a beautiful site! (sorry- I get a little over excited about these things! I mean…I did work at a co-op grocery store for a few years so this is obviously the type of thing I like to surround myself with). Anyways, I restrained and only snatched up some cherry tomatoes, red potatoes, and green beans (well.. and a delicious broiche from a local bakery but that's besides the point).
So it came as no surprise that I immediately wanted to whip something up with my new and fresh produce! We were having people over for a grill out later that day and it seemed only appropriate I made potato salad with my new goodies. This is actually a really funny statement because I have only made potato salad a total of (maybe) 3 times before. I LOVE potato salad but for some reason, I am always trying to find new and interesting recipes to cook up instead of experimenting with the traditional classics.
Of course, knowing me, I started to immediately search around for vegan and "healthified" versions of potato salad. However, I saw Wyatt's face drop when I mentioned making this salad without 'mayo'; that was when I decided that sometimes you just have to make a recipe the way you remember it as a child. End of discussion.
This recipe was an outcome of all the favorite things I remember biting into when eating potato salad  as a child. It was a bit of an experiment but well worth jumping into the unknown. It turned out fantastic- maybe even BETTER than I remember it growing up. Feel free to add more (or less!) of whatever you prefer and make ahead of time (if possible) so the flavors can mend together in the fridge for an hour or so!
Summer Potato Salad
2 pounds red potatoes
1 pound of green beans, trimmed
3 hard-boiled eggs, chopped
4 celery stalks, chopped
1 Tablespoon apple cider vinegar
1/4 cup chopped onion
1/4 cup chopped bell pepper
1/8 cup chopped sweet pickles
1/2 cup mayonnaise
1 Tablespoon Dijon mustard
1/2 teaspoon celery seeds
Salt/Pepper
Bring both a large pot and a medium saucepan to a boil with salted water. Place the potatoes in the large pot and the green beans in the saucepan. Let the potatoes boil for about 15 to 20 minutes or until you can easily pierce a fork through them. Cook green beans for about 10 minutes or until they are softened. Drain both the beans and potatoes and set aside to cool. When cool enough, chop the potatoes into large chunks and the beans (if they are super long).
Hard boil the eggs any method you prefer (I just stick them in a small saucepan full of water and let the water come to a boil. Once rapidly boiling, I remove them from the heat and let sit in the warm water for about 12 minutes.)
In a large mixing bowl, combine all the chopped goodies! Next, fold in the mayo, celery seeds, and mustard. Season (generously) with salt and pepper.
Stick in the fridge until it's munch time!