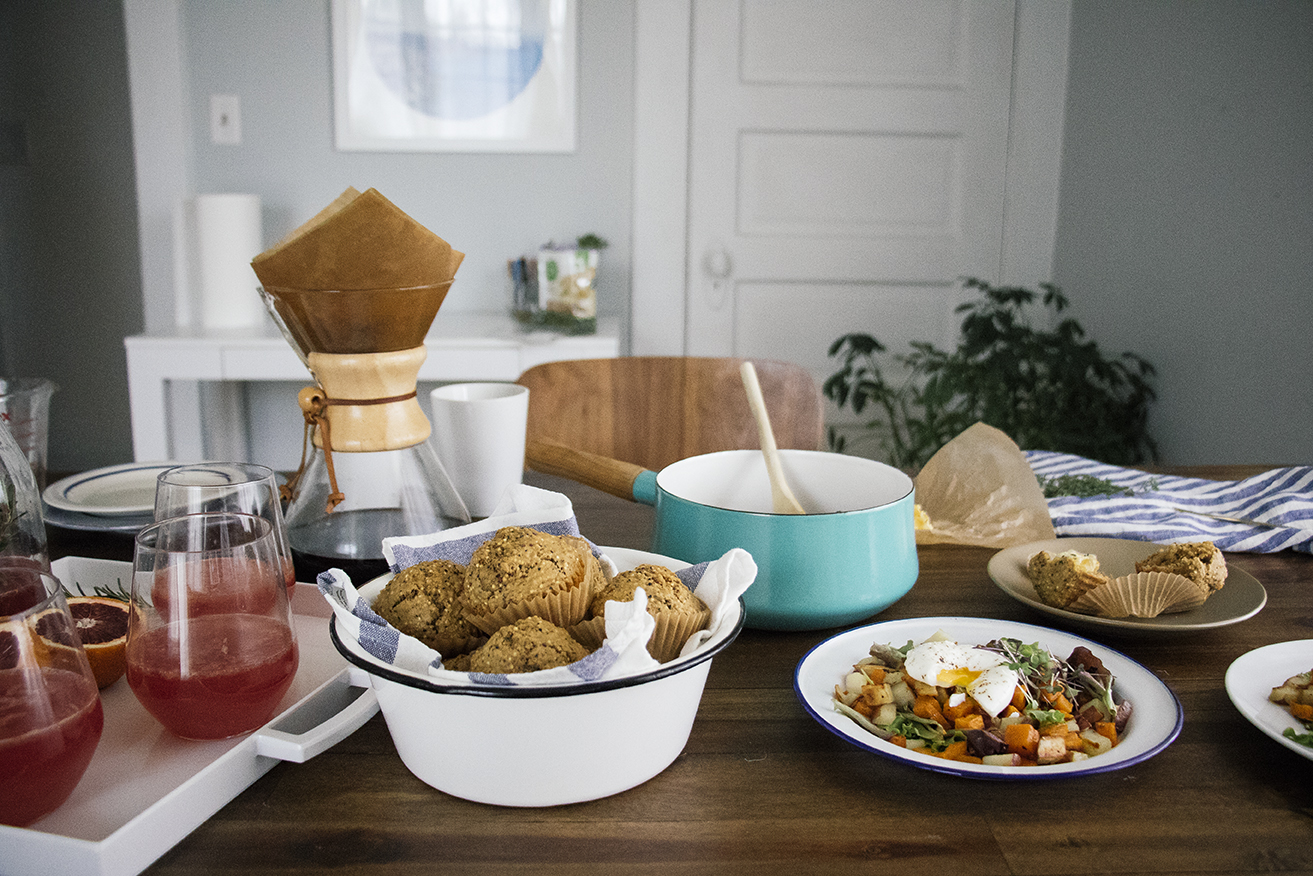 Blood Orange & Quinoa Muffins with Crystalized Ginger-Thyme Butter
In a hurry? Click here to JUMP TO RECIPE!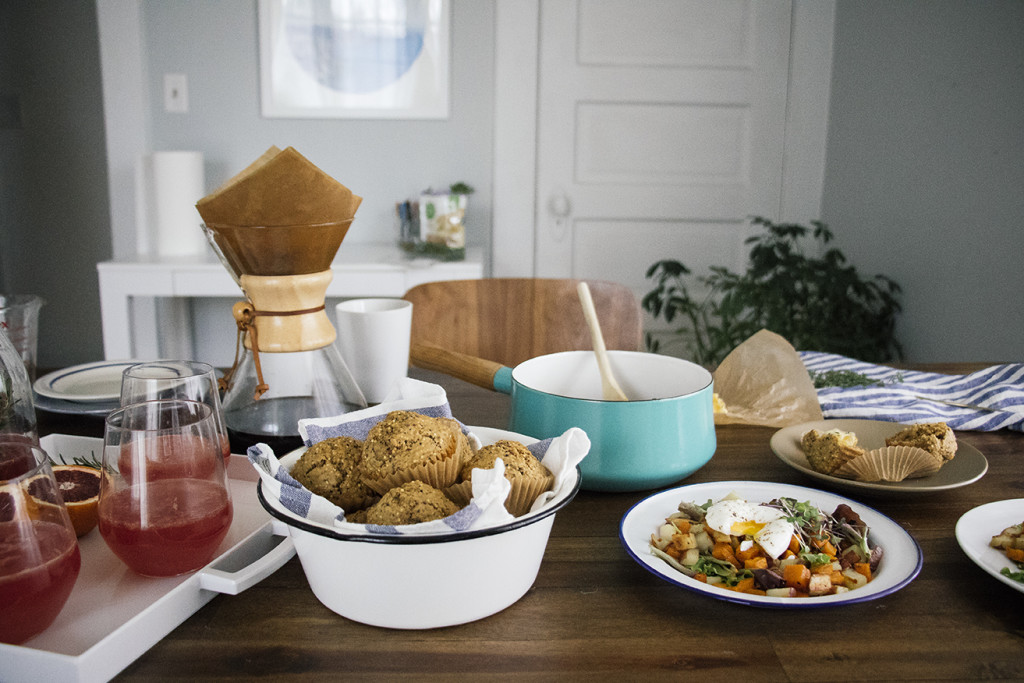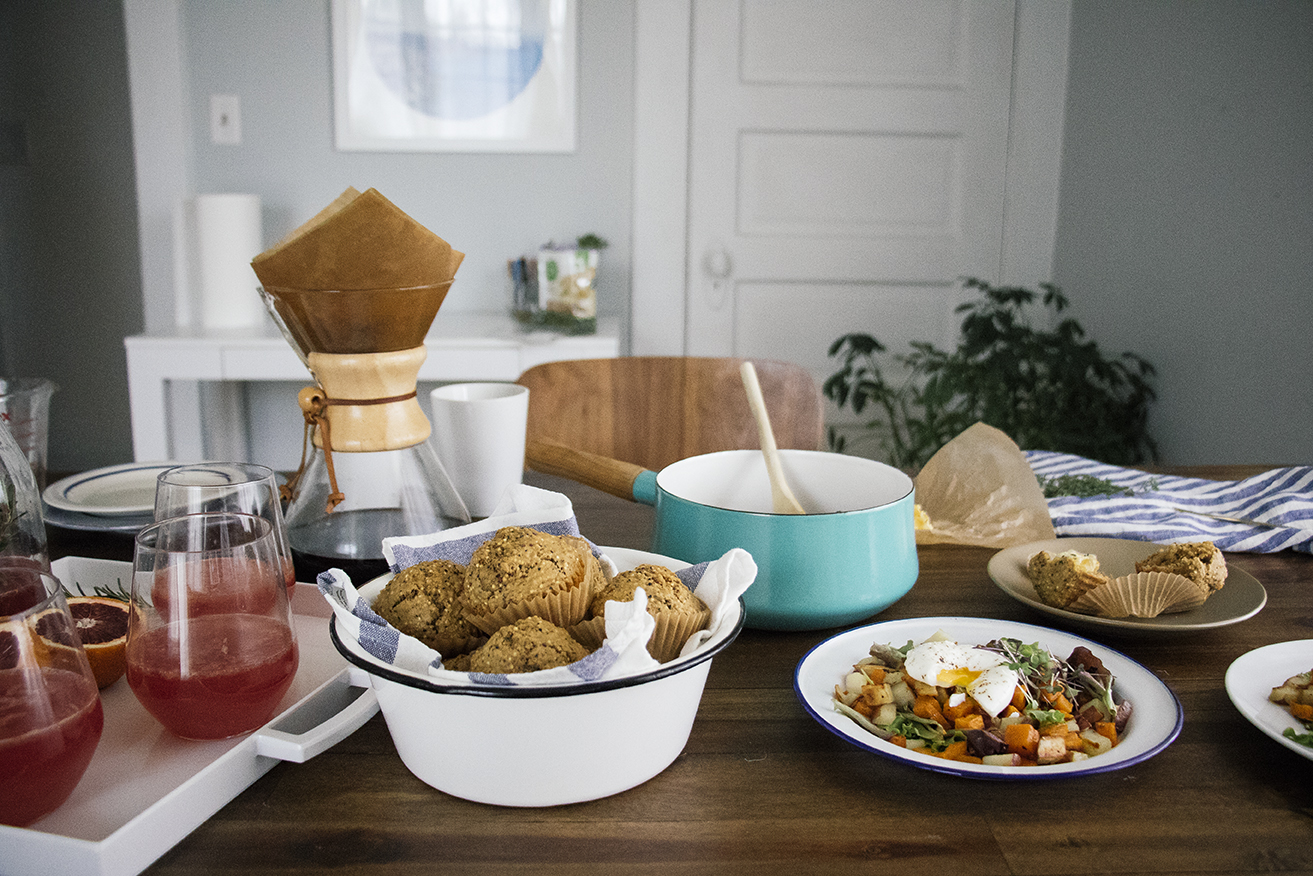 It's already that time again where you can't step into a store without seeing the huge display of heart shaped candy boxes and pink / red themed decorations. The hints to Wyatt started as soon as that first rose-shaped candy hit the shelves: "Oh, I love my chocolate boxes to have a variety in them but hate the jelly filled ones." "Don't the bigger shaped heart boxes just look so much more special?" "I wonder where you are taking me for Valentine's Day this year…". All of these hints (if we can call them that since they are pretty obvious) have been met with rolled eyes and silence as if I hadn't said anything at all. Usually I am annoyed by the silent treatment and meet it with even more snarky comments. However, it hit me one evening when I was contemplating making my hints more obvious or if I should just straight up tell him what I wanted him to do…why does he have to do anything? I mean, it would be rad if he did but Valentine's Day is about showing your love so why am I planning what HE should do instead of planning what I should do for him? I got even more excited by this thought when I realized that Valentine's Day is on a Saturday this year so I have all day to plan out a fancy meal and cook up something delicious for us.
Turning the conversation a bit, I had the pleasure of spending this past Saturday creating a delicious Valentine's Day brunch menu for you with Sonja and Alex from A Couple Cooks. They have the most gorgeous kitchen (which they recently re-did and you can see images of the redo on their blog!) that I was almost as excited about cooking in as I was about cooking with them (ha!). We first connected through our shared passion of food and Indiana a few years back and have since worked together on Driftless and now through our blogs. They are some of the most inviting people I've ever met and it was so inspiring to see them create their beautiful brunch dishes. Here is the menu we created for your practical yet delicious Valentine's Day spread:
Blood Orange Rosemary Sparkling Water (Recipe coming later this week on A Couple Cooks)
Blood Orange & Quinoa Muffins with Crystalized Ginger-Thyme Butter (recipe below)
If we hadn't been so chatty, this spread could have easily been whipped up in an hour and maybe even a little faster.
These quinoa muffins have the most interesting texture that can only be described as hearty and similar to seedy bread. I was a little worried at first that the texture wouldn't work well with a light and airy sweet muffin but the contrast is not only interesting but straight up addicting. The crunch from these muffins gives them more substance than your average muffin and since they are high in protein they will keep you full all morning long.
I flavored them with blood orange and vanilla beans to keep it seasonal but they would be great with other mix-ins as well (perhaps blueberries or cocoa or coffee). Also, the flavored butter isn't necessary but it a does add another level of flavor to the muffins which brings these from an easy breakfast on the go to a fancy baked good perfect for any special brunch. The crystalized ginger brings a sweet element to the otherwise savory thyme butter which works perfectly with the barely sweetened muffin.
Blood Orange & Quinoa Muffins with Crystalized Ginger-Thyme Butter recipe below: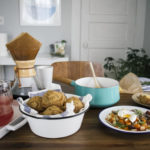 Blood Orange & Quinoa Muffins with Crystalized Ginger-Thyme Butter
recipe adapted from Food and Wine. A protein packed seedy muffin perfect for breakfast or a filling snack.
Ingredients
For the muffins:
1

cup

all-purpose flour

1

cup

whole wheat flour

1

teaspoon

baking powder

1/2

teaspoon

salt

1 1/3

cups

tri-color quinoa

, divided

1

cup

packed brown sugar

Seeds from 1 vanilla bean

, optional

6

Tablespoons

coconut oil

, slightly warmed so that it's in liquid form

3

large eggs

1/3

cup

2% milk

1

teaspoon

vanilla extract

1

Tablespoon

blood orange juice

Zest from 1 blood orange
For the butter:
6

Tablespoons

butter

4-5

sprigs of thyme

4-5

large chunks of crystalized ginger

parchment paper
Instructions
To make the butter, Use a large chopping knife to chop the butter, thyme, and ginger into fine pieces (the size will depend on how large you want the chunks to be in your butter). Use your hands to then mold the butter to a log shape and roll it tightly in parchment paper (I also liked to twist the sides of my parchment paper to seal). Transfer to fridge until ready to use.

To make the muffins, place 1 cup quinoa in a bowl and cover with water; let soak for 30 minutes and then drain out water. In the meantime, place the other 1/3 cup of the quinoa in a small saucepan with 2/3 cup water. Bring to a boil, lower heat to a simmer, and cover. Let simmer for 15 minutes or until water is absorbed and the quinoa is soft. Set aside and let cool. Preheat oven to 375 degrees and line a muffin tin with muffin liners.

Whisk together the flours, baking powder, salt, vanilla bean seeds (if using), and brown sugar. Next, make a well in the center of the dry ingredients and add in the eggs, milk, coconut oil, vanilla extract, quonia (both cooked and soaked kinds), zest, and orange juice. Whisk together the wet ingredients and then slowly fold in the dry ingredients until everything is combined. Transfer the batter to the 12 piece muffin tin so that each muffin has about the same dough. Bake 18 to 20 minutes or until browned on top and a toothpick comes out clean in the center.