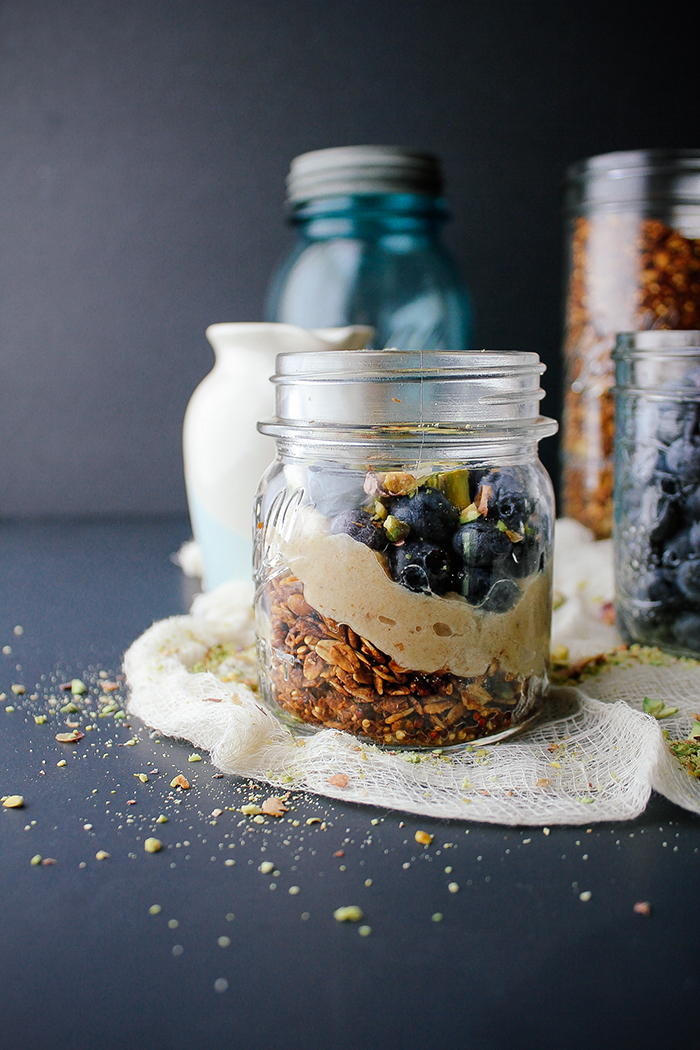 Blueberry Pistachio Parfait with Quinoa Granola and Maple Cashew Cream [Vegan]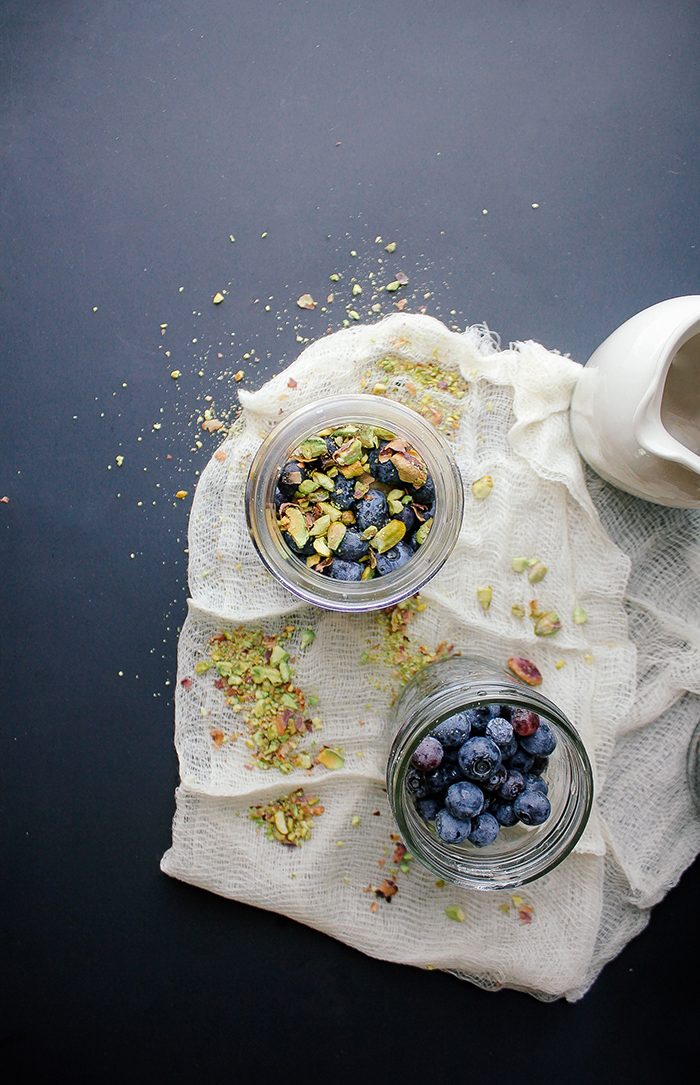 There is so much fall going on around Pinterest these days; I find it to be both appalling and kind of exciting. Maybe it's this streak of 90 degree weather or my longing for copious amounts of curry in my stomach or the desire to wear knee high socks but I am feeling ready for it. [Heck, maybe I even already bought a can of organic pumpkin for vegan fall baking].
My brain feels so fried from this heat that I've managed to stumble into a mundane food routine of salads for lunch and veggie sandwiches for dinner. That is about it….Well, almost it. The other summertime food that has been a regular lately is greek yogurt and homemade granola. So much so that I am starting to think we may need to take some time off from each other soon or we may not be able to stay friends.
Thus, in an attempt to keep yogurt off my long list of hated foods (right next to beets and jello), I decided to try cashew cream in my breakfast parfaits. I originally made the cashew cream to lather on eclairs (…more on that in the coming days) but haven't looked back at yogurt in weeks.

The cashew cream only takes a few minutes to whip up and usually lasts me 3 to 4 servings of breakfast. It's sweeter than yogurt but not so much that you feel guilty about enjoying it for breakfast. Feel free to enjoy with whatever granola you have on hand but I highly recommend trying out this quinoa version. The toasted quinoa gives the granola a crunchy texture unlike any kind of granola I've had before. And it's a complete protein so you'll be really ready to start your day right. 'Nuff said?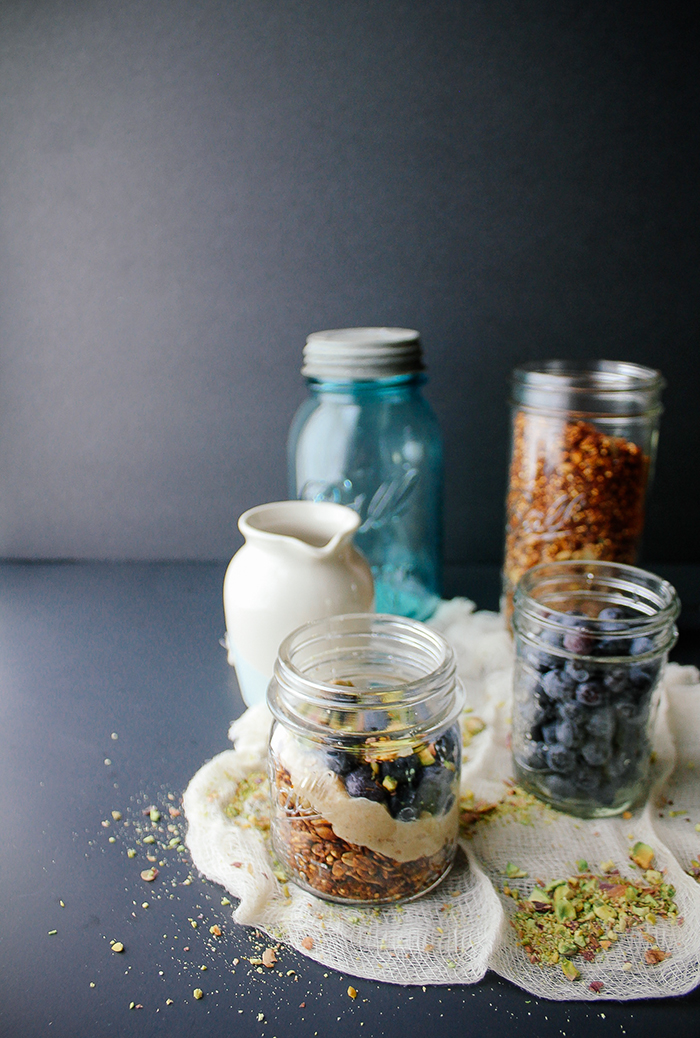 Blueberry Pistachio Parfait with Quinoa Granola and Maple Cashew Cream
For the granola:
1 cup tri-colored quinoa (or 1/2 cup red + 1/2 cup white), rinsed super well
1 cup rolled oats
1/2 cup shredded coconut
1 Tablespoon coconut oil
2 Tablespoons maple syrup
dash of cinnamon & nutmeg
vanilla bean, seeds removed and pod discarded (or 1 teaspoon vanilla extract)
1 Tablespoon of coconut oil (or any baking oil you'd prefer)
2 Tablespoons honey (or more maple syrup to keep vegan)
1/2 cup pistachios, divided & lightly crushed
For the maple cashew cream:
1/2 cup cashews, soaked in water overnight
4 dates, pitted
2-3 Tablespoons maple syrup (depending on how sweet you want to make it)
about 1/4 cup water
Submerge cashews in water and let soak overnight.
Remove pits from dates and let soak with the cashews 30 minutes prior to making the cream.
Preheat oven to 300 degrees. Combine the quinoa, rolled oats, cinnamon, nutmeg, and the vanilla bean seeds in a mixing bowl. Fold in the oil, maple syrup, and honey. Transfer to a baking sheet and spread out as much as possible. Cook for 30 minutes, stirring every 10 minutes to keep from burning. After 30 minutes, add 1/4 cup crushed pistachios to granola and cook for another 5 minutes. Remove from oven and set aside to cool.
Drain cashews / dates and place in a food process or blender. Add the maple syrup and 1/4 cup water. Blend. If too thick, gradually add more water a tablespoon at a time until a desired consistency is reached (I like mine at the consistency of greek yogurt – thick and sustainable but a little fluffy).
To assemble: Layer the cream followed by the cooled granola followed by blueberries and garnish with crushed pistachio and cinnamon.