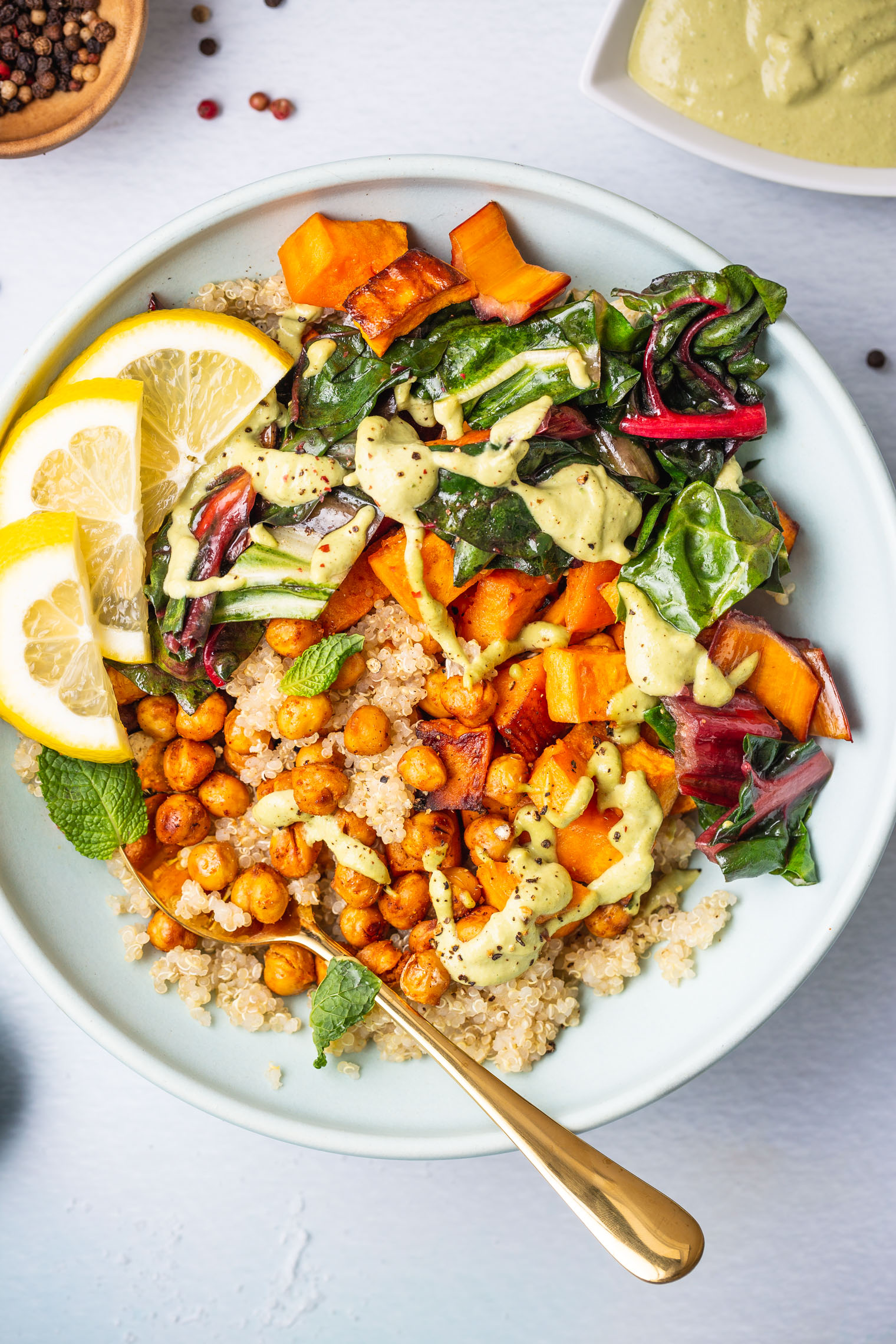 Buddha Bowl With Poblano Tahini Sauce
This Buddha Bowl with Poblano Tahini Sauce is from Mostly Plants: 101 Flexitarian Recipes with the Pollan Family. It's perfect for an easy dinner or meal prep it ahead of time to enjoy as a weekday lunch.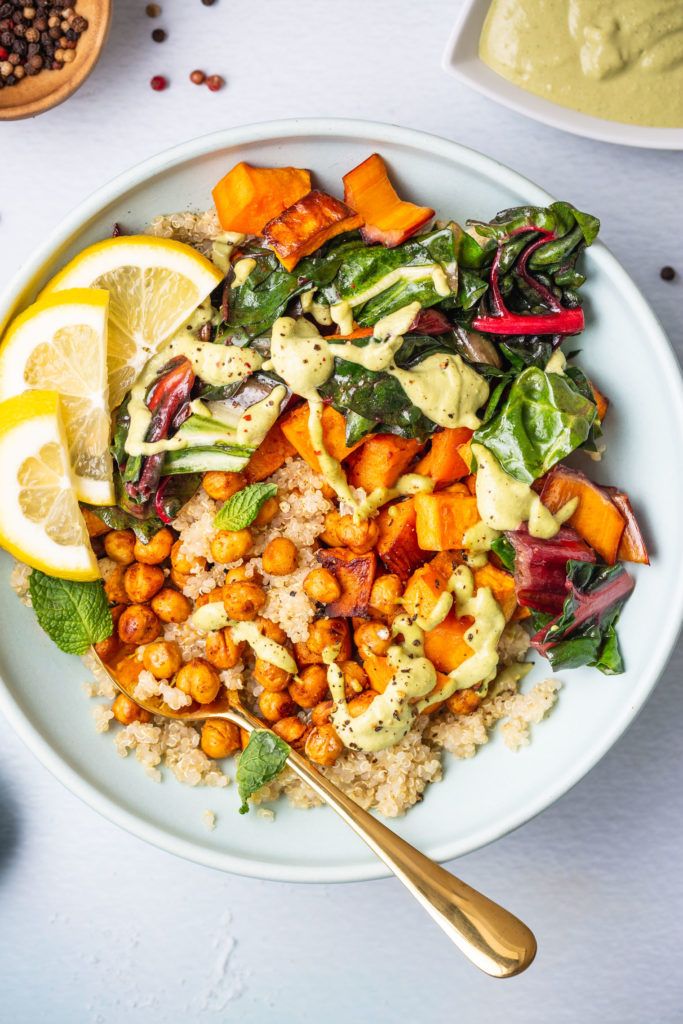 Happy Friday! I've been going a little stir crazy over here with all the rain so I'm excited to hopefully spend this weekend outside grilling, gardening, and taking our big pup for walks. The one upside to being stuck inside is that I haven't had any excuse not to spend my Sunday's meal prepping for the week! My usual Sunday check list for prepping has been as follows:
Portion out green smoothie ingredients for the week and freeze (I like Fab 4 smoothies because they keep me full until lunch.) My current go-to is Kale + berries + nut butter + ground flax seed + nut milk + protein powder. I portion out everything but the protein powder and nut milk ahead of time and freeze for easy assembly during the week.
Prep some sort of grain or quinoa salad for lunches (current favorites are this farro salad and this quinoa salad)
Hard boil a few eggs or roast a can of chickpeas to eat with the salad
Roast veggies to also go with the salad (my favorite is roasted broccoli, sweet potatoes, and bell peppers)
Some sort of dressing to drizzle on the protein and roasted veggies
Make some sort of large portion item for Sunday dinner that can also be enjoyed for Monday night dinner (like curry, cauliflower mac and cheese, soup and homemade bread, etc)
That plan gets me through breakfast, lunch, and 2 dinners for the week. For me, It's always a great way to jump start the beginning of the week since that always tends to be the busiest. I also notice that if I make sure to eat a healthy breakfast and lunch then I am more likely to want to keep it healthy for dinner since I've already done so well that day.
All this is to say that when I came across this Buddha Bowl with Poblano Tahini Sauce bowl in the Pollan's new cookbook, Mostly Plants, it looked like the perfect recipe to mix up my meal prep and enjoy for lunch over a few days. I prepped the quinoa, roasted veggies, and dressing in advance so all I had to do at lunch was sauté the chard and it was ready! And I gotta say — that poblano tahini is definitely going into my heavy rotation for weekly dressings because ohhhh boy is it delicious!
Mostly Plants has been a great addition to my cookbook collection — although it's not 100% vegetarian (they are calling it a flexitarian cookbook as there is a little fish and meat here and there), a lot of the recipes are and they are all super simple and perfect for weeknight meals. I've really started to be drawn to these kinds of cookbook since it's the mundane weeknight type of meals that I can get so burned out on so I'm always looking for fresh ideas. If you are looking to upgrade your weeknight dinners, this book is for you!
Did you enjoy all this meal prep talk? If so, let me know if you'd be interested to see a more extensive post on how I prep on Sundays and I'd be happy to work on a future blog post about it! Now let's go make this bowl!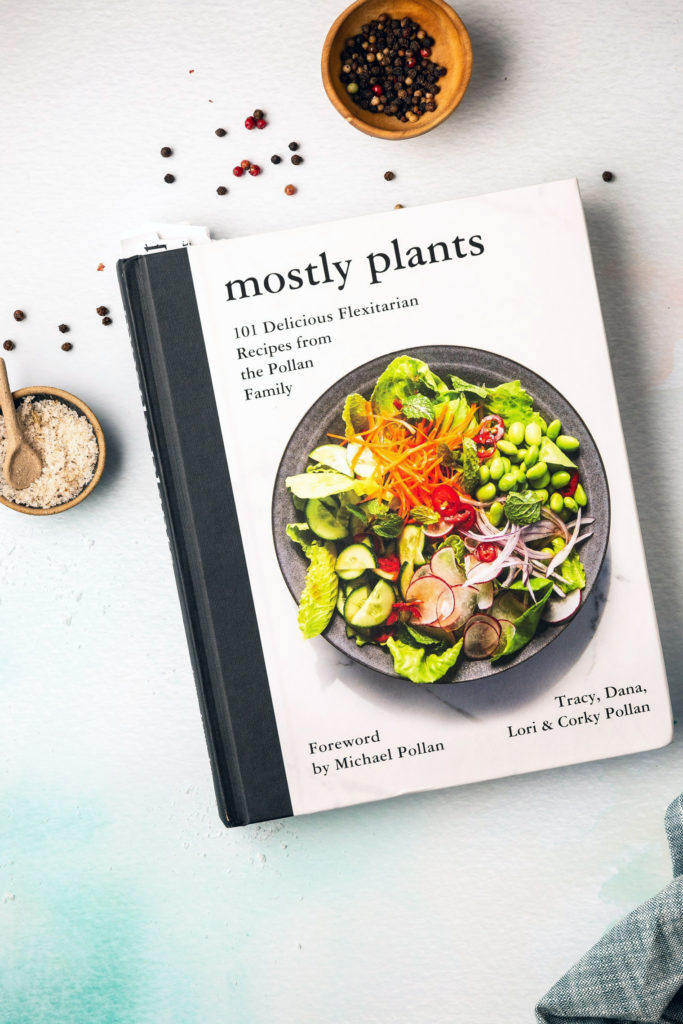 What's in This Buddha Bowl?
To make the vegetarian buddha bowl itself, you'll need:
Cooked quinoa
Sweet potatoes
Coconut oil
Maple syrup
Orange zest
Chickpeas
Olive oil
Spices
Garlic cloves
Swiss chard
And to make the buddha bowl sauce, you'll need:
Poblano pepper
Garlic
Tahini
Lemon juice
Olive oil
Salt and pepper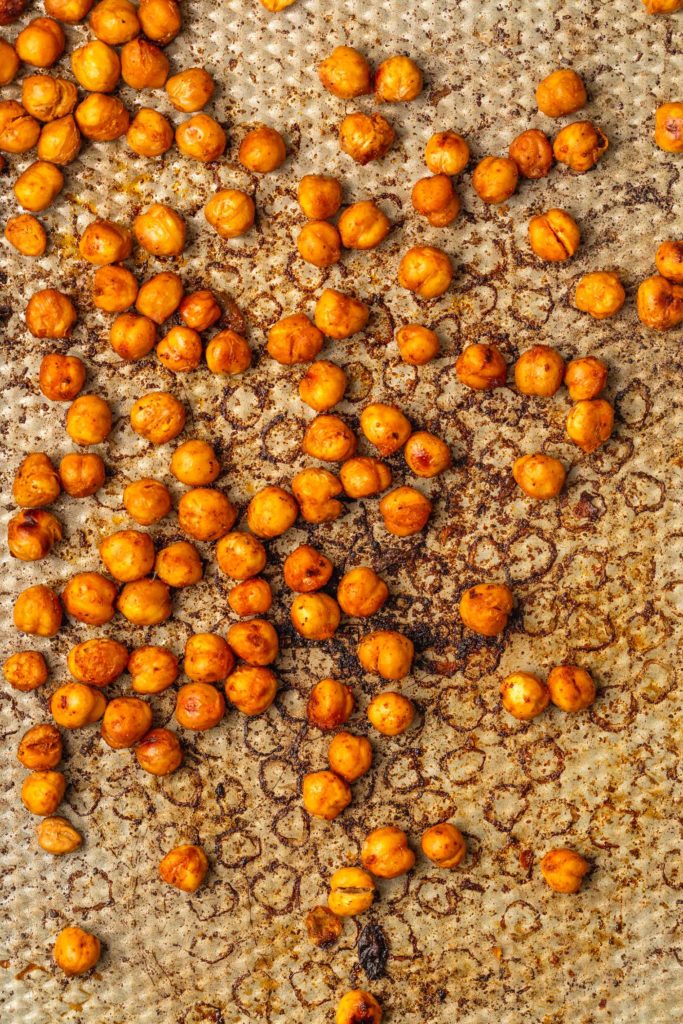 How to Make a Buddha Bowl
This vegetarian buddha bowl is easy to prep. Here are the basic steps for making a buddha bowl at home (the complete set of instructions are listed in the recipe card at the bottom of this post):
Toss together the sweet potato cubes, maple syrup, salt, orange zest, and coconut oil.
In a separate bowl, combine the drained chickpeas, olive oil, and spices.
Roast the cubed sweet potato until tender and the chickpeas until golden brown.
In a skillet, cook the swiss chard alongside the garlic and red pepper flakes. Cook just until the chard wilts.
Assemble the buddha bowls and drizzle with the vegan tahini sauce.
How to Meal Prep Buddha Bowls
I briefly touched on this at the top of this post, but I wanted to reiterate. To meal prep this vegetarian buddha bowl, you'll want to roast the chickpeas and sweet potato, cook the quinoa, and whiz up the tahini dressing. Store everything in separate containers.
Just before eating your meal prepped buddha bowl ingredients, sauté the chard. Then, it's just a matter of assembling the bowls!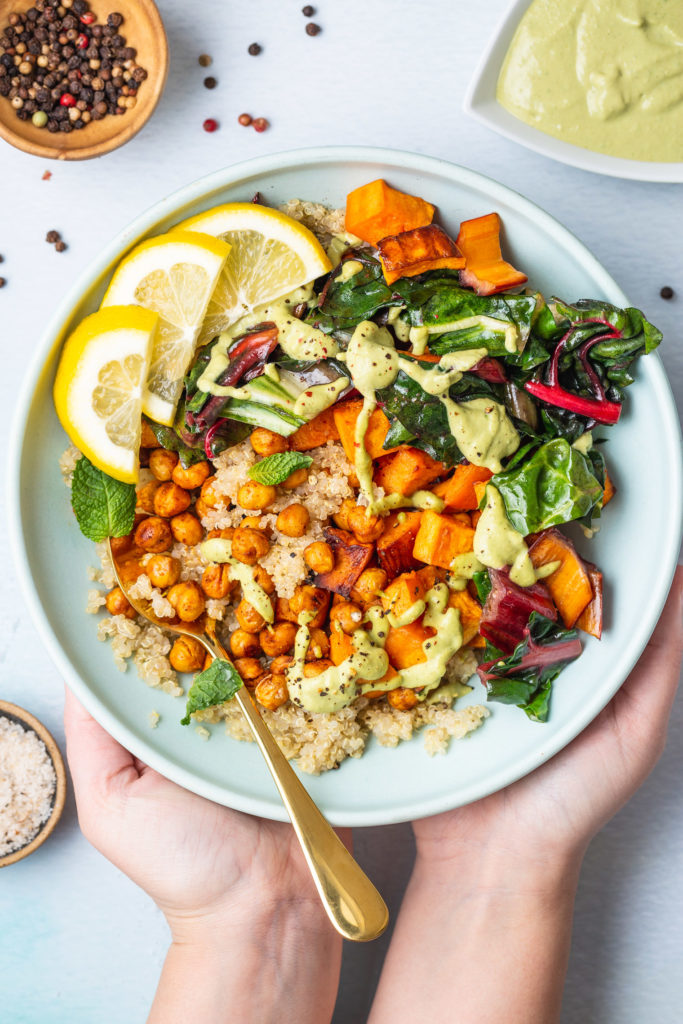 Tips for Making Vegetarian Buddha Bowls
I used cooked quinoa in this vegetarian buddha bowl, but cooked brown rice or your favorite grain would also work. This is a flexible recipe in that regard.
Likewise, other seasonal veggies can be roasted in place of the sweet potato. Think: butternut squash, carrots, parsnips, and so forth.
A few other buddha bowl dressing ideas include: Spicy Peanut Sauce, Ginger Peanut Butter Dressing, Herbed Tahini Sauce, and Cilantro Yogurt Sauce.
Want More Vegetarian Meal Prep Recipes?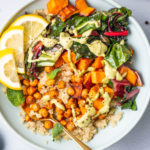 Buddha Bowl With Poblano Tahini Sauce
This Buddha Bowl with Poblano Tahini Sauce is from Mostly Plants: 101 Flexitarian Recipes with the Pollan Family. It's perfect for an easy dinner or meal prep it ahead of time to enjoy as a weekday lunch.
Ingredients
Poblano Tahini Sauce
1 1/2

cups

roughly chopped poblano pepper

1

garlic clove

, peeled and quartered

1/3

cup

tahini

3

Tbsp

fresh lemon juice

1

Tbsp

extra-virgin olive oil

salt and pepper

, to taste
Buddha Bowls
1

cup

cooked quinoa

2

large sweet potatoes

, peeled and cut into 1-inch cubes

1 1/2

Tbsp

coconut oil (I used olive oil here)

, melted

2

tsp

maple syrup

1

tsp

orange zest

sea salt

, to taste

1

15-oz

can chickpes

, drained, rinsed, and patted dry

1

Tbsp + 2 tsp

extra-virgin olive oil

1/2

tsp

paprika

1/8

tsp

ground cumin

1/8

tsp

cayenne

4

garlic cloves

, peeled

1/8

tsp

crushed red pepper flakes

1

bunch

Swiss chard

, stemmed, leaves cut into 1-inch strips
Instructions
For the poblano tahini sauce:
In a high speed blender, combine poblano, garlic, tahini, lemon juice, olive oil, and 1/4 cup water and blend until smooth. If sauce is too thick, add water as needed to reach desired consistency. Season with salt and pepper and set aside.

For the buddha bowls:
Preheat oven to 425 degrees F and line baking sheet with parchment paper.


In a medium saucepan, cook quinoa according to packaged direction.


In a medium bowl, combine sweet potatoes, coconut oil (or olive oil), maple syrup, orange zest, and 1/4 tsp salt. Mix well and transfer to prepared baking sheet.


Roast for 20 minutes, flip, and roast for an additional 15 minutes or until potatoes are tender and beginning to brown.


Meanwhile, in a small bowl, combine the chickpeas, 2 teaspoons of the olive oil, the paprika, cumin, cayenne, 1/4 teaspoon salt, and 1/8 teaspoon pepper. Mix well until the chickpeas are thoroughly coated.

Spread the chickpeas on a rimmed baking sheet and roast with the sweet potatoes until golden brown, 15 to 20 minutes, stirring halfway through.

In a large skillet over medium-high heat, heat the remaining 1 tablespoon of the olive oil. Add the garlic and red pepper flakes. Cook until the garlic is fragrant, about 3 minutes. Add the chard, cover, and cook, stirring occasionally, until the chard begins to wilt, 2 to 3 minutes. Uncover, add dash of salt and pepper and cook, stirring frequently, until the chard is completely wilted and cooked through, an additional 1 to 2 minutes. Discard the garlic cloves.

To serve, put 1/2 cup of the cooked grain in four serving bowls. Top each bowl with equal portions of the roasted sweet potatoes, roasted chickpeas, and sautéed chard. Drizzle with the poblano tahini sauce and serve with extra sauce passed separately.