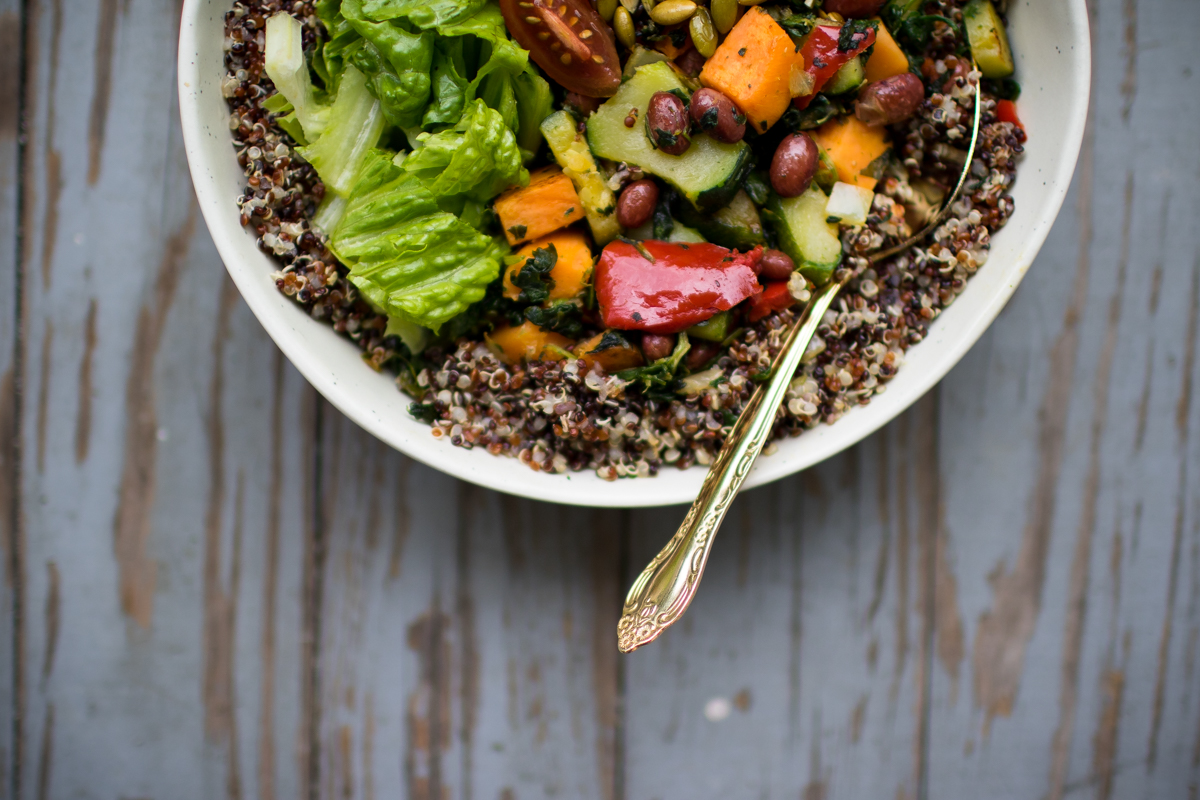 Chipotle Tahini Harvest Bowl
In a hurry? Click here to JUMP TO RECIPE!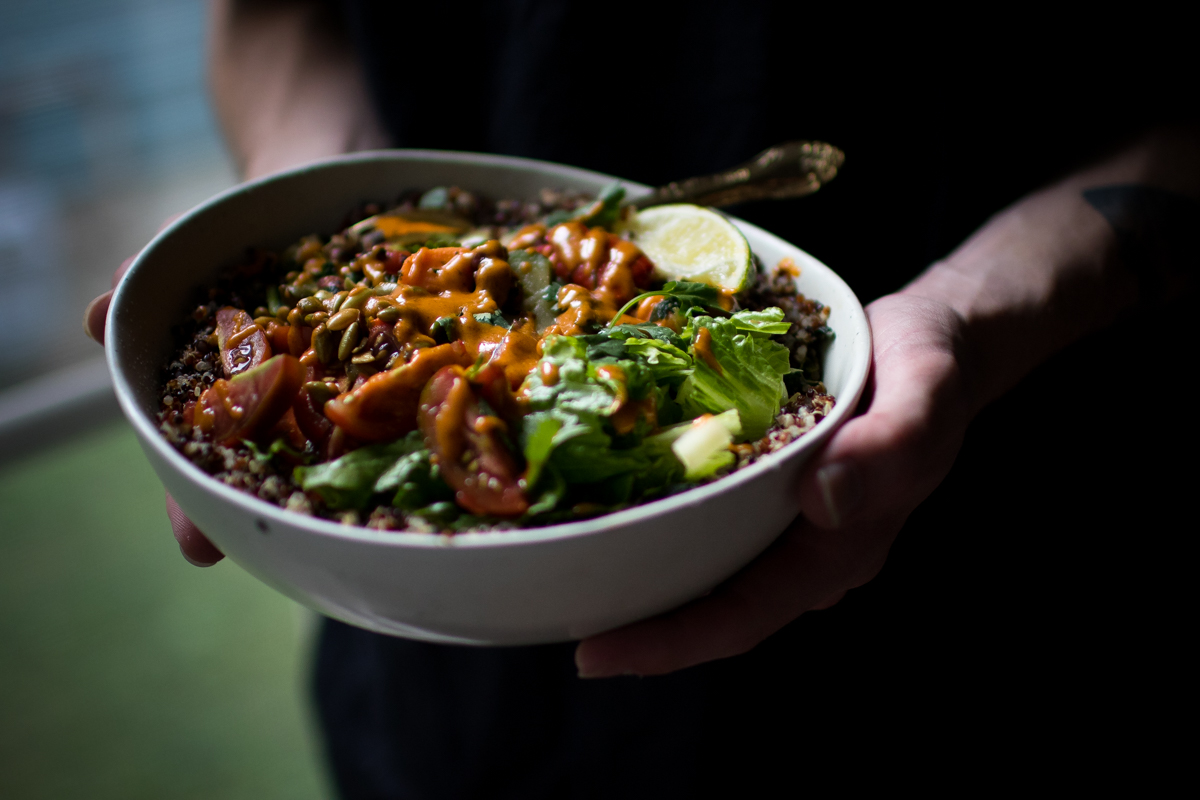 This is the first meal I've cooked in our new home. I was a little nervous at first as it's always difficult, as a photographer, to find your new light. But I was eager for the challenge after having the same studio room to work out of for the past three years. I was worried for nothing, as our new house has the best natural light of any place I've ever lived in (probably one of the main reasons I was drawn to it).
We went house hunting a few months back when I got really fed up with our oven being broken for 2 months and not being able to get it properly fixed by our landlord. We weren't very serious about moving but when we walked into this place, I knew we had to snatch it. The whole place is lit during the day with light coming in through huge windows located throughout the place, and the kitchen came fully equipped with a dishwasher and brand new cabinets (neither luxuries I've had while renting). It's really hard to find decent homes in a college town because they are usually dumpy college homes that landlords don't want to put money into (rightfully so since most of them just get trashed). We are, however, not college kids and have struggled with finding a nice place with a great location (that happens to be close to the university). We got really lucky with this place as it had just been redone by the new owner since she had planned to live in it but got a sudden job offer in Seattle. I'm hoping to have some photos for you once we get all settled in but for now this little recipe will have to do.
Needless to say, we've been moving all of our things the last 4 days and now will spend the next week putting everything away. We finally took some time for ourselves Sunday evening to whip up this incredibly simple and fresh harvest bowl (what a relief for my body after 4 days of take-out). This is part two in my partnership with Green Giant to bring a few quick and simple weeknight recipes to VV. Since all the vegetables were already cut up and the seasoning already mixed from the Sautés bag, I was able to whip these bowls up in under thirty minutes (less time than it would take for the take-out man to get here!).
Lastly, I've got good news and bad news. Remember that fantastic giveaway I hosted a few weeks ago? Well, the bad news is that if you haven't heard from me via email then you didn't win BUT the good news is that Green Giant has offered up another gift basket of their goodies to give away! The basket includes one 12-inch non-stick (PFOA-free) Calphalon fry pan, a wooden sauté paddle, love birds salt-and-pepper shakers, his & hers aprons, and two coupons for the new Green Giant Sautés. All of these goodies are perfect for your next #WeeknightDateNight! Enter anytime between now and next Wednesday, August 19th to get your hands on these goodies!
Chipotle Tahini Harvest Bowl recipe below: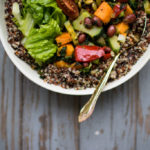 Chipotle Tahini Harvest Bowl
A healthy and filling vegetarian Chipotle Tahini Harvest Bowl perfect for any meal of the day!
Ingredients
1

cup

dried quinoa

, rinsed

1

package Green Giant Chipotle Harvest Sautés

1

cup

diced tomatoes

1/2

cup

chopped lettuce

(I used Romaine but get whatever looks good at your market)

3

Tablespoon

olive oil

, divided

1/2

cup

tahini

Salt / Pepper

Juice from half a lime

(+ more for garnish)

Cilantro

, for garnish
Instructions
Remove the seasoning packet from the Green Giant Sautés bag. Whisk together the tahini, 2 tablespoons of olive oil, juice from half a lime, and a dash of salt / pepper. Transfer to the fridge until ready to use.

Add the quinoa to a saucepan with 2 cups of water and bring to a boil. Once boiling, lower head to medium-low, cover, and let simmer for 20 minutes. Remove from heat and fluff with a fork. Set aside.

Meanwhile, warm the last tablespoon of olive oil in a large skillet over medium heat. Add in the Green Giant Chipotle Harvest Sautés vegetables (reserving the pumpkin seeds for garnish) and sauté, covered, for about 12 minutes or until the vegetables begin to brown. Remove from heat.

To assemble, divide the quinoa between two bowls and then top each bowl with the Green Giant Sautés vegetables, lettuce, tomatoes, tahini dressing, cilantro, and lime wedges. Enjoy!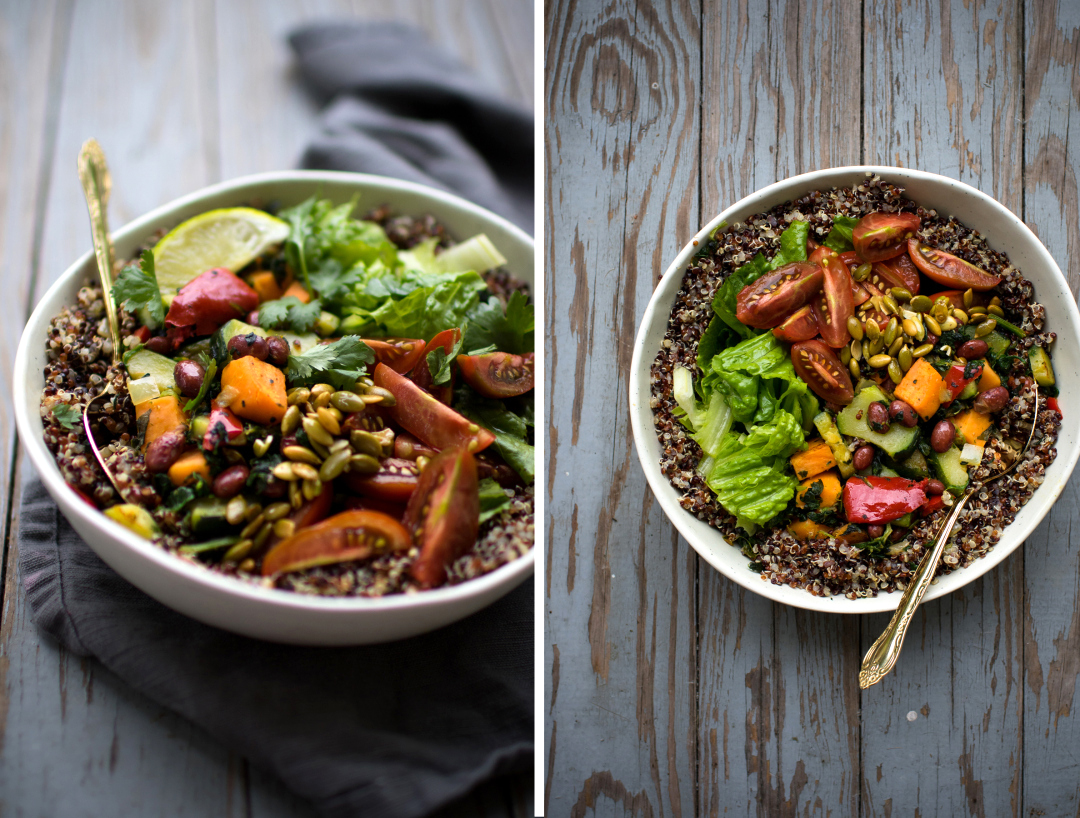 This post was sponsored by Green Giant but all opinions in this post are of my own. Thank you so much for helping to support brands that keep VV thriving.