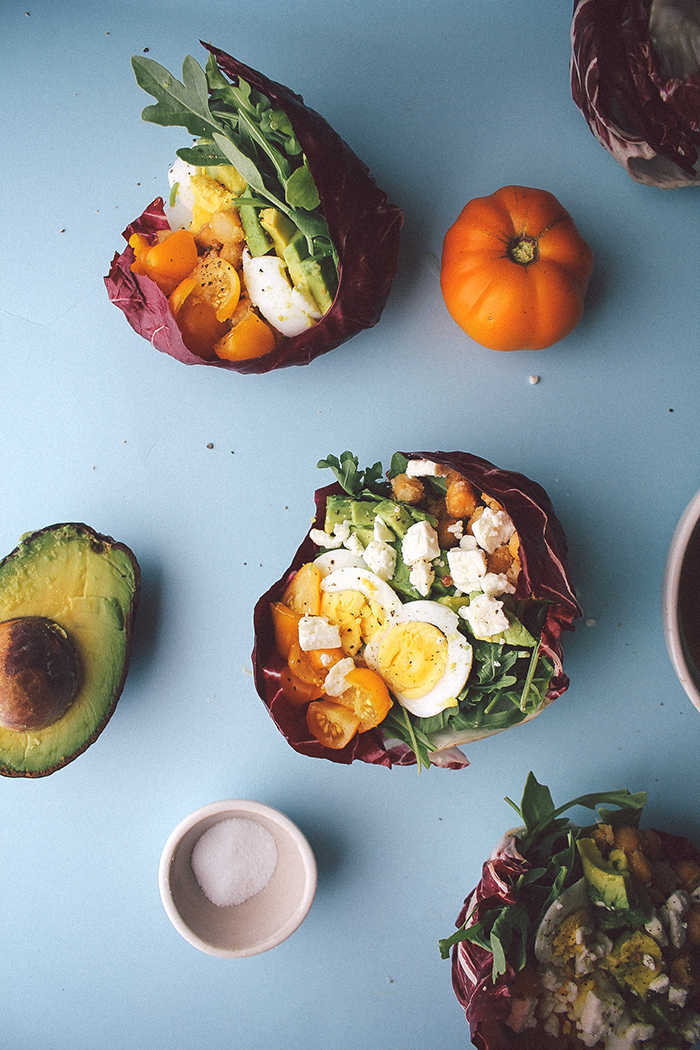 Chickpea Cobb Salad Cups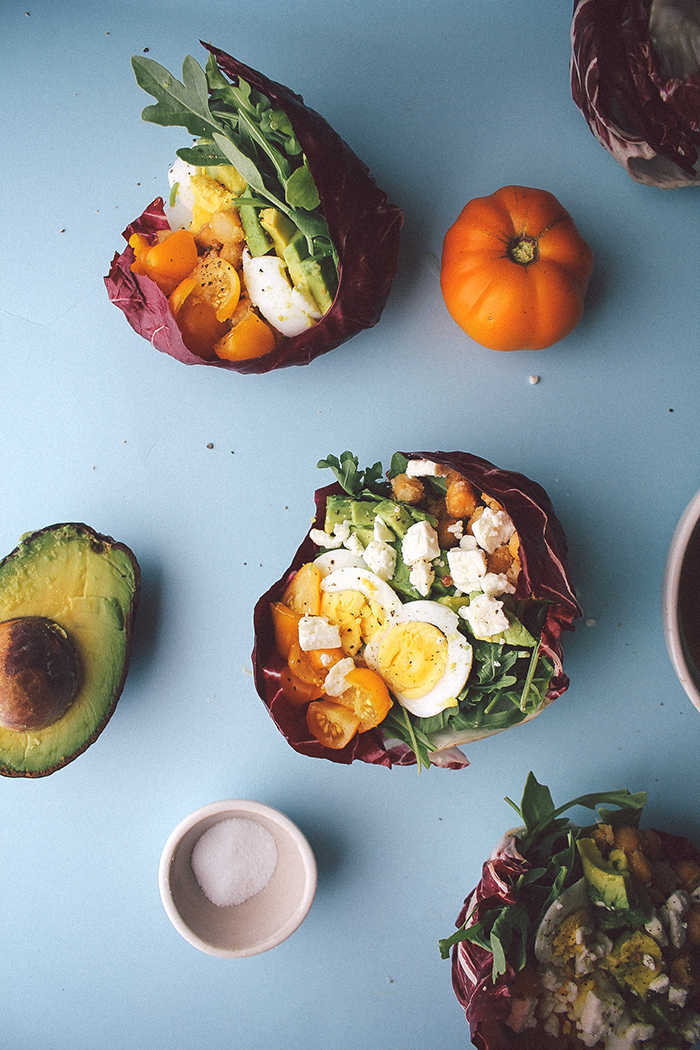 It has been hot hot HOT here in the Midwest. It's hard to get motivated to eat copious amounts of food (let alone turn your oven on) in this heat. I'm not complaining… this is always the time of year that I start to master my salads. When  you start eating the things three times a day, you are bound to get creative with them. Corn relish, seasoned chickpeas, baked goat cheese, preserved lemons, stuffed tomatoes, polenta croutons…the options with salads are endless!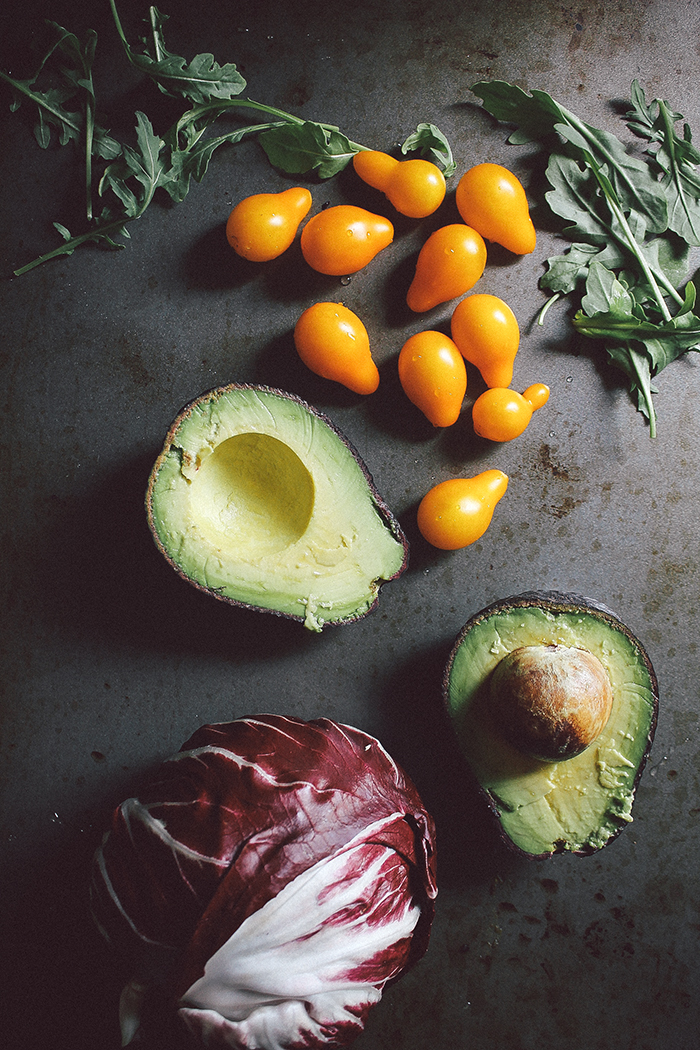 When imagining these cups, think Americanized lettuce wraps (and not the kind you get at P F Changs). These little cups are filled with a vegetarian Cobb inspired salad. You can fill the cups with goodies before hand or put all the toppings in individual bowls and let people pick and choose how much of everything goes into their cup. Or you could even do it lettuce wrap style and mix the salad ingredients together in one bowl and then let your guests scoop the desired amount into little raddichio leaves.
If you've never had raddichio before, it's a must try (especially for any salad lover). They look like mini red cabbages but have a flavor profile closer to the endive. Raddichio is slightly bitter and is part of the chicories family along with endives and escaroles. You can mellow out the slightly spicy / bitter taste by roasting the vegetable but I personally think it gives the perfect raw edge to this, otherwise pretty tame, Cobb salad.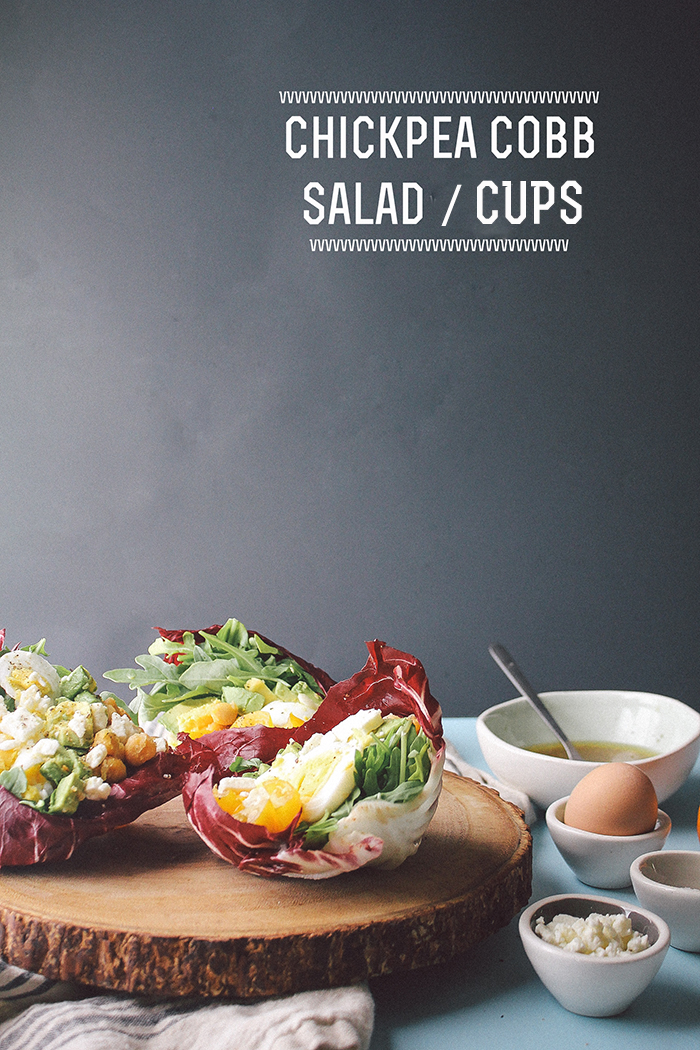 Chickpea Cobb Salad Cups
Makes 4 medium size or 6 small cups (depending in the size of radicchio) – Serves 4 as an appetizer
2 cups chickpeas (from dried or from one can – drain and rinse well if canned)
1 Tablespoon flour
1 Tablespoon olive oil
2 eggs
1 large tomato or 6 cherry tomatoes, diced
Half of an Avocado, diced
Arugula
Blue cheese, crumbled
Coconut Bacon, optional (find a recipe for it here)
For the dressing:
1 Tablespoon whole grain mustard
2 Tablespoons olive oil
2 teaspoons honey
2 teaspoons vegetarian worcestershire sauce
2 teaspoons rice vinegar
Salt / Pepper
First, let's hard boil the eggs. Place the eggs in a small saucepan and fill with water until eggs are emerged. Bring water to a boil, let boil for one minute, and then remove from heat. Cover and let the eggs sit in the water for 12 minutes. Drain and let cool. Peel and chop.
Toss chickpeas with the flour. Heat the olive oil in a small skillet over medium heat. Add the chickpeas and cook until golden brown. Transfer to a paper towel to remove excess oil. Set aside.
Whisk all dressing ingredients together until incorporated. Set aside.
Chop the bottom of the radicchio and peel back each layer to create little cup like pieces. Fill the cups with arugula, hardboiled eggs, chickpeas, avocado, tomatoes, blue cheese, and coconut bacon (if using). Drizzle with dressing and serve immediately.