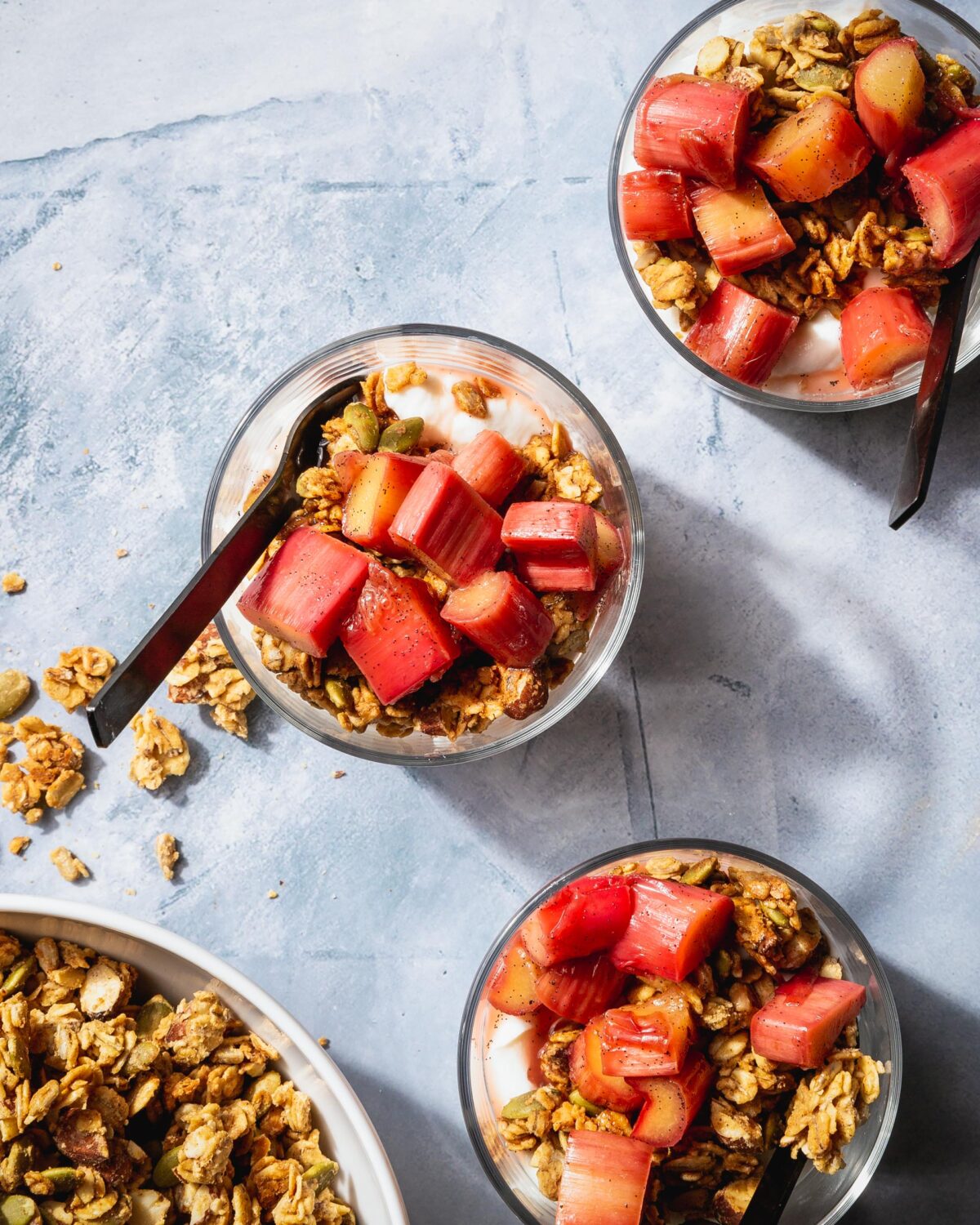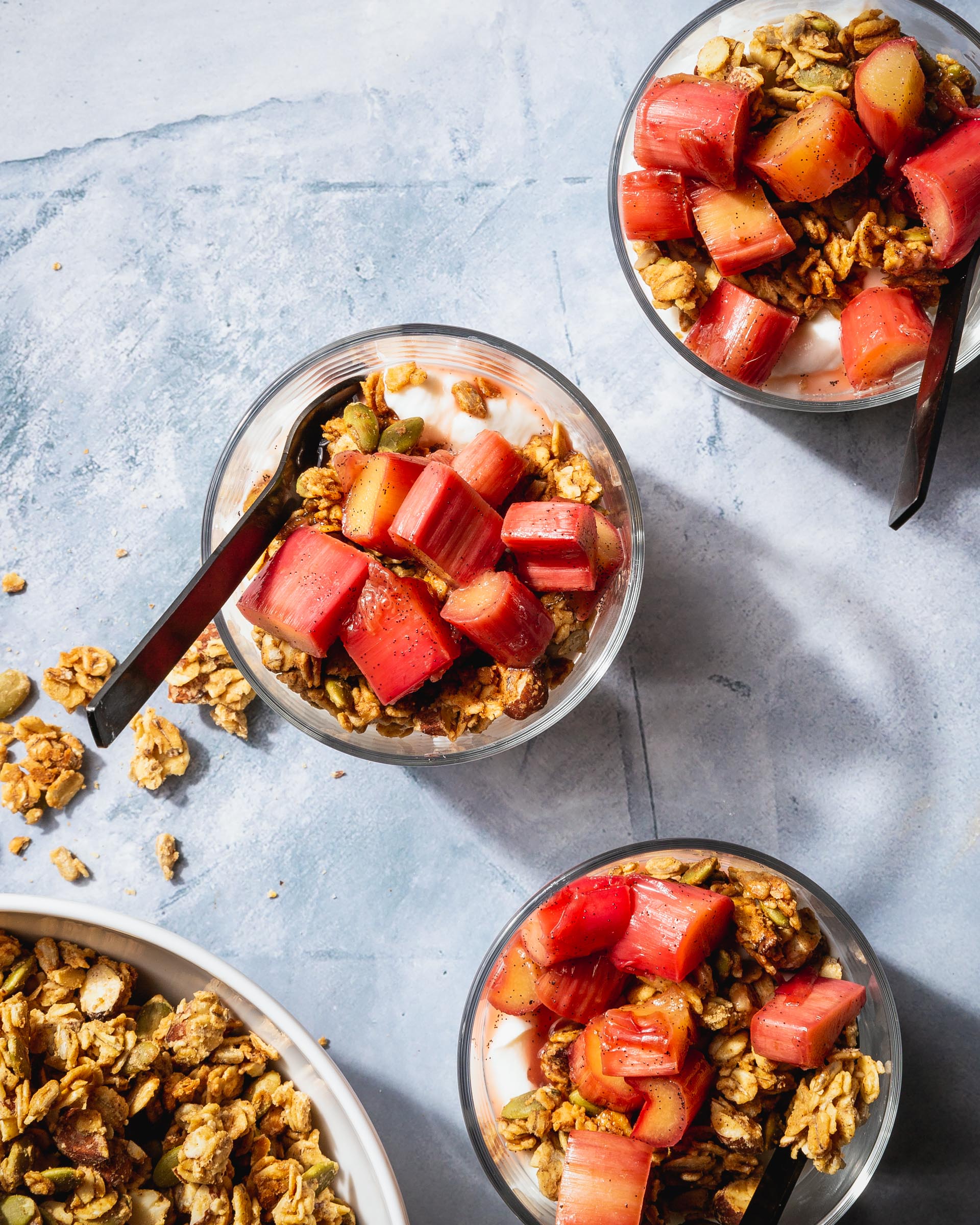 Clumpy Granola Bowl with Stewed Rhubarb and Yogurt
In a hurry? Click here to JUMP TO RECIPE!
Clumpy Granola Bowl with Stewed Rhubarb and Yogurt is a simple and easy recipe filled with protein-packed chickpea flour and perfect for a snack or simple breakfast.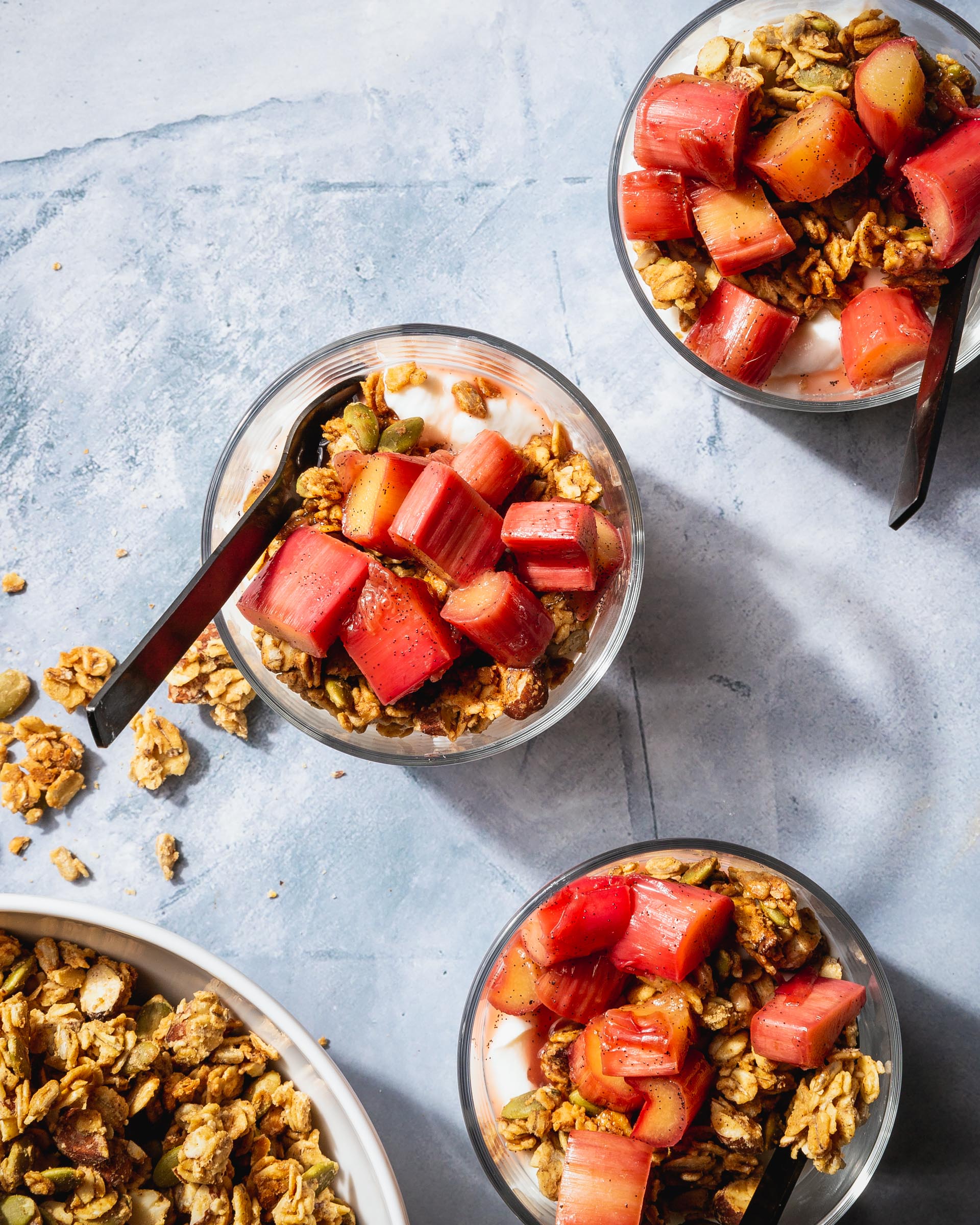 I've updated the photos from when I originally posted this recipe back in 2016 and I'm so excited to re-share this recipe with you all! One of my favorite things about this recipe is that the secret ingredient is chickpea flour so you end up getting a boost of protein without even realizing it! The end result is still sweet and delicious so you wouldn't know there was chickpea in your granola if you hadn't made it yourself! I also love how the stewed rhubarb only takes a few minutes to whip up so you can make it while the granola bakes in the oven.
This recipe is from my friend Lindsey's cookbook, Chickpea Flour Does it All. I'm huge a mega fan of Lindsey's gorgeous modern and stylish food photography and I knew this book was going to be amazing before I even got my paws on it. Before she had even asked me if I'd be wiling to review a copy for VV, I had already emailed her editor begging for a copy to share with all of you because I knew it was going to be one of the best cookbooks of the year. And you know what? It didn't disappoint. Her recipes are genius with creative ways to use chickpea flour that I couldn't even imagine coming up with and the photos in the book are some of the best I've seen in print.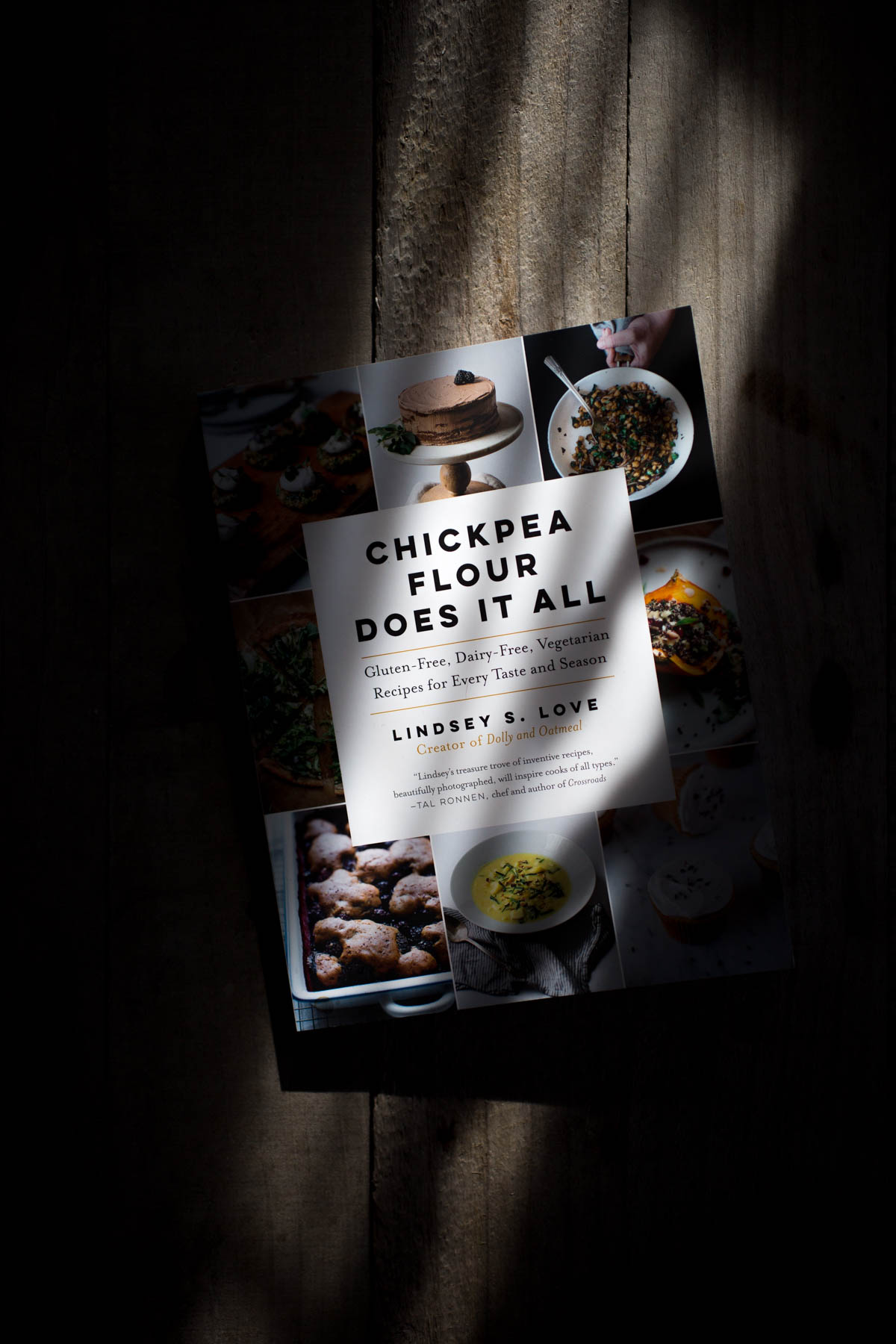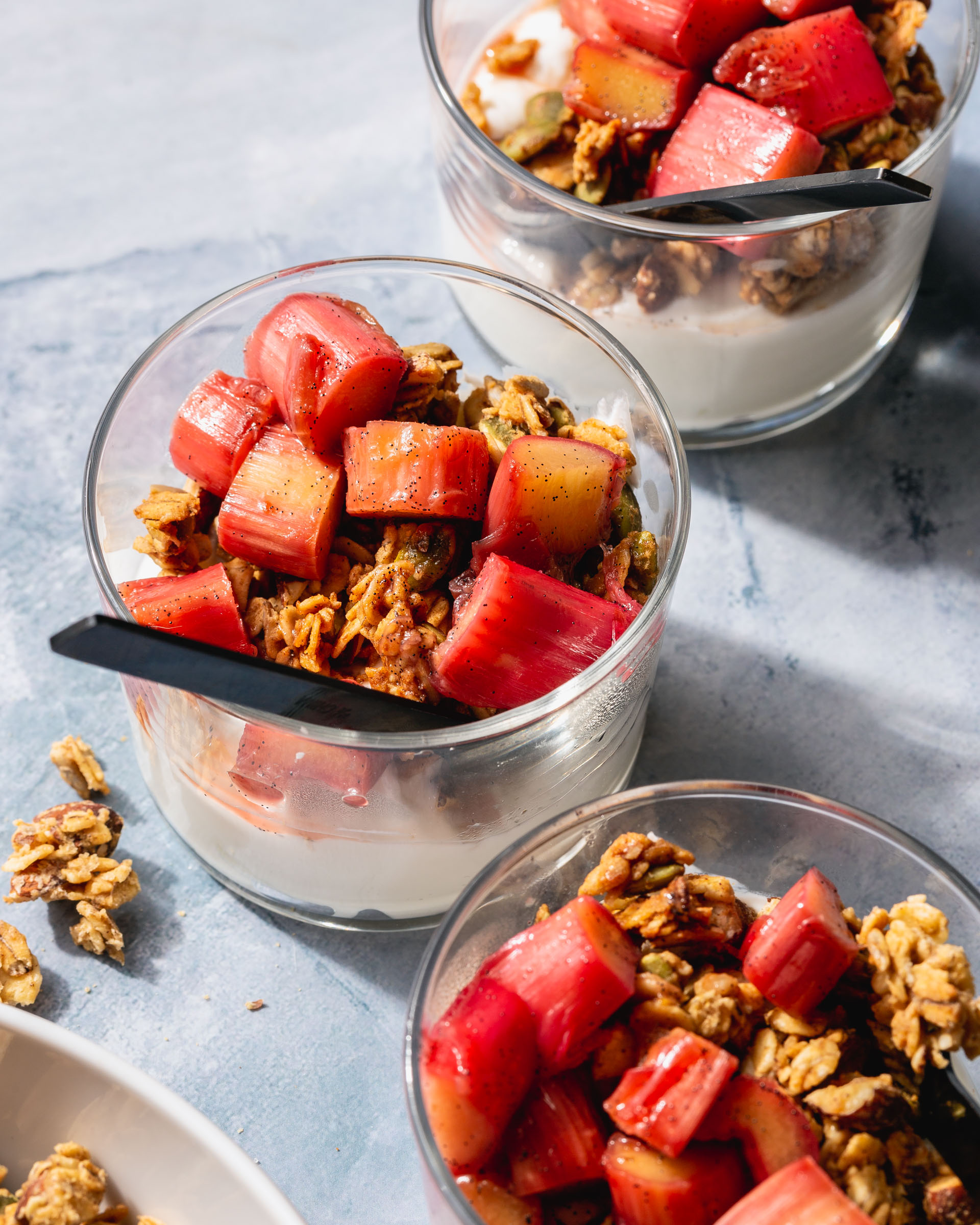 Maybe you are like me and bought a bag of chickpea flour a loooong time ago to make some falafel and then tossed the remaining flour into a jar and threw it in the back of your pantry. Or maybe you've never bought it before but are curious to try it. Either way, get this book! It has such an array of healthy recipes that will satisfy any dietary needs without feeling the least bit limiting.
Clumpy Granola Bowl with Stewed Rhubarb and Yogurt recipe below: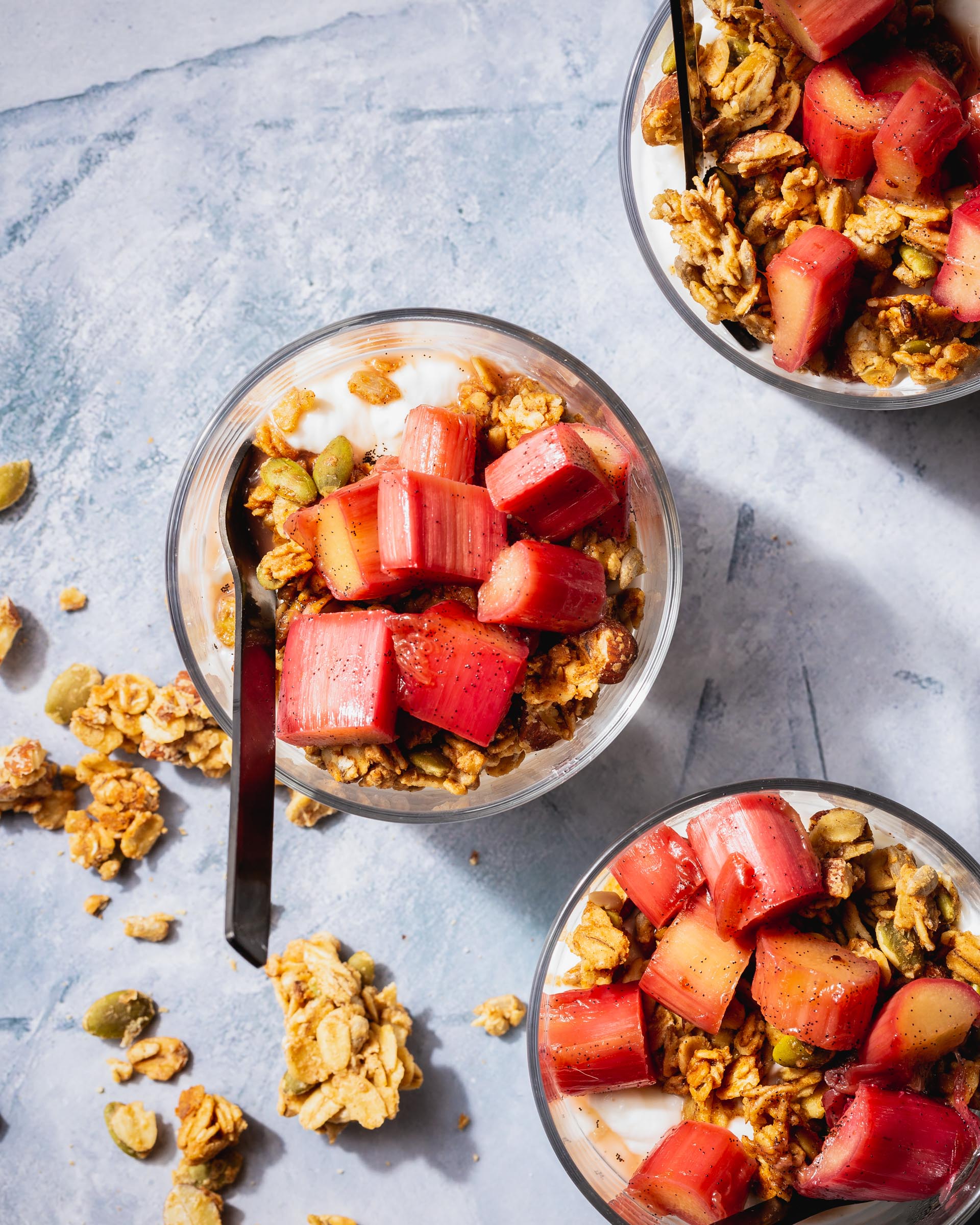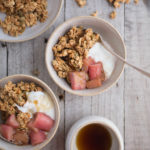 Clumpy Granola Bowl with Stewed Rhubarb and Yogurt
Ingredients
Granola
2

cups

(210 g) gluten-free old-fashioned rolled oats

½

cup

(85 g) almonds, chopped

½

cup

(15 g) puffed brown rice

½

cup

(60 g) chickpea flour

¼

cup

(33 g) pumpkin seeds

¼

cup

(35 g) sunflower seeds

1

teaspoon

ground cinnamon

1

teaspoon

ground ginger

½

teaspoon

ground nutmeg

½

teaspoon

sea salt

1/3

cup

(80 ml) maple syrup

¼

cup

(60 ml) coconut oil, melted
Stewed Rhubarb
1

rhubarb stalk

, trimmed and cut into 1-inch pieces

1

tablespoon

maple syrup

1

teaspoon

lemon juice

½

vanilla bean pod

, scraped (or ½ teaspoon pure vanilla extract)

1

cup

(250 g) coconut yogurt (or yogurt of choice)
Instructions
Preheat oven to 300°F (150°C) and line a baking sheet with parchment paper; set aside.

In a large bowl, whisk together all the dry ingredients until thoroughly combined. In a small bowl, whisk together the syrup and oil, and then fold into the dry mix with a wooden spoon or rubber spatula. Mix for 2 to 3 minutes, until the granola is wet and clumpy.

Transfer the granola to the prepared baking sheet and use the back of your spoon or spatula to spread it out in an even layer.

Bake for 40 to 45 minutes, rotating halfway through, until lightly browned and fragrant. Remove from the oven; let cool completely. Gently break up the granola into clumps and store in an airtight container at room temperature for up to 2 weeks.

To make the stewed rhubarb, heat a small saucepan over medium-low heat; add the rhubarb, syrup, lemon juice, and vanilla bean, and stir. Cook for 6 to 8 minutes, until bubbling and the rhubarb is tender and loses a bit of its color. Remove from the heat and set aside.

Divide the yogurt among four bowls, add a ó cup of granola to each bowl (there will be 1 cup granola left over), and then divide the stewed rhubarb among the bowls.
Styling & photography notes: White ceramic bowls and plates: m.bueno / Small  fluted dishes: Kate Lewis Made / White enamel bakeware: Macy's / Photos shot with a Canon EOS 5D Mark III
and edited with Adobe Photoshop Lightroom 6.