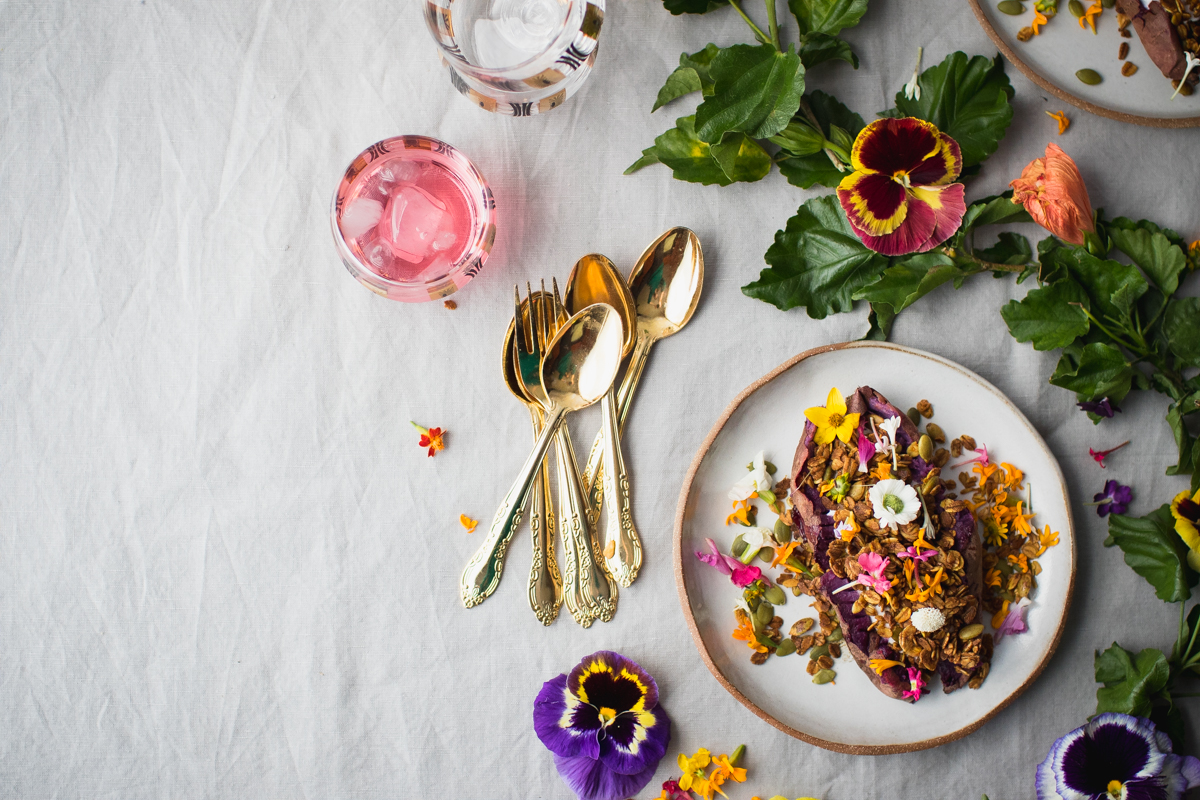 Breakfast Sweet Potato with Hibiscus Tea Yogurt & Turmeric Granola
Welcome back for part 2 of my edible flower series! Don't forget to check out part one, a decedent Hibiscus Lemon Curd Tart if you haven't already!
One of my favorite winter breakfasts was re-heating a already baked sweet potato and topping it with almonds, granola, and maple syrup. It's filling, nutritious, has that addictive crunch, and tasted a oddly like Thanksgiving to me which made the first meal of the day all the more comforting. When I found the most gorgeous purple sweet potatoes at the market the other day, I knew I had to share this energizing breakfast recipe with all of you!
I decided to liven the recipe up a bit for this post since my standard fair is pretty wintery and a spring version was in order. Although the recipe I'm making here is with bright turmeric granola and tart hibiscus tea yogurt, you can make a simpler version with whatever granola you have on hand and plain yogurt sweetened with honey or maple syrup for a simple weekday breakfast. If going that route, you can also roast the sweet potato the night before and just reheat in the morning before adding the granola and yogurt.
This recipe has a flower theme to it as this post is part of the Edible Flower Virtual Potluck hosted by the wonderful Will Frolic For Food! The amount of crazy inspiring recipes in this potluck is beyond words. Here is a full list of everyone participating if you'd like to take a peak at other delicious flower-inspired recipes:
Breakfast Sweet Potato with Hibiscus Tea Yogurt & Turmeric Granola
Serves 2
2 purple sweet potato (orange works fine too!)
For the granola:
2 1/2 cups oats
2 teaspoons dried turmeric
1 teaspoon cinnamon
1 Tablespoon citrus zest
1/4 cup honey
1/4 cup sunflower oil
1/2 cup pumpkin seeds
dash of salt
 For the yogurt:
1 cup plain greek yogurt
1 teaspoon maple syrup (or honey)
1 hibiscus tea bag
edible flowers, for garnish (optional)
To bake the potatoes (can be done the night before to speed up the process): Preheat oven to 425 degrees and poke the potatoes all over with a fork. Wrap the potatoes in tin foil and bake for 45 minutes to one hour (depending on the size of the potato). Remove from oven and let cool.
For the granola: Lower oven heat to 250 degrees and line a baking sheet with parchment paper. Combine all of the granola ingredients in a mixing bowl and stir until everything is coated with the honey and oil. Transfer to the lined baking sheet and spread out as evenly as possible. Bake for 45 minutes, stirring every 15 minutes, or until the granola has browned. Remove from oven and let cool.
For the yogurt: Make hibiscus tea according to the tea bag's directions and set aside to cool. Once at room temperature, whisk the maple syrup and tea (starting with a teaspoon at a time) into the yogurt until you reach a smooth and creamy texture with a slightly pink hue to it.
To assemble: Slice the potatoes in half and top with granola, flavored yogurt, and edible flowers for garnish.