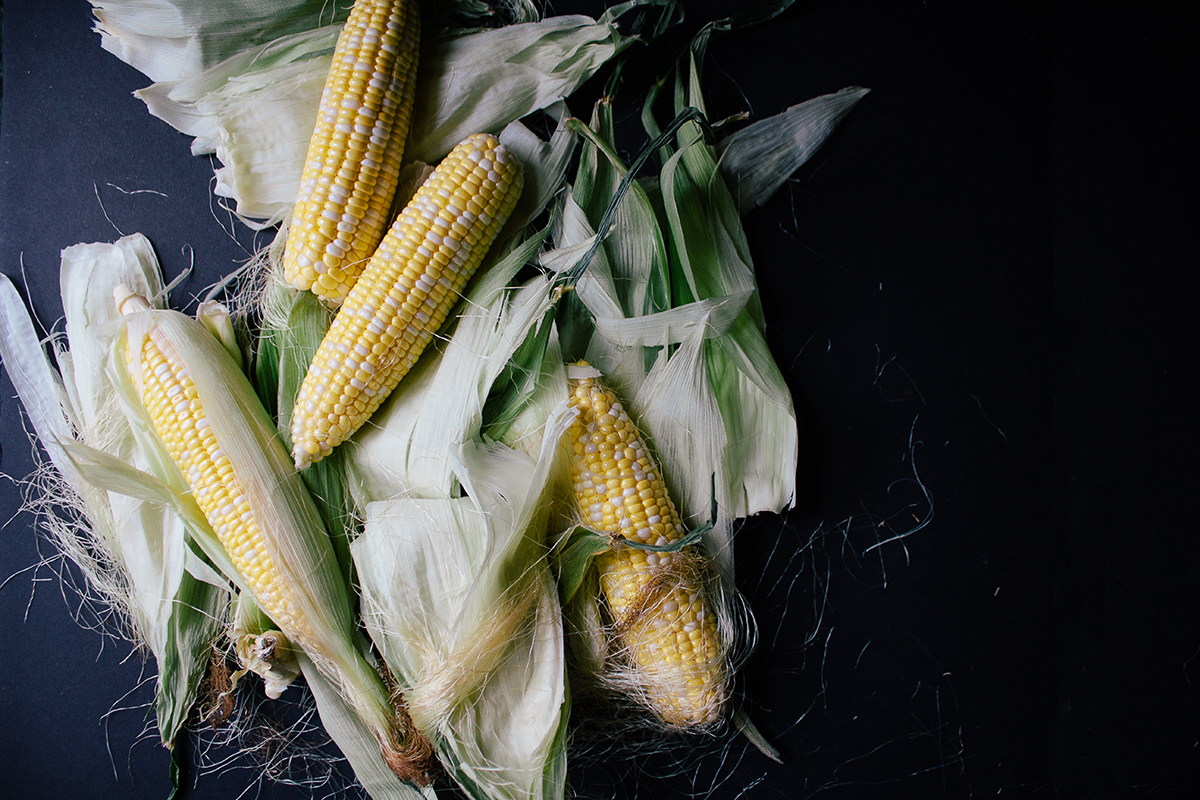 Vegan Corn Cream Soup With Cornbread Croutons + National Chicken Month
In a hurry? Click here to JUMP TO RECIPE!
One of my very close friends recently decided she wanted to stop eating meat so she came to me as for suggestions on where to begin. I was able to send her a long list of blogs, cookbooks, and resources for her new found dietary adventure and was very flattered to help. I try to not be preachy here on VV but my vegetarian beliefs are strong and I'm so very grateful to be used as a resource for helping others find their footing in the world of vegetarianism when they are ready.
There are times where I honestly forget that my diet is any different than most Americans. I have been a vegetarian for over 10 years so the thought of ordering a steak at a restaurant never even crosses my mind. Yes, I sometimes bring it up but I like to let my recipes speak for themselves and for you to want to dive into them because they look and taste delicious. I want you to forget that my recipes are even vegetarian and for you to decide to make them because they are what sound good to you at the time.
Perhaps if we knew each other in real life then I may be more open to offering up my vegetarian beliefs to you – when you could sit down next to me and see that I am a totally normal person who loves Seinfeld marathons and strong drip coffee just like everyone else. But we are not right next to each other and you don't have any confirmation that I am in fact a level headed human (except maybe through the words posted here on VV). This means flashing a slaughter video of animals being mistreated would most likely be found as appalling and, at the very least, a horrible start to a friendship. This is unfortunately the approach that many animal activists organizations take and, although I do support them, I do not feel comfortable posting their traumatic content on VV. With that being said, I was contacted by ASPCA (The American Society Against the Cruelty of Animals) earlier this week about National Chicken Month and found their campaign to not only be void of preachiness but straight up educational. The video they sent me was tasteful and informative. Heck, they aren't even telling you to give up eating chickens but just to be mindful that the chickens you do eat have humane living and slaughter conditions (which…maybe it's because I'm a vegetarian but sounds like a no brainer).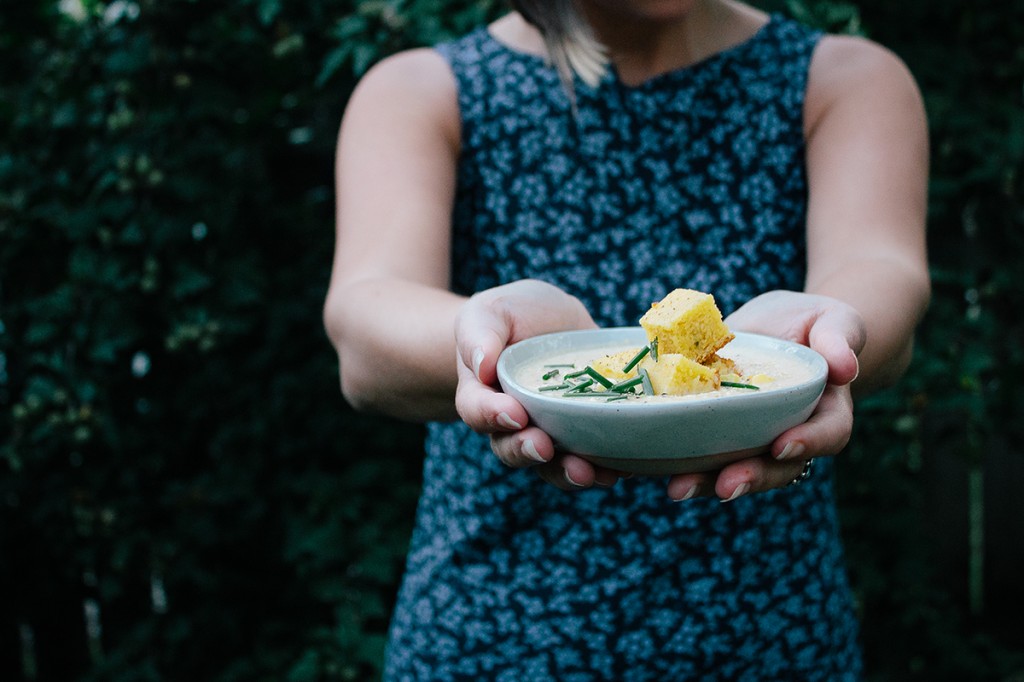 Anyhow, word on the street is that it's National Chicken Month and I'd like to challenge you to step outside the comfort of chicken meals and try replacing chicken with wholesome plant ingredients. I've included a new recipe below for a simple week night meal and here is a list of other delicious meals for you to try out:
+ Oh My Veggie's Black Bean Enchiladas with Roasted Red Pepper Cashew Cream
+ Farmer's Market Miso Noodle Bowls with Garlic Chips from Half Baked Harvest
+ Spicy Tofu Curry from My Darling Lemon Thyme
+ Tempeh Satay with Peanut Sauce from The Earthy Feast
+ Sweet Potato & Blueberry Forest Bowl by Produce on Parade
+ Quinoa Crusted Cauliflower Steak over on Vintage Mixer
+ Pesto Squash Noodles and Spagetti with Burnt Tomatoes from Cookie + Kate
+ The Edible Perspective's One Pan Enchilada Bake with Califlower Nacho Sauce
+ Grilled Eggplant with Herbed Quinoa and Cherry Tomatoes from A Couple Cooks
+ The First Mess' Grilled Sweet Potato and Black Bean Burrito Bowls with Spicy Cumin Garlic Drizzle
+ Tempeh Tacos with Peach Salsa from 80Twenty
+ Teriyaki Chickpea Loaded Sweet Potatoes from Naturally Ella
+ Herb Gnocchi with Mid-Season Greens from Lady & Pups
I hope you join me in attempting to cut back on chicken for the rest of this month and spice your meals up with an array of protein packed plants and legumes. Here is the informative video from ASPCA if you are at all interested:

And finally, a few quick notes about this corn soup! I used  a simple cashew cream (idea courtesy of Laura's recent soup post where she did the same thing with a tomato soup – genius!) to make the soup creamy and give it an extra boost of protein to keep you fuller longer. It was incredibly easy but you do need to keep in mind that the cashews need to soak in water overnight to get them soft enough to blend.
Also, don't throw away the cobs after you remove the kernels from them! I let the cobs simmer in the soup until almost done to achieve maximum corn flavor and to create the most delicious corn broth. Don't skip this step in the recipe – I promise it's worth the tiny bit of extra effort.
Lastly, I used Mina's Harissa to make this recipe spicy because I had it on hand and had been dying to try it. I highly recommend Mina's but if you can't find it in your supermarket then you could make your own or substitute it with other spicy ingredients (diced jalapeño, hot sauce, etc).
Vegan Corn Cream Soup With Cornbread Croutons recipe below: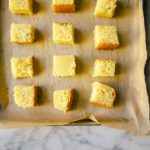 Cornbread Croutons
Ingredients
For the cornbread croutons:
2

cups

non-dairy milk

1/2

lemon

2

cups

cornmeal

1

cup

all-purpose flour

2

teaspoons

baking powder

1

teaspoon

salt

1/3

cup

coconut oil

, melted

2

Tablespoons

maple syrup
Instructions
Preheat oven to 350 degrees and line a 9×13 baking sheet with parchment paper.

Squeeze the lemon juice into the milk and set aside for at least 5 minutes.

Whisk together the cornmeal, flour, baking powder, and salt in a large bowl.

Make a well in the center of the dry ingredients and pour in the coconut oil, maple syrup, and milk mixture.

Slowly whisk together the wet ingredients and then start incorporating the dry ingredients as you whisk until a thick batter as formed.

Spread evenly in your baking pan and bake for 35 to 40 minutes or until a toothpick comes out clean in the center.

Remove from oven and let cool completely.

Slice the bread into 1 inch squares to make them 'croutons'.

I honestly thought they were delicious just like this but if you'd like them crisper then feel free to coat with a tiny bit of olive oil and set under the broiler for a few seconds.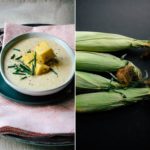 Vegan Corn Cream Soup
Ingredients
4

ears of fresh corn cobs

, kernels removed from cobs

1

onion

, diced

3

garlic cloves

, minced

2

Tablespoons

olive oil

2

Tablespoons

Harissa

(add more if you like it extra spicy and feel free to substitute other spicy things you have on hand if harissa isn't handy: a diced jalepeno, squirts of sriracha, etc)

about 3 cup vegetable broth

(homemade or store-bought)

1/4

cup

raw cashews

, soaked in water overnight

Salt / Pepper

Chives

, for garnish
Instructions
Heat olive oil in a large stockpot or dutch oven over medium heat.

Add in the onions and sauté for 3 to 5 minutes or until soft. Next, add in the garlic, and harissa (if using) and sauté for another minute.

Throw in the corn kernels, corn cobs, vegetable broth, and a little salt and bring to a boil. Once boiling, turn down heat, cover, and let simmer for 30 minutes.

While simmering, drain your cashews and then blend them with a 1/4 cup water (you may need a little more depending on how big your blender is – you want to make sure that it helps get them really creamy without making them too watery) until a smooth cream has formed.

Once the soup is done simmering, remove from heat, discard the corn cobs (or save for vegetable broth) and use an immersion blender to puree the soup (I like a little texture in my soup so I left it a little chunky but that is completely your call).

Next, stir in the cashew cream and return back to heat. Let simmer for another 5-10 minutes and season with salt / pepper.

Top with fresh chives and cornbread croutons.