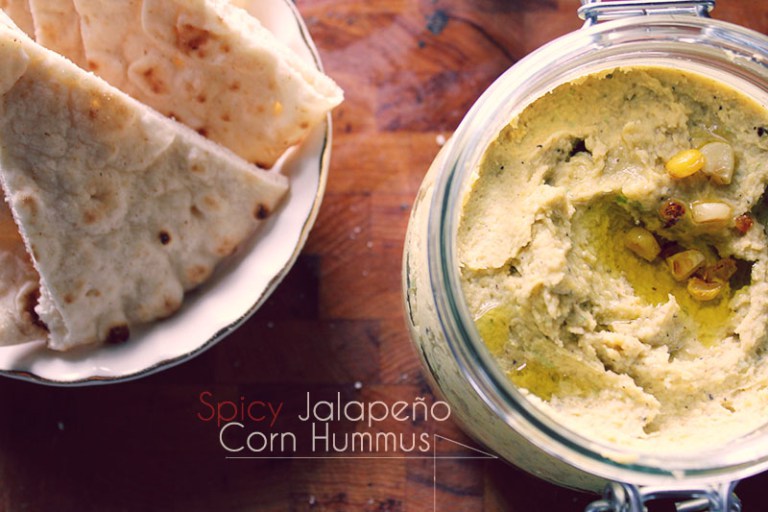 Heyyya! Happy gloomy, gloomy Tuesday. As a way to kick up this chilly and droopy day, I made some spicy hummus to warm you up! Well…I didn't exactly make it for you. I made the hummus for myself but I do have the recipe to share with you so that you can make it too! It's the perfect afternoon snack to fill you up and give your metabolism an extra boost (did you know spicy food does that? How cool!)
Anyhow, I'm off to do more logo design proofing followed by a lazy evening filled with warm apple cider and Parks & Recreation marathons.
Spicy Corn Jalapeno Hummus
1 jalapeno
2 cups cooked chickpeas
2 large ears of corn, kernels removed from the cobs (about 3/4 cup)
1 Tablespoon butter
2-3 Tablespoons olive oil
2 Tablespoons tahini
2 teaspoons lemon juice
salt/pepper to taste
sriracha, optional (if you like it super spicy – add a few drops at the end)
Roast the jalapeno however you'd prefer. I stuck mine over my gas stove (see photo below) but feel free to use the broiler as well.
Heat the butter in a skillet over medium heat. Add the corn and saute for about 7 minutes or until they are soft and browned.
Combine, the jalapeno, corn, chickpeas, olive oil (start with 2 tablespoons and add more if it's too thick), tahini, lemon juice, salt, and pepper in a blender (or food processor). Mix until everything is incorporated and the desired consistency is reached (add more tahini or olive if it's still too thick and adjust flavor to your liking with the salt/pepper/lemon juice).
Fold in some sriracha if you want an extra kick and serve with warm pita.