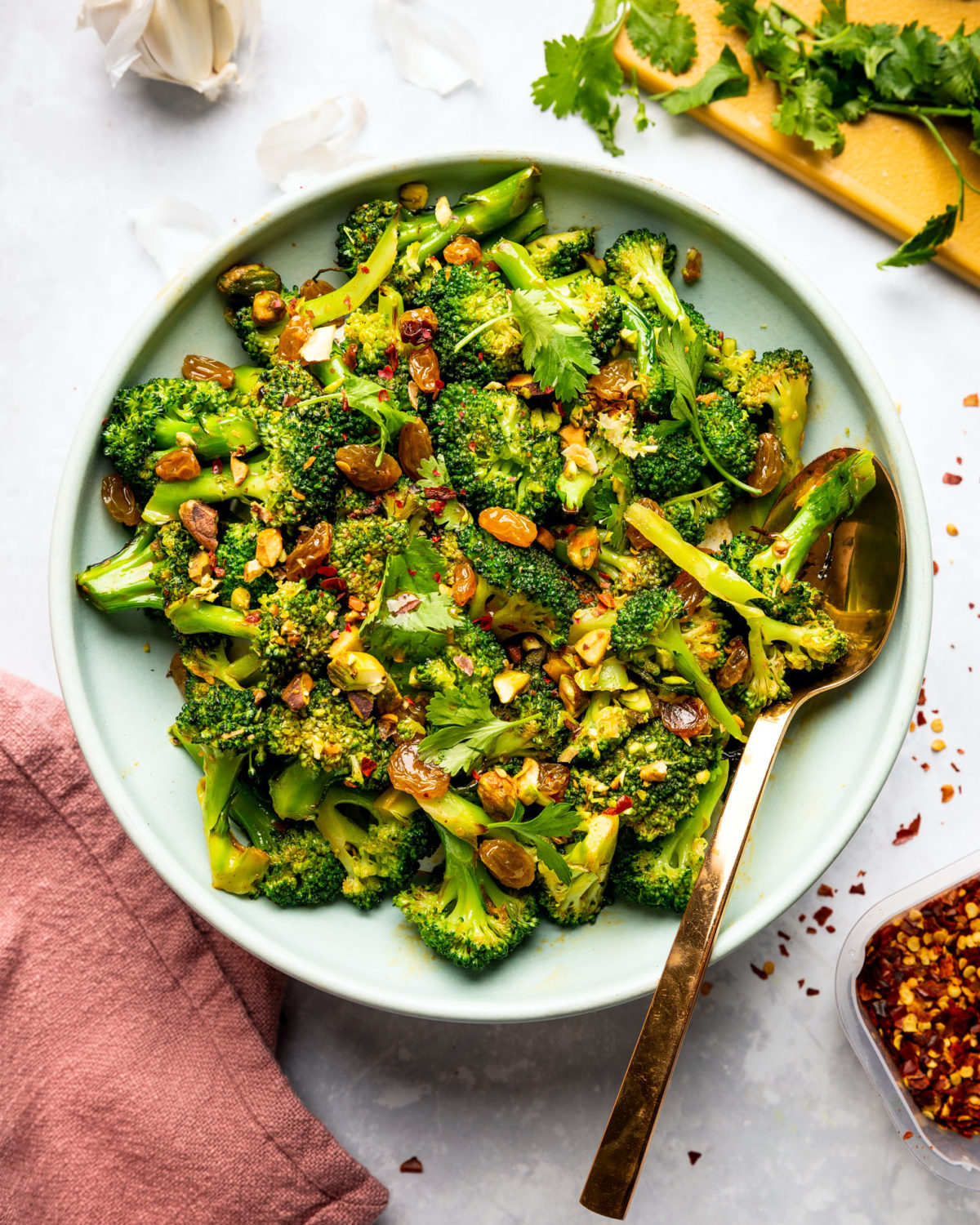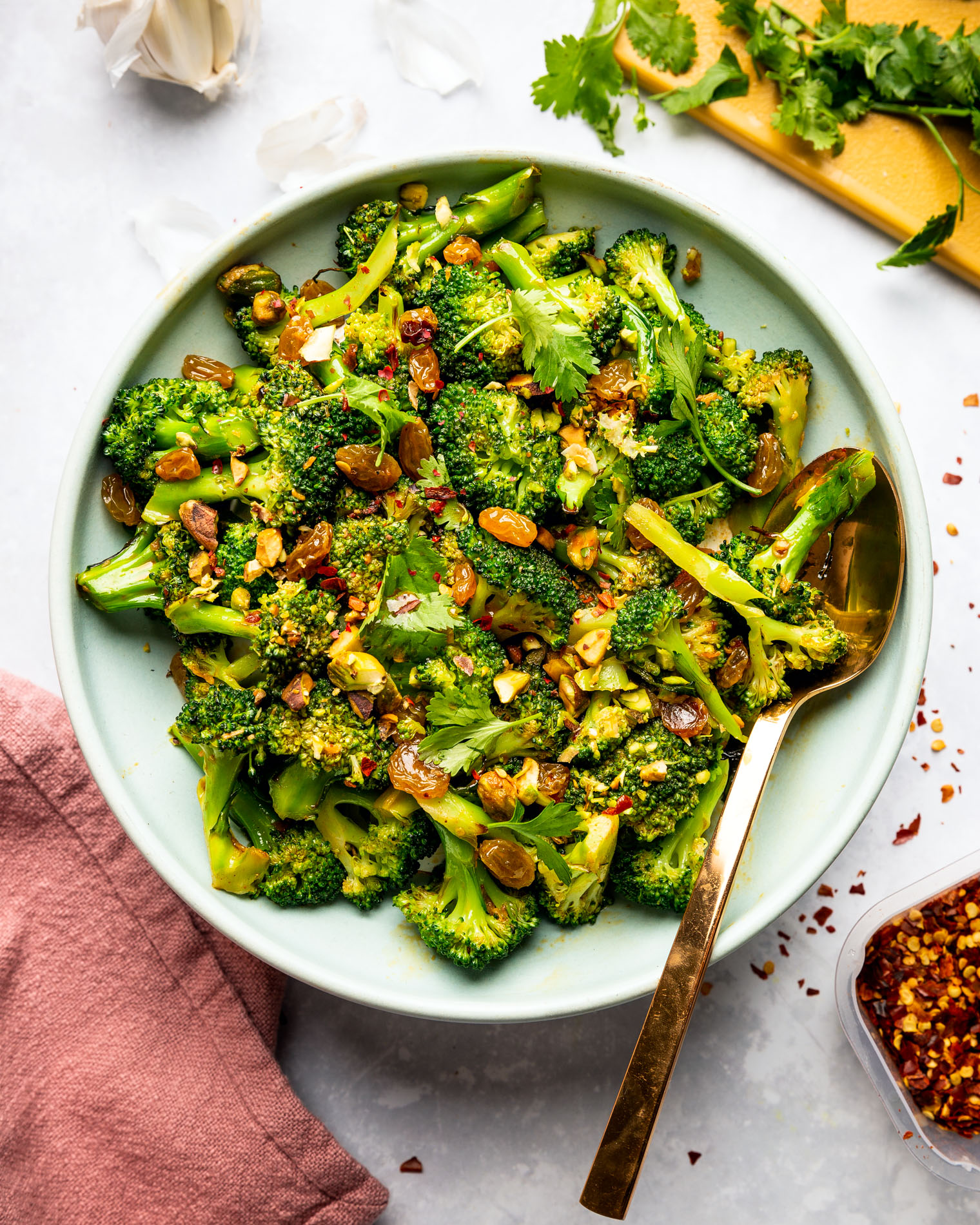 Easy Broccoli Raisin Salad
This Easy Broccoli Raisin Salad with pistachios and herbs is my go-to when wanting to add a little extra vegetables to my lunch. I love to enjoy this as a side with a sandwich instead of chips.
In a hurry? Click here to JUMP TO RECIPE!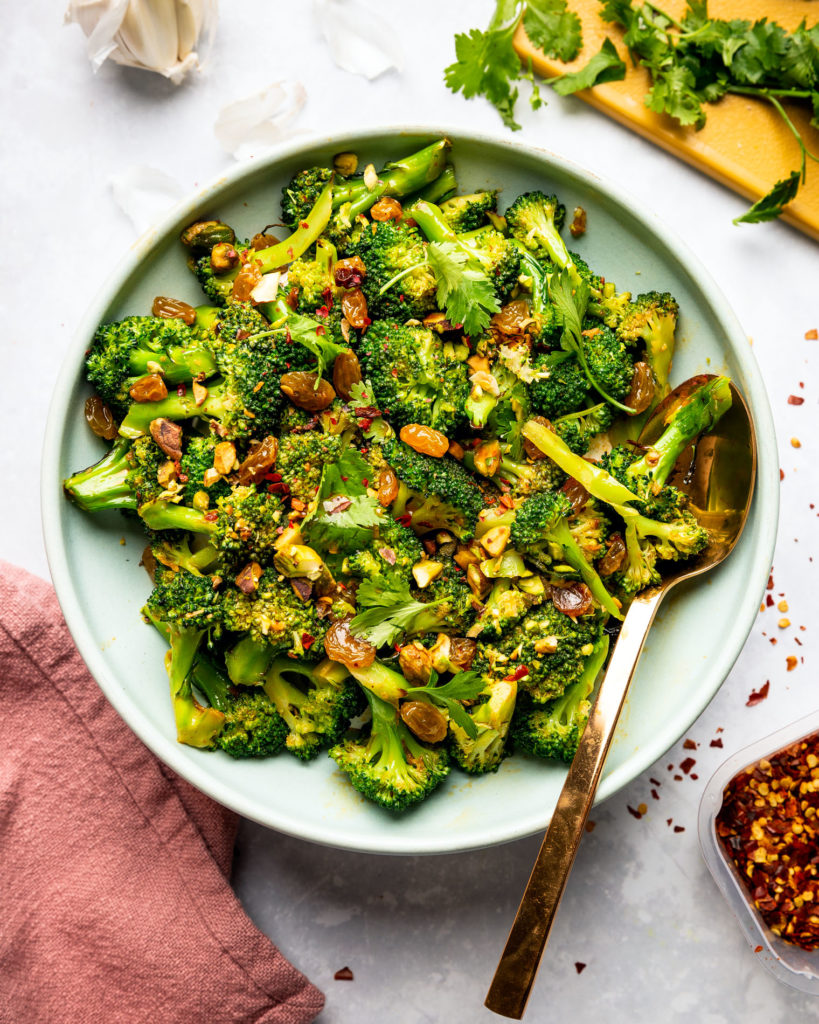 Continuing on with my commitment to bring you easy and simple recipes during the pandemic, today I'm sharing one of my favorite go-to salads to make for lunch. I love having this easy broccoli raisin salad as a side along with a veggie sandwich instead of chips. What makes this broccoli salad so addicting is that it's the perfect blend of savory (broccoli) + sweet (golden raisins) + heat (chili pepper flakes) + crunch (pistachios). Plus, it's super versatile so you can adapt it to use whatever you have on hand (more on that below).
You can prepare the broccoli however you usually prefer it for this salad as long as you continue to maintain a crunch (aka don't overcook it). I love giving my broccoli a simple steam but this recipe would also be delicious with raw broccoli or roasted, depending on how you prefer yours.
Also, this salad is delicious right after it's been prepared but is even better the next day after the dressing has had time to soak into the broccoli. If you do decide to prepare it the day before, consider holding off on adding the pistachios until right before serving so they don't get soggy.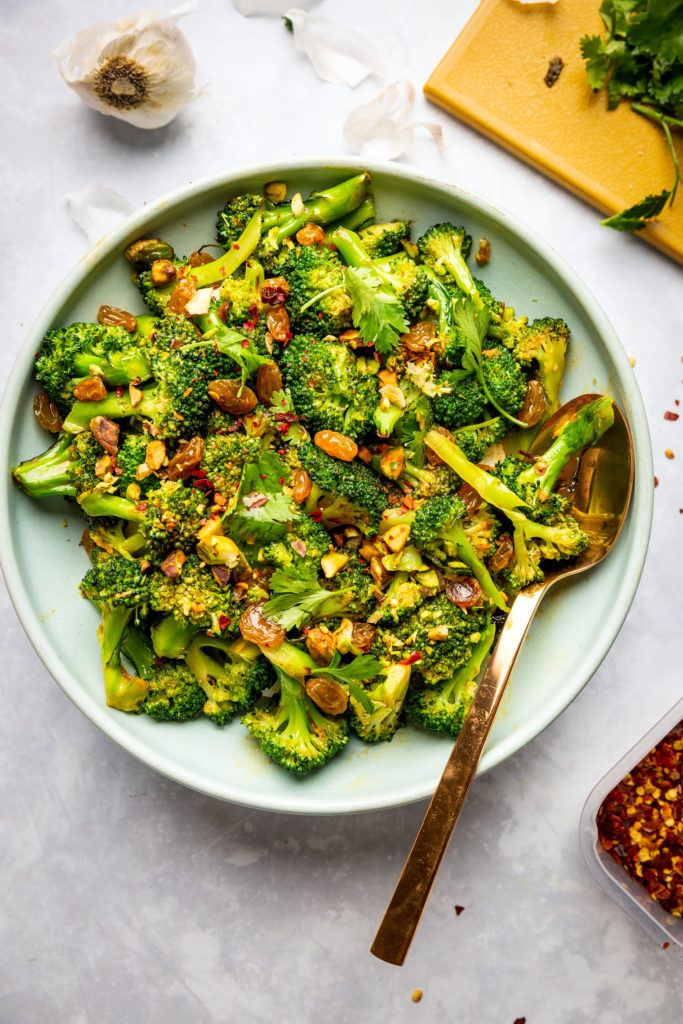 With the ongoing pandemic, I plan to give as many substitution suggestions as possible so you can continue to cook without having to run out to the store. Although some of these suggestions may vary the end result, I only make suggestions if I think it will still be delicious. Here is a list of substitute suggestions for this Easy Broccoli Raisin Salad recipe in case you don't have certain ingredients on hand:
Broccoli – If you don't have any broccoli on hand, you could use cauliflower instead. Also, it will change the salad substantially but you could also use carrot coins instead.
Golden Raisins – Any type of dried fruit (think apricots, craisins, etc) could work here but make sure to cut them into small pieces the size of a raisin so you don't get too much sweet with each bite.
Cilantro – As long as you like the flavor of them, most fresh soft herbs would work such as parsley or dill. I would avoid dried herbs if possible.
Pistachios – Chopped and toasted walnuts, pecans, or almonds are great alternatives for this salad.
Olive Oil – Any other neutral oil will work as long as you like the flavor.
White Wine Vinegar – You've got two options here if you don't have white wine vinegar: option 1 is to just add more lemon juice and option 2 is to replace with another vinegar such as red wine or apple cider.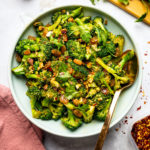 Easy Broccoli Raisin Salad
Ingredients
1

large head of broccoli (raw, steamed, or roasted – whichever way you prefer it but just make sure it maintains a crunch!)

cut into bite piece pieces

3

Tbsp

olive oil

1

tsp

garam masala or yellow curry powder

1

garlic clove

minced

1

Tbsp

freshly squeezed lemon juice

1/2

Tbsp

white wine vinegar

1/2

Tbsp

honey

1

tsp

garlic chili sauce or 1/4 tsp red pepper flakes

salt and pepper

to taste

1/4

cup

golden raisins

1/4

cup

chopped pistachios

1/4

cup

chopped fresh cilantro
Instructions
Heat olive oil in a small skillet over medium heat. Add the garam masala or curry powder and garlic and saute for 1 minutes or just until the garlic starts to brown. Remove from heat and whisk in the lemon juice, vinegar, honey, garlic chili sauce (or red pepper flakes), and a pinch of salt and pepper. Toss in the golden raisin and set aside.

In a large mixing bowl, toss together the broccoli, pistachios, and cilantro until combined. Pour the dressing and golden raisin mixture into the broccoli mixture and toss to combine. Taste and season with more salt, pepper, or red pepper flakes, as needed.

Enjoy right away or store in an airtight container in the fridge.
Looking for more broccoli recipes? Here ya go:
Make sure to tag me on Instagram and use #vegetarianventures when trying this dish out!
8