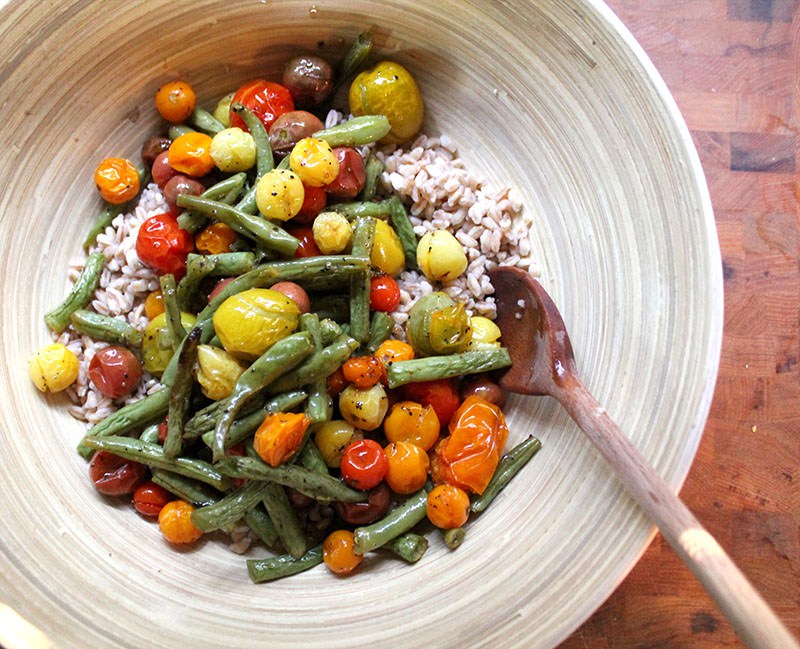 Farro Salad with Roasted Vegetables and Caramelized Onions
Have you ever cooked with farro? Well, this was my first time and I was totally blown away. Imagine a mix between a softer wheatberry and a heartier brown rice. It is oh so delicious and a fairly easy grain to prepare so I am not sure why we don't utilize it more in our culture. As expected, I didn't know anything about farro when I picked up a few cups of it in the bulk section at my co-op. After during some research, I learned that farro is an Italian grain that has just recently hit the United States by storm. It's not a wheat grain (but a grain all of its own) and contains starches similar to arborio rice which results in a creamy texture when cooked (but does not get as gummy as risotto). And most importantly, farro is packed with fiber, magnesium, and Vitamins A, B, and E. If you'd like to learn more about this Italian grain, I'd recommend checking out this New York Times article on it.
Anyways, now that I am done with the food lesson for the day, let's talk for real. This dish was summer in a bowl for me. I feel like every season I connect with at least one dish (last summer was that Savory Vegetable Cobbler) that makes me wonder where this recipe has been all my life. This is it! Fresh, roasted tomatoes are already one of the best things ever to exist so to mix them with caramelized onion and then put them on a hearty grain like farro…done deal. This is one of those recipes that shines in its simplicity…it doesn't even need to be cooked with herbs or sprinkled with cheese to bring out the flavors.
So yeah. I hesitate to call this a salad because it is more than hearty enough to be your whole meal. Feel free to entertain the idea of it being a starter but you will probably forget whatever your main is and want to keep digging into this creation. I highly suggest you give it a try and see for yourself!
Farro Salad with Roasted Vegetables and Caramelized Onions
1 cup farro, uncooked
2 cups cherry tomatoes (I used a heirloom mixture)
2 cups green beans, trimmed
8 ounces of white button mushrooms, sliced
1 medium red onion, sliced
2 Tablespoons balsamic vinegar
1 Tablespoon butter
2 Tablespoon olive oil
Salt/Pepper
Preheat ovan to 400 degrees and line a baking sheet with parchment paper. Place tomatoes and green beans in a single layer on sheet and evenly coat with 1 Tablespoon olive oil. Sprinkle with salt and pepper and cook for 15 to 20 minutes or until the tomatoes start to split.
Bring a large saucepan of water to a boil. Add farro and cook for about 15 minutes or until the farro is softened. Remove from heat and strain out excess water.
In a skillet, melt the butter and 1 tablespoon of olive oil over medium heat. Add the sliced onion and mushrooms and toss until they are coated in the olive oil/butter. Let cook for ten to fifteen minutes or until the vegetables have softened (make sure to stir frequently). Remove from heat and add the balsamic, salt, and pepper. Return to heat and cook for another 15 minutes or until everything is browned and deliciously caramelized.
Once everything has finished, toss together in a big bowl and enjoy warm!
Oh and it's great as yummy leftovers for several days after!