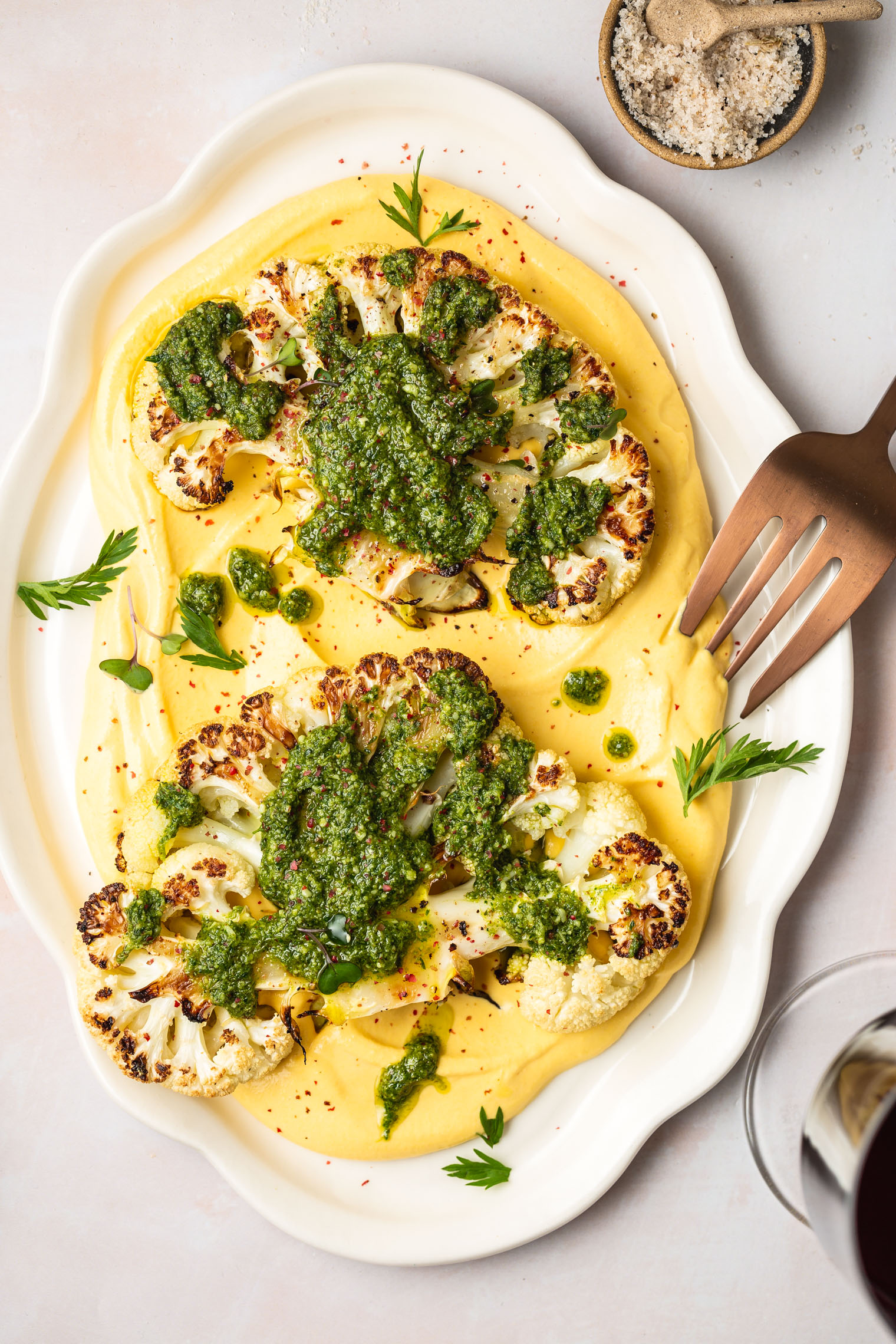 Cauliflower Steak with Carrot Miso Puree & Carrot-Top Pesto
Looking for a vegetarian steak alternative? This roasted cauliflower steak is easy to make and is packed with flavor thanks to the carrot top pesto!
This is a sponsored conversation written by me on behalf of Mullan Road Cellars Red Blend. The opinions and text are all mine. Thank you for supporting the brands that make VV possible.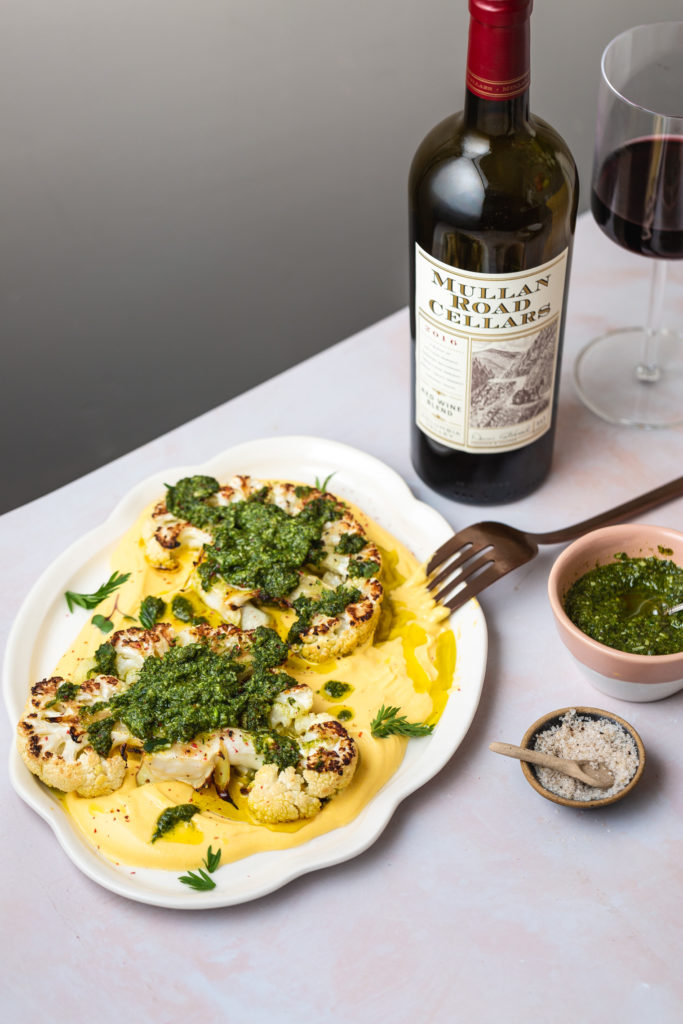 Let's talk about date night! Who says you have to go out for date night? My partner is a total introvert (as am I) so the idea of staying in instead of going out feels way more special. For me, I want date night to feel special without having to actually spend hours and hours prepping for it. For him…well as long as there is food and booze involved then he is good to go.
My solution? A nice bottle of Mullan Road Cellars Red Blend and a vegetarian "steak." My weeknight go-to dinner is usually a one-pan meal like a casserole, so having a main entree (like this cauliflower steak) and a side already feels extravagant.
The days are getting warmer but the spring evenings are still crisp so I've been enjoying a warming bottle of red wine lately. The Mullan Road Cellars' 2016 Red Wine Blend pairs perfectly with this roasted cauliflower steak because it's bold and dense without being overpowering. This blend comes from Washington and is made by Dennis Cakebread. His family built the well known Cakebread Cellars from scratch in the 1970s in Napa Valley and started exploring other regions in the 2000s, which is when Mullan Road Cellars was started in Washington.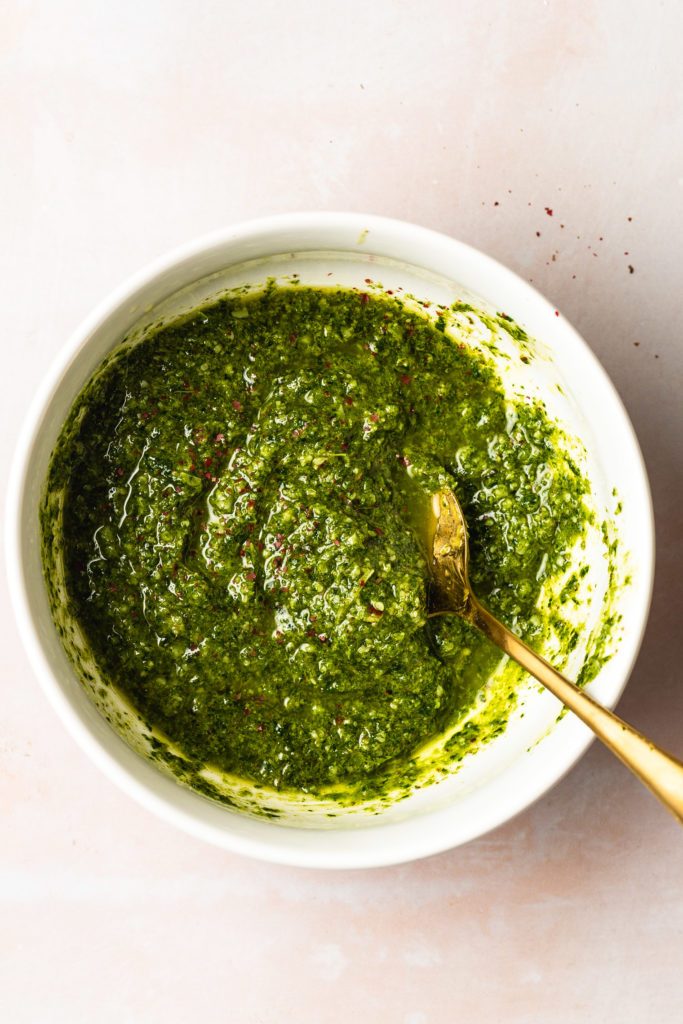 I'm going to let you in on a secret. I used to be a huge cauliflower steak hater (in the same way that I'm still a "carrot dog" hater). It just felt a little bit like a slap in the face for vegetarians — how in the world is a head of cauliflower going to fill you up and leave you satisfied?
It wasn't until I tried the cauliflower steak at Journeyman Distillery that I realized that cauliflower is such a blank canvas — it can be perfectly seasoned with spices and it can be served with almost anything depending on what you season it with. They seasoned theirs so well that it left me totally satisfied without feeling overly full or craving something more.
For this vegetarian "steak" recipe, I added both a filling and flavorful dressing as the base and also a bright and punchy pesto to finish it off. The end result is savory, bright, and totally addicting. Complete the deal by serving it with Mullan Road Cellar's Red Blend and a bean salad or creamy mashed potatoes. Now go ahead and schedule that much needed date night in!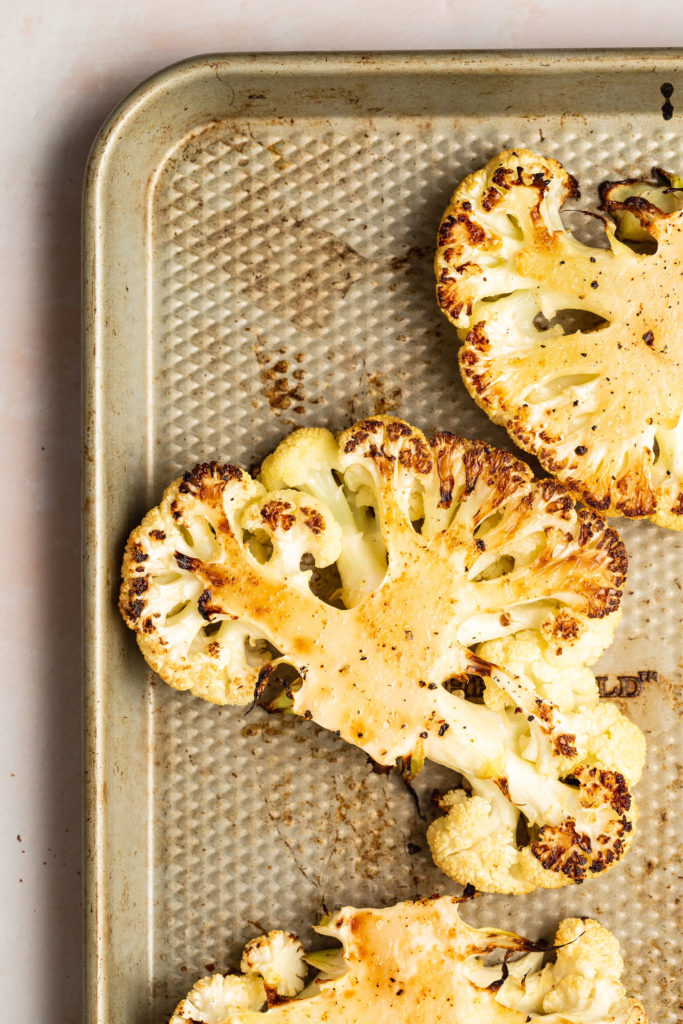 What's Needed for Cauliflower Steaks?
The ingredients list for these baked cauliflower steaks is fairly short and sweet:
Cauliflower
Salt and pepper
Olive oil
Garlic powder
Orange carrots (+ tops!)
White miso
Rice vinegar
Plain Greek yogurt
Garlic
Pecans
Fresh basil
Asiago cheese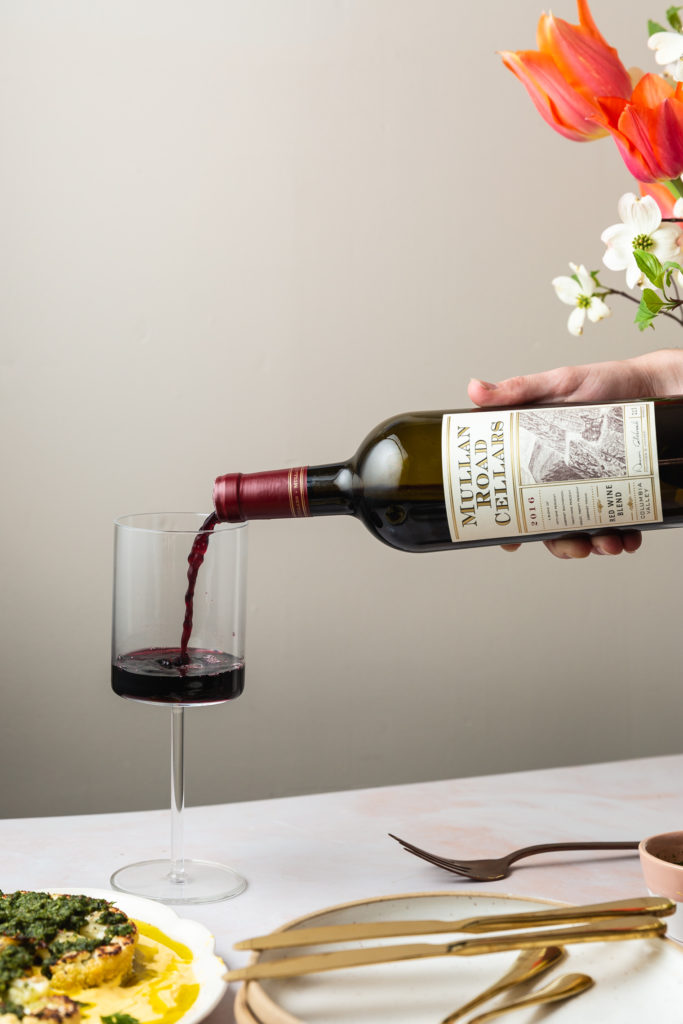 How to Make Cauliflower Steaks
Never made roasted cauliflower steaks before? Don't fret, it's simple. Here are the basic steps for making cauliflower steak at home:
Cut the cauliflower heads into "steaks," then brush with olive oil and season with salt, pepper, and garlic powder.
Place on baking sheet, cover with foil and roast the cauliflower steaks. (You'll remove the foil about 5 minutes into baking, then flip the steaks).
While the cauliflower steaks roast, make the carrot top pesto and the carrot miso dressing.
Once cooked through, place the baked cauliflower steaks atop the dressing and top with pesto.
How to Cut Cauliflower Steaks
Cutting the heads of cauliflower into "steaks" is much easier than you'd think.
Remove the green leaves from the head of cauliflower and remove the stem.
Cut into 1 1/2-inch steaks (you should get 2 steaks per head of cauliflower).
Save the extra cauliflower florets for another recipe.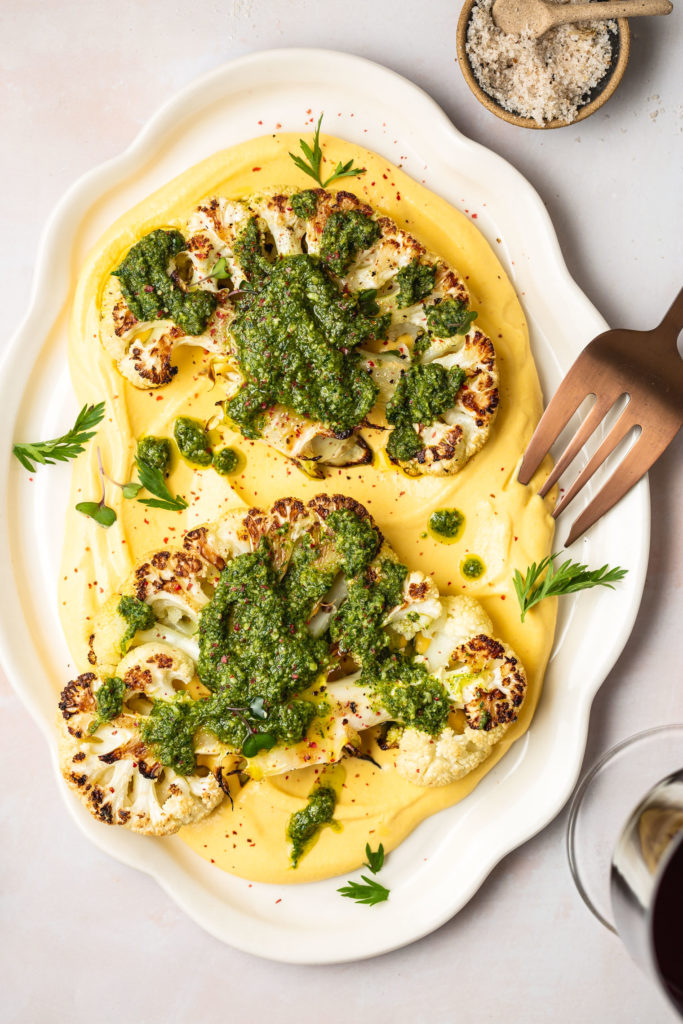 Tips for Making Cauliflower Steaks
It's important that you cut the vegetarian steaks thick enough. The steaks should be about 1 1/2 inches thick. If you cut the steaks too thin, they'll turn to mush in the oven.
Be sure to thoroughly wash the carrot tops under warm water before blending into the pesto.
Cauliflower steaks are best eaten right away. Leftovers aren't as good because the cauliflower loses its crispness in the fridge.
Want More Cauliflower Recipes?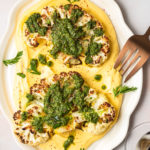 Cauliflower Steak with Carrot Miso Puree & Carrot-top Pesto
Looking for a vegetarian steak alternative? This roasted cauliflower steak is easy to make and is packed with flavor thanks to the carrot top pesto!
Ingredients
Cauliflower Steaks
2

heads of cauliflower

1

Tbsp

olive oil

1/2

tsp

salt

1/2

tsp

garlic powder

dash

of pepper
Carrot Miso Dressing
4

oz

orange carrots

, cut into even pieces

2

Tbsp

white miso

1

Tbsp

rice vinegar

1/2

cup

plain greek yogurt

2

Tbsp

olive oil

salt and pepper

, to taste
Carrot Top Pesto
1 1/2

cups

carrot tops

1

garlic clove

, peeled

3

Tbsp

pecans

3/4

cup

basil leaves

1/4

cup

asiago cheese

1/4-1/2

cup

olive oil

+ more for drizzlings
Instructions
For the Cauliflower Steaks:
Preheat oven to 500 degrees F. Remove the green leaves from head of cauliflower and trim the stems. Cut 1 1/2 inch thick steaks (I got 4 from two heads plus a bunch of florets which I saved for another use).

Transfer slices to a baking sheet and brush olive oil on each side of each piece. Sprinkle spices on all steaks and then cover the baking sheet with aluminum foil.

Bake for 5 minutes, remove foil, and bake for an additional 10. Flip steaks and bake for another 5-10 minutes or until the tops are browned. Remove from heat and set aside.
For the Carrot Top Pesto:
Combine carrot tops, garlic, pecans, basil leaves, and asiago cheese in a high speed blender or food processor. Pulse until everything is chopped into small pieces. Turn the machine on and drizzle in 1/4 cup olive oil to incorporate. If the mixture is too dry, drizzle more olive oil until you reach your desired consistency.
For the Carrot Miso Dressing:
Bring a medium saucepan of water to a boil over high heat. Salt and add in carrot pieces. Let blanch for 5 minutes. Meanwhile, add ice to a large mixing bowl and add water to create an ice bath. Once the carrots are ready, use tongs to transfer from the boiling water to ice bath.

Once carrots are cooled, transfer to a high speed blender along with miso, vinegar, yogurt, olive oil, and a dash of salt and pepper. Blend until completely combined and a thick dressing forms. You want the dressing to be thin enough that you can spread it but quick enough that it won't run. If it's too thick, add 1 Tbsp of water at a time until you've received a desired consistency.
To serve:
Spread carrot miso dressing on a serving platters and place cauliflower steaks over it. Top with pesto, a drizzle of olive oil, salt, and pepper. Serve right away.