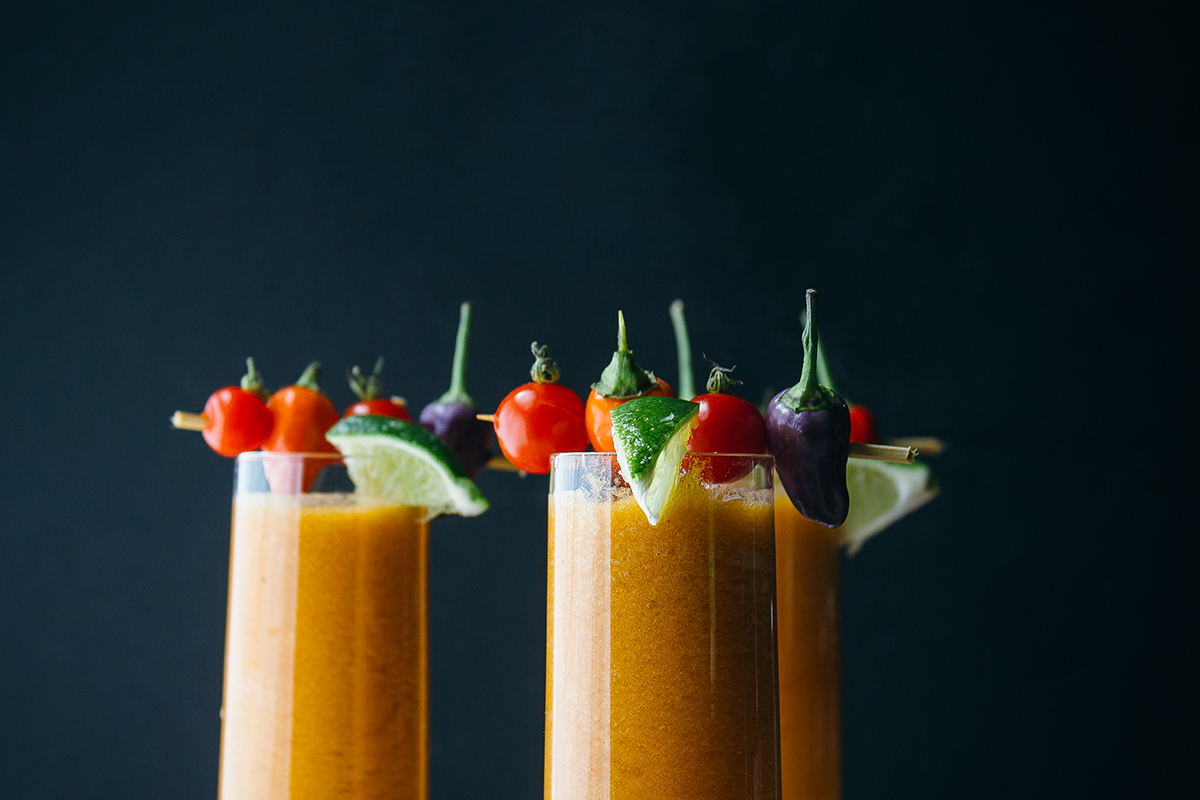 Fresh Squeezed Heirloom Harissa Bloody Mary
In a hurry? Click here to JUMP TO RECIPE!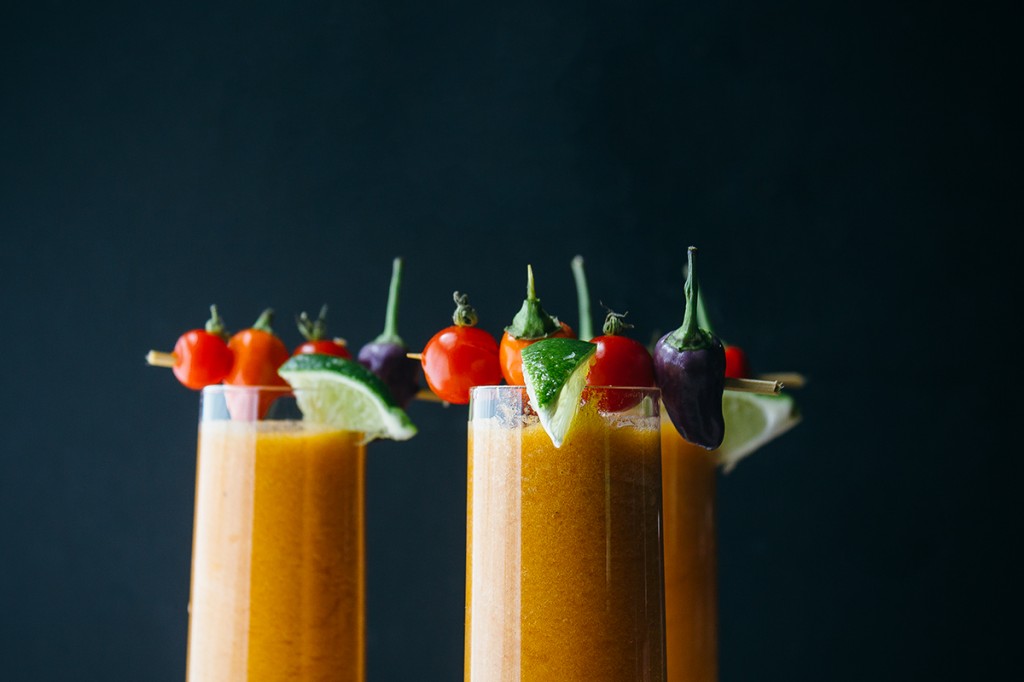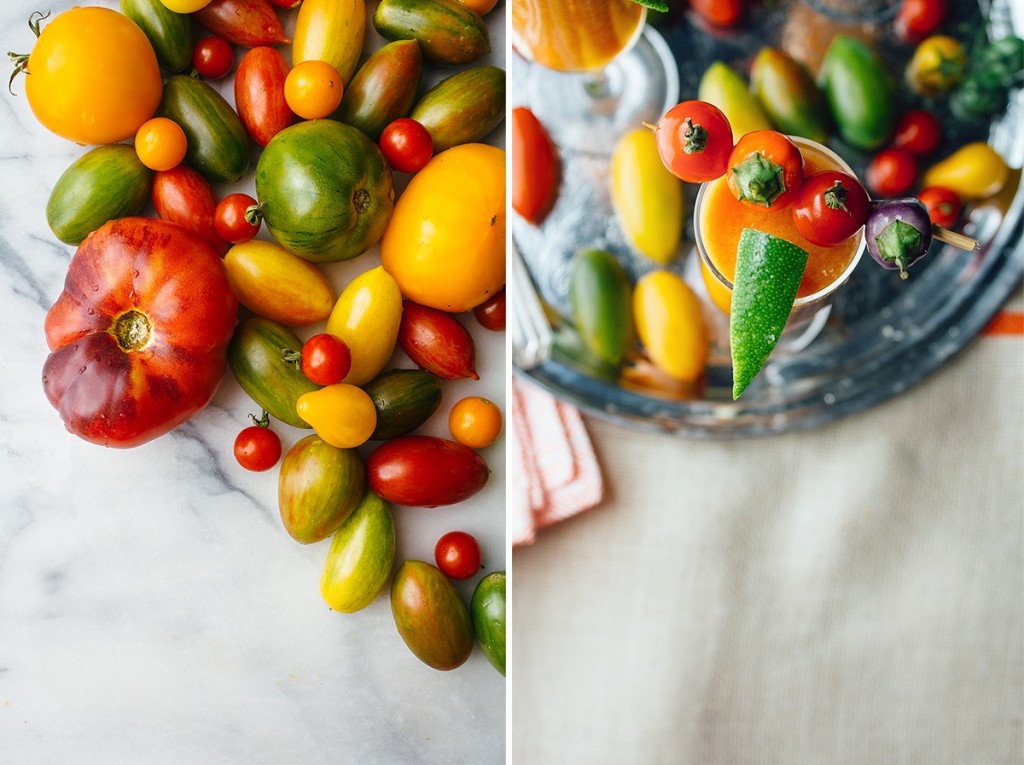 Today I've paired up with the fine folks over at Williams-Sonoma to share my favorite Bloody Mary recipe with all of you!
Hmmm…end of August. I almost went all season without posting a tomato recipe which would basically make me the worst food blogger on the interwebz. Some people look forward to tomato season for the margerita pizzas and others for the buscetta but me? I look forward to tomato season for the fresh squeezed tomato juice and the killer Bloody Mary's. I'm not much of a hostess ("we have water and uh…we have some open bottles of tequila and whiskey") but I never skimp on the Bloody Mary's during tomato season.
Most drinks you can tolerate if they are watered down or a little off but not Bloody Marys. Bloody Marys are such an unusual concoction to begin with that you really need to make sure it's damn good or else it could easily be inedible. I personally think the secret is to have that kick – sriracha is my spice of choice usually but I ran into a huge deal on hot peppers at the market yesterday so harissa felt like a great replacement to experiment with.
Another obvious key to making a fantastic cocktail is freshness. Using a juicer to extract the juice from your freshly picked tomatoes will guarantee that you'll outdo any of the fancy brunch spots where you usually spend $12 for a Bloody Mary. Plus making sure it's fresh also guarantees that you'll get the most nutrients out of your boozy breakfast.
The juicer I'm using for this recipe is a beginners juicer I received as a gift several years ago but I've got my eyes on a slow juicer. You are welcome to use whatever juicer you've got on hand or even better yet – this would be perfect in a Vitamix and would retain any fiber that may be lost with your standard ol' juicer. Do any of you have a juicer? I'd love some recommendations!
Fresh Squeezed Heirloom Harissa Bloody Mary recipe below: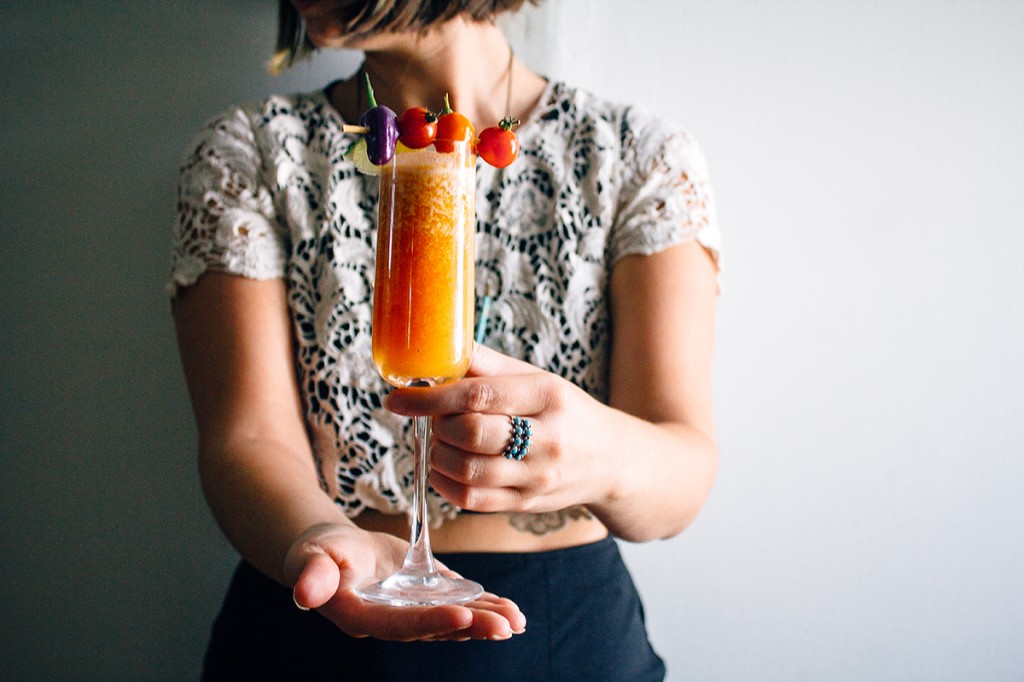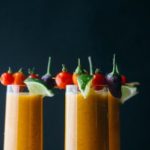 Fresh Squeezed Heirloom Harissa Bloody Mary
A fancy Bloody Mary cocktail recipe to kick of your Sunday!
Ingredients
2

pounds

of heirloom tomatoes

1/2

lime

, peeled

2

dashes vegetarian worchestshire sauce

1

teaspoon

harissa paste

(more or less depending on how spicy you like it)

Pinch of celery salt

Pinch of cumin

Lime wedges

, mini peppers, and cherry tomatoes, for garnish

2

ounces

vodka

(I used my rosemary infused vodka) - more if you are looking for a perkier drink!

Salt / Pepper
Instructions
Juice the tomatoes and lime according to your juicer's directions.

Mix in the worchestshire sauce, harissa paste, celery salt, cumin, salt, and pepper with the tomato juice.

Taste and adjust accordingly (more harissa for spicier and more salt for a bolder flavor, etc).

Divide the vodka between 2 glasses and then divide the tomato mixture into those glasses.

Garnish with more tomatoes, lime wedges, or baby peppers.