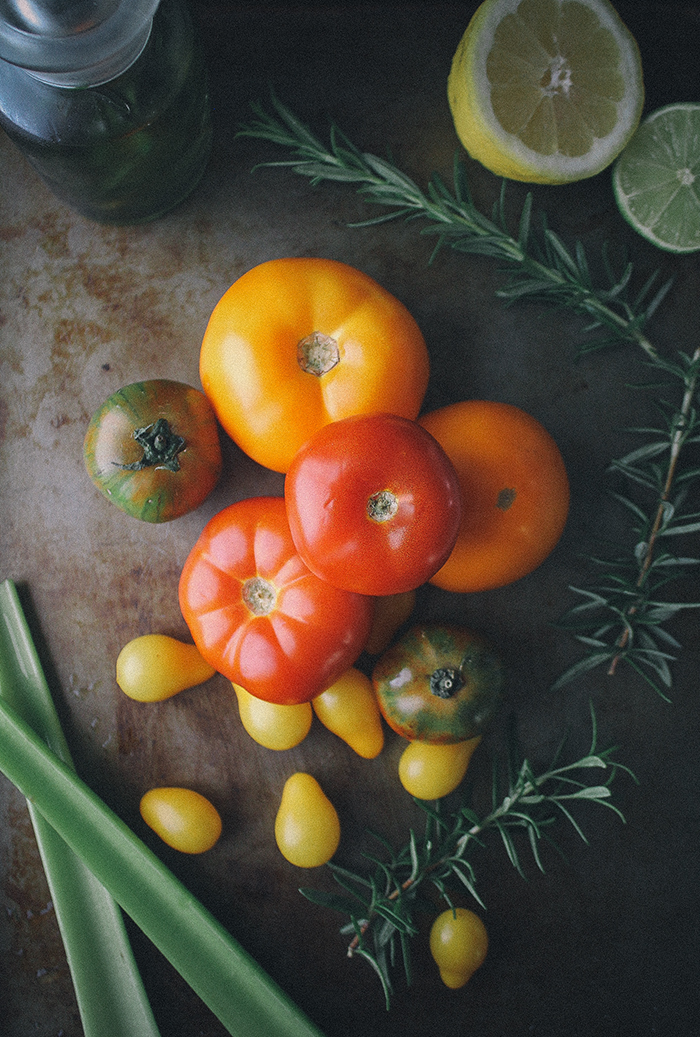 Fresh Squeezed Bloody Mary with Rosemary Infused Vodka & Goat Cheese Olives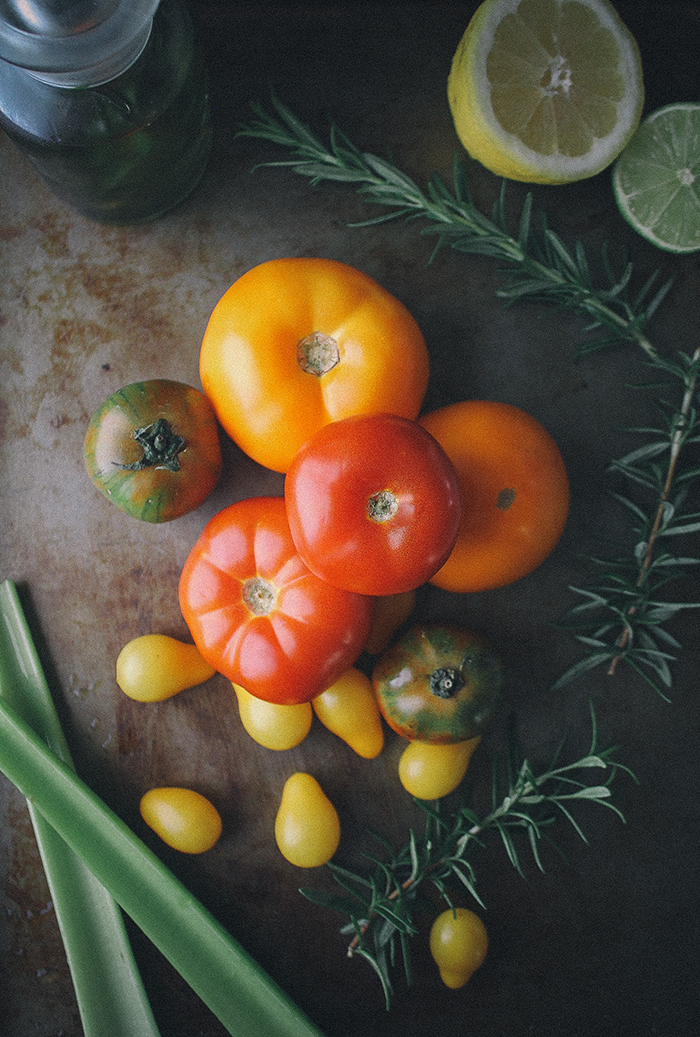 I'm all about playing around and inventing new cocktails (see: Loaded Hibiscus Arnold Palmer, Blueberry Basil Peach Fizz, etc) but sometimes you just need to go with a traditional cocktail. And NOTHING (I mean NOTHING) is better than a fresh squeezed Bloody mary during peak tomato season. It's savory and spicy and elegant and just darn right delicious.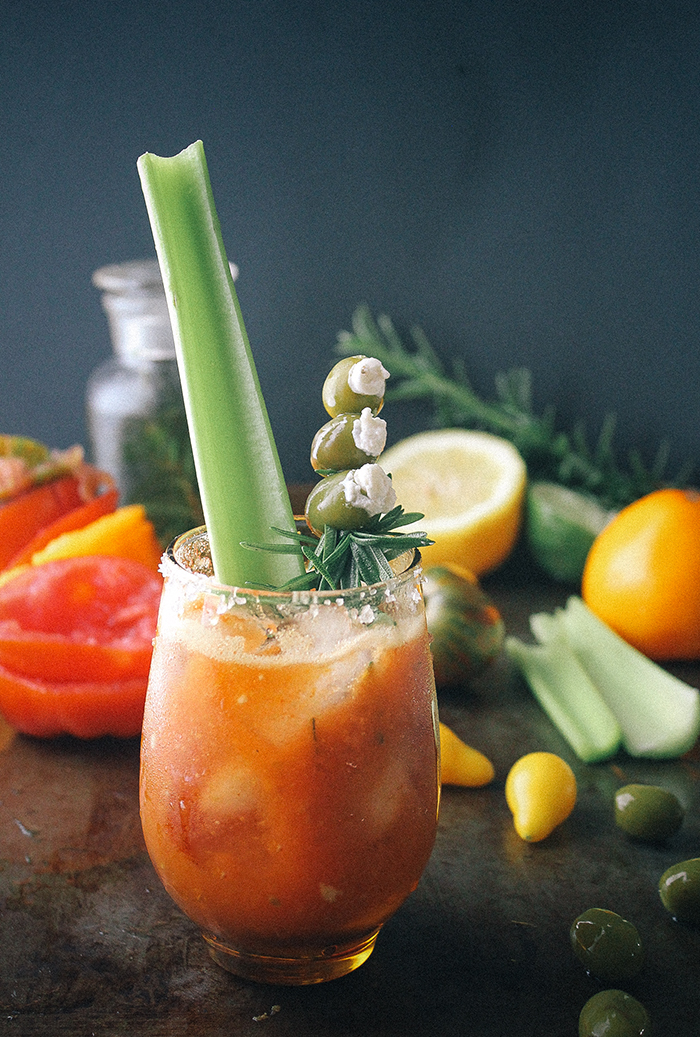 There is this AWFUL local sports bar that we used to go to on Sundays because it was right next to our old house. And when I say awful..I mean awful. Big screen TVs so loud that you can't hear the person next to you, bland bar foods that leaves the one vegetarian option of french fries, and snooty blonde waitresses that pay you no attention knowing they'll get bigger tips from the table of men across the room. But despite the terrible service and atmosphere, I became addicted to their signature Bloody Mary's. I didn't even know I LIKED Bloody Mary's before I had one here. It was like a meal in a glass…savory, peppery, and full of spice. This is what got me hooked.
This takes quite a few tomatoes to make a decent amount of juice so this is a recipe you'll want to make at the peak of garden season. Plus, this cocktail will taste the best with in-season, right off the vine, tomatoes. None of the 'recipes' below are exact. Unlike baking, making cocktails is all about experimenting and working in your personal preference. Like it spicy? Add more sriracha. Like it strong? Up the vodka ratio.
Also, I recommend not wasting the leftover tomato skins – I just put mine in the freezer for the next time I make some vegetable broth but you could also use them to make tomato paste or even just chop up and throw in a salad.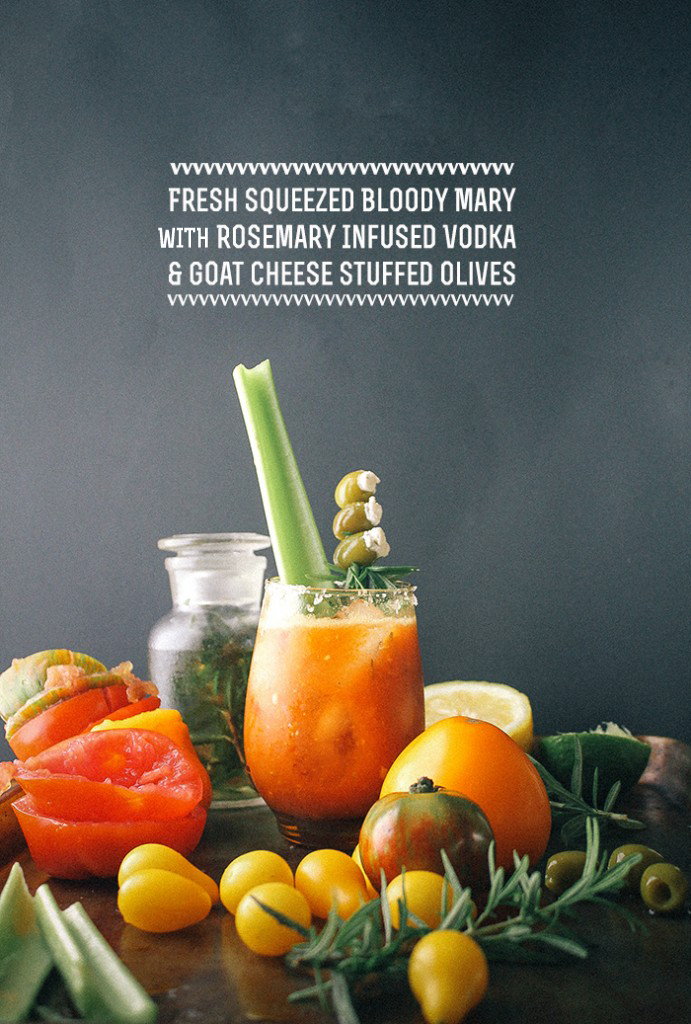 Rosemary Infused Vodka
3 large rosemary sprigs
1 cup clear vodka
Combine vodka and rosemary in a clear glass jar and seal. Stick in the fridge and let infuse for several days (I did mine three days ahead of time). Shake once a day. Strain rosemary and use the infused vodka in all your favorite drinks.
Goat Cheese Stuffed Olives
1 jar of green olives, drained and rinsed
3 ounces of goat cheese (or chèvre)
Salt/Pepper
Mash the goat cheese with a little salt and pepper. Stuff the peppers with cheese. (Yup – that's it).
Fresh Squeezed Bloody Marys
Assortment of Heirloom tomatoes (amount depends on size and desired servings. I used 4 large tomatoes per a serving), halved
1 ounce of Rosemary infused vodka (see above) or any vodka you have on hand
1 teaspoon horseradish
dash worcestershire sauce (vegetarian version)
dash of Sriracha (you can even make your own over at Reclaiming Provincial)
Juice from half a lemon
Juice from half a lime
Salt/Pepper to taste
Celery sticks, for garnish
Rosemary, for garnish
Squeeze the tomato insides into a blender and do a quick puree until smooth. Add in the vodka, lemon juice, lime juice, horseradish, worcestershire sauce, sriracha, salt, and pepper. Taste and adjust with more salt / pepper / sriracha to your liking. Fill a glass with ice and pour cocktail into glass.
Garnish with celery, rosemary, and goat cheese olives.