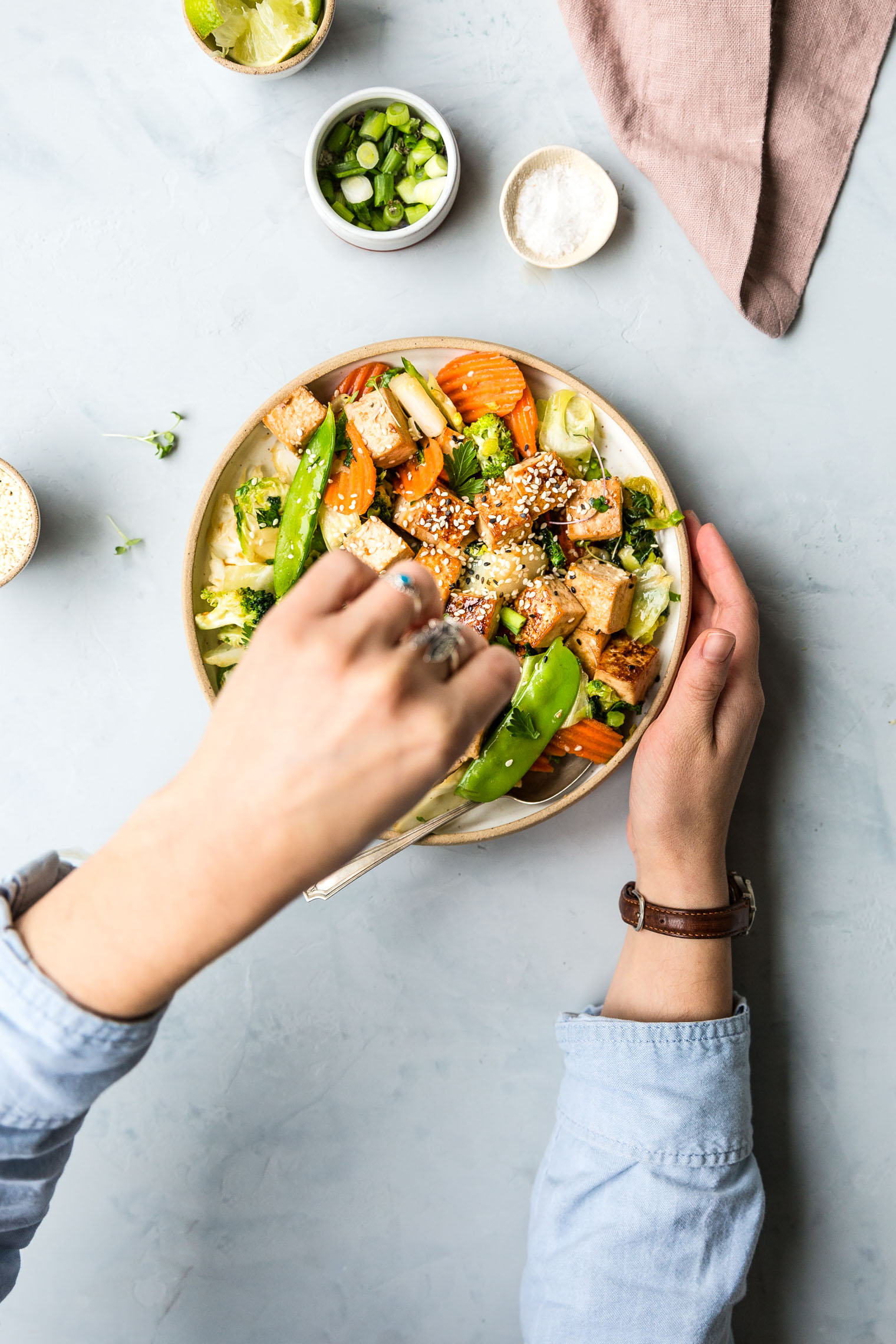 Ginger Sesame Tofu & Winter Vegetable Stir-Fry
In a hurry? Click here to JUMP TO RECIPE!
This Ginger Sesame Tofu & Winter Vegetable Stir-Fry is the perfect quick and easy veggie packed weeknight meal for two! This post was made in collaboration with and sponsored by the generous folks at Taylor Farms but all opinions expressed are my own. Thank you for supporting the brands that make VV possible.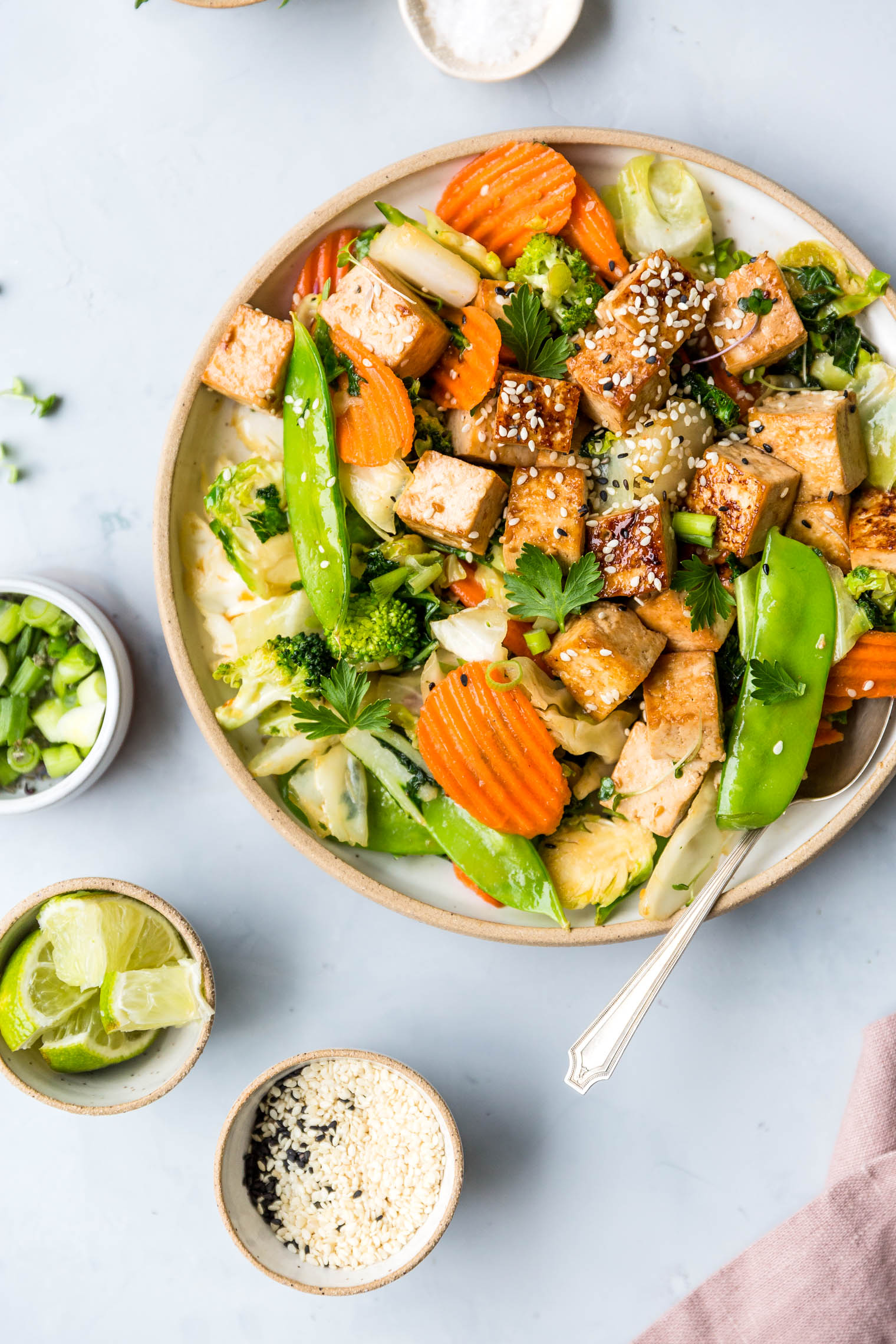 How is it already November? Is it just me or is the rest of this year going to fly by? Between getting ready to move into our new home, end of year freelance projects, and the holidays quickly approaching, I'm starting to feel overwhelmed by the thought of keeping up with everyday things like laundry and getting dinner on the table. Luckily for my sanity, I've discovered these super delicious and quick to make stir-fry kits from Taylor Farms! The Ginger Garlic kit I've been making has made it possible for me to have dinner on the table in less than 20 minutes. Like what? That is unheard of in our house if it's not take-out!
I'm going to be honest with you here. I used to be that snooty person who refused to indulge in kitchen shortcuts – think packaged vegetables, microwaving of any sort (we haven't owned one in over 5 years), and pre-packaged dressings. I used to think that in order to be a good cook you had to make everything from scratch for every meal. I know now that this is unrealistic of a woman trying to build a business empire and get all the normal day things done as well (like walking the dog and cleaning the bathroom). I'd bet it's even truer of women trying to do all of that on top of raising a family. My mentality used to be that if I couldn't find the time to cook dinner from scratch, we would just do take-out. But is greasy take-out really healthier than already prepped and chopped vegetables? Obviously not.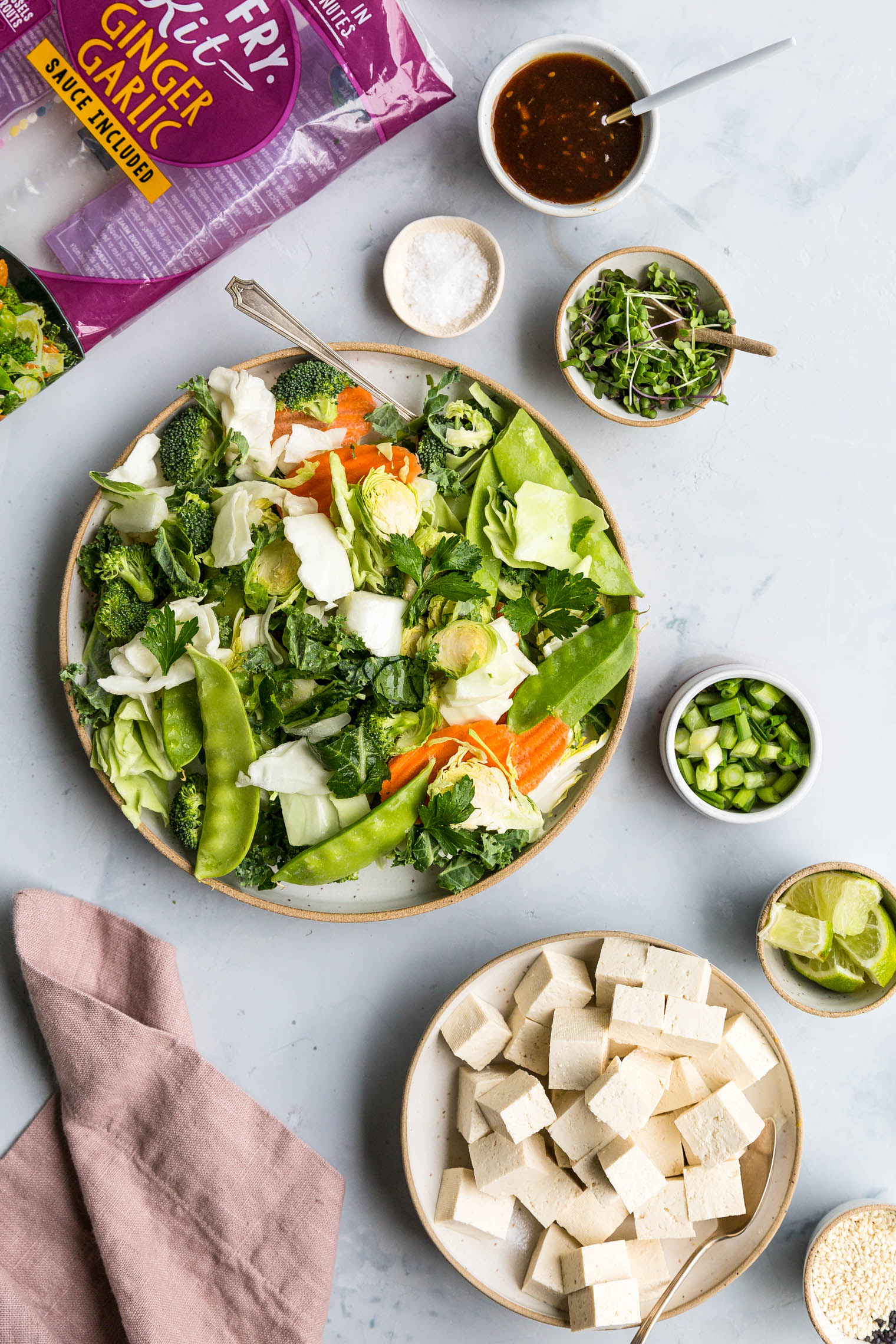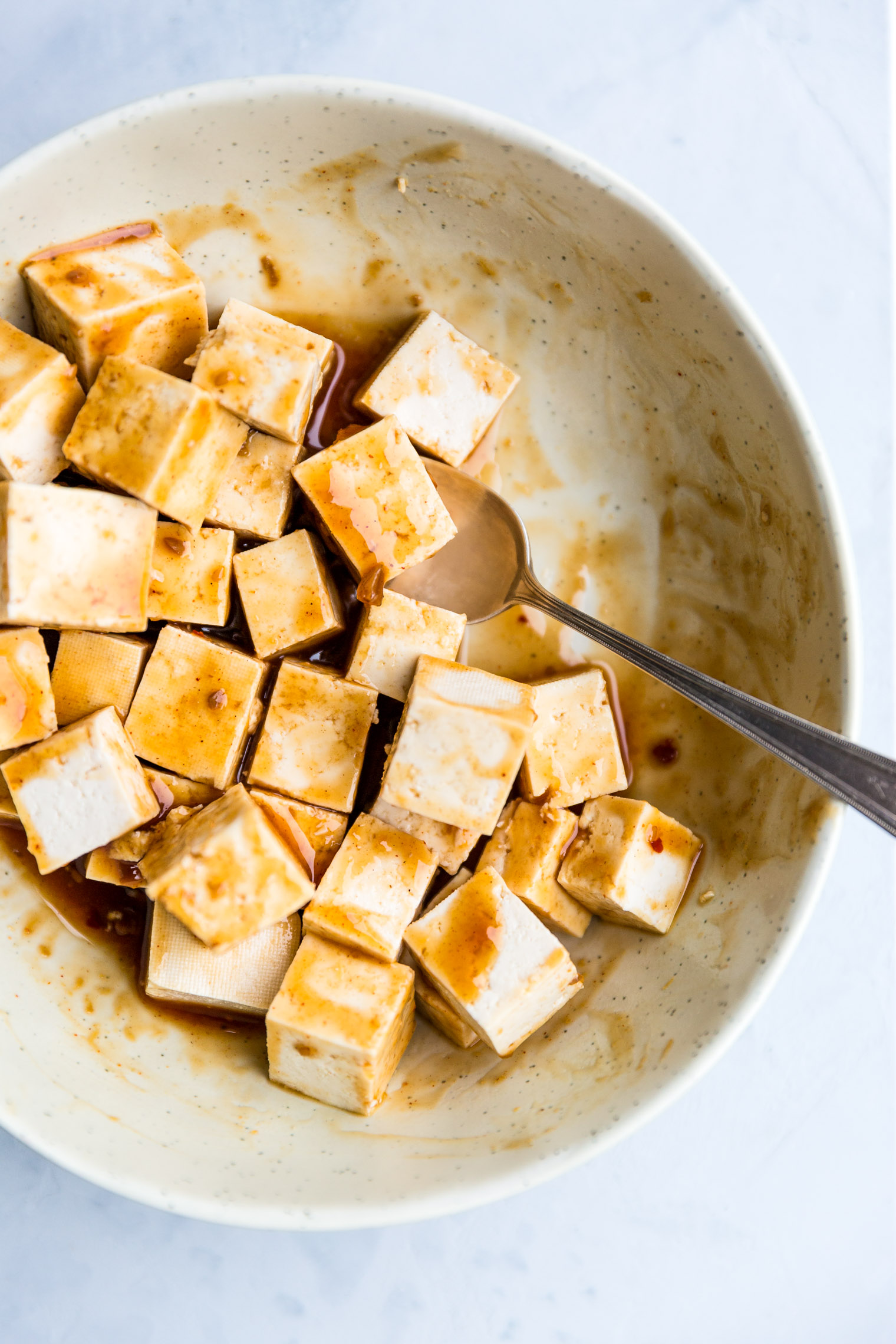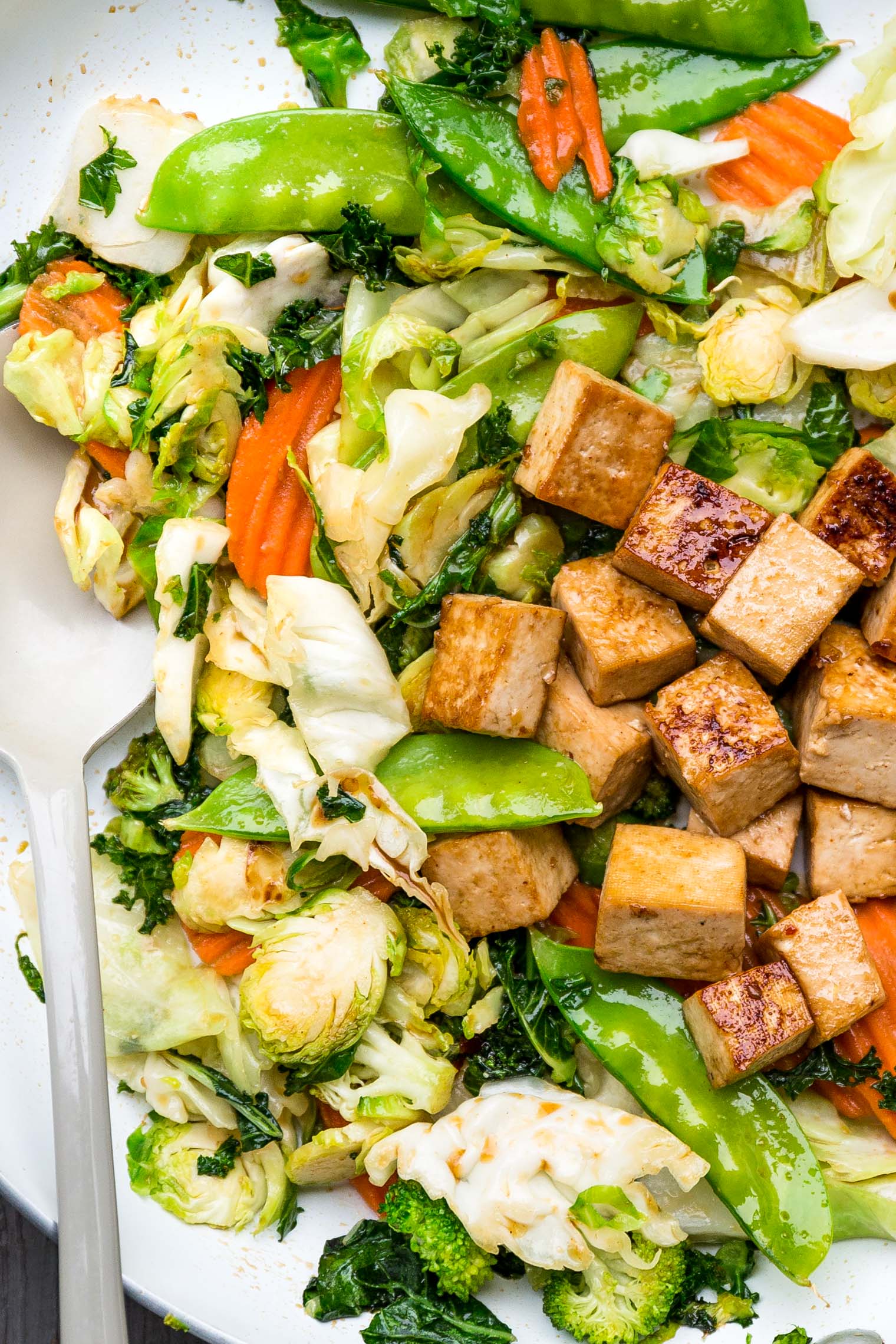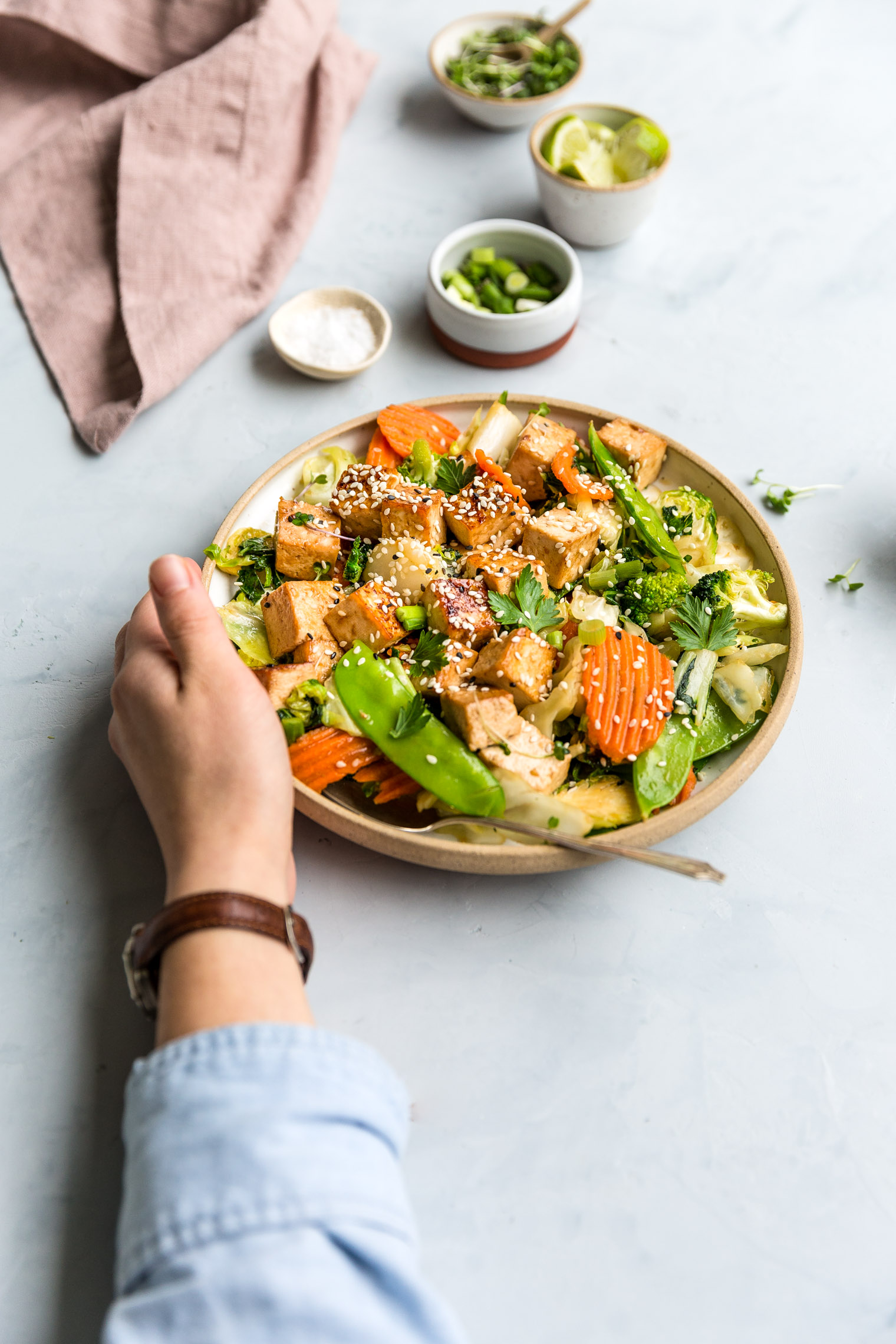 All of this is to say that I've felt so empowered since making the discovery that the healthiest option for a quick meal doesn't have to mean from scratch. I'm happy to have come around to the fact that using shortcuts in the kitchen when you are strapped for time doesn't make you a bad cook. It doesn't mean you've failed at another adult task you thought you could handle. It just means that you are finding delicious meals that satisfy your taste buds, time constraints, and budget. And this stir-fry recipe fits all three perfectly.
This Ginger Sesame Tofu & Winter Vegetable Stir-Fry is loaded with kale, broccoli, brussels sprouts, bok choy, cabbage, and carrots. The vegetables are tossed with a protein-packed tofu and flavorful ginger garlic sauce before being topped with crunchy sesame seeds and fresh herbs. Not bad for a weeknight, huh?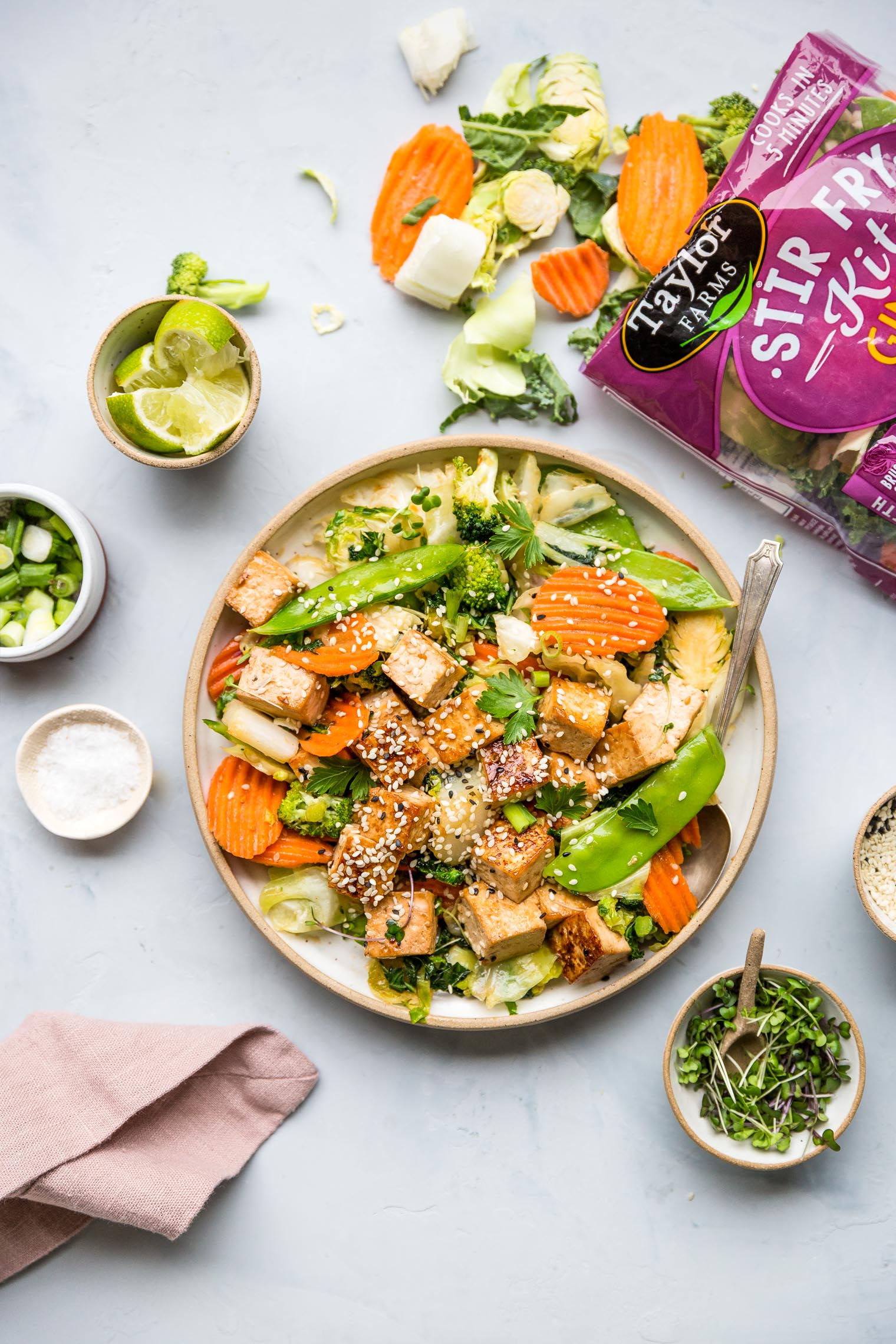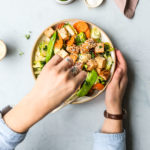 Ginger Sesame Tofu & Winter Vegetable Stir-Fry
Ingredients
1

package

Taylor Farms Ginger Garlic Stir Fry

1

block

extra-firm tofu

1

tsp

olive oil

1

tsp

toasted black or white sesame seeds

juice from 1 lime

chives, micro-greens, or parsley

for garnish

salt / pepper

to taste
Instructions
Remove the ginger garlic sauce from the stir-fry kit and set aside.


Wrap the tofu in a clean paper and place a heavy book or cast-iron skillet on it for about 10 minutes to remove as much liquid as possible. Remove the paper towel and cut tofu into 1 inch squares.


Preheat a large no-stick skillet or wok with olive oil. Toss tofu squares with half of the ginger garlic sauce and add to the pre-heated skillet.


Let cook for 7 - 10 minutes, using tongs to flip the tofu every few minutes for even cooking.


Add the vegetables from the kit to the pan and sauté for an additional 5 minute. Add sauce and sauté for another 2 minutes.

Remove from heat and season with salt and pepper. Top with chives, microgreens or parsley (if using), lime juice, and toasted sesame seeds. Serve right away.