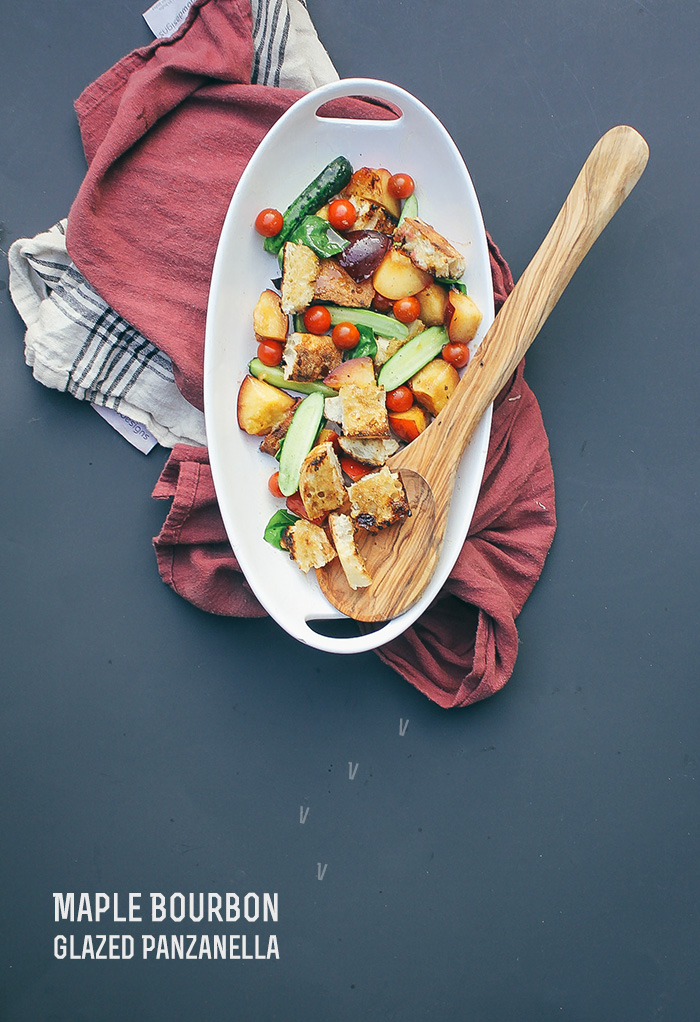 Grilled Maple Bourbon Glazed Panzanella Salad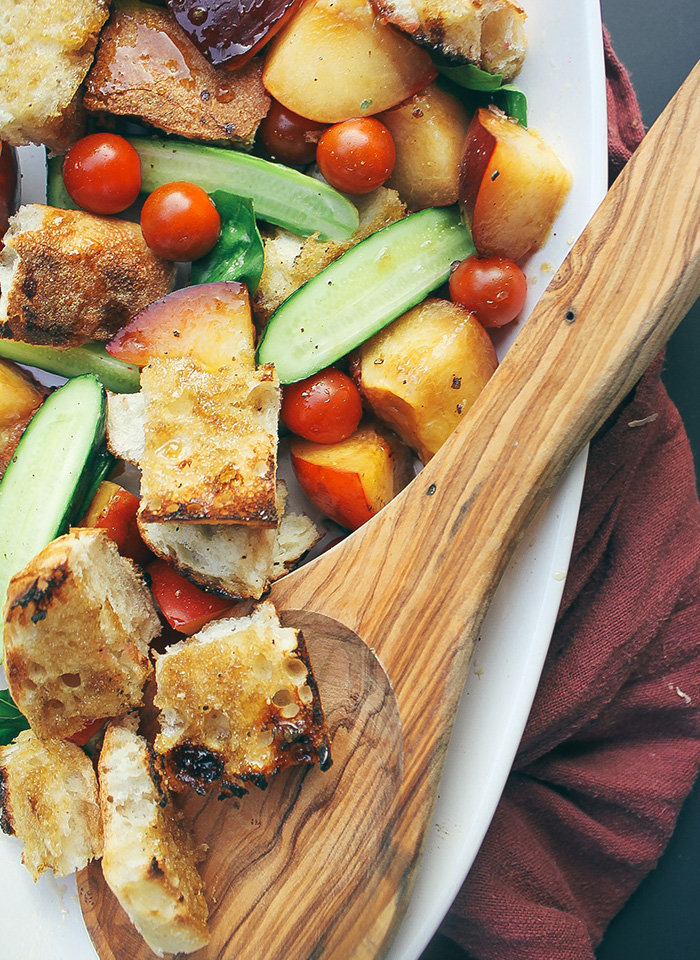 My idea for this was to make a savory bread salad without it turning into bread pudding or baked french toast (which was sightly harder than you might think). But adding tomatoes, cucumbers, and basil (peppers would be good too!) – it creates that sweet and savory sensation which is irresistible in this salad!
This time of year is all about cooking with fresh-from-the-garden produce. It's that time where salads shine and raw is more. This makes me appreciate the method more than ever. No 30 steps involved in getting to that end casserole or sautéing followed by roasted following by rolling followed by baking. With fresh summer recipes, it's about slightly cooking (if at all) to achieve a hint of flavor that accents the fresh flavors of your colorful produce.
I think this is the reason I love grilling so much. It's simple and feels very natural to grill veggies over an open fire to bring out their flavors. Or to slightly caramelize fruit until it melts in your mouth. This salad is bursting with raw flavors while meshing perfectly with the smoky nuance of the bread and fruit.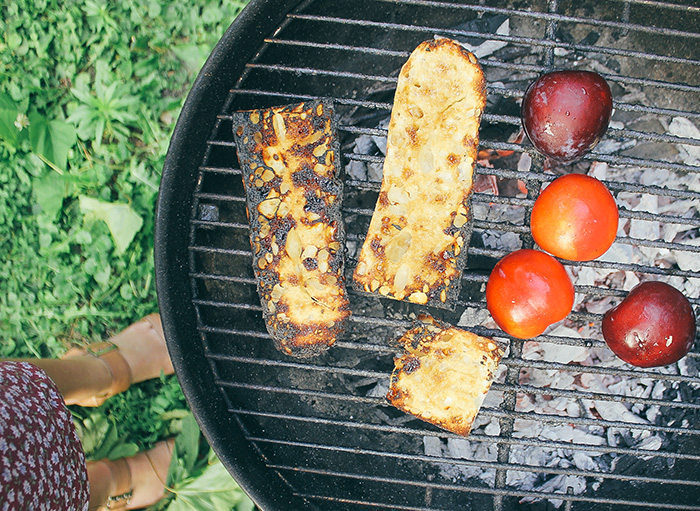 And yes, I burnt some of the bread (see picture above – maybe it was because I was grilling in high heel sandals?!). That is one of my favorite parts about cooking… even after years in the kitchen (or in this case…the back yard), I'm still making mistakes and learning. I've been camping most weekends for the last month so my delusions about knowing my way around the grill were at a record high. Wyatt usually takes charge of the grill and you can most certainly tell by the state of that piece on the way left.
Also, moving on from talking about this salad, I wanted to let you know that I know that I've been a little absent on here lately. It's not my fault… well sort of my fault. Summer has brought house guests staying for days on end (and more coming!), random cross country adventures, and desires for new hobbies. But I do have to admit, even after having loads of fun with these out-of-the-ordinary adventures, I still always want to come back to cooking. Flying 10 hours across the country is really just an opportunity (in my mind) to gather new recipe inspiration from road side diners and produce stands by the ocean. Taking up sanding is just an excuse for me to build more shelving units for blog props. You get the picture…I miss being around here and am glad to be back. : ]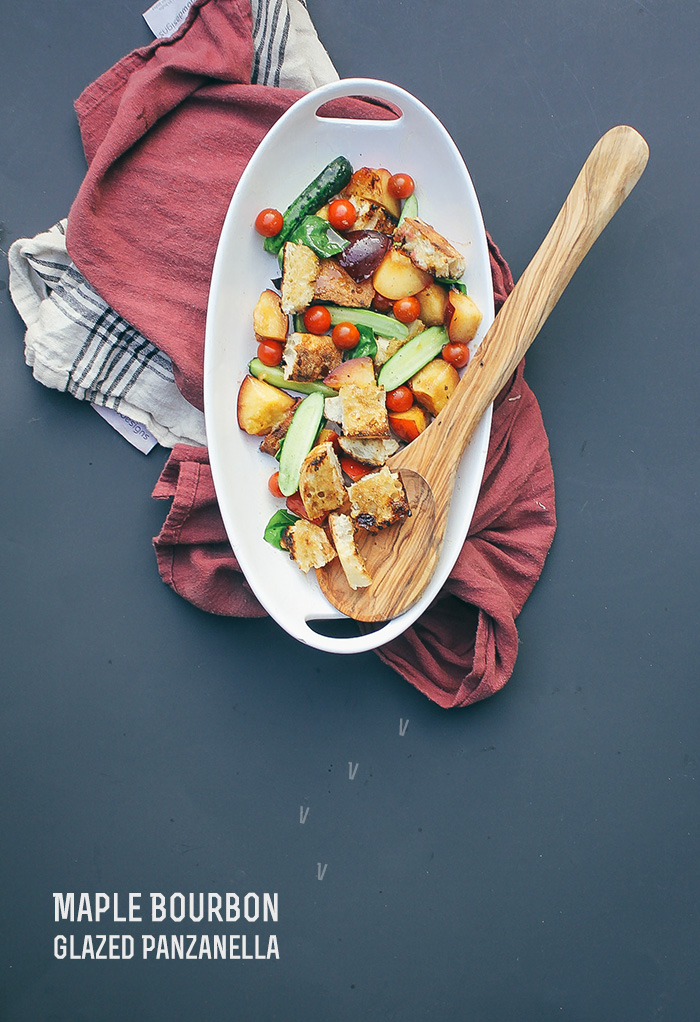 Grilled Maple Bourbon Glazed Panzanella
Serves 2
1 loaf of day old bread (I used a baguette), sliced in half
1 large cucumber or 3 small cucumbers, sliced into bite size strips
Handful of cherry tomatoes
Combination of Stone fruit (I used 2 peaches and 2 plums), halved
Handful of basil, torn
1 Tablespoon olive oil
For the glaze:
1/3 cup brown sugar
1/4 cup bourbon
1 Tablespoon maple syrup
1 teaspoon dijon mustard
1 garlic clove, minced
dash of Salt / Pepper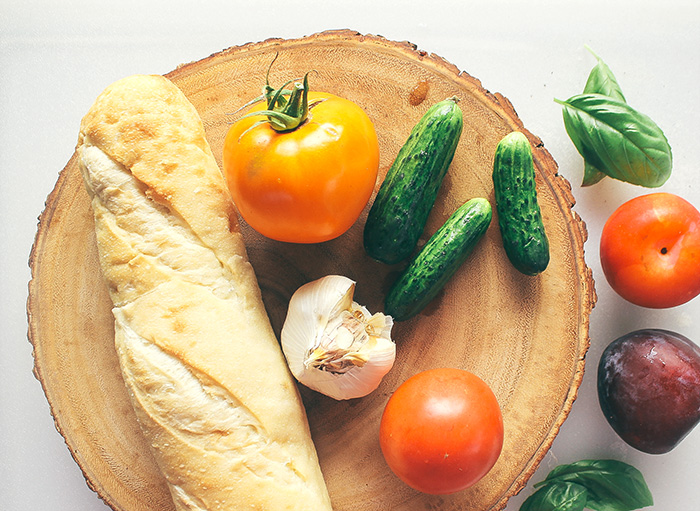 In a small saucepan, whisk together the glaze ingredient and bring to a simmer over medium heat. Let simmer for 5 to 8 minutes, remove from heat, and set aside to thicken (about five minutes).
Start the grill. Brush the bread and fruit with honey bourbon glaze. Stick on the grill (watching closely!) and brown on each side. Time will completely depend on how hot your coals are but mine took about a minute on each side for bread and 3 minutes for the fruit.
Dice the bread and fruit into bite size pieces and toss with cucumber, tomatoes, basil, olive oil, 2 Tablespoons leftover glaze, salt, and pepper. Serve warm.