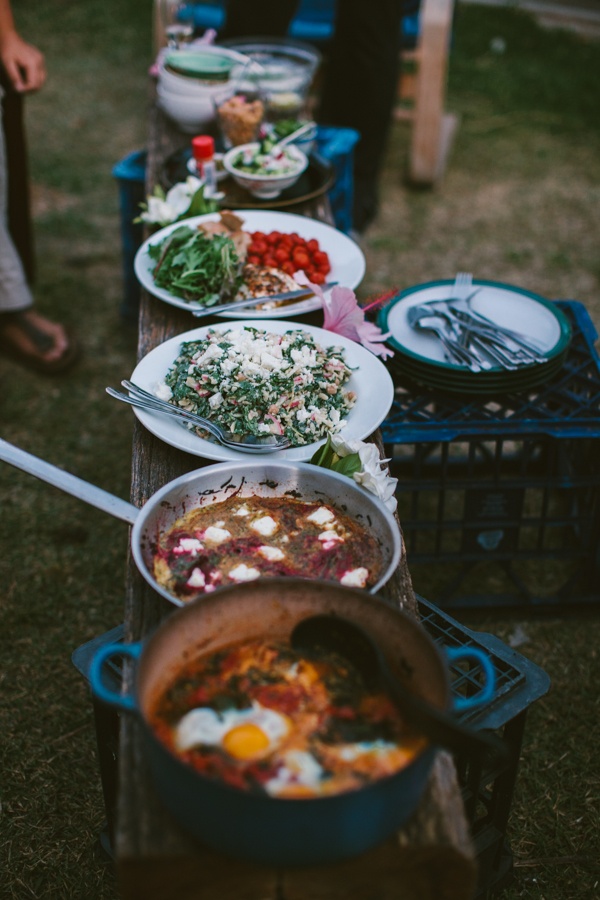 Hosting A Vegetarian Thanksgiving

(Although I wish this was my own feast that I was muchin' down on, it is not. As a change of pace on VV, I've borrowed most of the photos in this post so please click on the images to check out more beautiful photos from the original authors)
I'm a total planner. Anytime my boyfriend mentions he'd like to go on a trip somewhere, I'll have a full day by day itinerary wrote up and emailed to him by the following evening. He usually has forgot he even mentioned anything by the time he receives the email but I know he has to smirk a little in that moment he opens it to find days (usually by the hour) planned out with restaurants, museums, sights, road stops, forests, and campsites. At least, I know I smirk a little when I re-read those emails. I don't realize I'm doing it but I'm being exactly like my father in those moments. He would take us all (my brother, my three cousins who lived with us, and my step-mother) on a two week vacation every August when I was growing up. For the months leading up to it, he would pull out the atlas after dinner and compare tourist books (this was before the internet was a real big thing) to what was along the route. I remember how playful he always was in those planning moments and he'd tease me with comments like 'should we go gambling in Vegas or take that 7 mile hike all uphill to see the rock that resembles a monkey head?' (as if either of those things were appealing to a 10 year old).
Most of these trips I plan are just ideas – tucked away in email folders – never to actually be carried out. Sometimes I wonder if I have more fun planning adventures then actually taking them. There is just something comforting about these plans being there – comforting in the sense that if we did ever decide to sneak away to the Smoky Mountains or Lake Powell or Montreal at the last second, we wouldn't miss a thing because I've got an itinerary for that!
Anyhow, I bring this story up because I planned out Thanksgiving. Thanksgiving is sort of like a trip – you spend months planning and prepping only to have it carried out in one big meal. The funny thing is I'm not even hosting Thanksgiving this year. We always have Thanksgiving at my parent's house up north and all I do is pick out a few recipes to make the day of and demand a Tofurky. However, even though I'm not hosting Thanksgiving, I still made a Thanksgiving menu. You know, just in case I ever feel like throwing a Thanksgiving dinner on a non-Thanksgiving holiday or something? Okay, that sounded crazy. I just mean that I did it because I enjoy planning. Planning can be a hobby, right?
So, to get to the point, if you are looking to host a Vegetarian Thanksgiving this year or just still need a few ideas on some sides, here is how I envision the perfect Vegetarian Thanksgiving: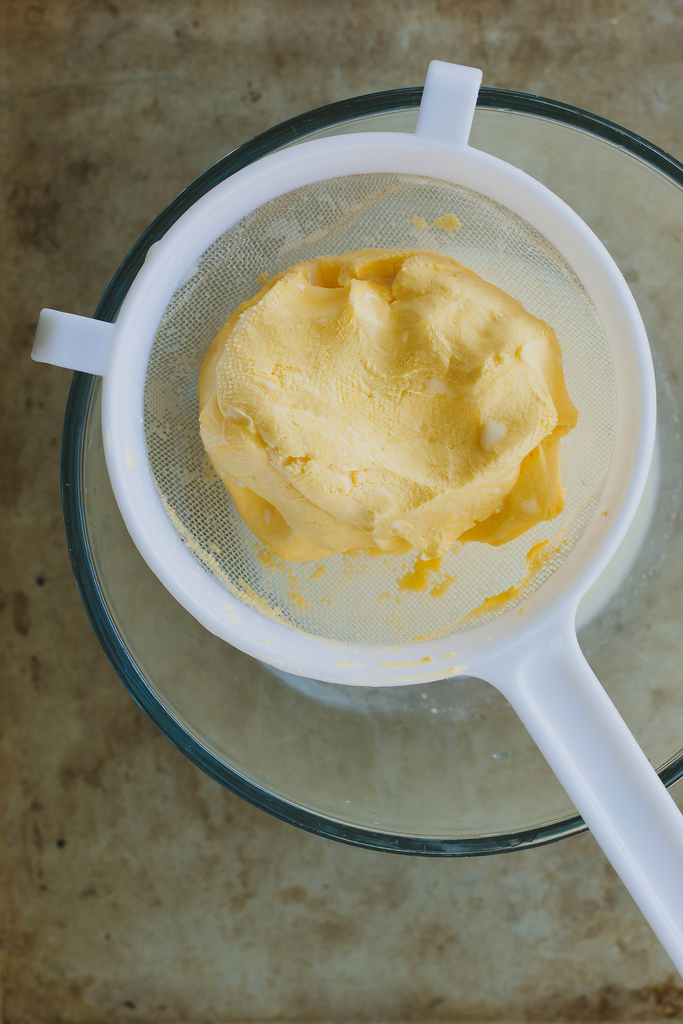 Before prep ideas:
+ Homemade vegetable broth – always essential! You'll go through this by the gallons on the big day/
+ Homemade butter from My Darling Lemon Thyme – think of how many sticks of butter you go through for this special feast? (pictured above).
Drinks:
+ Pomegranates are in season and nothing relaxes the mood like some tequila. Try this Pomegranate Margarita from How Sweet It Is.
+ Looking for something more traditional? How about my Cranberry Mojito with fresh mint and lots of rum.
Appetizer & Starters:
+ Earthy Feast's Wild Rice Salad with Pomegranates & Pine Nuts – let's at least start out with a healthy dish, shall we?
+ Sweet & Savory Pumpkin Dip from Pink Patisserie – I bet the pomegranates add a great texture to this dip.
+ Adventures in Cooking's Autumn brittle. Sweet, salty, portable and full of texture – what else do you need?
+ These Cranberry & Pecan Cheese Ball Pops were the biggest hit at our appetizer table last year.
+ Molly, Ily's Blood Orange and sweet potato salad – orange on orange and oh so pretty!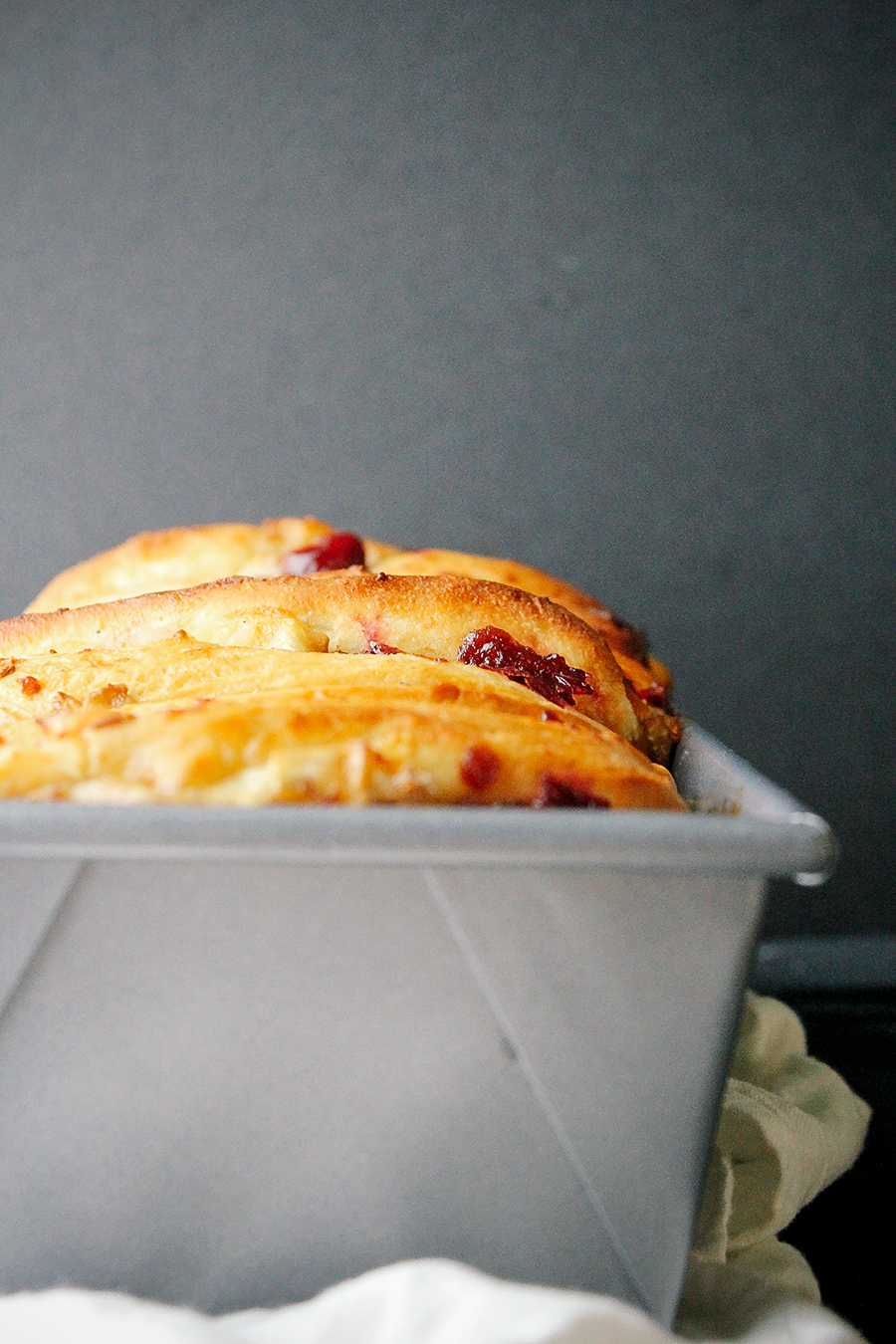 Soup & Bread:
+ Pumpkin Brioche from The Tart Tart – any bread with a base of butter and more butter is going to be a winner.
+ I know I've been talking about it a lot lately but this Caramelized Cranberry & Brie Pull-Apart Bread is just too good (pictured above).
+ 80Twenty's Spicy Chard, Potato, and White Bean soup – could even be hardy enough for a main!
+ I also would probably most definitely re-make these Oatmeal Molasses Rolls for guests.
Mains (am I allowed to make that plural?):
+ Phi's Vegan Sausage and Mushroom stuffed acorn squash – the perfect excuse to finally make these little things!
+ PPK's Chili Pumpkin Cranberry Risotto 
+ Or these Savory Pumpkin Hand Pies I made on De-Smitten.
+ Produce on Parade's Vegan Veggie Loaf –  traditional without being full of meat.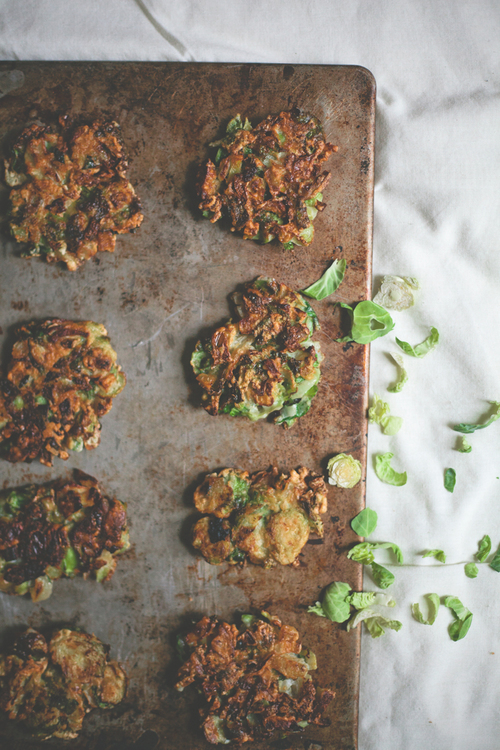 Sides:
+ Brussel Sprout Latkes with balsamic dijon sour cream from My Name is Yeh – Brussels sprouts could always use some sprucing up with fancy sauces (pictured above).
+ PPK's Savory Mushroom Gravy – always a classic!
+ Butternut Mac & Cheese from Kitchen Apparel – no feast is complete without some comfort food dishes.
+ Smitten Kitchen's Apple Herb stuffing – can never go wrong with a SK recipe!
Dessert:
+ Mini Pumpkin Vegan Pies from Love & Lemons – if there is coconut whip then I'm in (pictured below).
+ Raw carrot cake with Tangy Citrus Frosting from The First Mess
+ The Sugar Hit's Maple Chocolate Pecan Pie – the pine tree shapes are a festive touch.
+ Would it make me a bad host if all I really wanted for dessert was cinnamon rolls? Because I seriously think Reclaiming Provincial's Cinnamon Rolls with Maple-Chai Buttermilk Glaze should be an option at the dessert table.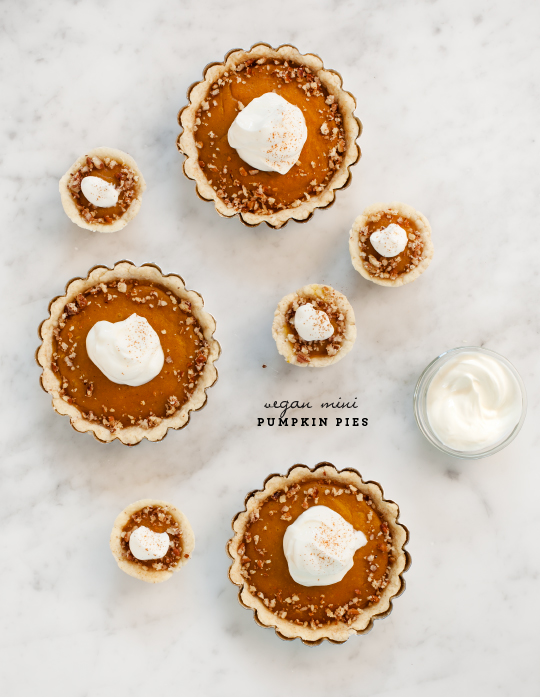 Finally, let's set the table with these cute rosemary place holders from Spoon, Fork, Bacon.
Oh, and I made you a rockin' playlist to cook to! It'll make you dance (and maybe cry at some points) while you whip up all this delicious food!
HAPPY FEASTING!