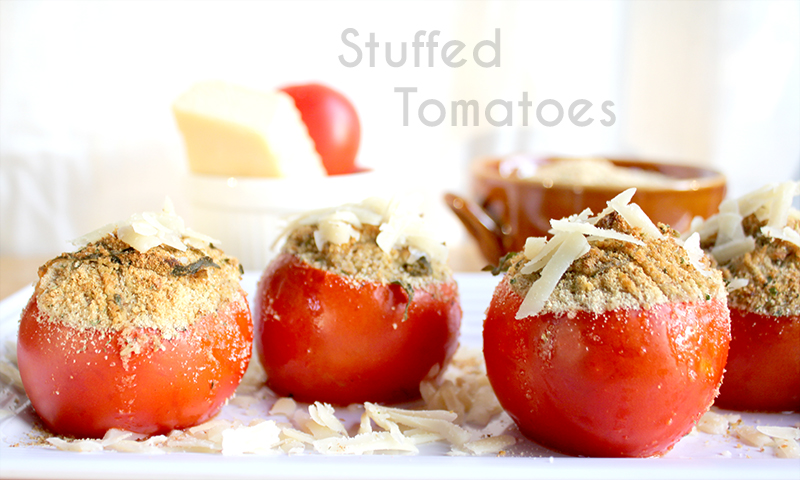 Italian-Style Stuffed Tomatoes
So I can't believe I haven't told you guys yet but we decided to buy a CSA share! Last week we picked up our first CSA box from Stranger's Hill Farm. Oh my god- what an exciting experience! I felt like a little kid headed to Discovery Zone. After work on Thursday, Wyatt and I drove out into the country (which really is only 6 miles from our house- hellloooooo Midwest) to pick up our first share from the farm. Being a locavore and produce enthusiast, this was too cool to see the farm from which my organic produce would be coming from each week. And I love the fact that you never know what you are going to get…it's like a surprise goodie bag for foodies!
Anyhow, we got loads of goodies in our box for the first week: kale, tomatoes, summer squash, sun flowers, basil, and so much corn on the cob (hey, it is Indiana!). I am really hoping this will push new cooking limits as well because I have to find new recipes to use ingredients I wouldn't usually purchase (I usually stick to spinach so kale was a nice challenge for me!).
Well, I am telling you this because the first recipe I tackled with our CSA produce were these stuffed tomatoes. I was a bit skeptical about wasting the insides of the tomatoes since they are sooooo fresh and delicious but the breadcrumb stuffing was a well suited replacement. And to be completely honest, those insides weren't wasted because they ended up being munched down on before I cleaned up the cutting board.
PS- Omit the Parmesan to make vegan!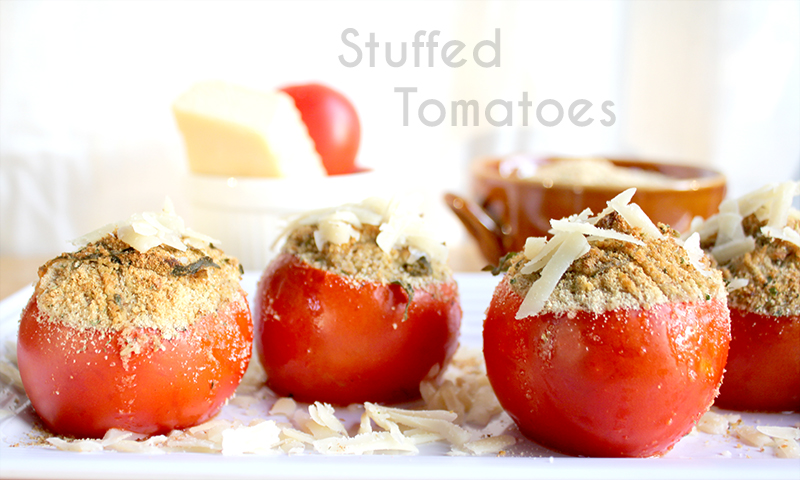 Italian-Style Stuffed Tomatoes
5 medium tomatoes
1 cup bread crumbs
8 basil leaves, chopped
2 Tablespoons dried oregano
3 garlic cloves, minced
2 sprigs of fresh thyme
1/2 cup Parmesan, grated
Olive Oil, for drizzling
Salt/Pepper
Preheat oven to 400 degrees. Cut an inch circle off the top of the tomato and scoop out the inside with a small spoon. If the tomato is wobbly, cut a tiny bit off the bottom so that it stands. Then, place in a greased baking pan and sprinkle with salt and pepper.
In a mixing bowl, combine the tomatoes, basil, oregano, garlic, thyme, and 1/4 cup of the Parmesan. Fill the tomatoes with the mixture and drizzle olive oil on top of each.
Cook for about 12 minutes or until the breadcrumbs have become crispy on the top. Season with salt and pepper and top with the rest of the Parmesan.
Serve warm as an appetizer for a low maintenance grilling session or a fancy Italian dinner!