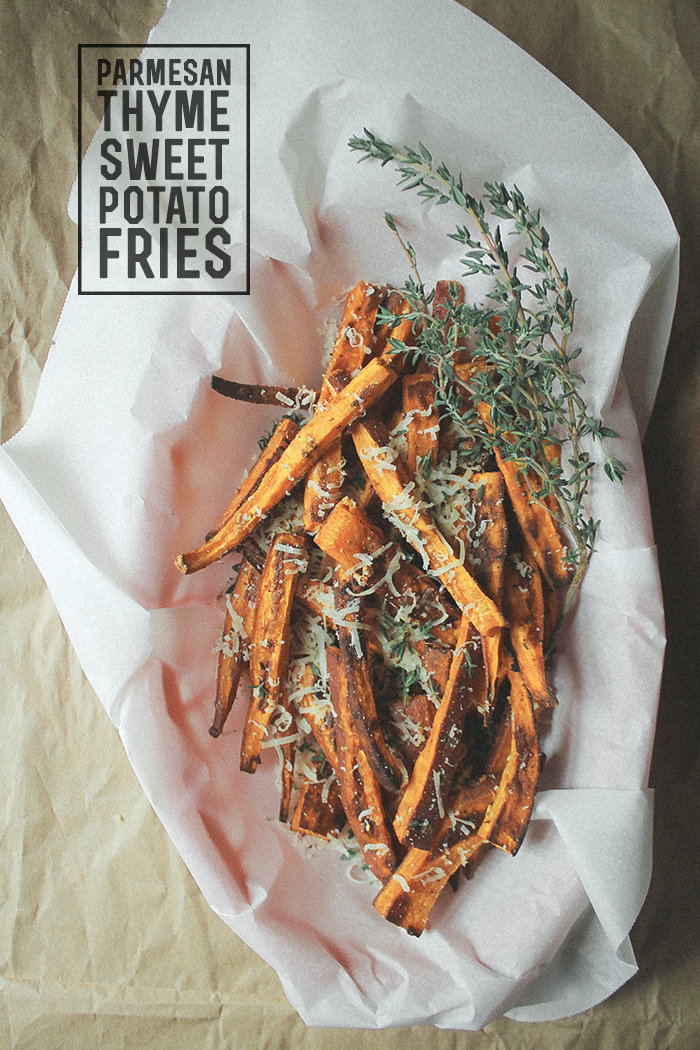 Parmesan Thyme Sweet Potato Fries
I go through phases with food. I'll make General Tao Tofu for dinner once a week for a month straight and then forget about it for a year. Same goes for Chili. And Enchiladas. And sweet potato fries. My problem with sweet potato fries is that I love them so much that I'll eat an entire sweet potato in one sitting. I will be in love with every bite. And then start to feel a little stuffed. And then a little pain. And then swear to myself that I'll never make them again because I can't resist eating all of them.
My reasoning last night was to make them for both Wyatt and I…so I would have no choice but to eat a portion controlled amount. But then Wyatt was late for dinner…and I started picking at the fries. And before I knew it there was only a tiny portion left. So then I had to eat them all to cover up the fact that I even made them to begin with [let alone the fact that I ate 80% of them]. So, alas, my plan backfired. And I will probably not make these for another 6 months because I tell myself I have a good amount of self control. And then these come into my life and that goes right out the window.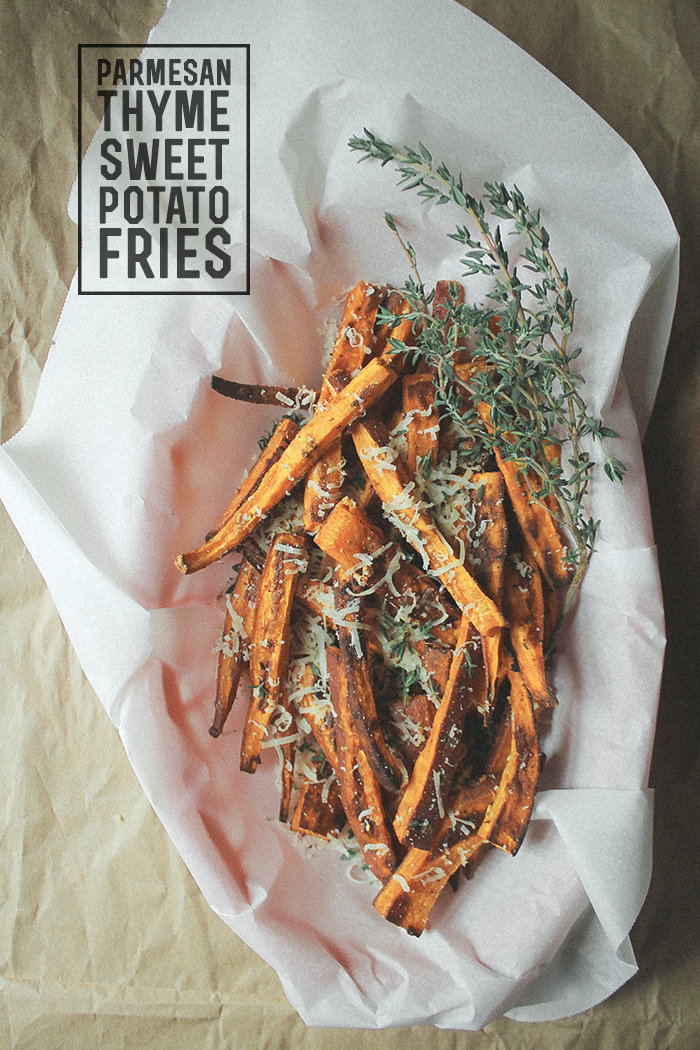 Baked Parmesan Thyme Sweet Potato Fries
1 large sweet potato, washed and cut into long chunks
1 Tablespoon olive oil
1 garlic clove, minced
salt / pepper
1 tablespoon fresh thyme
1/4 – 1/2 cup shredded parmesan (depending on how cheesy you like your fries)
[If you have the time then I recommend soaking the sweet potato chunks in water for about an hour and pat dry. This helps wash out some of the starch and results in crispier fries.]
Preheat oven to 425 degrees. Whisk together the garlic, olive oil, salt, and pepper. Toss with the sweet potatoes and then transfer to a baking sheet. Cook for 30 minutes or until crispy (flip halfway through). Cooking time will vary depending on how think you cut your fries.
Remove from oven and immediately sprinkle with parmesan and thyme. Let sit for five minutes or until the parmesan has melted onto the fries. Serve with ketchup or a tangy aoili sauce.