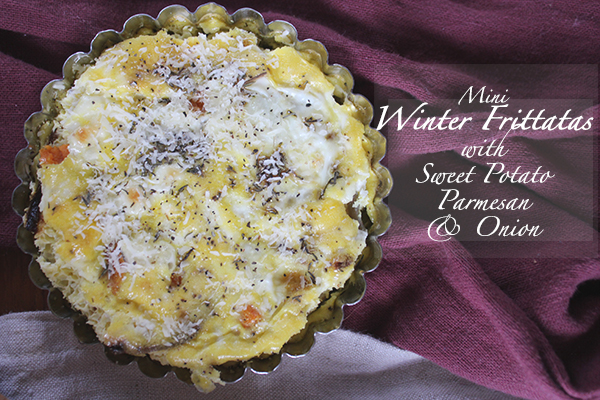 Mini Winter Fritattas with Sweet Potato, Onion, & Parmesan
I'm a big quiche fan and would be lying if I didn't mention that I was rather hesitant to get on the 'fritatta' bandwagon. But as I cook with eggs more and more, I realize comparing a quiche and fritatta is like comparing whole wheat oatmeal cookies and double chocolate chip cookies. Quiches are rich and full of heavy cream and eggs piled on top of a buttery crust. Fritatta is like the healthy crustless sibling to the quiche with its easy preparation and delicious vegetable filling.
Now, don't get me wrong, I still LOVE me a cheesy and buttery quiche. But frittatas have been making their way into my daily routine more and more because of their simplicity. I don't have to spend time making a crust or hoping I have heavy cream on hand (which I usually don't). I can just stick in whatever vegetables I may have on hand and whisk up some eggs. So simple!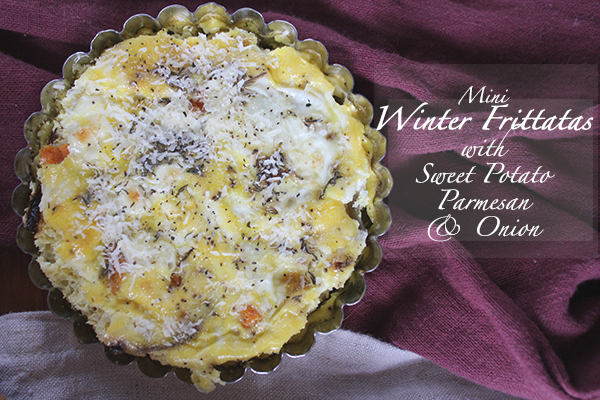 Mini Winter Fritattas with Sweet Potato, Onion, & Parmesan
Makes 2 6″ tart pans
1/4 cup sweet potato, diced small
1/8 cup diced onion
3 eggs
1 ounce cream cheese, softened
1/2 teaspoon dried thyme or sage (I've used both in thisin the past week & both were fantastic)
Salt/Pepper
1/2 tablespoon Olive oil
grated parmesan, for sprinkling on top
 Preheat oven to 400 degrees. Divide the sweet potato and onion between two tartlet pans. Coat the vegetable with olive oil and salt/pepper. Roast in the oven for 10 to 15 minutes or until they have started to brown.
In a small bowl, whisk together the eggs, cream cheese, and a little salt. Divide the mixture between the two tartlets and add once the vegetables are done roasting. Top with thyme/sage and stick back in the oven for 5 minutes or until the egg mixture is cooked all the way through.
Top with parmesan and serve along side some orange juice or homemade bread.