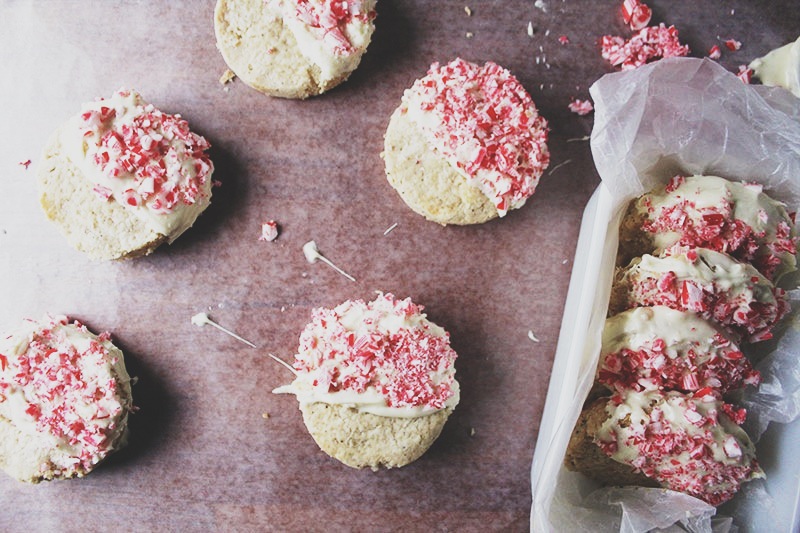 Peppermint Dipped Brown Butter Shortbread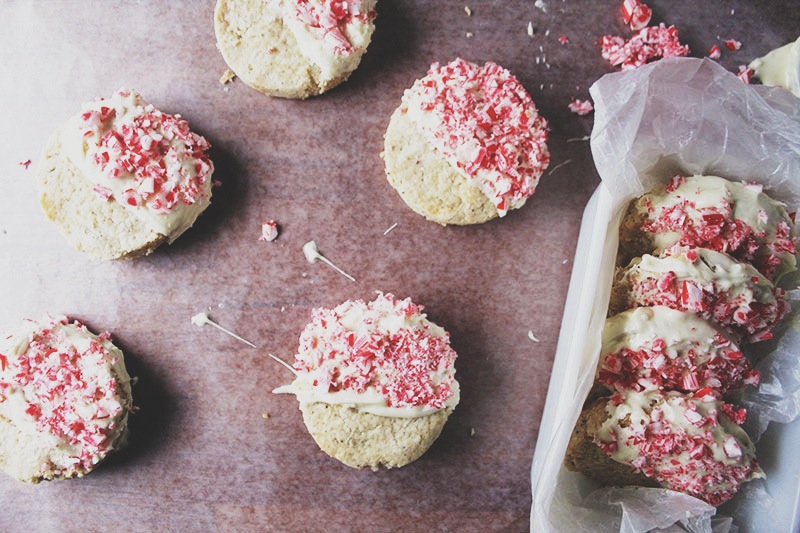 We put our tree up the Saturday after Thanksgiving but my Christmas spirit didn't really kick in until I whipped up these cookies. There is something so calming about waking up on a sunny, snowy day and hiding from the cold in your warm kitchen with the lingering smell of butter cookies. We haven't had any snow yet here but the weather was certainly chilly enough for me to stay inside and bake this past weekend.
We had a few friends over on Sunday night to watch 'Christmas Vacation' and I made these cookies to go with it. Nothing like a Christmas comedy and overloading on sugar to get you ready for the holidays! The movie put me in the spirit and I am now ready to Christmas shop, wrap gifts, and drink peppermint lattes. Hmmm… if only my family would tell me what they want already….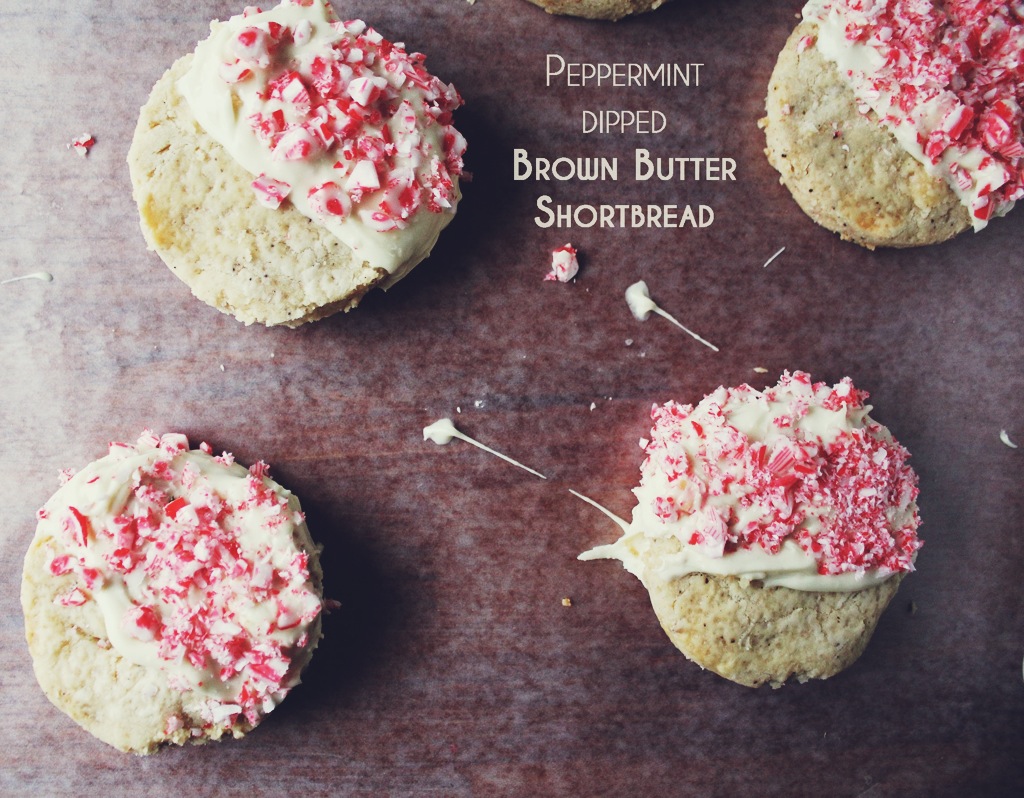 Peppermint Dipped Brown Butter Shortbread Cookies
2 sticks of butter (1 cup), divided & at room temperature
1/3 cup brown sugar
1 1/2 cups all purpose flour
1/2 teaspoon salt
1 box of peppermint candy canes, unwrapped and crushed
8 ounces of white chocolate
Start by browning half (one stick) of the butter. Place butter in a small saucepan over low heat and let cook until small brown flakes form. Stir often so the bubbles don't bubble over the pan or so that it doesn't burn. Once the butter has browned, immediately pour it into a glass cup and let cool completely.
Beat together the butter (browned and regular) and the brown sugar. Next, add in the flour and salt and continue to beat until a thick ball of dough forms. Wrap dough (with parchment, wax paper, etc) and let chill for at least 30 minutes (this will help keep the dough together).
Once chilled, transfer dough to a floured surface and roll out to about 1/2 inch thick. Use a biscuit cutter or the top of a round glass to cut out circular shapes. Transfer to a greased cookie sheet and repeat with the rest of the dough.
Preheat oven to 350 degrees and place the cookies in the fridge to chill for 10 minutes while the oven preheats (this will help the cookies keep their shape). Cook cookies for 15 minutes or until they are golden brown around edged. Let cool completely.
Crush the peppermint candy canes anyway you see fit. I put mine in a ziploc bag and went to town using a meat tenderizer (also known as the kitchen hammer!) until they were in tiny pieces.
Melt the white chocolate in either your microwave or over a double boiler. I don't have a microwave so I used the double boiler method which consisted using one saucepan inside the other and letting water simmer under the first pot while I constantly stirred the white chocolate over it until melted (this was a terrible explanation. If it is your first time using a double boiler, use this as a reference). Once melted, dip half the cookie into the chocolate and then roll in the peppermint chunks. Place on wax paper (this prevents sticking) and repeat with the rest of the cookies. Let cookies chill in fridge for 15 minutes or until the chocolate has hardened.
Enjoy with a peppermint latte or some eggnog and baileys!