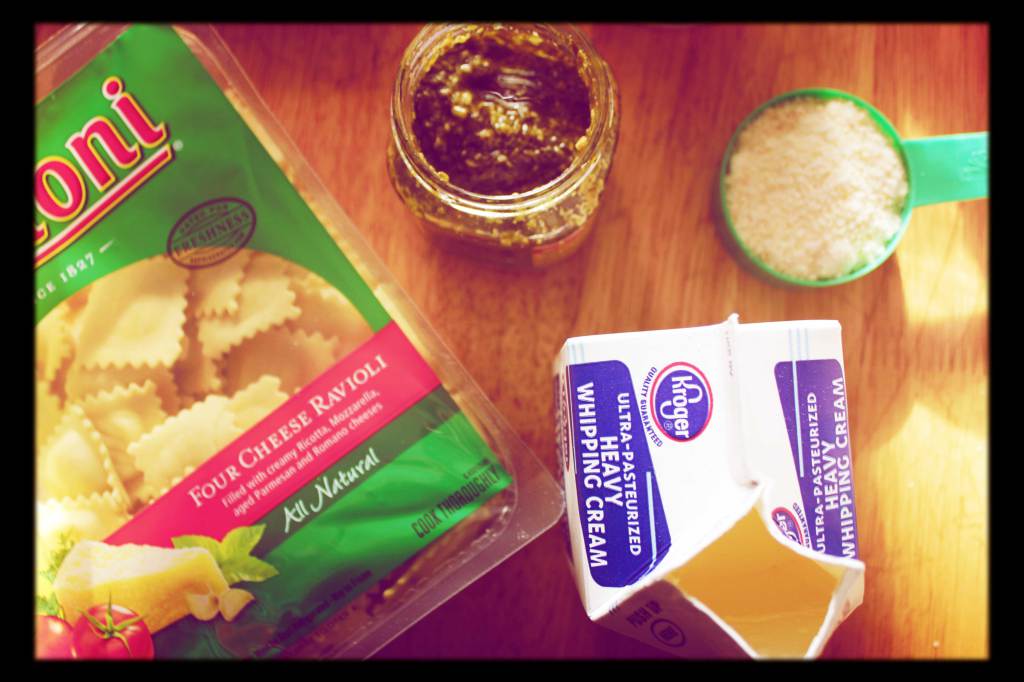 Pesto Parmesan Ravioli /// How to Handle A College Boy
This should really be "how to handle a college boy's kitchen" but that doesn't sound quite as exciting. I promise it's harder than you might think…have you ever had to even walk through those filthy, dishes-piled in the sink, off smelling room that 20-something year old boys call a "kitchen"? Well, try cooking in it! I give my boyfriend credit…he is pretty clean but his 3 roommates are not which makes trying to prepare a dinner almost impossible.
After dating these types of boys for over 4 years now, I have a few tips for girlfriends, parents, etc trying to feed those incompetent boys in their lives.
1. Get Creative. I always have a small heart attack in the beginning when I am trying to compile things I will need for the meal and realize that Wyatt doesn't own measuring cups, mixing bowls, or a microwave. But I realize if I just take a deep breath and relax than I can get rather creative with it. Use tupperware for mixing bowls, melt things over the stove top, use your best judgment for measurements, etc.
2. Keep it simple. The less ingredients used the less you'll have to worry about them not having something. Spices seem like a standard for most but you'd be surprised. Also, always bring your own perishables… just because there is milk in the fridge does not mean it hasn't been there since last summer.
3. Be prepared to share with his roommates. Not only will this score you extra brownie points but that other boys in the house probably haven't had a home cooked meal in months either.
4. Ask them to clean before you arrive. When I made this ravioli, a huge grease fire started on the stove top because it had not been cleaned in months (Luckily, I made Wyatt put it out while I stood back and took pictures). Be aware of the lack of cleanliness and make sure they do something about it BEFORE you start cooking.
5. My last piece of advice is to bring beer. Even if they don't enjoy your cooking, they will be satisfied enough with the beer to invite you back again.
Simple Pesto Parmesan Ravioli
1 16 ounce package of ravioli
1/2 cup parmesan
1/4 cup prepared pesto
2 tomatoes, diced
1 cup heavy cream
Salt/Pepper to taste
Preheat oven to 400 degrees. Cook ravioli according to the instructions on the package.
Mix together the pesto,tomatoes, heavy cream, and half the parmesan. Fold into the cooked ravioli.
Pour into a square casserole dish and top with the rest of the parmesan. Cook for 20 minutes or until the top is browned.
Season with salt/pepper and serve with a baguette.