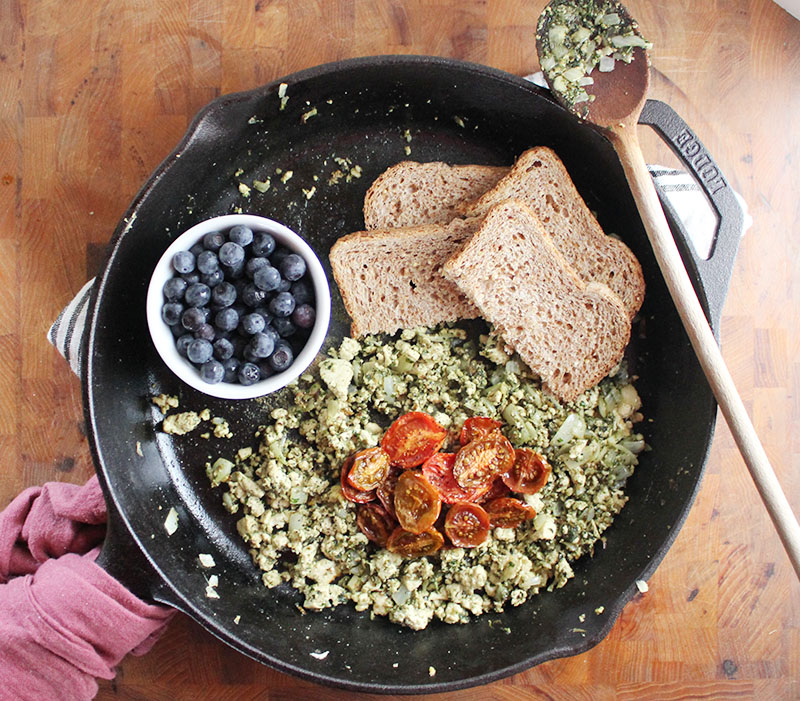 Pesto Tofu Scramble with Roasted Tomatoes
Morning, Morning, Morning! Hope everyone had a wonderful weekend! Mine was filled [again] with all my favorite things: friends, hiking, yoga[ing], cooking, and exploring. It's been so beautiful here with the leaves changing that I've felt the need to get outside as much as possible before the cold comes in! We are going to Denver this weekend so I've been trying to get my Midwest Fall crammed into 3 weekends this year instead of 4. Here are a few pictures from the hiking /// Fire Tower adventure yesterday:
This weekend was also great because it felt like a bit of a staycation. On Saturday night, Wyatt and I skipped out on our usual bar spot and went drinking at a small Irish pub instead. I had never really drank there before and it was such a wonderful, new experience. The place is full of great lighting, has a rustic pub feel, and delicious cocktail combinations! Definitely my new favorite "date spot".
And then on Sunday we spent most of the day hiking with some friends. On the way back from the hike, we went out to eat at this little touristy restaurant called 'The View'. This place is down by the lake so it's a ways away from Bloomington and we have passed it dozens of times but never thought to stop. It was a pretty good experience [minus some terrible music playing]. The atmosphere was laid back and they had some delicious homemade veggie burgers and ginger sprinter.
_______________
And now let's talk about food! I have a very love//hate relationship with tofu. I can make an amazing General Tao Tofu dish like no one's business but then there are often times that my tofu comes out crumbly//mushy//sad when I step out of my comfort zone with it. And thus, I have decided that I love [when things go right] tofu too much to be discouraged about trying a new recipe out of fear it won't come out. I am planning to try a new tofu dish at least one a week for the next month to hone in on my skills and figure out what works/does not work for me when it comes to this protein packed beast [and perhaps I'll try tempeh next month…and then seitan…etc].
I started my new 'Tofu Journey' [can we call it that?] with this scramble. I've made many tofu scrambles before and sometimes they turn out just right…but other times they turn out watery or dry or bland. I wasn't going to let some bad attempts discourage me this time though. I thought about failed attempts in the past and what went wrong…the final verdict to making a good tofu scramble [I decided] was 1. watch it closely to make sure it doesn't get dried out 2. Pick a flavor combination and stick to it so that it doesn't end up bland or have too much going on 3. Don't get impatient…make sure you let it get to the right consistency before taking it off the stove top.
Pesto Tofu Scramble with Roasted Tomatoes
Serve 3 (or a hungry 2!)
1 pint cherry tomatoes, sliced in half
1 block firm (or extra firm) tofu
1/4 cup prepared pesto (I used my frozen pesto)
1 small onion, chopped
2 garlic cloves, minced
olive oil
salt / pepper
Preheat oven to 450 degrees. Toss the tomatoes in olive oil and salt / pepper and place onto a baking sheet. Roast for about 20 minutes (I like my tomatoes to still have a bit of shape but feel free to roast for longer if you like them to be broken down).
In the meantime, heat a tablespoon of olive oil in a pan over medium. Add the chopped onions and cook for about 5 minutes; add the garlic and cook for another two. Next, squeeze the tofu over the sink and try to ring out some of the water. Crumble the tofu over the pan and saute for about ten minutes (this will depend on how moist the tofu is so this is the part where you watch it very closely…cook longer if it's still mushy and add a tablespoon or so of water if it dries out). Add in the prepared pesto and cook for another two minutes. Remove from heat and top with roasted tomatoes.
Serve with soy yogurt and blueberries. Or with a big side of home fries.