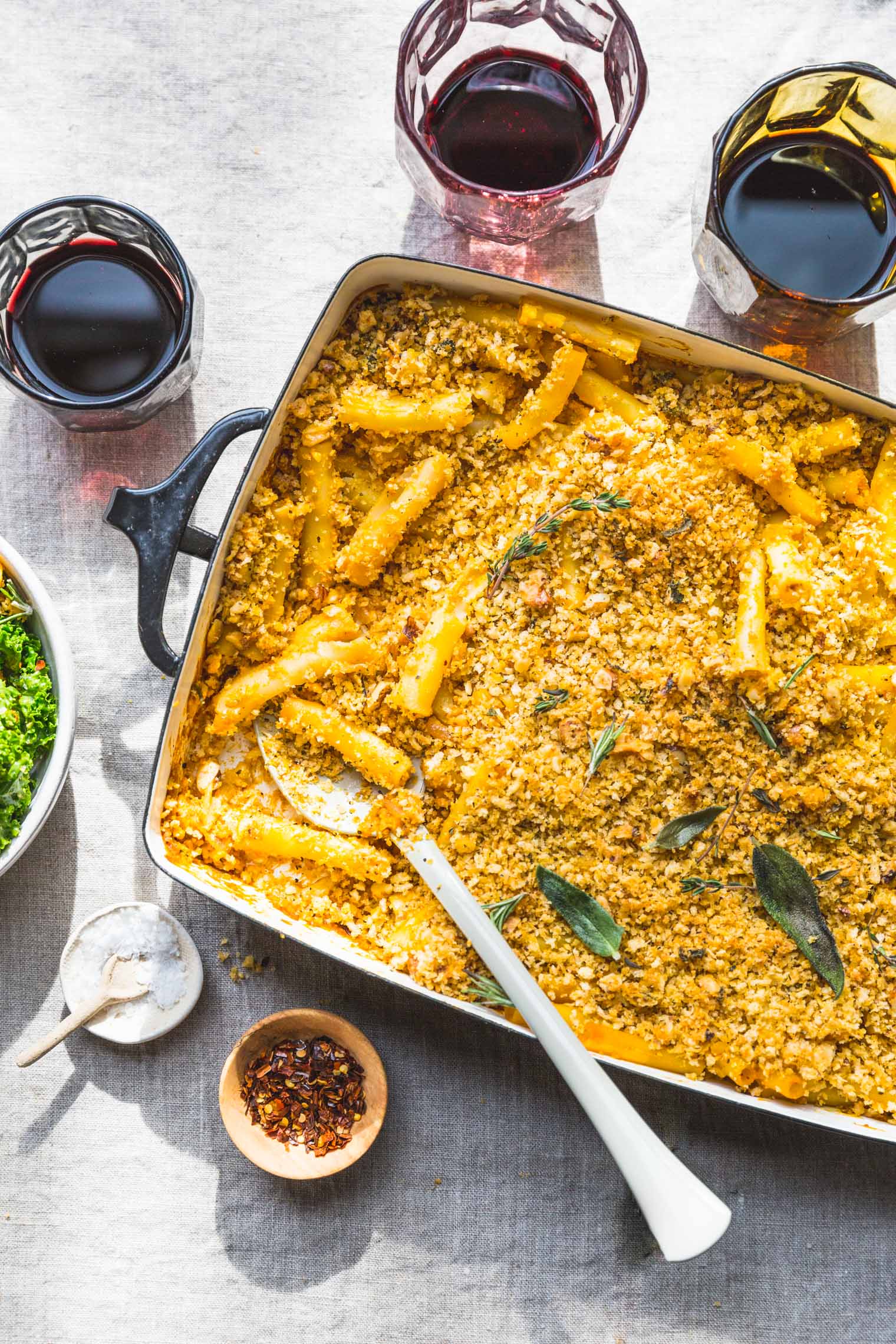 Vegan Pumpkin Baked Ziti (Easy Thanksgiving Vegetarian Main)
In a hurry? Click here to JUMP TO RECIPE!
This Vegan Pumpkin Baked Ziti recipe (from the Veganomicon cookbook) is the perfect easy Thanksgiving Vegetarian main dish. It can even be made ahead of time and baked just before serving!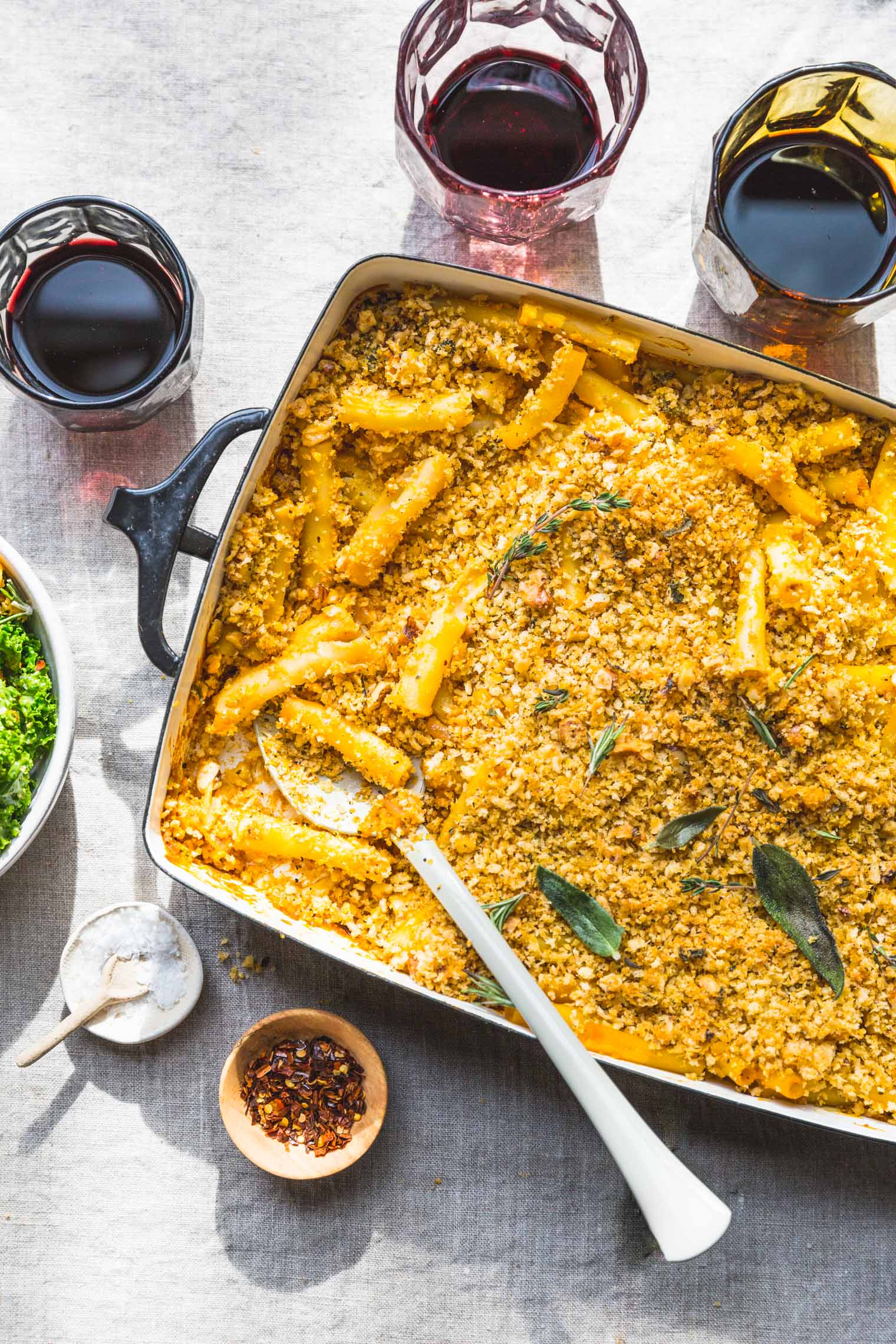 Okay don't panic but Thanksgiving is next week. Are you ready? Yeah, me either. I think we all can agree that being a vegetarian around the holidays can be a bit tricky. After many years of going to holiday dinners and realizing I could only indulge in the salad and rolls, I've discovered that my best way to enjoy the holidays (and avoid pity smiles from others looking at my plate) is to take control. And when I say take control, I don't mean run to the freezer aisle and pick out one of those deformed tofurkeys that your relatives will snicker about behind your back all day (darn you mean cousins!). I'm talking about whipping up your own vegetarian main dish that will smell so amazing, all your family members will scoop some onto their plates without even realizing it's vegan. Here is a perfect example of this: after I whipped up this casserole this past weekend, Wyatt anxiously stood behind while I photographed these photos and asked "When do I get to eat this cheesy goodness? It smells amazing!". I smiled, handed him a plate, and watched him devour the whole thing without even noticing that it didn't have a drop of cheese (or any dairy) in it. I'm telling you is going to love this!
And if being deliciously filling is not enough, this casserole can be prepared earlier in the day and then baked right before serving (and actually even tastes wonderful at room temperature) so you don't have to worry about last minute cooking. This recipe comes from my favorite vegan chef Isa Chandra Moskowitz's Veganomicon cookbook which just came out with a 10th anniversary edition this fall and features so many gorgeous glossy photos and a gold foil stamp cover (pssst – her publisher did send me a complimentary copy but I've been obsessed with Isa since the very first post I did on VV so believe me when I say my opinions are my own). What I love about Isa's recipes are that they are so approachable and don't require a bunch of hard to find ingredients. For this recipe in particular, the only thing I changed was that I made the ricotta all cashew instead of adding tofu because we all know your weird uncle would have made some really lame comment about how bland tofu is if you brought it to Thanksgiving (what is this…2010?). Also, the ingredient list looks long but they are all pantry staples and I bet you already have 90% of the items on hand, if not more.
Okay – now go gather up the ingredients for this recipe and surprise the heck out of your family and friends with your amazing cooking skills at Thanksgiving next week!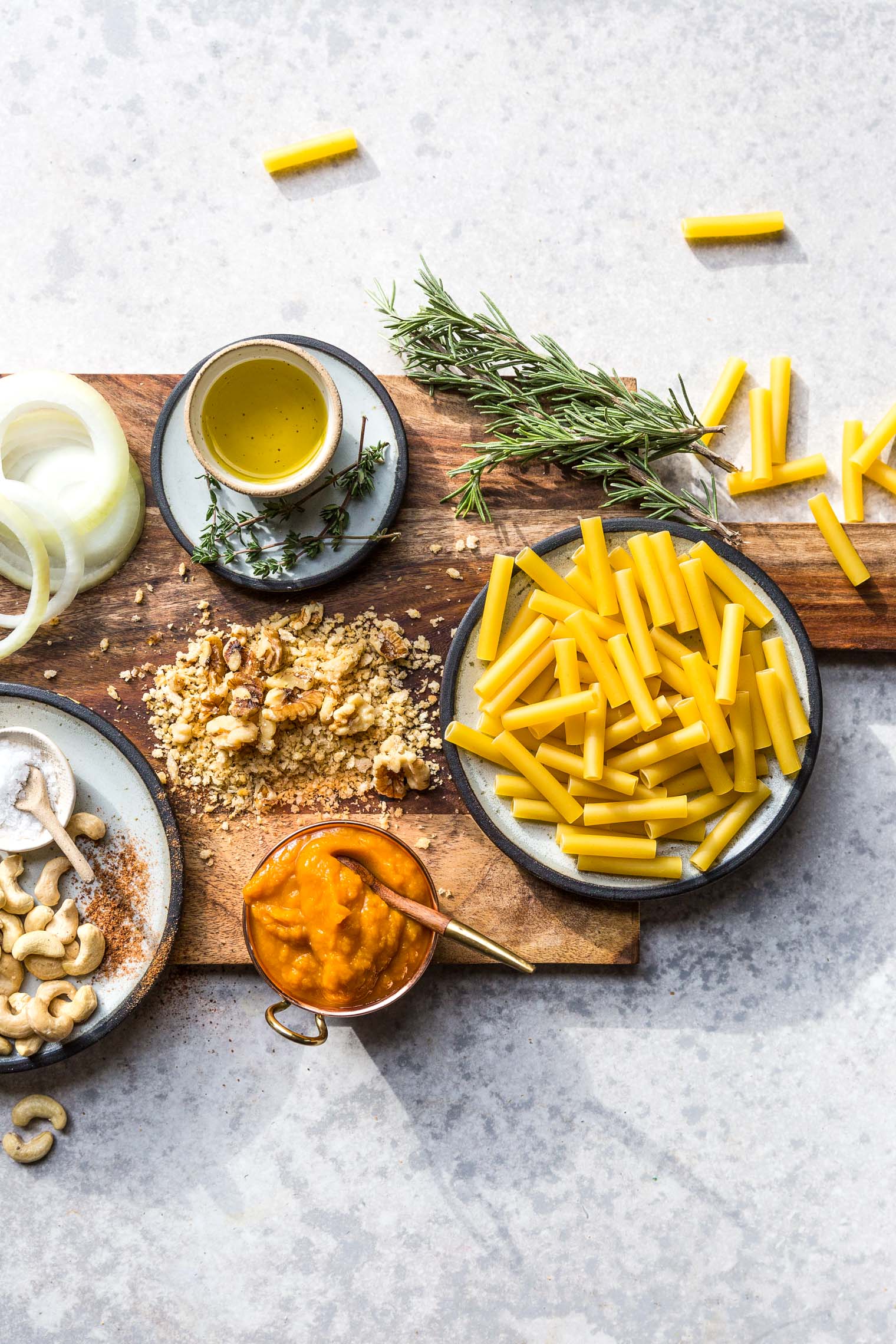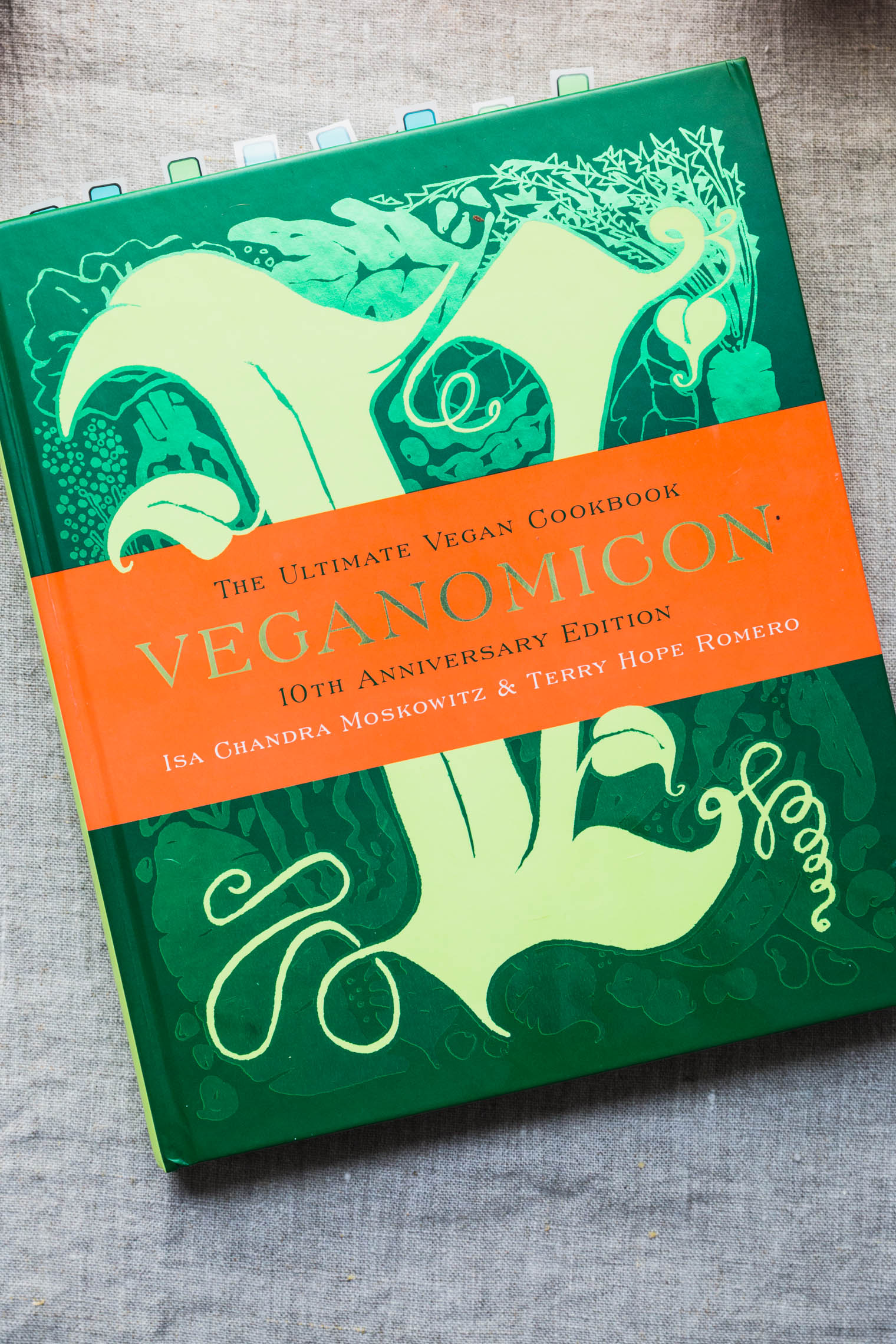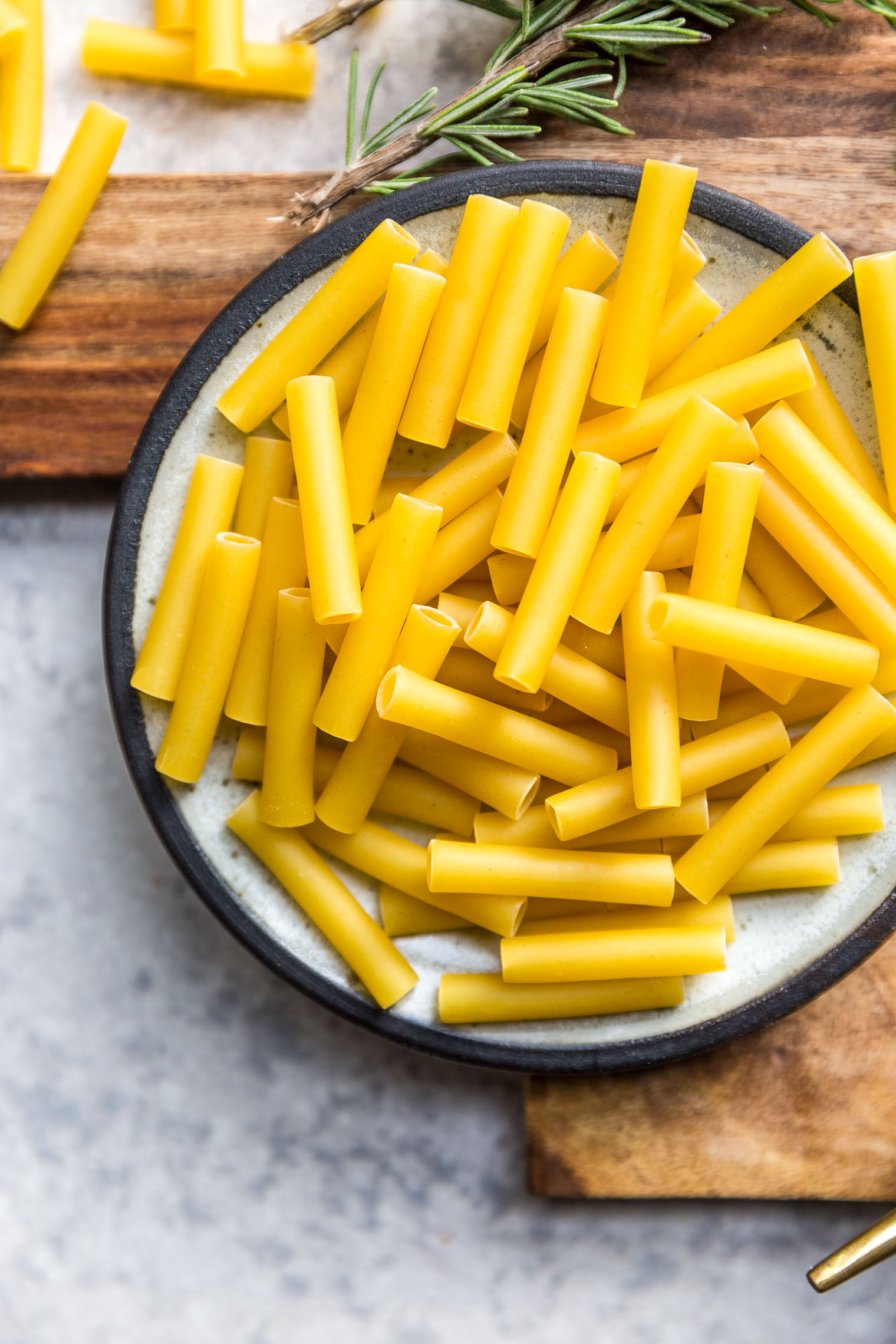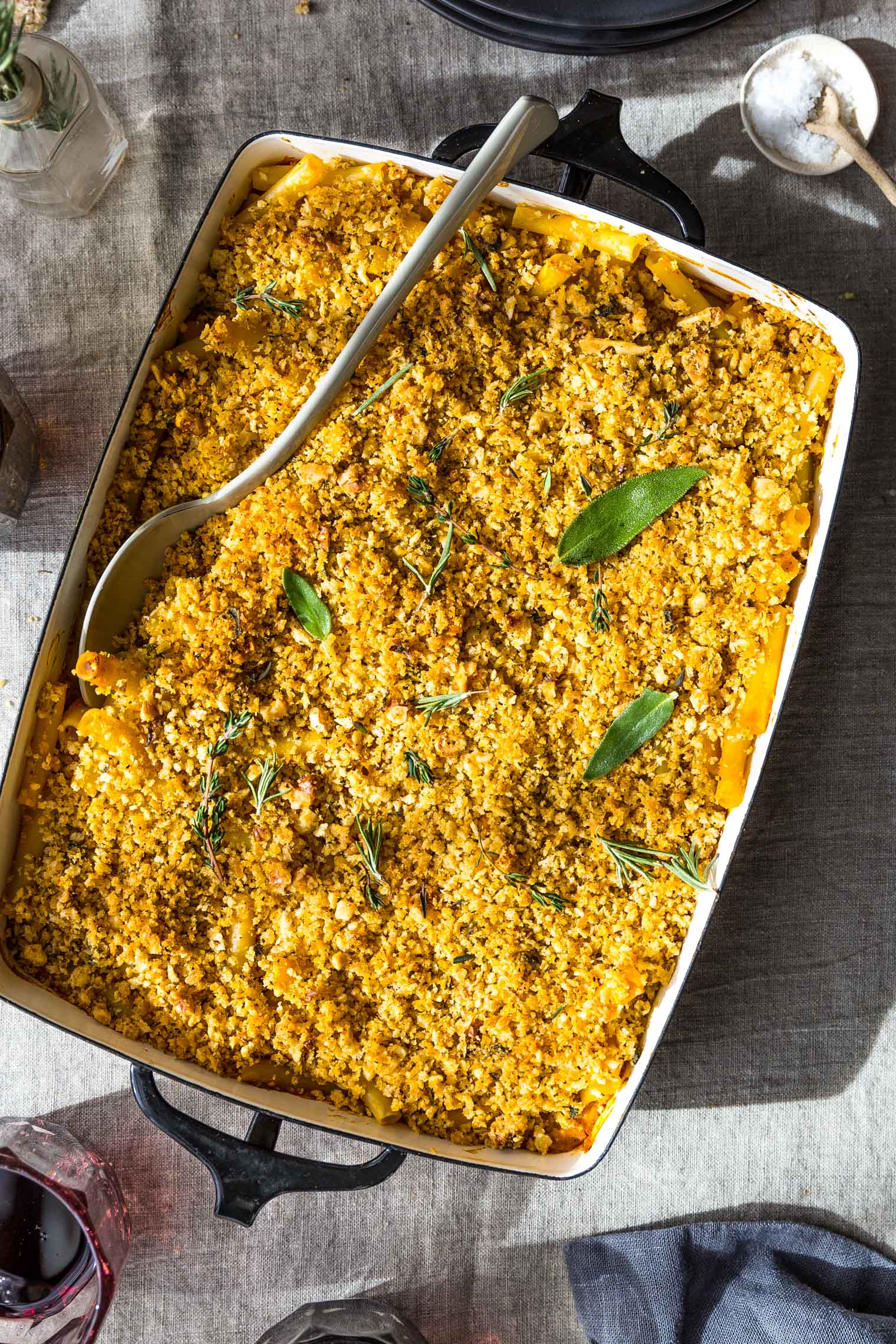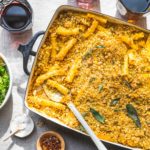 Pumpkin Baked Ziti
This Vegan Pumpkin Baked Ziti recipe (from the Veganomicon cookbook) is the perfect easy Thanksgiving Vegetarian main dish. It can even be made ahead of time and baked just before serving!
Ingredients
3/4

pound

uncooked ziti pasta

1

pound

yellow onions

very thinly sliced

3

Tbsp

olive oil

plus more for greasing

Pinch

of baking soda

1

Tbsp

maple syrup

1

tsp

smoked paprika

1

tsp

dried thyme

1/2

tsp

salt

1/4

tsp

nutmeg

dash of cayenne pepper

1

15 oz

can pumpkin puree

1/2

cup

unsweetened non-dairy milk

Salt / pepper

to taste
For the Cashew Ricotta
1

cup

raw cashews

1/2

cup

fresh lemon juice

2

Tbsp

olive oil

2

garlic cloves

1 1/2

tsp

salt
For the crumbe topping
1 1/2

cups

breadcrumbs

1/3

cup

walnut pieces

3

Tbsp

nutritional yeast

1

Tbsp

fresh sage

finely chopped

1

tsp

dried rosemary

1/2

tsp

salt

1/4

cup

olive oil
Instructions
Prepare the ziti according to the package direction. Drain and yet aside.


While the pasta is cooking, prepare the caramelized onions: Preheat a large saucepan over medium heat. Add onions, 3 Tbsp olive oil, and a tiny pinch of baking soda (Isa says this will help speed up the caramelization process). Saute, stirring often, for 15 minute or until deeply caramelized. Turn off heat and set aside.


Preheat oven to 375 degrees and grease a 9x13-inch baking dish with olive oil.


To make the cashew ricotta: Combine cashews, lemon juice, 2 Tbsp olive oil, garlic cloves, 1 1/2 tsp dried thyme, and 1 1/2 tsp salt in a high speed blender or food processor until a finely chopped mixture is created that looks similar to ricotta.


In a large mixing bowl, stir together cashew ricotta, maple syrup, paprika, thyme, salt, nutmeg, cayenne, pumpkin puree, milk, and black pepper. Add caramelized onions and pasta and stir until completely combined. Transfer to the prepared basking dish and smooth on top.


Prepare the breadcrumbs: Combine bread crumbs, walnuts, nutritional yeast, sage, rosemary, and salt. Drizzle with olive oil and toss so that the oil has completely coated the mixture. Sprinkle crumbs over the casserole.


Bake for 30 minutes, uncovered, or until the crumb is golden brown. Remove from oven, let cool for 10 minutes, and serve.

Nutrition Facts
Pumpkin Baked Ziti
Amount Per Serving
Calories 443
* Percent Daily Values are based on a 2000 calorie diet.