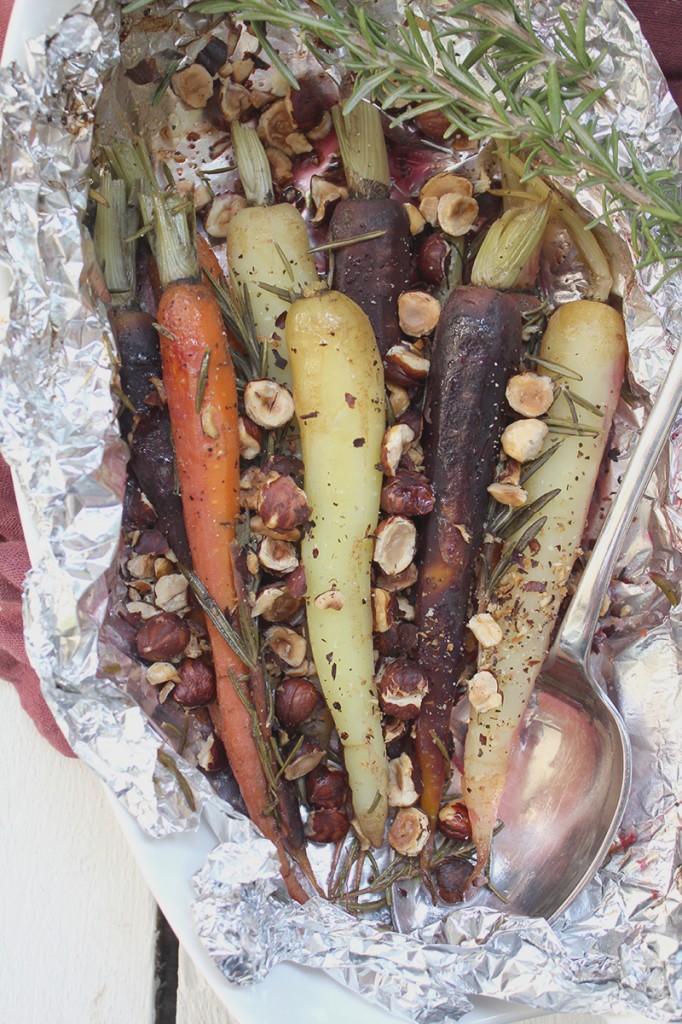 Roasted Carrots with Hazelnut & Rosemary + Giveaway
____________________
Now that the official stuff is out of the way, let's talk a bit about the changing happening around VV before we get into food. So, I've transferred my site and have the backbone of what it will become but this is only the beginning. Now it's time to fix [many] bugs/broken links before I continue on the design process. Please feel free to shoot me an email at [email protected] if you happen to see something funky going on and update your RSS feeds to direct to my new site (most should automatically but if you followed VV through wordpress.com they WILL NOT. Consider switching to following VV on bloglovin or facebook!). Anyhow, just wanted to give a little update on how the process is coming and let you know that things will  be moving around within the site for the next week weeks.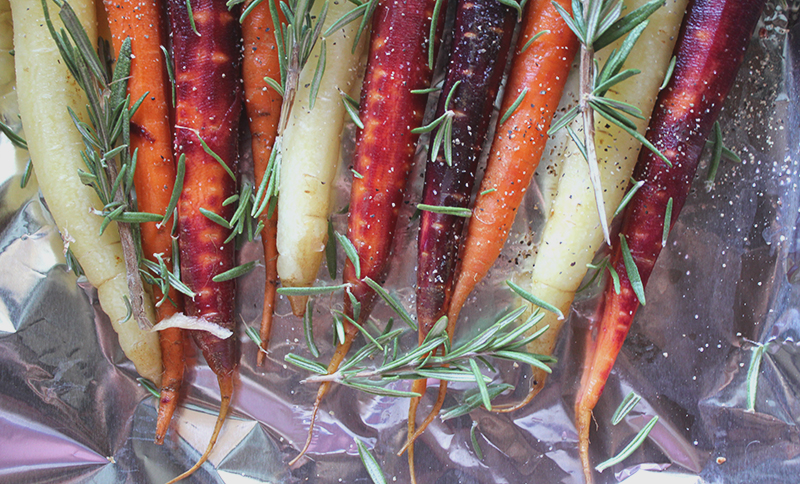 _______________
And now let's talk about the greatest holiday to ever cross foodie's paths – Thanksgiving! I, personally, love that there is a specific day dedicated to taking work off, cooking dozens of recipes, and eat mass quantities of delicious food. Am I the only one? Didn't think so. And now that it is November, it's time to start recipe experimenting for the big day! A group of wonderful bloggers and myself are teaming up with Country Crock to cook up some of the best Thanksgiving side dishes imaginable. What does this mean for you? It means that I have another wonderful giveaway for all of you (more on that later in this post!) and a list of delicious side dishes for your inspiration (click here to see what everyone is coming up with!).
As for VV, we decided we wanted to showcase this wonderful carrot recipe. Why? Because it would look absolutely stunning on your Thanksgiving table (look at all those colors!) and its super simple to make. So simple that you can pop these in the oven in 5 minutes and then spend the rest of your time worrying about the 100+ other things going on in your kitchen. Not to bad, eh?
Also, did I mention this recipe is delicious? The minimal amount of ingredients help bring out the true flavors of each component. Roasting makes the carrots slightly sweet while the rosemary brings in the savory and the hazelnuts give it a crunch. Plus, added bonus, the rosemary makes your kitchen smell like the holidays! So comforting.
Oh, and guess what!? I also have a giveaway for all of you! Because you are awesome and Country Crock was kind enough to supply some beautiful cookware.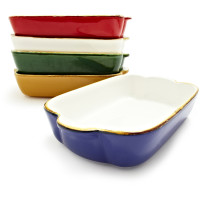 Enter for a chance to win an Italian Scalloped Baker (10″ x 6″) in the color of your choice! Click on over to the Sur La Table website to see all the color options.
Here is how to enter:
1. Like VV on Facebook or follow on Bloglovin.
2. Leave a comment telling VV what your holiday dish/recipe is
That's it! For extra entries, follow VV on Twitter and leave a comment saying you did so!
The giveaway will be open until next Tuesday (November 13th) at 2 pm (Eastern Time). Please make sure you leave a valid email address for me to get a hold of the winner!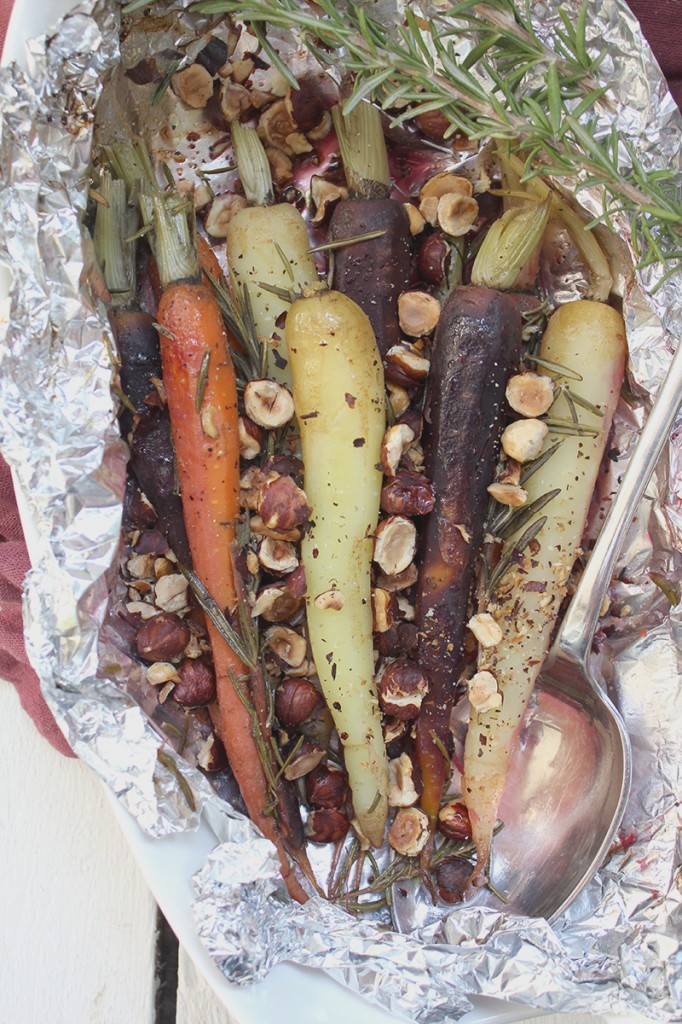 Roasted Carrots with Hazelnut & Rosemary
2 bunches of carrots (preferably multicolored but orange will do)
1 Tablespoon County Crock
2 Tablespoons white wine
2 teaspoon olive oil
salt/pepper
a few (3-4, depending on size) springs of rosemary
1/4 cup hazelnuts
Preheat oven to 425. Wash and prep the carrots (if they are super dirty then peel them) and place them in a single row on tin foil. Place another piece of tin foil over them and roll up three of the sides to create a pouch. In the opening, stick the rosemary, country crock, white wine, olive oil, salt, and pepper. Seal the pouch, give it a gentle shake (to help mix everything together), and then place on a baking sheet.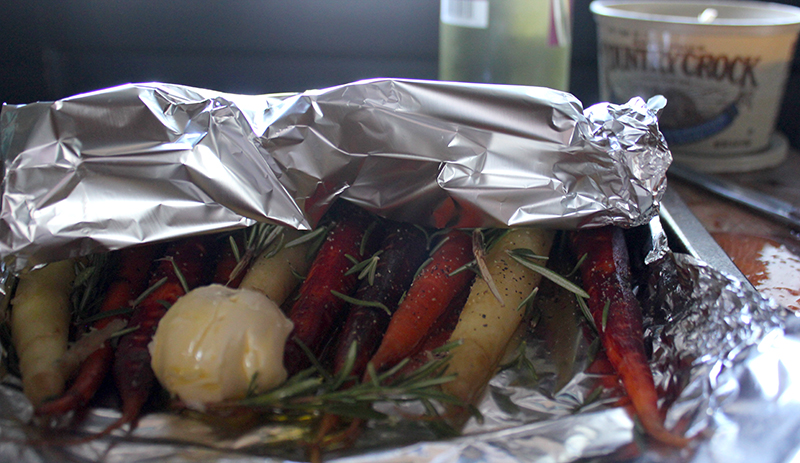 Cook for 25 minutes or until the carrots are soft. You can check this by opening one side of the pouch and seeing if a fork can pierce through the carrot. While those are cooking, lightly toast the hazelnuts by putting them into a skillet over medium low heat and stirring until fragrant (3 to 5 minutes).
Sprinkle hazelnuts over carrots and serve warm.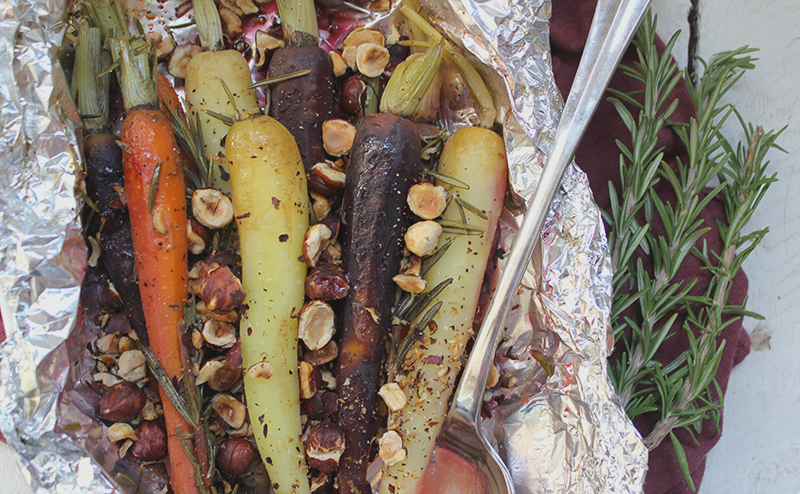 Thank you to Country Crock for being a sponsor. I was selected for this opportunity as a member of Clever Girls Collective. All opinions expressed here are my own.