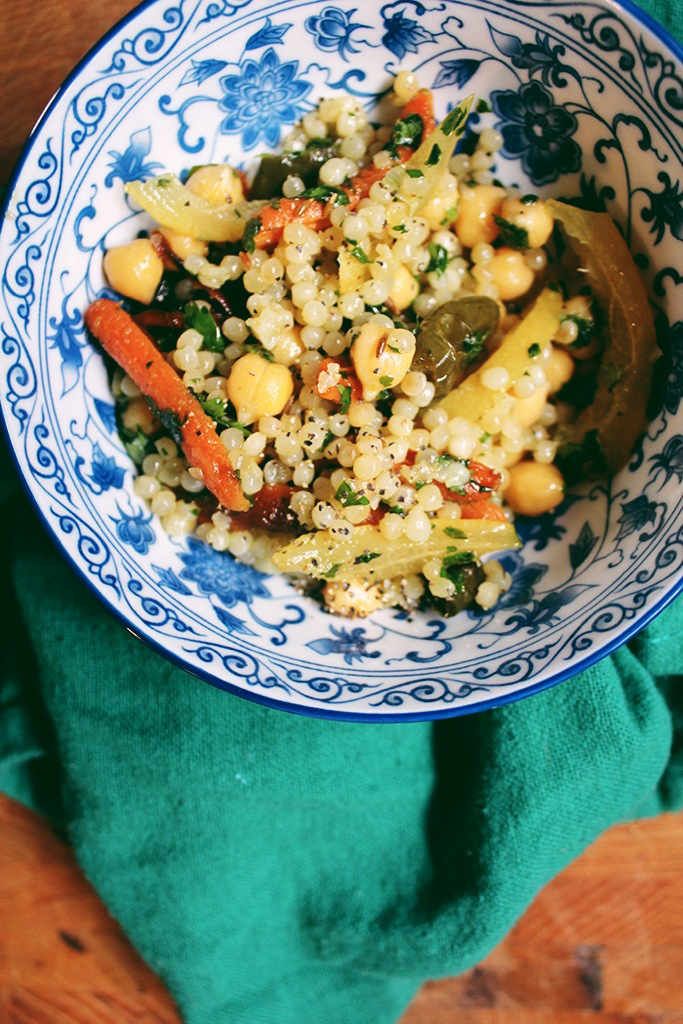 Cilantro Couscous Salad with Roasted Carrots & Chickpeas
I have had a seriously absurd addiction to couscous lately. Ever since I received that tagine for Christmas, I've been throwing everything over the stuff. My go to for dinner is often times roasting whatever veggies / beans / tofu I have on hand with garlic then throwing it over some type of starch. It used to be rice or pasta but lately… it's been all about the couscous. This has actually caused a battle in our house…Wyatt is a basmati rice lover and he has not happy about all this couscous trend. It's been a fun challenge to see who can get to the simmering water first and what gets thrown in.
I ate this salad warm and also cold the next day (which was probably even more flavorful the couscous and veggies absorbed the dressing). This salad is a ridiculously delicious lunch and super portable (cannot wait to start bringing it on picnics). Feel free to substitute whatever veggies you have on hand and experiment! Root vegetables seem to be the appropriate option this time of year but I cannot wait to try a summer version with roasted tomatoes, corn, and basil.
The carrots are roasted in olive oil and honey which helps bring out the tiniest hint of sweet in the overall salad. The chickpeas are a great addition (warm or cold) and help to keep you feeling full for longer. Feel free to experiment with other beans you have on hand as well.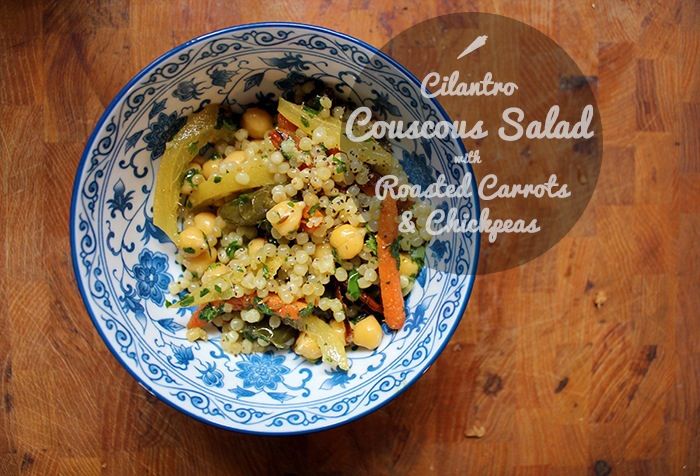 Cilantro Couscous Salad with Roasted Carrots & Chickpeas
4 carrots, sliced into chunks
3 garlic cloves
3 Tablespoons olive oil, divided
2 Tablespoons honey (or agave to make vegan)
1 preserved lemon, skin only and sliced very thinly (optional)
1/2 cup chickpeas, cooked
1 cup couscous
For the dressing:
1/2 bunch of cilantro, divided
1/2 Tablespoon cumin seeds, toasted
lemon juice from half a lemon
1/8 cup olive oil (may need a little more to thin out the dressing)
1 garlic clove, crushed
dash of paprika
salt/pepper to taste
Preheat oven to 400 degrees. Combines the carrots, 3 garlic cloves (whole), half the olive oil, honey, and a dash of salt in a bowl. Spread out into a single layer on a baking sheet and roast for 20 minutes or until the carrots are browned and tender (I like mine with a little crunch but keep in for longer if you like them more roasted). Remove from oven and let cook slightly. Once cool enough to touch, squeeze out the garlic from the outer cloves and mix in with the carrots.
Make the dressing while carrots are roasting: In a small food processor, blend together half the cilantro (1/4 of a bunch), cumin seeds, lemon juice, olive oil, garlic clove, and paprika. Pulse until a smooth paste has formed. Add in more olive oil if it is too think. Season to taste and set aside.
Heat the remaining olive oil in a small saucepan over medium. Add in the couscous and cook until toasted (about five minutes – stir frequently). Add in 1 cup of boiling water and simmer for about ten minutes or until the water is absorbed and the couscous is cooked all the way through.
Combine the couscous, carrots, chickpeas, preserved lemon, leftover cilantro and dressing. Season with salt and pepper. Enjoy warm or stick in the fridge for a refreshing snack later.