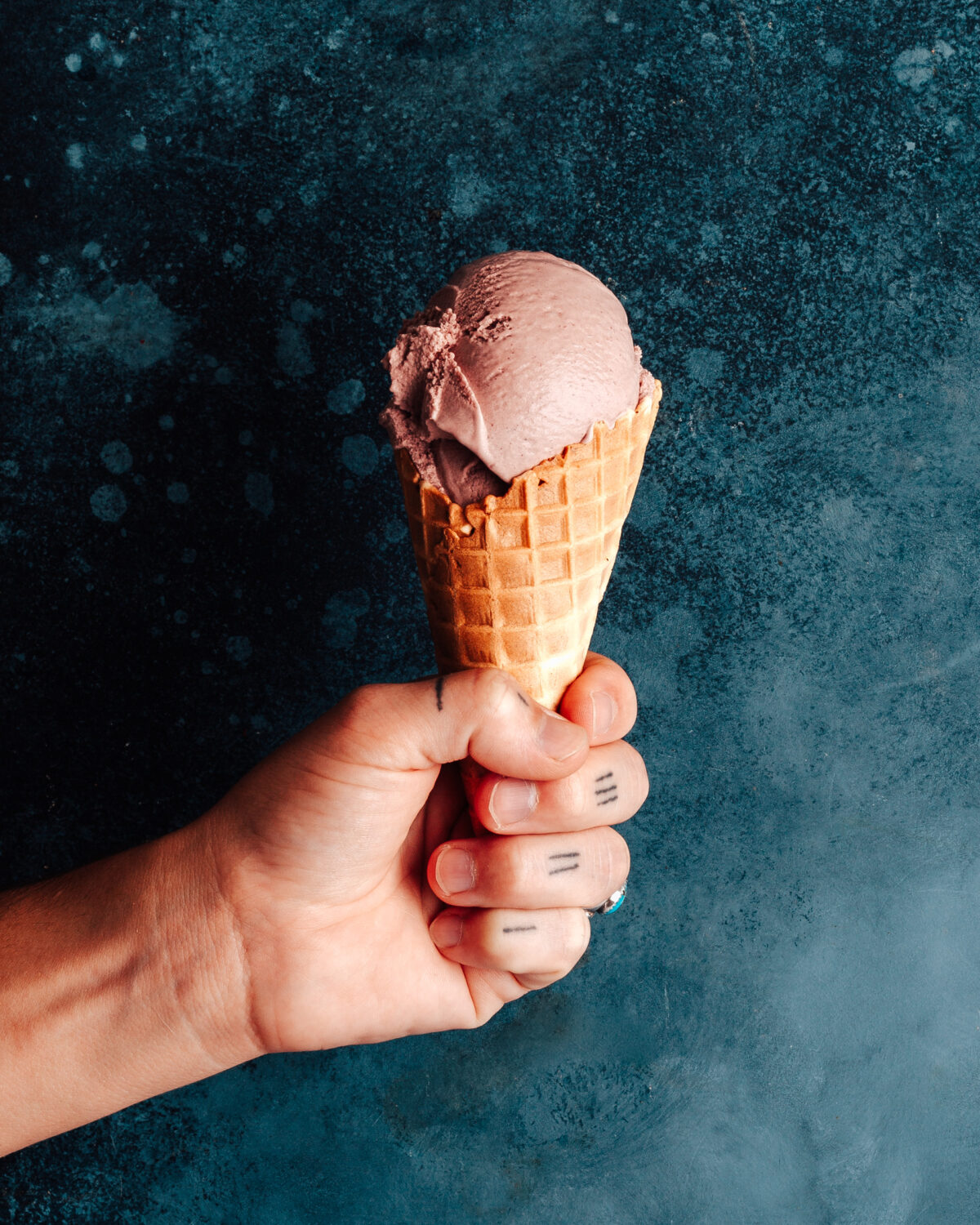 Roasted Concord Grape Balsamic Ice Cream
This Roasted Concord Grape Balsamic Ice Cream is packed with fall flavors that are fancy enough for date night but might even be sweet enough for the whole family!
Jump to Recipe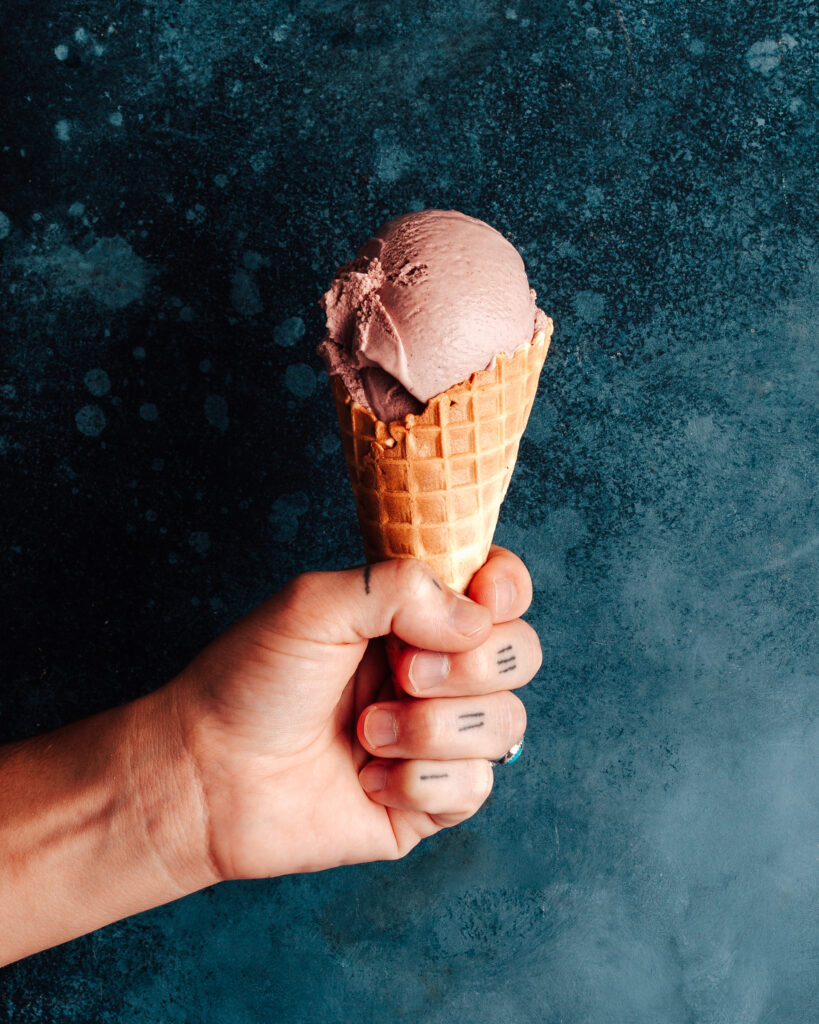 Anyone else frantically pull out their ice cream maker once they realized summer was slipping away and they hadn't used it yet this year? No? Just me? Okay, well don't judge me! I pulled mine out a few weeks ago and totally forgot about how much I love making homemade ice cream! It's so easy, you can use any flavor under the sun, and the end result is so rich and creamy that it makes me wonder why I don't make it more often.
Although the days are getting shorter and the humidity is disappearing, ice cream is an all year around treat in our house (Wyatt's favorite dessert, in fact!) so I loved creating this recipe by swapping out traditional summer flavors (strawberries, blueberries, etc) with fall flavors (concord grapes, balsamic). I don't like to use 'special equipment' too often around here because I like my recipes to be easy for all but it is worth noting that I used an ice cream maker for this recipe so I'd recommend having one on hand (you could try to make it without but I haven't tried this and can't vouch for if it works well or not).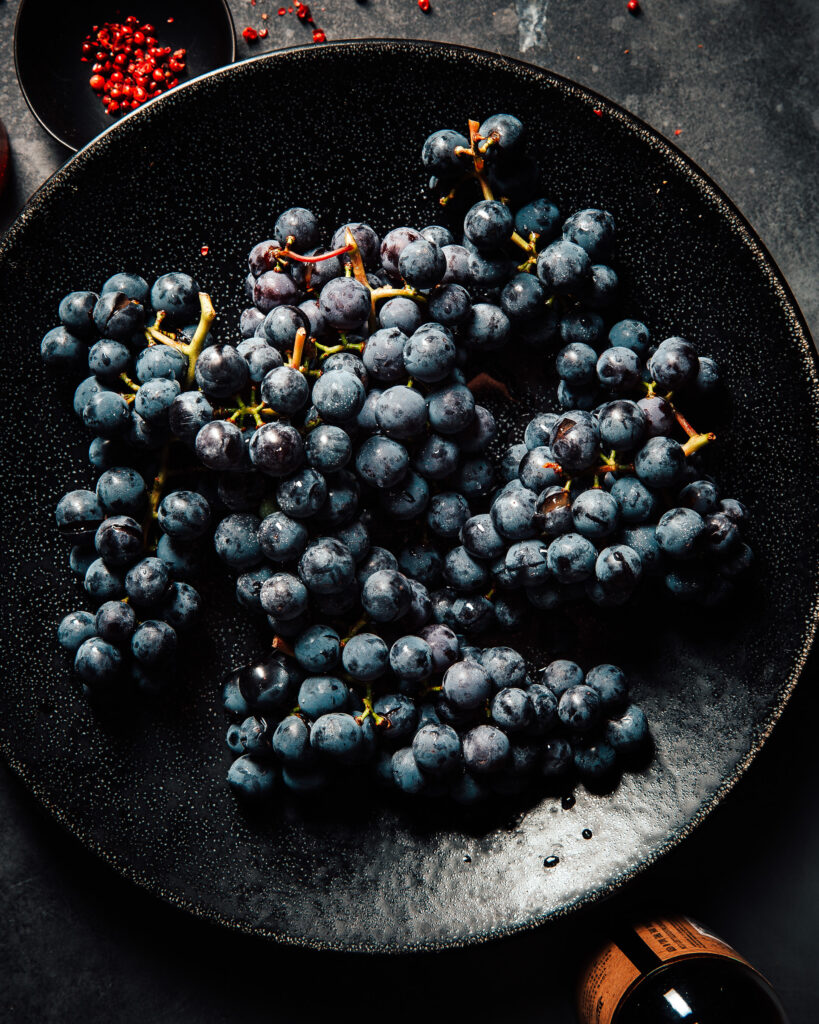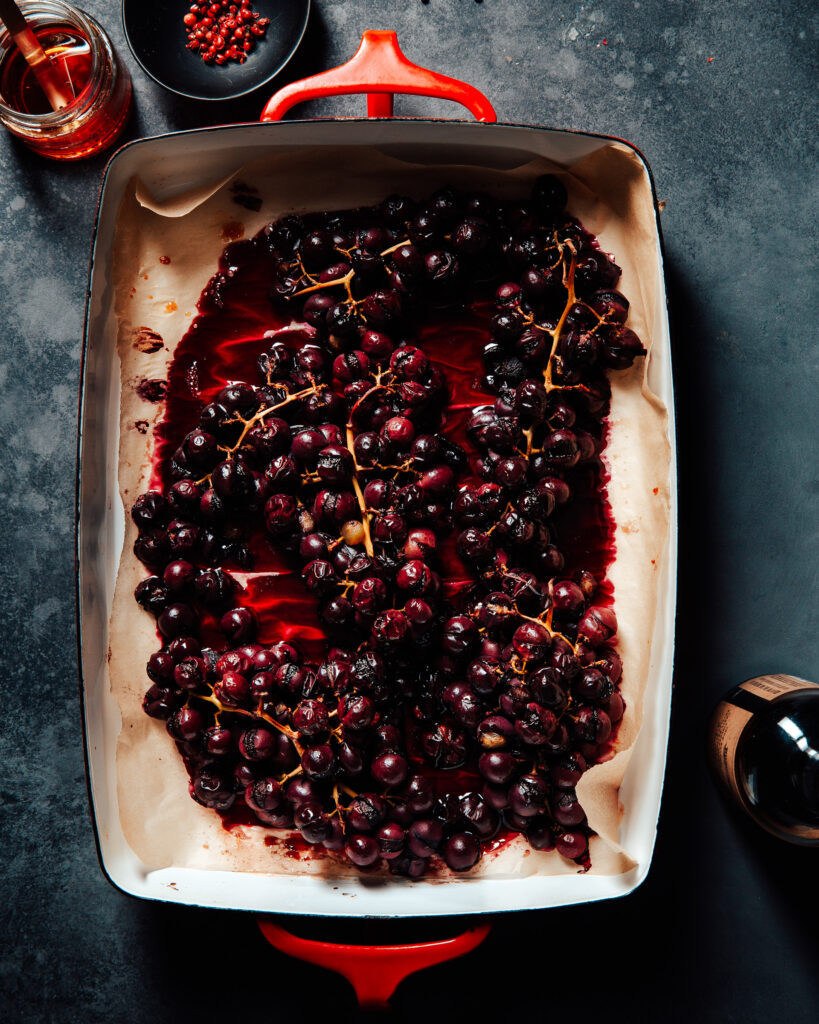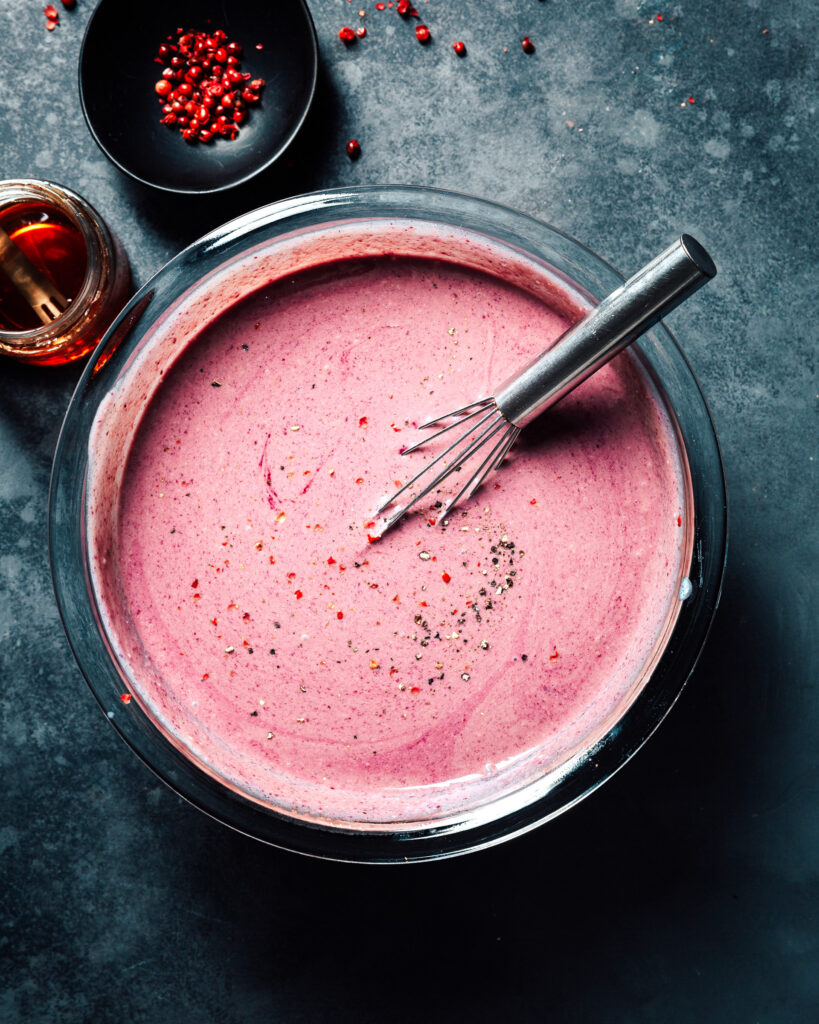 I picked up these beautiful concord grapes from a road side farm in Southwest Michigan a few weekends ago. It was one of those stands that just had a jar for you to leave your money in and already portioned out (large!) quantities of grapes waiting for you on a table right next to the vines they were grown on. Since concord grapes have seeds, they usually require you cook them down and then remove the seeds by putting the mixture through a fine mesh strainer (this, to my understanding, is how the concord grape jelly we all grew up on is made).
Instead of just making jam or jelly out of these, I decided to roast them (to deepen their flavor) to create a concentrate which I then mixed into an ice cream base with tangy balsamic vinegar and just a touch of pink peppercorn. The end result is a mature ice cream that is fancy enough for date night but might even be sweet enough for your kids to enjoy (although I don't have kids so I haven't actually tested this).
This Roasted Concord Grape ice cream recipe makes about 2 pints of ice cream – just enough to feed you and your family for a few evenings of dessert without making so much that it lingers in the freezer for months. Oh and don't forget to start on it the night before!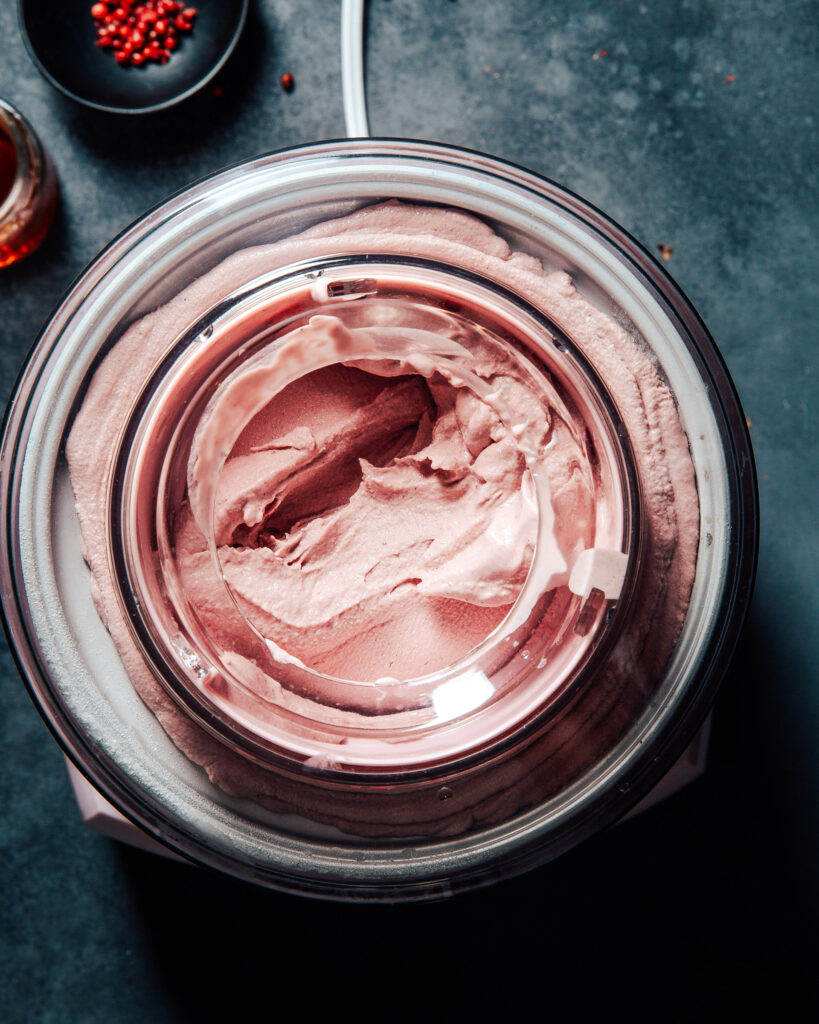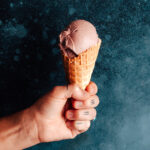 Roasted Concord Grape Balsamic Ice Cream
This Roasted Concord Grape Balsamic Ice Cream is packed with fall flavors that are fancy enough for date night but might even be sweet enough for the whole family! Recipe adapted from Salt & Straw Ice Cream Cookbook.
Ingredients
For the roasted grape mixture:
1

pound

concord grapes,

rinsed

3

Tbsp

honey
For the ice cream base:
1/2

cup

granulated sugar

2

Tbsp

dry milk powder

1/4

tsp

xanthan gum (<– this will help with keeping the ice cream smooth)

2

Tbsp

corn syrup

1 1/3

cup

whole milk

1 1/3

cup

heavy cream
Everything else:
1/3

cup

balsamic vinegar

1/8

tsp

ground pink peppercorn (optional but a nice touch!)
Instructions
The night before you want to make the ice cream: Preheat the oven to 300 degrees. Transfer grapes onto a parchment lined baking sheet and drizzle with the honey. Set aside while the oven preheats.

Whisk together 1/2 cup granulated sugar, dry milk powder, and xanthan gum in a small bowl.

In a medium saucepan, combine the sugar mixture with the corn syrup and whole milk. Whisk vigorously until smooth. Set the pot over medium heat and cook, stirring often, until the sugar has fully dissolved but before the mixture starts simmering, about 3 minutes.

Remove the pot from the heat and whisk in the heavy cream. Transfer the mixture to an airtight container and refrigerate overnight.

By now your oven should be preheated so pop your grapes in. Roast for 15 to 20 minutes or until the grapes have burst and juice is pouring out. Remove from oven.

Once cool enough to handle, transfer grapes (along with any lingering juices on the parchment paper) to a fine mesh strainer that is over a medium bowl and use the back of a wooden spoon to press the juices out of the grapes and into the bowl. Discard the grape skins and pits and then transfer the grape juice mixture into a sealable container and into the fridge to chill for the night.

If you have not already done so, make sure to stick your ice cream bowl (which is part of your ice cream machine) in the freezer now so that it has time to freeze.

The next day (or whenever you are ready to make your ice cream): In a large mixing bowl, whisk together the ice cream base, the grape concentrate, balsamic vinegar, and black pepper until completely combined.

Pour the mixture into your ice cream machine and turn it on. Churn until the mixture is the texture of soft serve (mine took about 15-20 minutes but time may vary depending on your ice cream machine).

Serve right away as soft serve (my favorite!) or transfer to a freezer friendly container and cover the top with parchment paper before sealing. Let freeze for 6 hours to firm up. This is best enjoyed within the first few days but will last a few months in the freezer.
Make sure to tag Vegetarian 'Ventures on Instagram and use #vegetarianventures when trying this dish out!