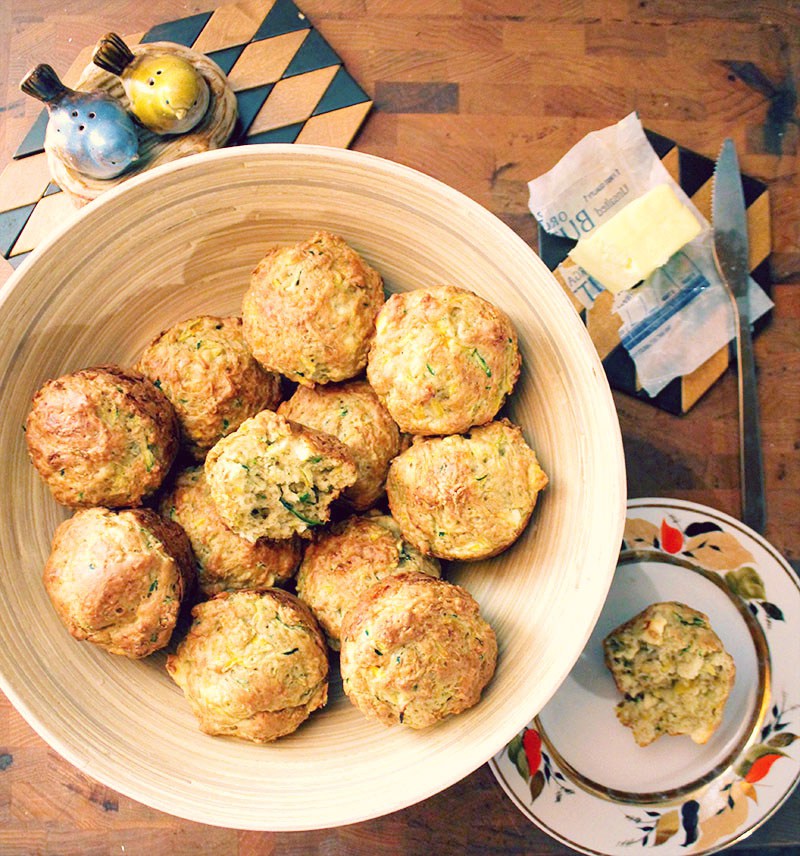 Savory Zucchini Feta Muffins
Am I the only one or is everyone feeling a bit stressed about getting ready for the long weekend? I know I am! My birthday is next Tuesday so Wyatt and I took off an extra day for a 4 day weekend! We are planning to go camping (which means I may be MIA for a few days) but I still have yet to research a spot…hmmm. I am thinking Smokey Mountains? Or somewhere with waterfalls? Or maybe on the beach along Lake Michigan? Choices, choices!
And I didn't get around to posting yesterday because I went up to Indianapolis to meet my Ma for my birthday. We have a little tradition that she always takes me out shopping for my birthday/Christmas. No complaining here! Haha. We usually go shopping on Michigan Avenue in Chicago but since I now live so far south…we have been compromising on Indianapolis. Not quite as glamorous but still a wonderful experience. Plus this gives us a chance to hit up Trader Joe's so I can splurge on soy chorizo and mass quantities of three layer hummus. ALSO, on that note…have you tried Trader Joe's 'Cookie Butter'? Thanks to Tracey from Shutterbean and  Joy The Baker and…I am addicted.
Now shifting our focus to what this post is all about! Thank you to Baba Ganoush for helping me dwindle away at my eggplant supply. What's next? All that zucchini! Whoever decided to throw a bunch of zucchini into bread was an absolute genius! There are so many endless options with zucchini bread/muffins/cupcakes! This was my first batch (of 3) so expect a little mini series in the next few days (Chocolate muffins to come next!). I served these muffins along side some eggplant caponata and they were a hit! Between Wyatt and his brother, I'm pretty sure they knocked out half a dozen in the first evening. There is just something about that the little surprises of salty feta through the muffin that leaves you craving more. I can't wait to make these again in the winter with some hearty chowder!
Savory Feta Zucchini Muffins
2 cups zucchini, grated
1/2 cup feta, crumbled
1/2 cup Parmesan, grated
4-5 scallions, chopped
1/4 cup buttermilk (I just made my own using this technique)
2 eggs, lightly beaten
1 1/2 cups all purpose flour
1/4 cup sugar
1 teaspoon baking powder
1 teaspoon baking soda
1 teaspoon pepper
Preheat oven to 375 degrees and spray a 12-muffin tin with cooking spray.
Drain the excess zucchini by wrapping it in a clean dish towel and squeezing out as much juice as possible. In a large mixing bowl, combine the feta, Parmesan, and onions. Mix in the buttermilk and eggs to the zucchini mixture.
In another bowl, mix together the flour, sugar, baking powder, baking soda, and pepper. Make a well in the center of the dry ingredients and add in the zucchini mixture. Fold the dry into the wet ingredients until just incorporated.
Fill muffin tins 3/4 full (they will expand a bit) and bake for 40-50 minutes. Remove from oven when the tops have browned.
Enjoy with soup, pasta, for breakfast, as an afternoon snack, or just whenever you have a craving for something savory!