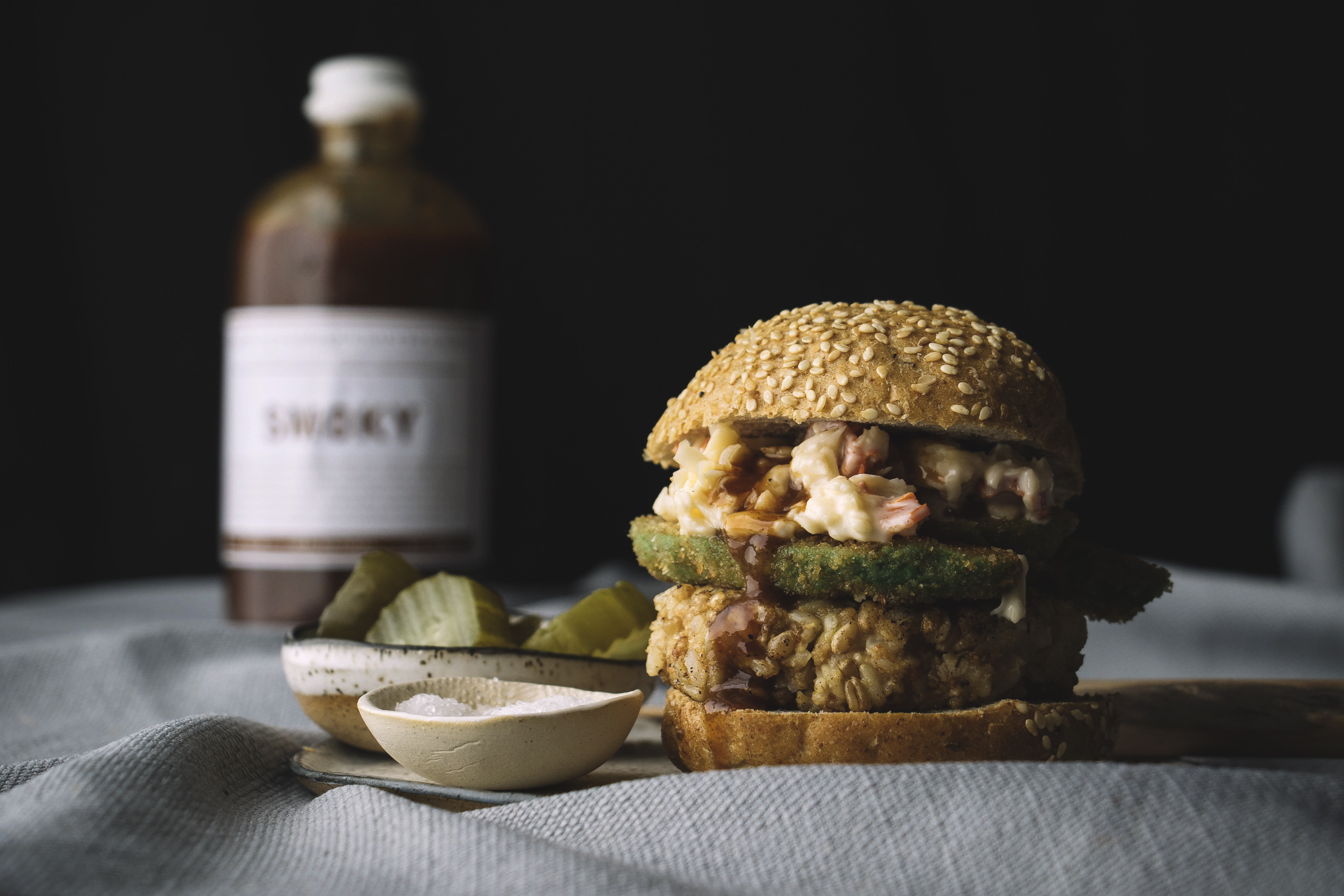 Three Grain Burger With Smoked Gouda Pimento & Fried Avocado
In a hurry? Click here to JUMP TO RECIPE!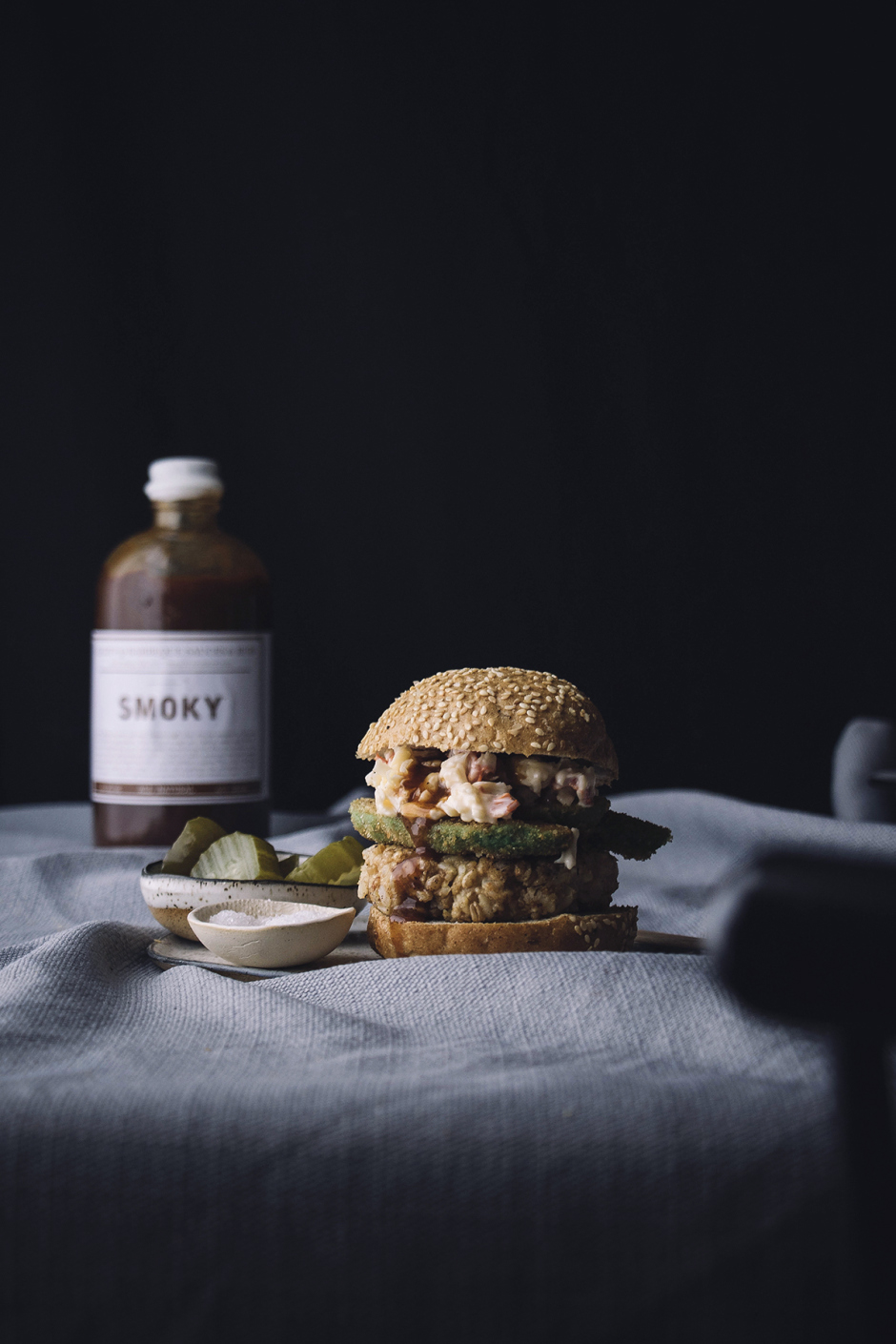 Earlier this month, I headed down to North Carolina for a food and photography workshop. I had never been to Asheville before but had heard really great things; the town was supposed to be filled with a thriving music scene, up and coming food spots, and an endless background of mountains viewed from any point in the city. The food scene alone was enough to urge me to get down there early and do some exploring. I managed to talk Grace from Earthy Feast into joining me in the city a night early as well so we could do some adventuring together.
My original plan was to leave the day before the workshop started so I could get there in the early afternoon and spend all day exploring whatever I wanted before meeting up with Grace for dinner and drinks. However, my six hour drive was quickly bombarded with a snowstorm that struck the south and the wide open highways were turned into deadly ice patches. Kentucky had completely shut down and declared a state of emergency which caused a weird twilight-zone effect to my trip; everything was closed and the one gas station I did find was packed with panicked southerners wandering the store aimlessly in an attempt to not have to get back on the highway. Nine and a half hours later, I finally arrived in Asheville just before sunset. Worn and defeated, I had to cross off most spots on my Bon Appetit guide I snagged from their most recent issue; fortunately, I did still get a chance to stop by Harvest Record shops and treat myself to a comforting breakfast plate of egg topped grits and broccoli cheddar hush puppies at Early Girl Eatery.
After dinner, I headed back to the AirBnB and waited for Grace to arrive. I hadn't met Grace in person yet but we've been online blog friends for years and I already felt we were close friends. I'm not sure when we first connected but Grace's comments have always stuck out as they are so genuine and engaging. She is the type of person that always just completely gets what I'm saying and her comments are always met with a big smile from me and a 'she totally gets me' feeling of satisfaction. I'll admit I had a few butterflies while waiting for her to arrive but wasn't too worried as all the other online friends I had met in the past were fantastic and we clicked right away.
And just as expected, Grace and I hit it off right upon arrival. She has that polite southern charm that I never experience in the standoffish Midwest. We headed out to Wicked Weed Brewery for some drinks / late night snacks and I gawked at their modern twist on southern cuisine. We ate the best candied brussel sprouts I've ever had in my life and Grace talked me into trying boiled peanuts for the first time (which I had only heard of because of House of Cards! note: they are not like you would expect. they are squishy (!!) but super flavorful!). We also nerded out over the menu and obsessed endlessly over the Three Grain Burger that was topped with homemade pimento and pickled okra. Well, when I say 'we', maybe I just obsessed over it? Pimento is basically nonexistent on the menus in Indiana and I was in awe of the perfect mix of modern vegetarian and traditional southern cuisine that it managed to create. We weren't hungry enough to order it (after all, they brought us A LOT of boiled peanuts) but that burger stuck in my mind the rest of the trip and I knew I needed to create my own version when I got back home.
I replaced the pickled okra with fried avocados as okra is not easy to come by around here and everything is better topped with an avocado. The pimento recipe is followed loosely from the Kinfolk Cookbook but I replaced the cheese with smoked gouda for a smoky flavor that compliments that hearty grain burger perfectly. You can use regular gouda if you have trouble finding smoked but I'd highly recommend seeking it out! The wheatberries give an unsuspecting and light crunch to the burgers that really bring these burgers from being just another mushy veggie burger to a burger with some tooth.
Also, and I can't believe I haven't shared this tip before, one of my favorite quick-fix meal secrets is to make up a batch of veggie burgers and then freeze them for quick lunches. They will last a few months in the freezer (but good luck not eating them before then) and you can just pop them in the toaster oven or warm them up in a skillet before re-serving. If freezing, I'd recommend cooking them completely and then layering wax paper between each patty to keep them from sticking.
Three Grain Burger With Smoked Gouda Pimento & Fried Avocado recipe below: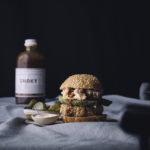 Three Grain Burger With Smoked Gouda Pimento & Fried Avocado
This recipe for Three Grain Burger With Smoked Gouda Pimento & Fried Avocado is the ultimate loaded veggie burger inspired by a trip to the South.
/ Inspired by
Wicked Weed Brewing
// Pimento loosely adapted from the
Kinfolk Cookbook
Ingredients
For the patties:
1

cup

wheatberries

, rinsed

1

cup

whole wheat rice

, rinsed

1

cup

oats

, rinsed

1/2

cup

breadcrumbs

1

egg

, beaten

1

teaspoon

cajun seasoning

1

teaspoon

smoked paprika

1

teaspoon

barbecue sauce

1

teaspoon

mustard

salt / pepper

flour

, as needed
For the smoked gouda pimento:
2

cups

smoked gouda

, coarsely grated

1/4

cup

pimentos

, chopped

1/2

cup

mayonnaise

1/4

cup

chopped dill pickles

(use more if you like it extra tangy)

salt / pepper
For the fried avocados:
2

large firm avocados

(make sure they are super firm so they don't fall apart when cooking!), pits removed and thickly sliced

1/3

cup

breadcrumbs

1

egg

, beaten

2

Tablespoons

water

peanut oil

, for frying

seedy buns

barbecue sauce

, for serving (optional)
Instructions
Bring 6 cups of salted water to a boil. Once boiling, lower heat to a simmer and add the wheat berries and brown rice. Cook for 30 minutes or until almost tender. Next, add in the oats and cook for another ten minutes or until all the excess water is absorbed. Remove from heat and let cool.

Whisk together all the ingredients for the pimento dip, cover, and stick in the fridge until ready to serve.

Once the grains have cooled, fold in the egg, bread crumb, spices, and two sauces until a thick and slightly sticky batter has formed. If the batter is dry then moisten it by adding a bit more barbecue sauce and if it's too wet to shape then add more breadcrumbs. Use floured hands to roll out 18 balls with the batter and transfer to a baking sheet lined with wax paper, leaving a few inches between each ball. Use your palm or the bottom of a round glass to gently press into each ball to form a patty shape so that they are all about an inch and a half thick. Transfer to the freezer and let chill for twenty minutes.

In the meantime, prepare the fried avocados. Transfer the breadcrumbs onto a small dish and whisk together the egg and the water in a shallow bowl. Dip a slice of avocado into the egg mixture and then roll in the breadcrumbs until completely coated. Transfer to a plate and repeat with the rest of the slices. Coat a small cast iron skillet with oil (just enough to coat the bottom with a layer) and set over medium heat. Once hot (check by flicking a little water into the pan and seeing if the oil sizzles), add in the breaded avocados (working in batches, make sure to not overcrowd the pan). Fry on each side until browned (should only take a minute or two) and then transfer to a plate lined with paper towels.

Once all the avocados are fried, add more oil to recreate that thin layer of oil on the bottom of the hot pan and lower the heat to medium low! Remove the patties from the freezer and add to the sizzling hot pan (again, don't overcrowd – I put about 3 in at a time but it will depend on how large your pan is) and cover (this will help the patties cook all the way through). Cook until browned on each side (time will vary depending on how hot your pan is but it should take between 3 and 6 minutes on each side) and the inside is hot throughout. Repeat with the rest of the patties.

To serve: Place a grain patty on top of a bun and top with pimento cheese, fried avocado, & some barbecue sauce! Serve right away!

If freezing the grain patties: Let them cool completely before wrapping each patty in wax paper and transferring to an airtight freezer bag. They should last about 3 months in the freezer.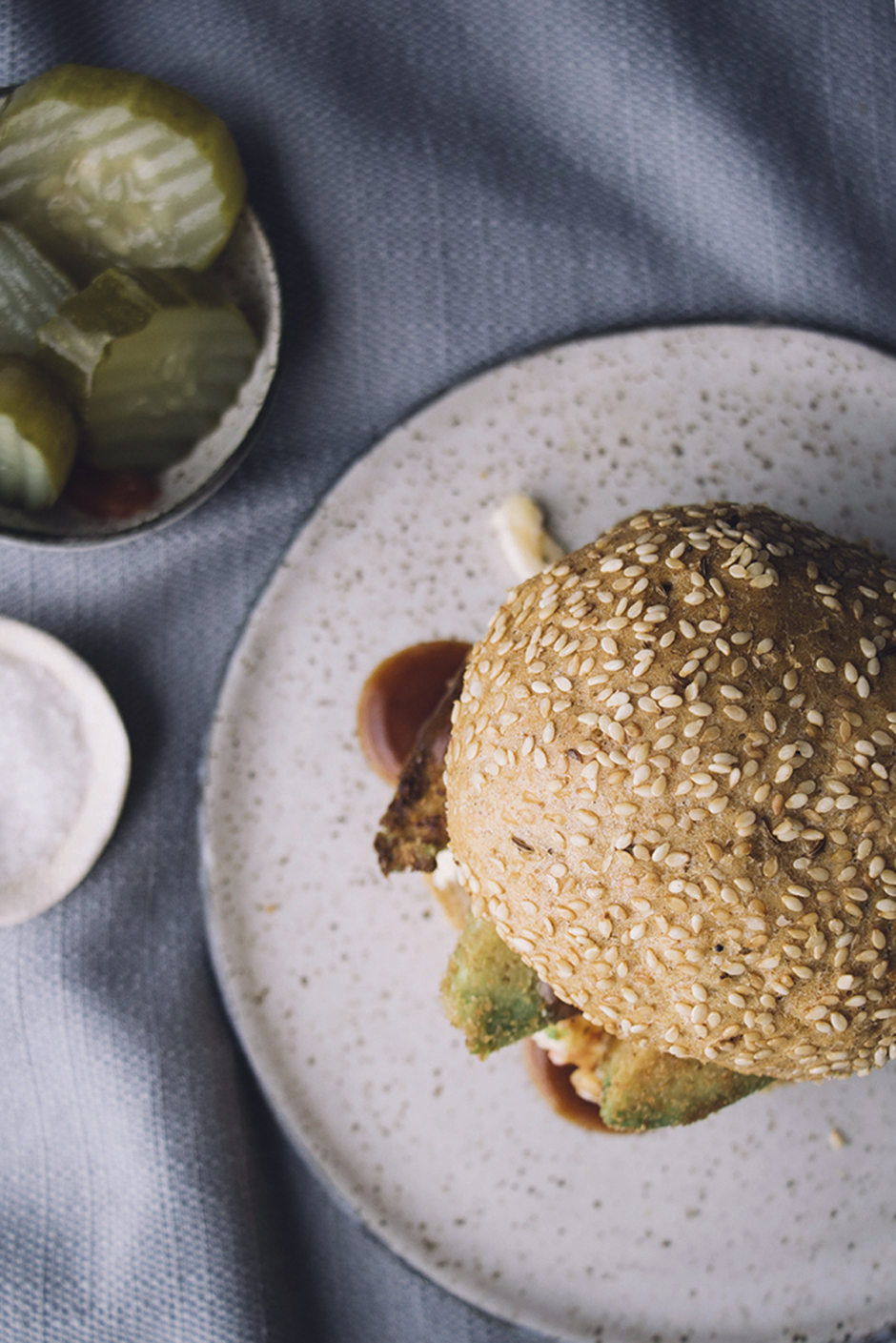 Styling: Ceramic plate & bowls: Marite Acosta / Tablecloth: thrifted / Enamel dishes & dish towels: West Elm / Spatula: GIR / Cookbook: Kinfolk