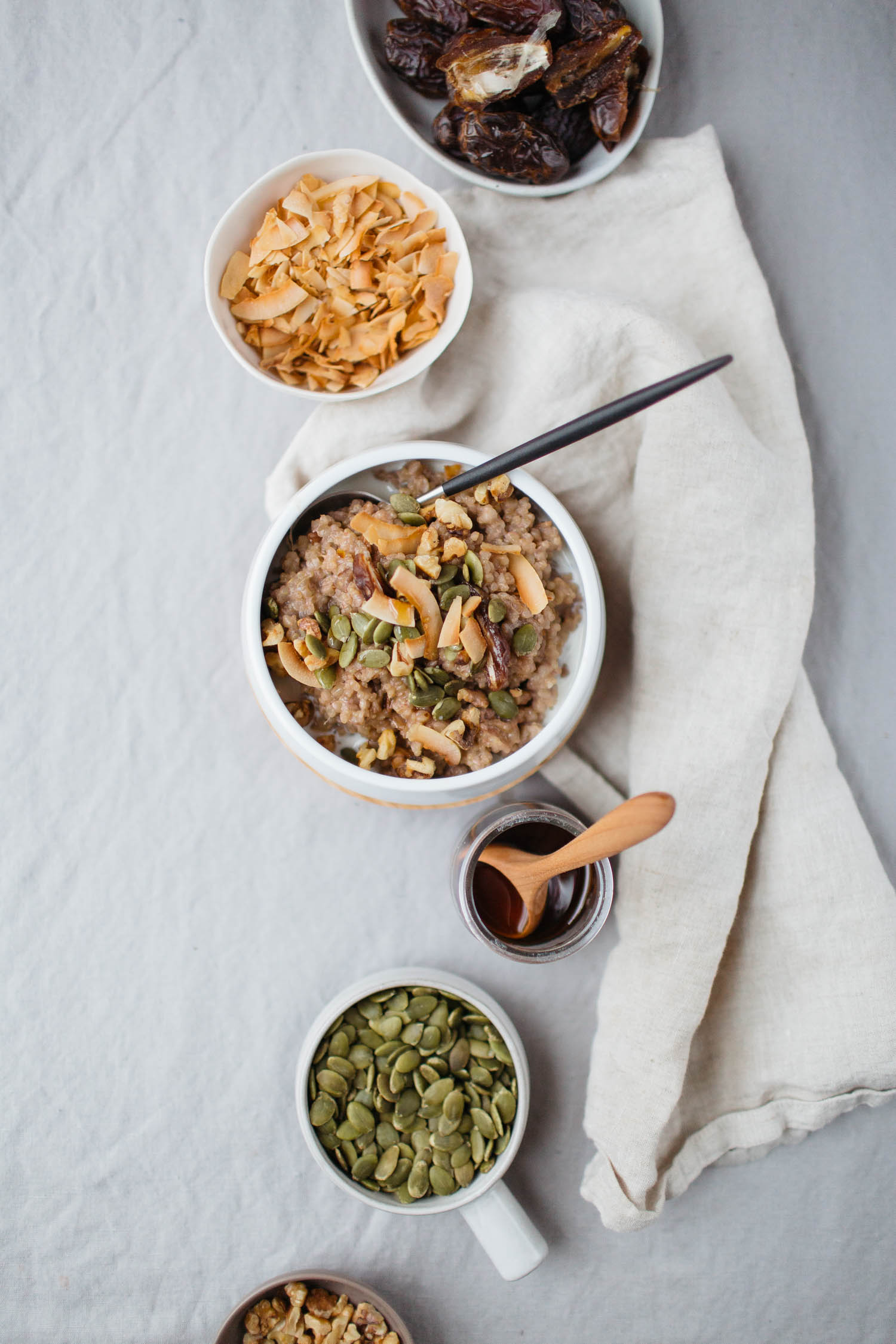 Two-Grain Coconut Date Porridge
In a hurry? Click here to JUMP TO RECIPE!
This Two-Grain Coconut Date Porridge is simple and nourishing one pot breakfast full of heart healthy mix-ins.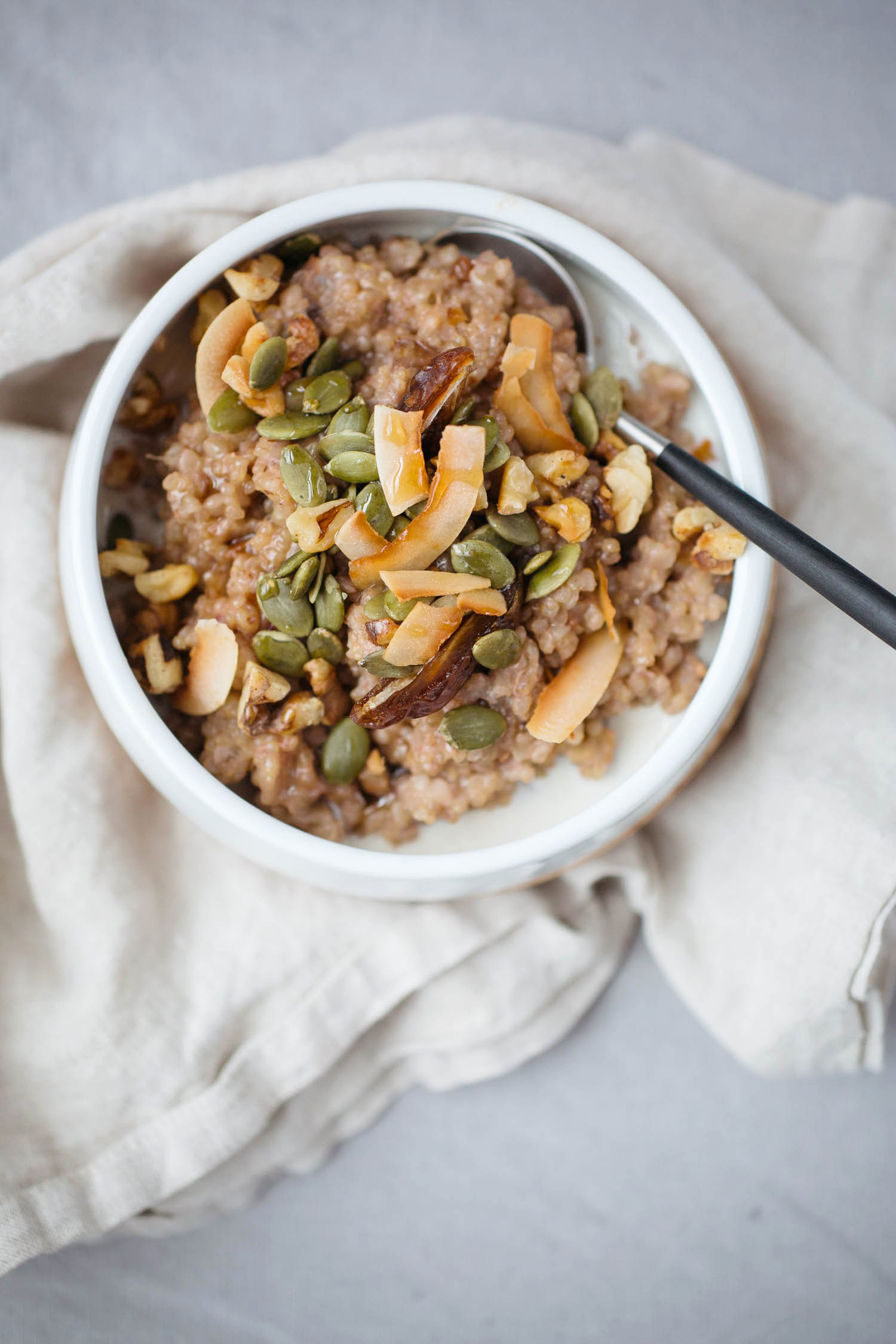 I had the pleasure of having Kristin Londergan from Radiant Health Ayurveda over to my house for breakfast the other weekend to whip up this. It was such a surprisingly wonderful reminder that the kitchen is meant to be shared and having someone else cook for you (for a change) is such a warming gesture. Kristin and I have been friends for years and I've always admired her chosen faith of ditching the day job and finding work in her passion. Both of us are enthusiastic and busy entrepreneurs so we don't always find time to get together but when we do, it's usually over a shared meal and brainstorms on how to turn our passions into realistic goals.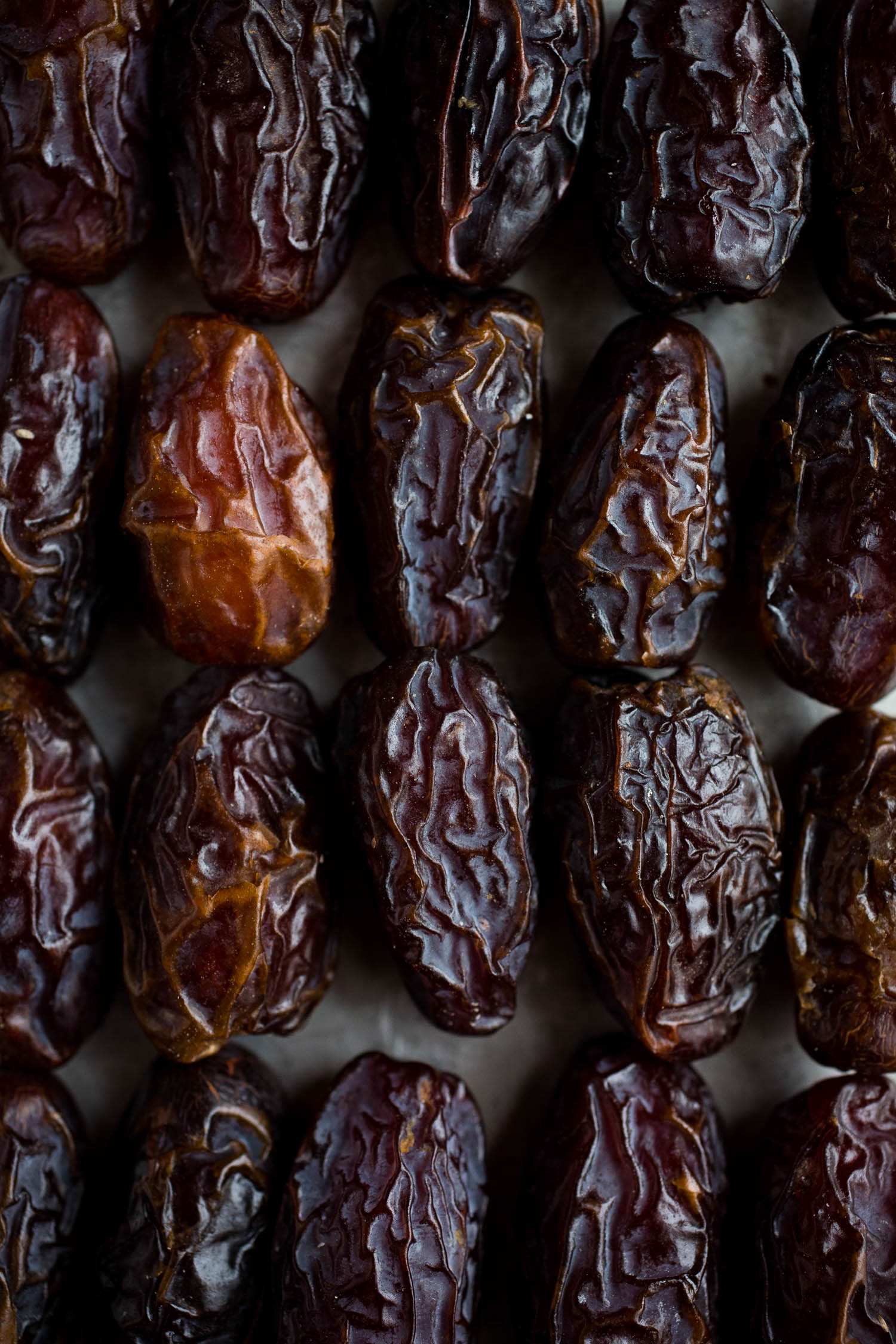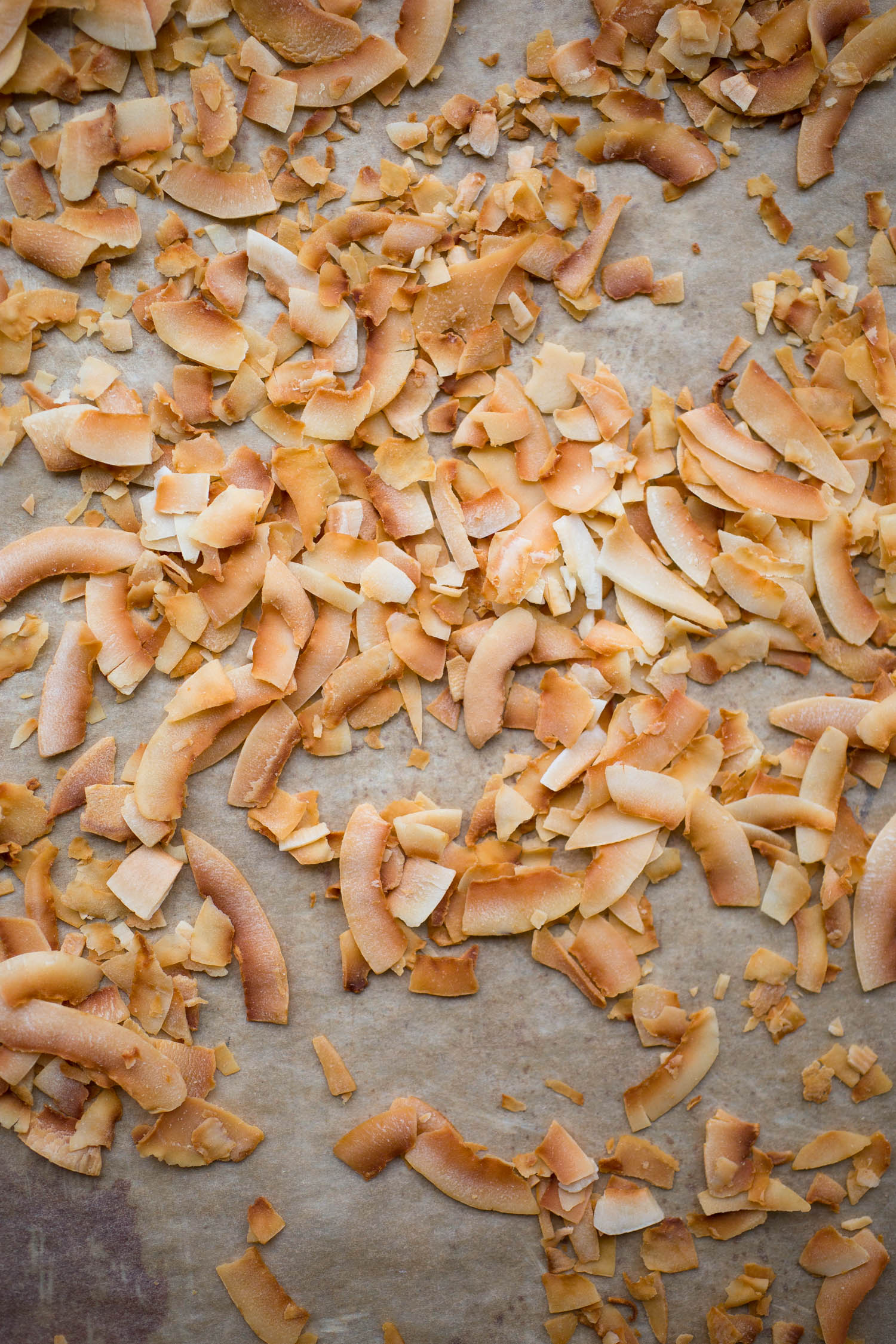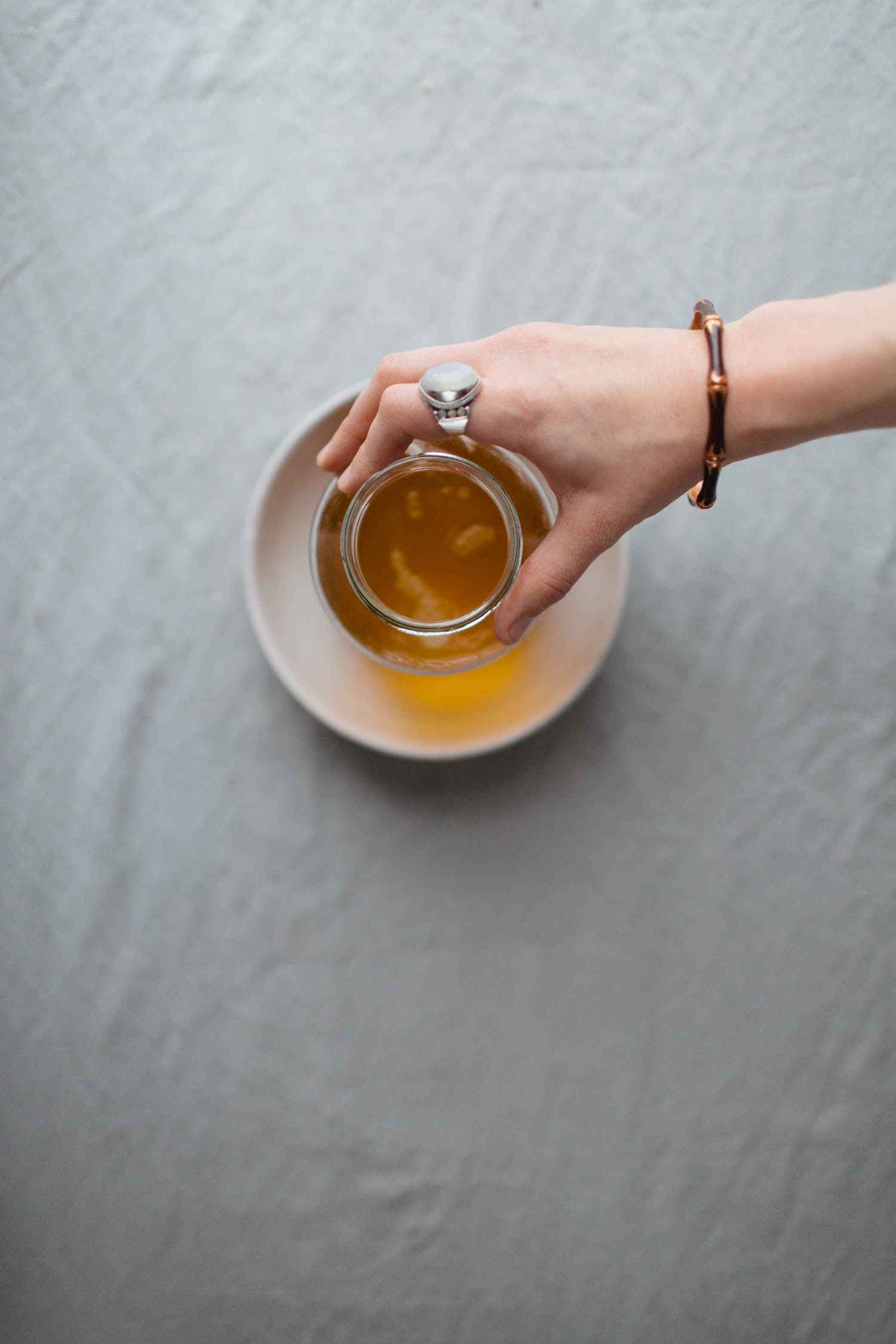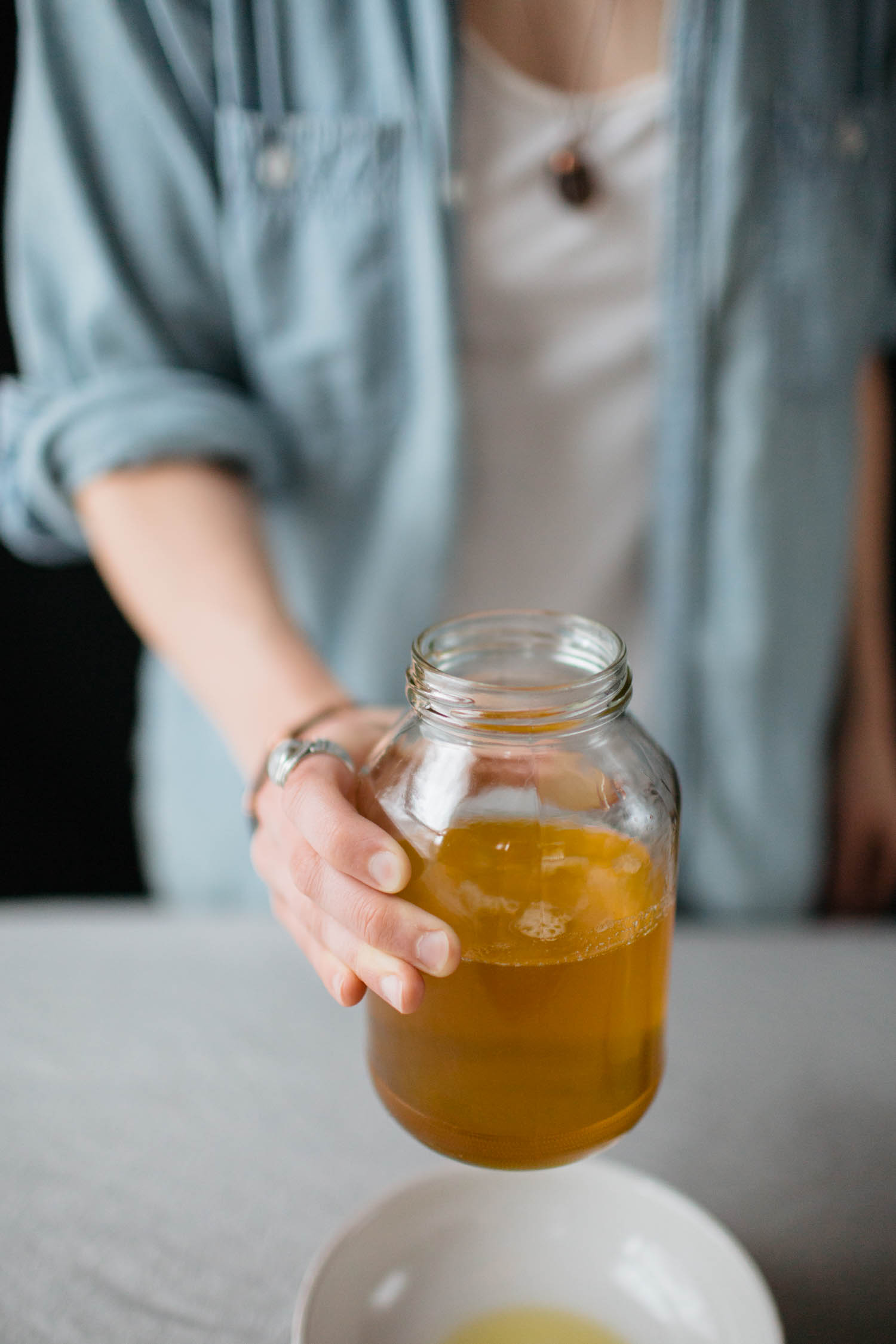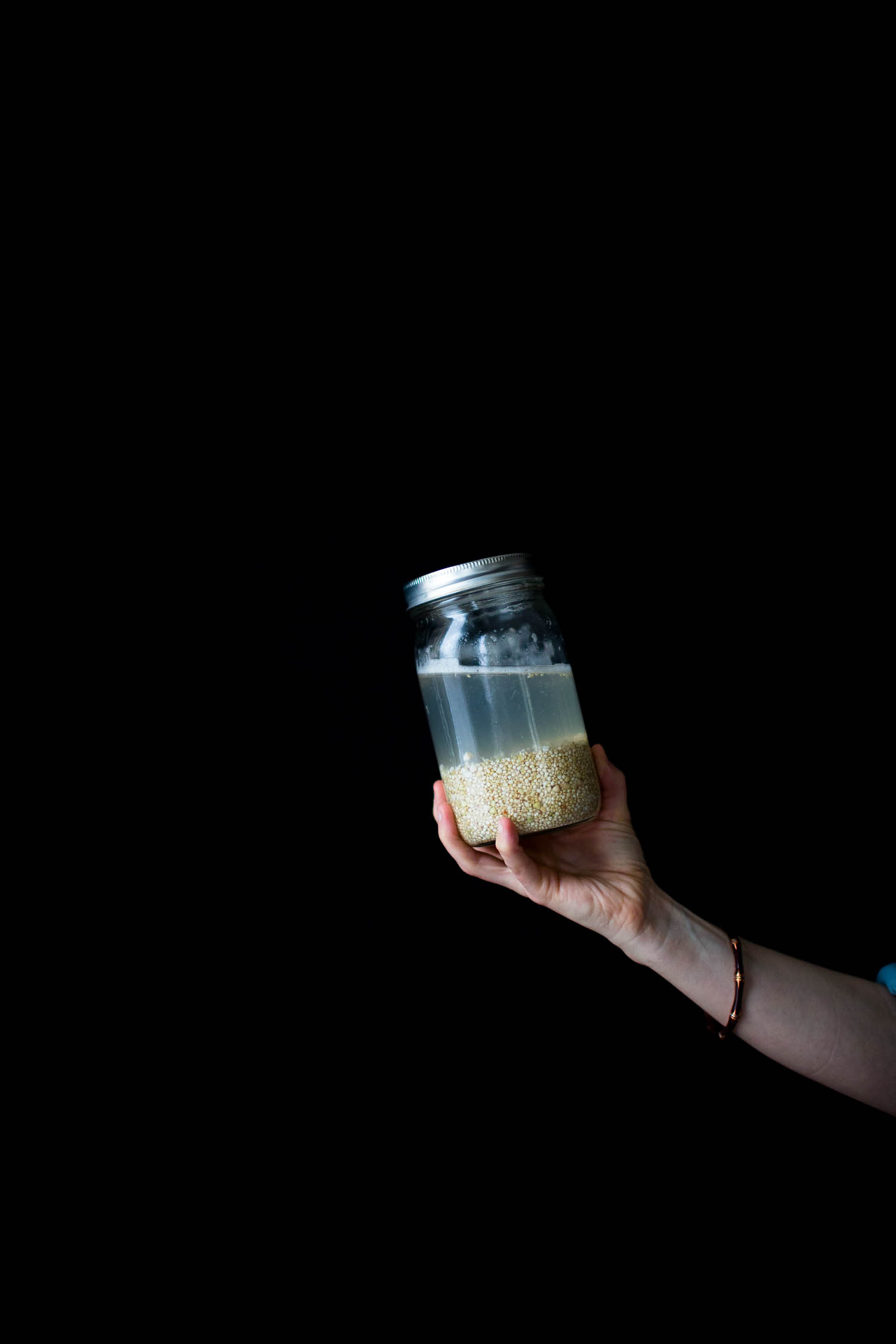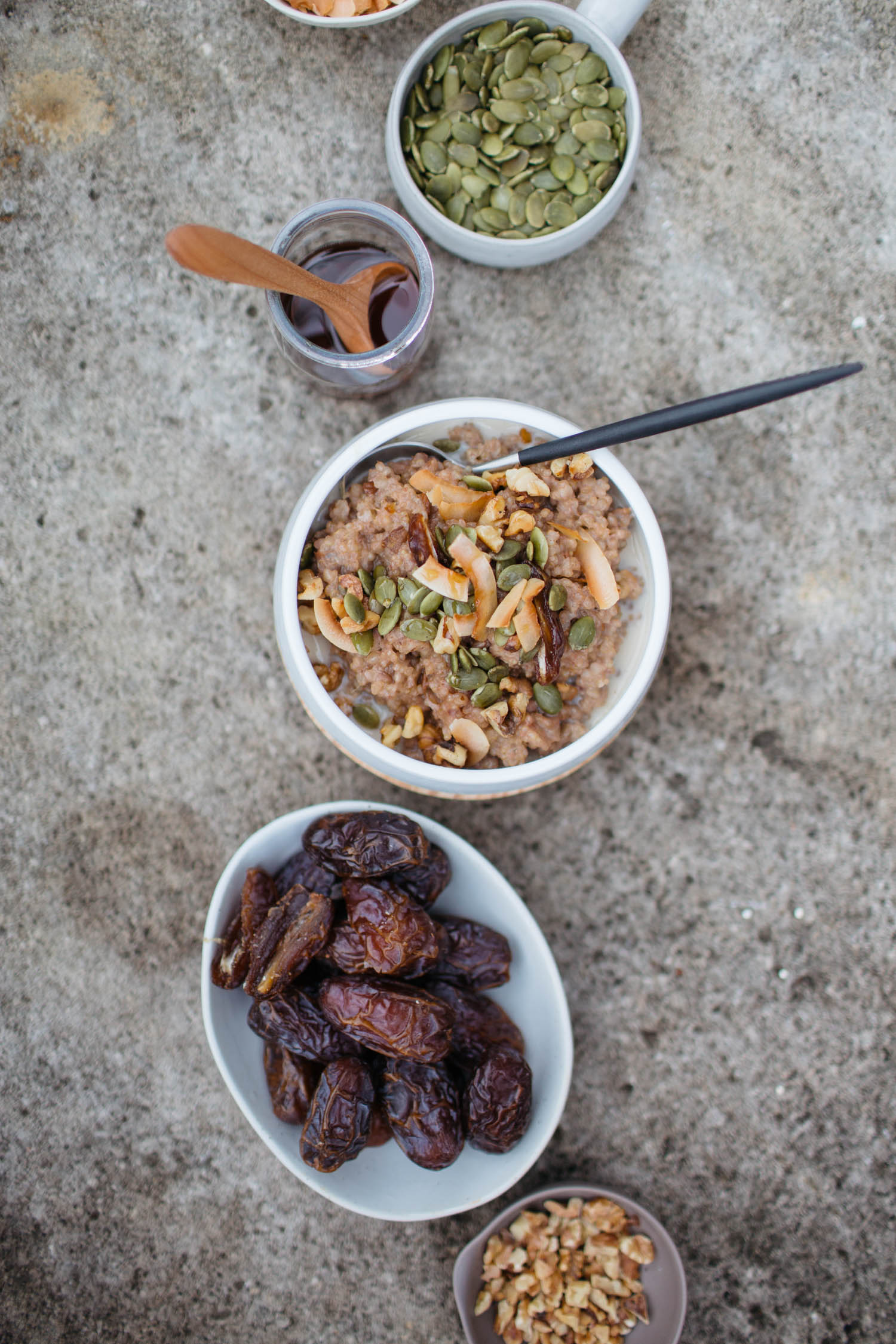 When we got together a few Sundays ago, I let her take over in the kitchen completely and I just tried to capture the whole thing through my lens (despite it being a beyond gloomy day). Not having to worry about every aspect of the shoot (recipe testing, styling, photography, editing, etc) allowed me to really enjoy the morning with my friend and get the slow sunday start that I've been reminded I need to enjoy more often.
Here is what Kristin had to say about why she chose this recipes and ingredients:
Buckwheat – high protein content and contains all essential amino acids, making it an excellent choice for vegans and vegetarians. High in magnesium and excellent for cardiovascular health. Rutin, a bioflavanoid in buckwheat strengthens capillaries and blood vessels, helping to reduce blood pressure and improve circulation.
Quinoa – highest protein and (good) fat content in the grain family and more calcium than milk! Good source of iron, phosphorous, B vitamins, and vitamin E. aka: Badass grain
Walnuts – contain Omega-3s fatty acids – boost the immune system, reduce inflammation, improve brain function, and reduce cholesterol. Nourishing for the kidneys, adrenals, and brain!
Coconut – good source of saturated fat for vegetarians and vegans, tonifying for the heart and overall nourishing!
Ginger – promotes good digestion!
Dates – This natural sweet helps to promote ojas or vitality according to Ayurveda. It's also a good source of fiber and contains high levels of potassium, magnesium, copper, and manganese.
When I put together this recipe I wanted to make something super nourishing for vegetarians that also happened to be satisfying and delicious. In Ayurveda, when it's cold outside, it's time to eat warm, cooked foods like hot cereal, soups, stir fry, etc. This hot cereal in particular is packed with lots of protein, minerals, healthy fats, and fiber to help get you through the winter for a little while longer!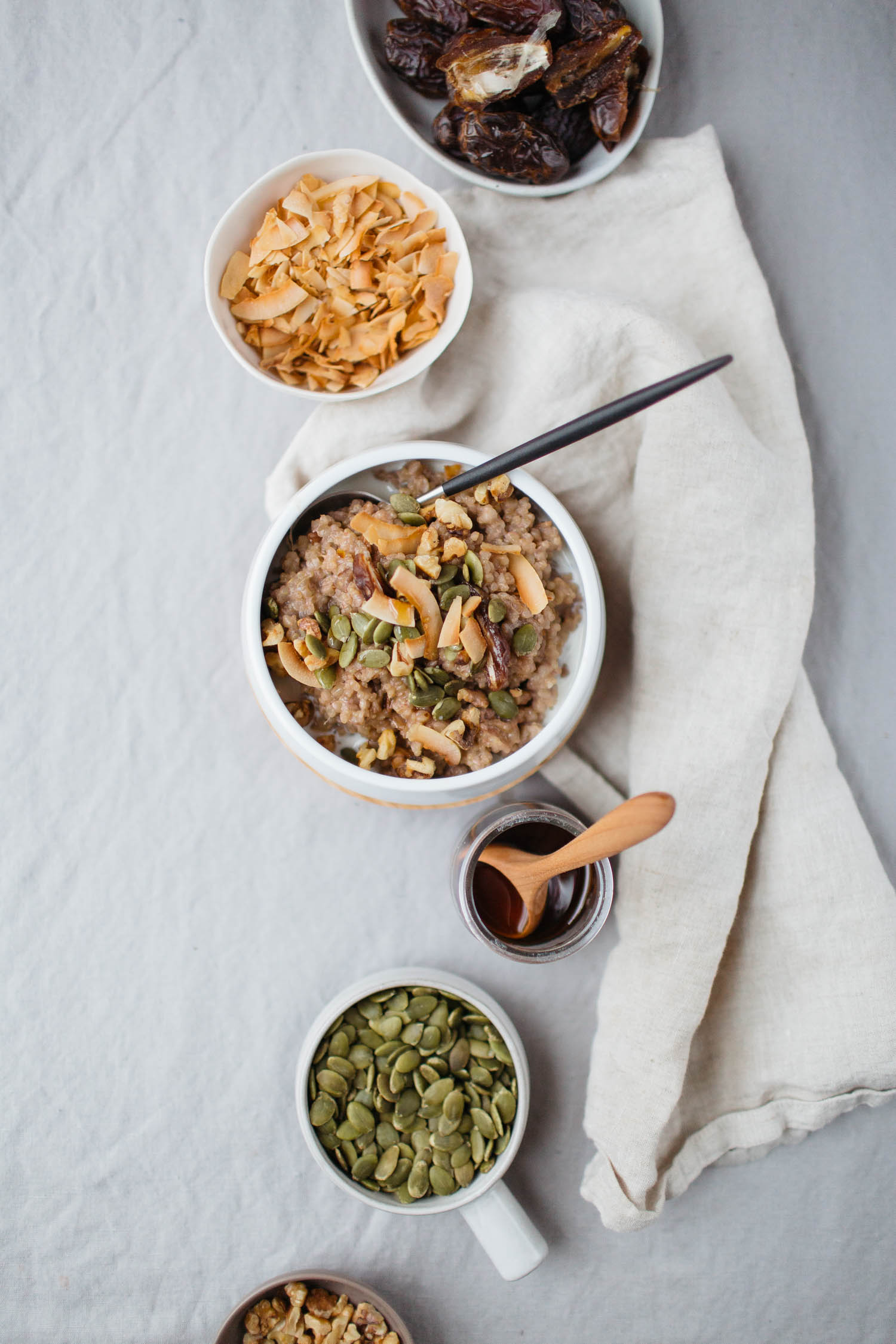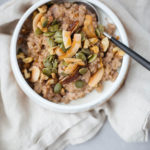 Two-Grain Coconut Date Porridge
This Two-Grain Coconut Date Porridge is simple and nourishing one pot breakfast full of heart healthy mix-ins.
Ingredients
1/2

cup

white quinoa

1/2

cup

buckwheat

1

inch

grated ginger root

1

cup

milk

(we used coconut milk!)

1

cup

water

4

fresh dates

, pitted and chopped

1/4

cup

roasted walnuts

1/4

cup

toasted coconut flakes

(large)

1

Tbsp

ghee or coconut oil

Pumpkin seeds

, for sprinkling

Maple syrup

, to taste
Instructions
Soak quinoa and buckwheat for at least 30 minutes (can soak overnight as well). Rinse well and set aside.

In a pan, heat your oil and add grated ginger on medium low heat for 1 – 2 minutes. Add grains and toast in pan with ginger for 1 minute. Add milk, water, and dates. Bring to boil, then let simmer for 15 to 20 minutes. Remove from heat and divide into four bowls.

Server warm topped with coconut, walnuts, pumpkin seeds, and maple syrup!