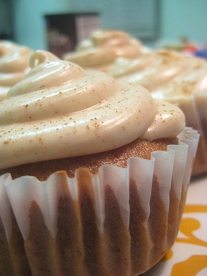 Today's recipe is for Vegan Chai Latte Cupcakes! Since I haven't had much time for baking lately (and have been totally neglecting my vegan baking skills) I thought this was much overdue. This is my "go to" cupcake recipe. It has a very complex taste to it with all the spices but isn't difficult to master. It's also a perfect fall recipe because I don't know what the temperature is like where you are but fall has been poking at Bloomington this past week. It has all the spices that many people associate with apple dishes or the tea that we all get addicted to when the cold comes and your roommates refuse to keep the thermostat above 60 (oh wait…or is that just mine?)
Anyhoo, if you are looking for a cupcake that is completely different from anything you've ever made than this Vegan Chai Latte Cupcakes is the guy. It may seem like a lot of ingredients but anyone who has a spice rack aimed at baking should have these spices. Also, I vary with which frosting I use on these guys. For example, if I know I'm not cooking for a vegan audience then I'll do cinnamon cream cheese frosting (which is pictured in the photo below) but feel free to just use a dash of cinnamon and nutmeg on the top (or use vegan cream cheese).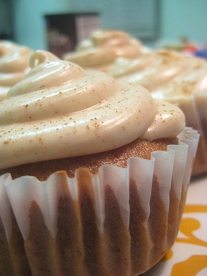 Vegan Chai Latte Cupcakes
(adapted from Isa Moskowitz's Vegan Cupcakes Take Over the World)
1 cup almond milk
4 black tea bags
1/4 cup canola oil
1/2 cup soy yogurt
3/4 cup granulated sugar
1 teaspoon vanilla extract
1-1/3 cups all-purpose flour
1/4 teaspoon baking soda
1/2 teaspoon baking powder
1/2 teaspoon salt
2 teaspoons ground cinnamon
1 teaspoon ground cardamom
1/2 teaspoon ground ginger
1/4 teaspoon ground cloves
pinch of ground pepper
First, preheat the oven to 375 and fill a cupcake tin with 12 adorable cupcake liners.
In a small saucepan, dip the tea bags in the almond milk and bring to a boil. As soon as it boils, remove from heat and let sit for 10 minutes (so the tea flavor is absorbed into the milk. mmmm). Ring out the bags to get out as much flavor as possible.
Once you've got that done, combine the oil, yogurt, vanilla, sugar, and the almond milk mixture in a large bowl and whisk until smooth. Once well combined, mix in the rest of the dry ingredients and fold in until completely combined.
Fill the cupcake tins about 3/4 full and cook for 20-22 minutes.
Top with cinnamon/nutmeg. Or cream cheese frosting. or oreos. or whatever your craving is bitching about.
Yup. That's all it takes to make Vegan Chai Latte Cupcakes!