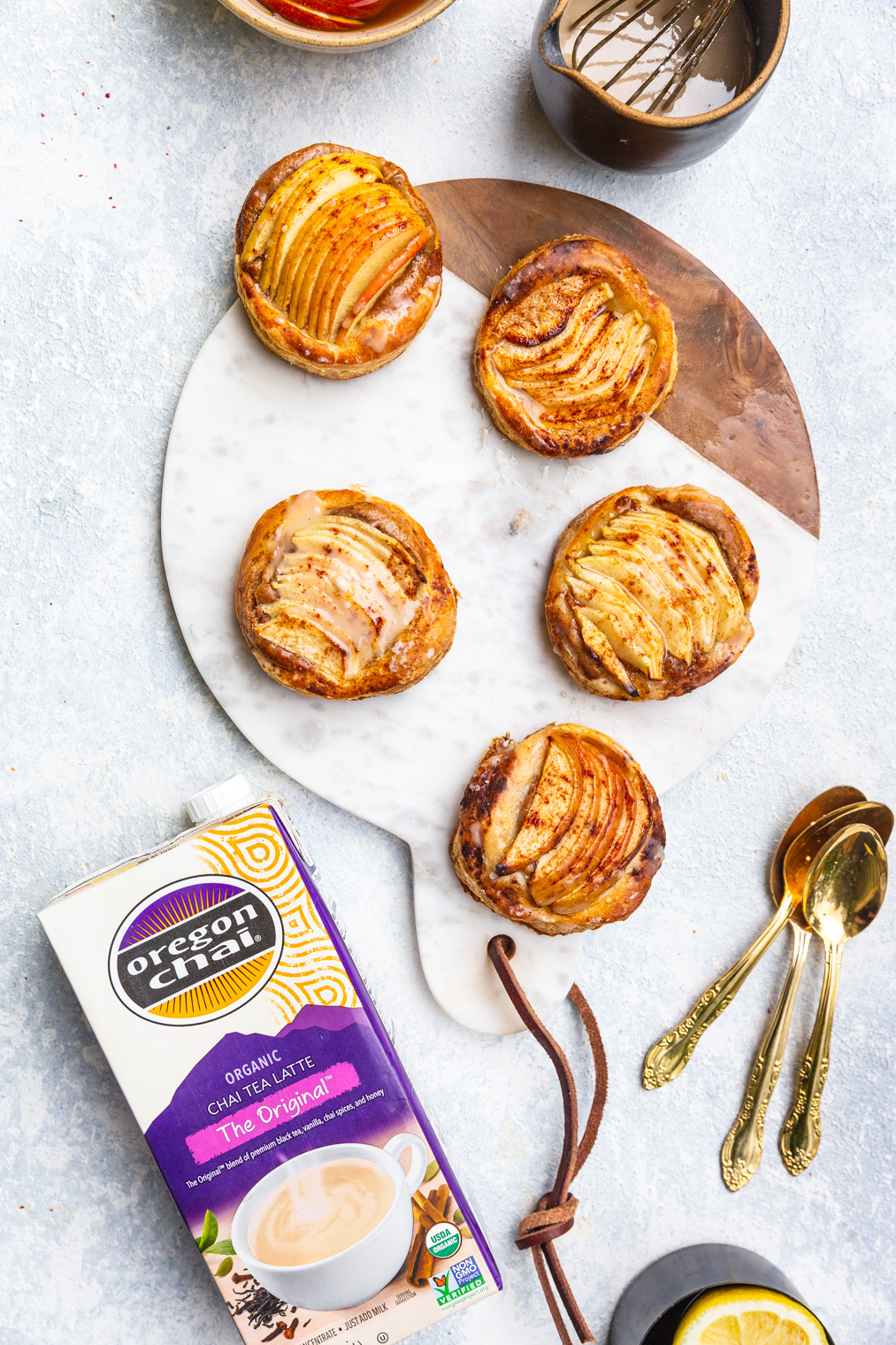 In a hurry? Click here to JUMP TO RECIPE!
Today we are covering how to enjoy 'me' time this fall before the holiday busyness begins. Plus, I'm sharing a recipe for these delicious and easy Chai Apple and Almond Puff Pastry Tarts.
This is a sponsored conversation written by me on behalf of Oregon Chai®. The opinions and text are all mine. Thank you for supporting the brands that make VV possible.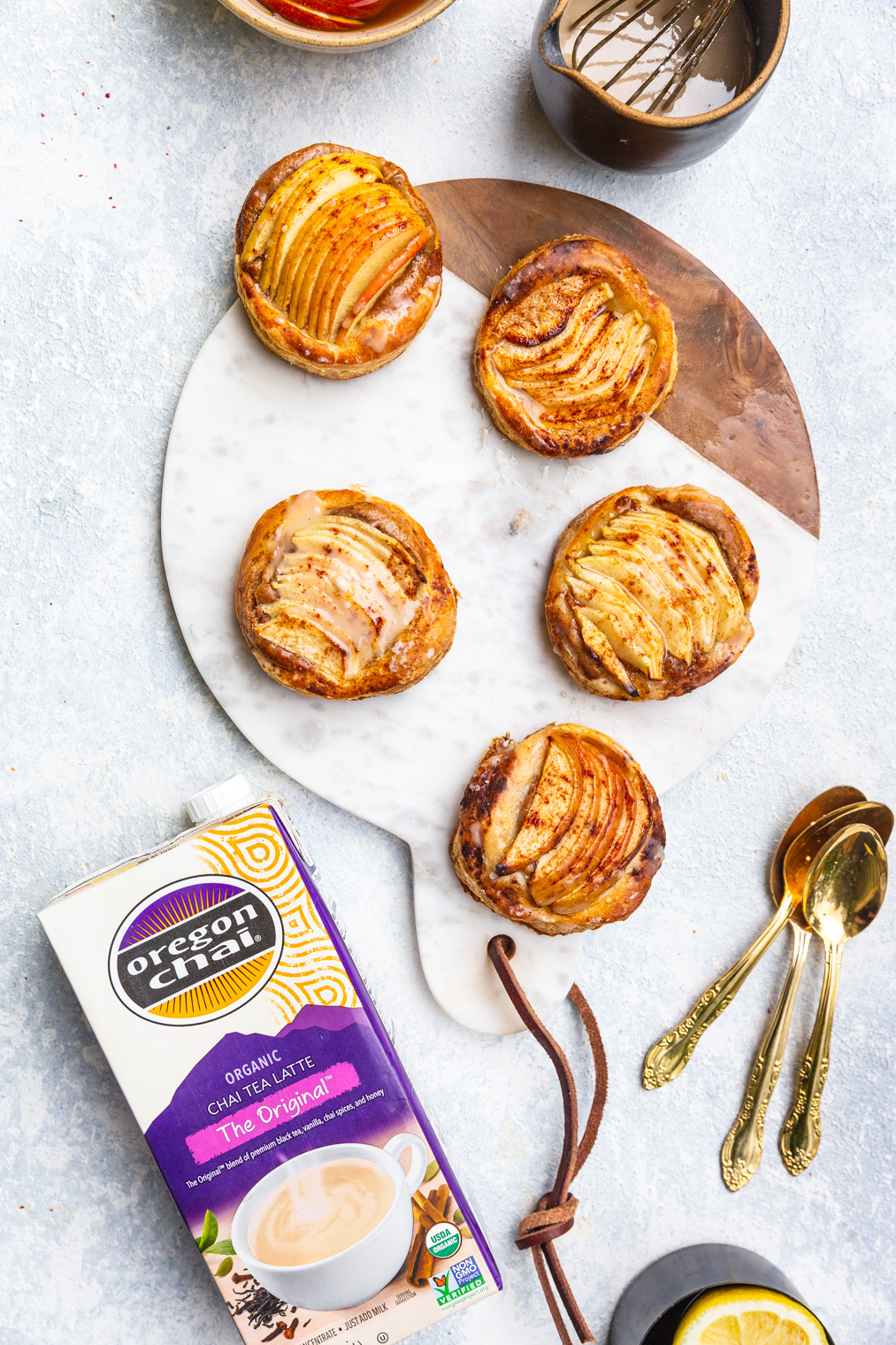 It's no secret that chai lattes hold a special place in my heart (one of the first recipes on VV was a chai spiced cupcake recipe and I've featured the spice combo in many recipes since). My obsession with them first started when I worked at a coffee shop in high school, as it was my favorite drink item on the menu. Over the years, I've also come to associate the smell of a steaming cup of chai latte with fall – with the crunching of leaves, a big cozy sweater, pumpkin picking, and so much more. A spicy chai latte always seems to be my first choice when packing up a warm drink for a brisk walk in the woods to wander among the changing leaves.
As the weather turns and we start to approach the busy holiday season, I'm excited to partner with Oregon Chai® to talk to you about my favorite way to enjoy "me time" on a chilly Saturday. Hands down, "me time" for me in the fall is cozying up in a sweater, putting on a favorite record, opening the windows to a cool breeze, and baking up something delicious in the kitchen. "Me time" also means trips to Target, am I right?! Target always seems to have everything I need – and then some (#impulsebuyer)! And that is exactly what I did when whipping up these Chai Apple and Almond Puff Pastry Tarts for this post! It was total "me time!"
I'm here to help you live out this relaxing fall Saturday activity by not only providing you with the recipe for these super simple Chai Apple and Almond Puff Pastry Tarts, but also by giving you suggestions for what records to put on while baking (and even a fall playlist in case you don't have a record player!). Now grab your favorite cozy sweater and let's dig in!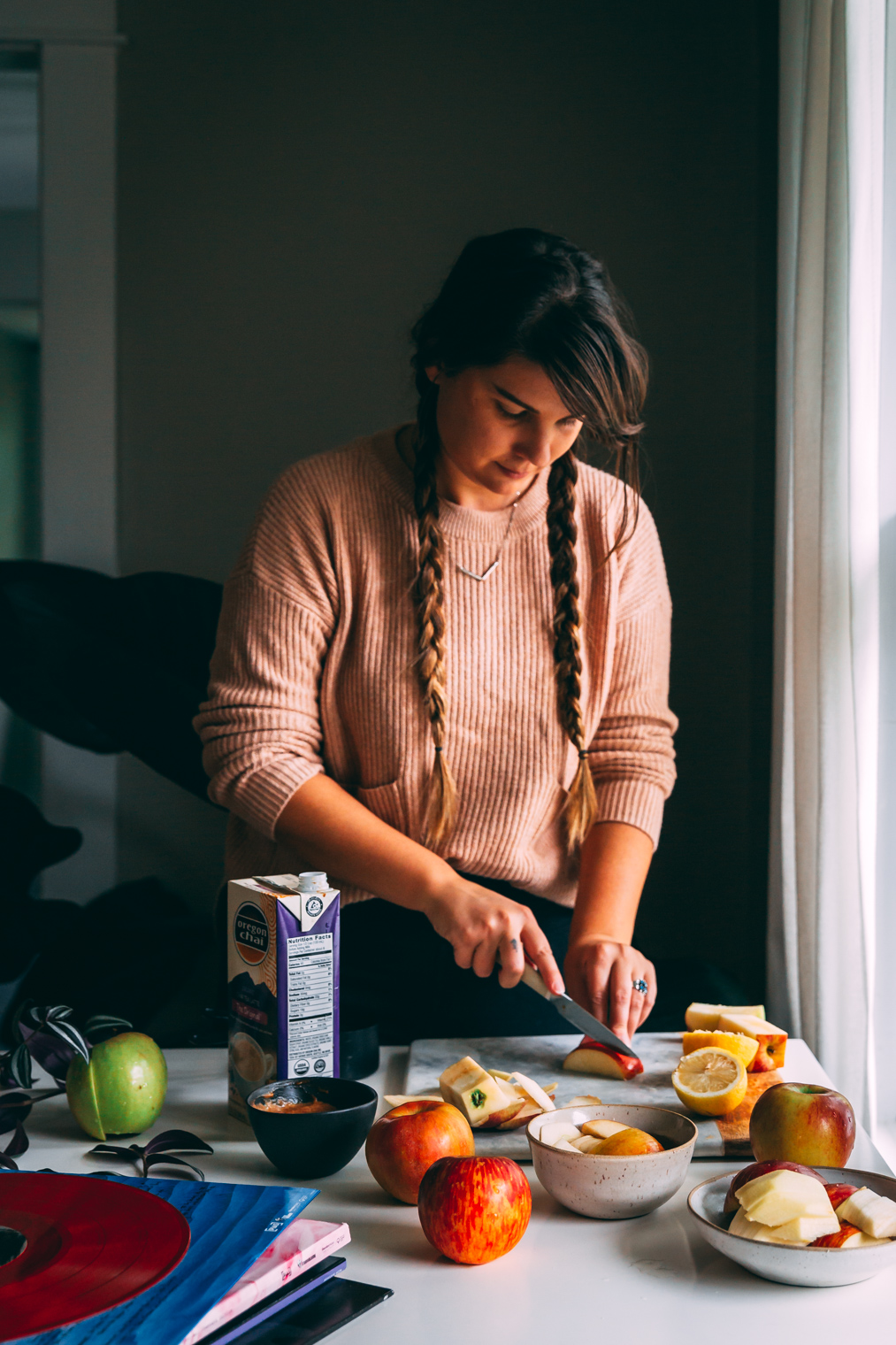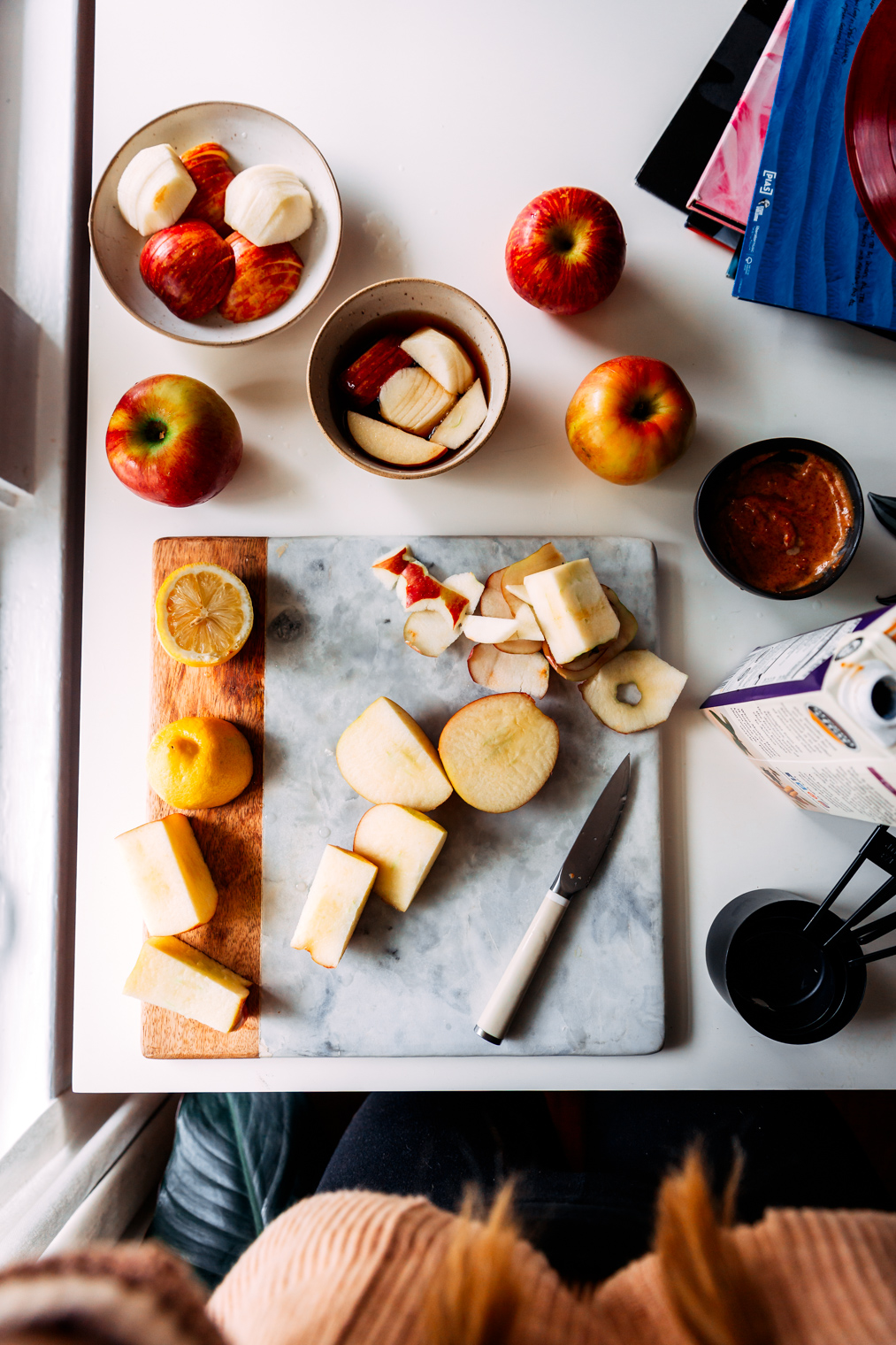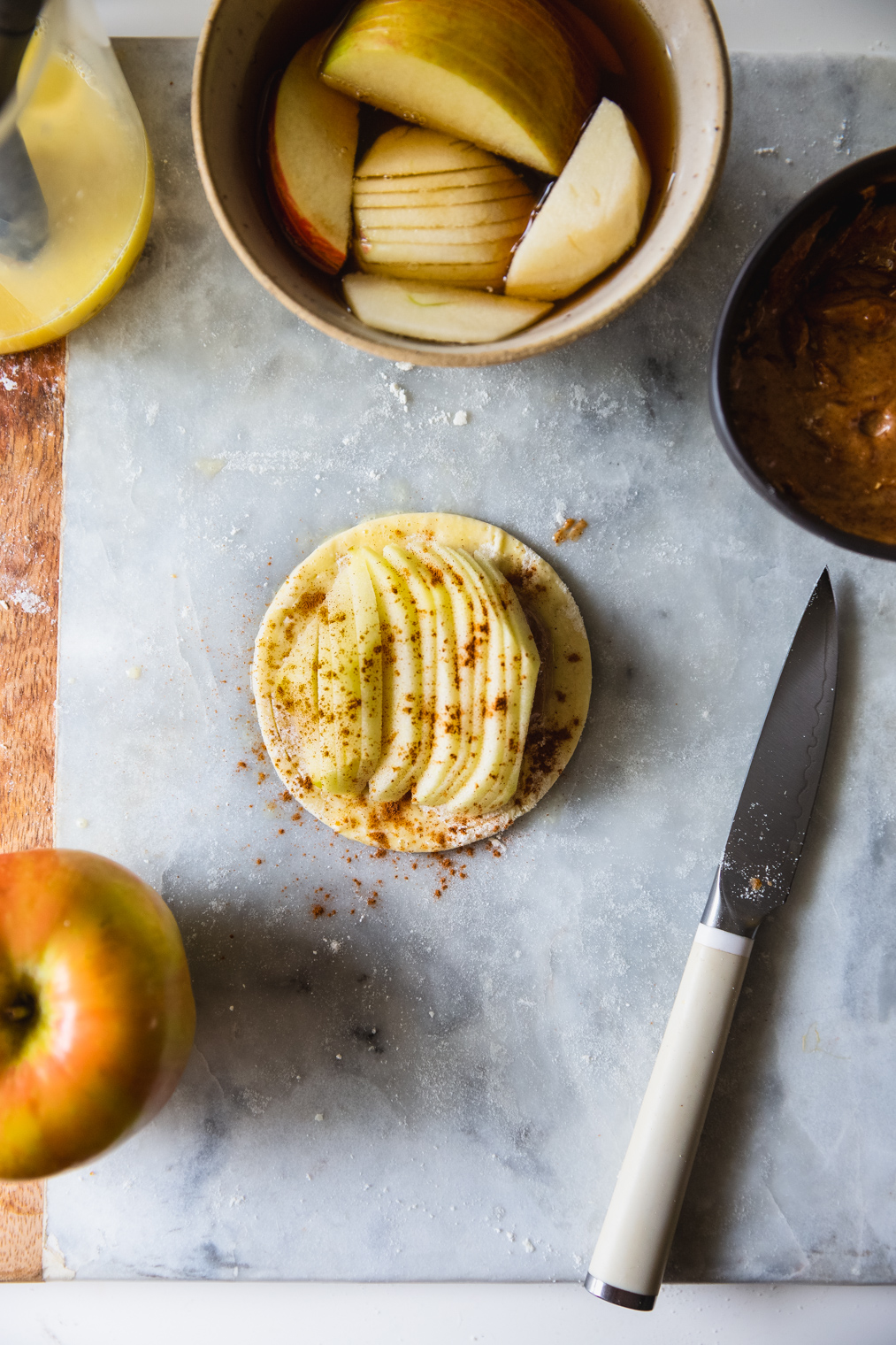 To keep it simple, I used puff pastry as the base for these Chai Apple and Almond Puff Pastry Tarts because we don't want something overly complicated when we are trying to relax, remember? I also sped up the filling process by using almond butter instead of grinding raw almonds. Finally, I used Oregon Chai's organic Chai Tea Latte Concentrate from Target to flavor both the filling and the glaze finish, which leaves these tarts perfectly spiced. Right now and through 11/10/18, you can save on Oregon Chai with Cartwheel in the Target app.
The Oregon Chai concentrate blend I used is both non-GMO Project Verified and organic, and the company works hard to source their ingredients from farms that are committed to the environment. I was also excited to read that they source paper for their cartons from forests where trees are being replaced and 50% of their packaging comes from recycled material. Now wouldn't it be awesome if all brands could be that transparent and mindful?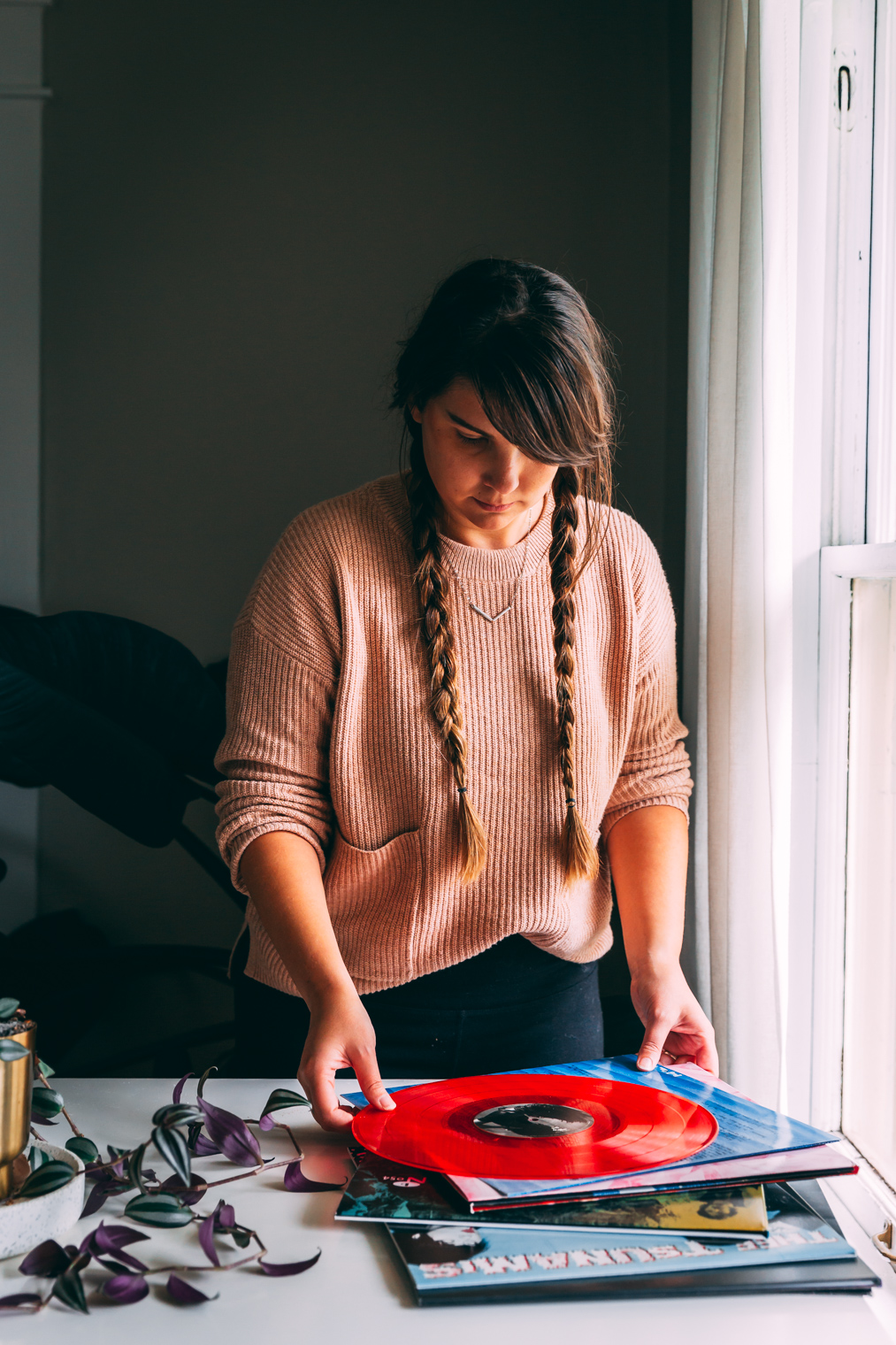 A few fall favorite records that I seem to come back to year after year when the temperatures turn:
Garbage 'S/T' – This 90's classic is the perfect rainy day sad music. <3
Amen Dunes 'Love' – This album is such a grower. I fall in love more and more every time I listen to it. Best enjoyed during a rainy day with a warm cup of tea.
Various Artists 'Local Customs: Cavern Sound' – A compilation of catchy '60s and '70s long forgotten Middle America rock tunes perfect to dance to while baking in the kitchen.
Kurt Vile 'b'lieve i'm goin down…' – I used to sit by a huge window for 8 hours a day and would always (#creatureofhabit) put this album on when it would rain. Now I can't help but associate this album with calming rainstorms.
Tallest Man on Earth 'The Wild Hunt' – This has been my ultimate fall artist since college so every time the weather even slightly turns cooler, I welcome the new season in with a spin of this album.
Feist 'Let It Die' – I've just rediscovered this album and my high school self still remembers every word. I'm very excited to spend all fall spinning this one.
Or throw on this 'Fall Baking' Spotify playlist I made to go with this recipe. It's chocked full of mellow jams perfect for a lazy day in the kitchen.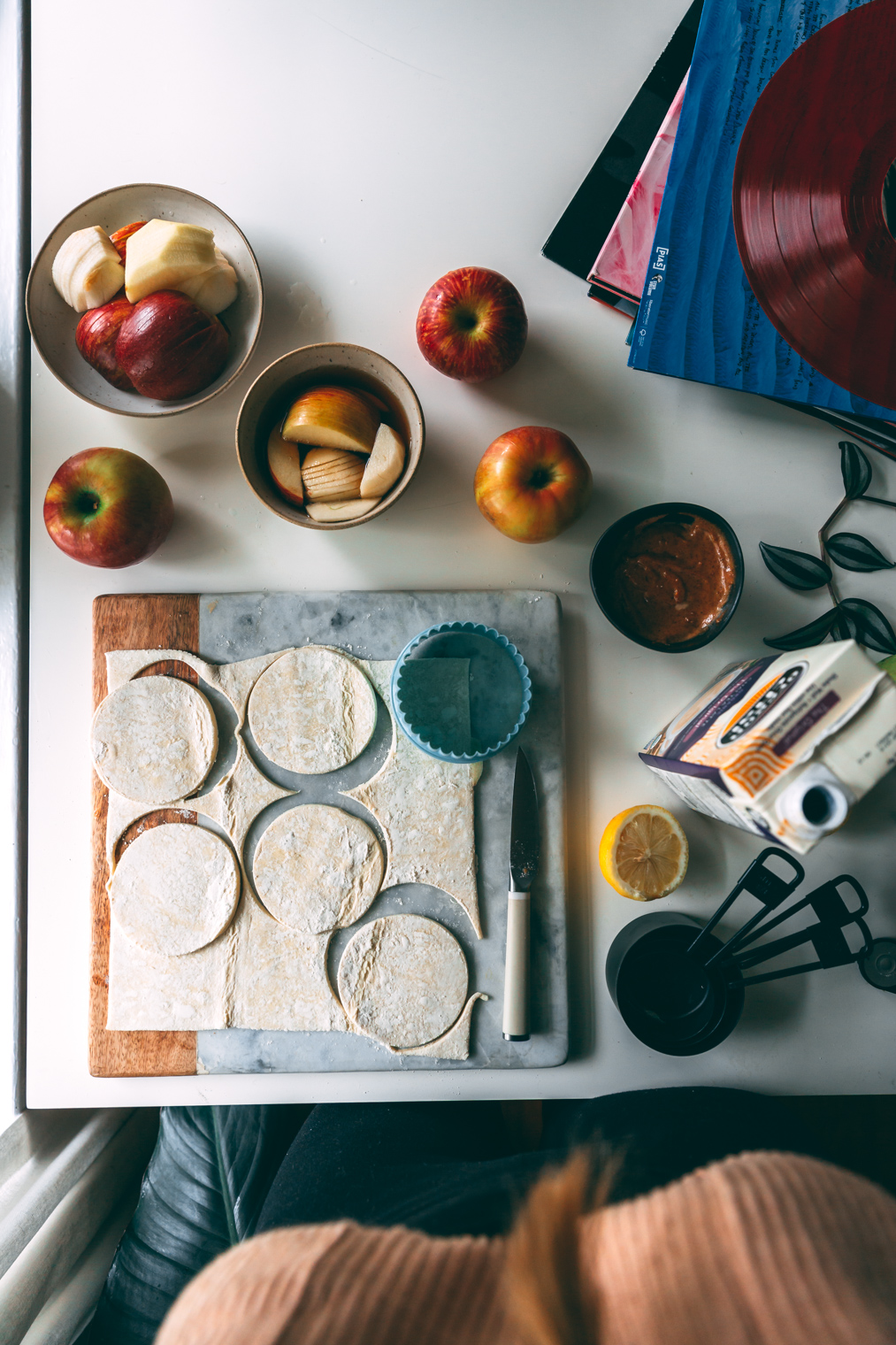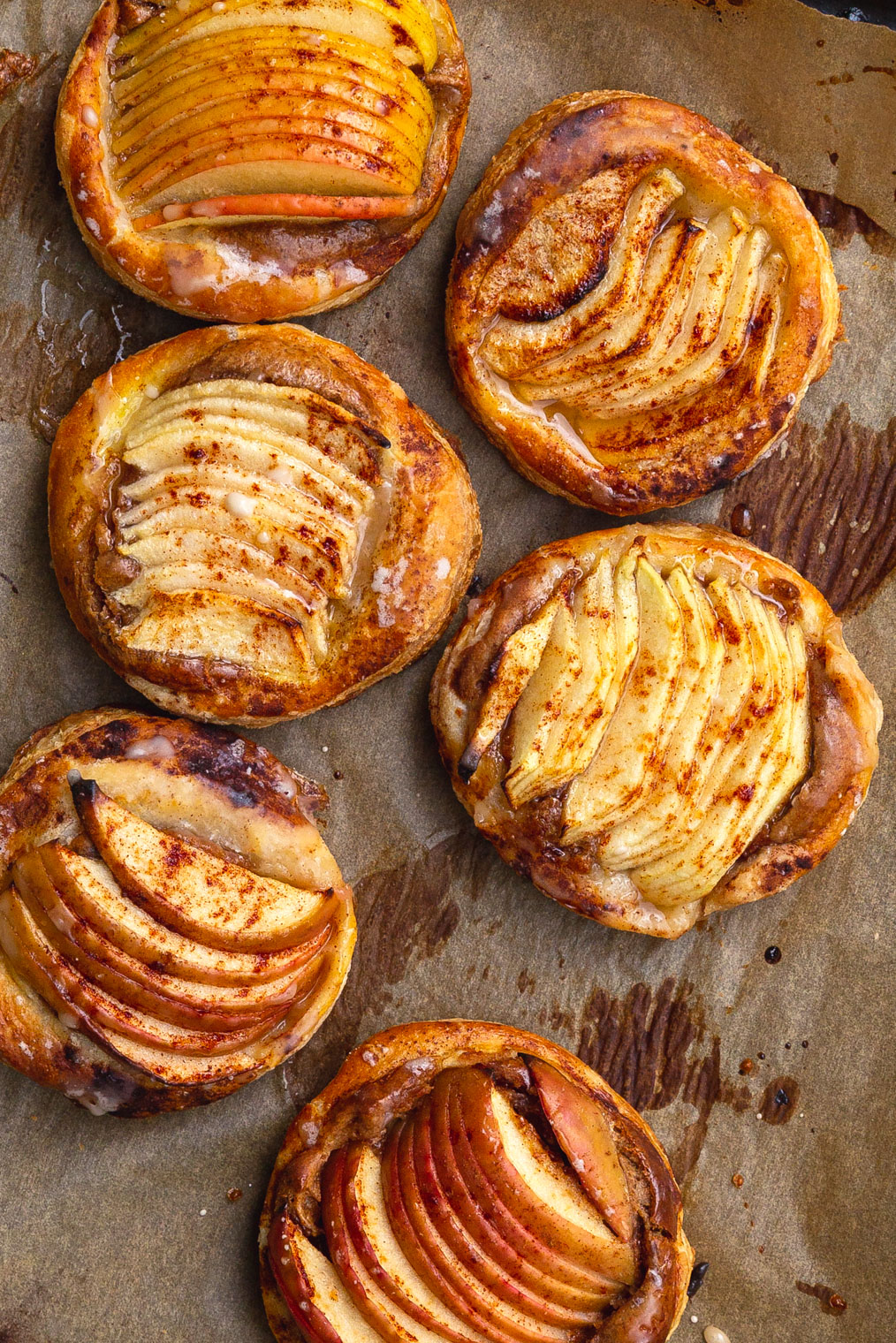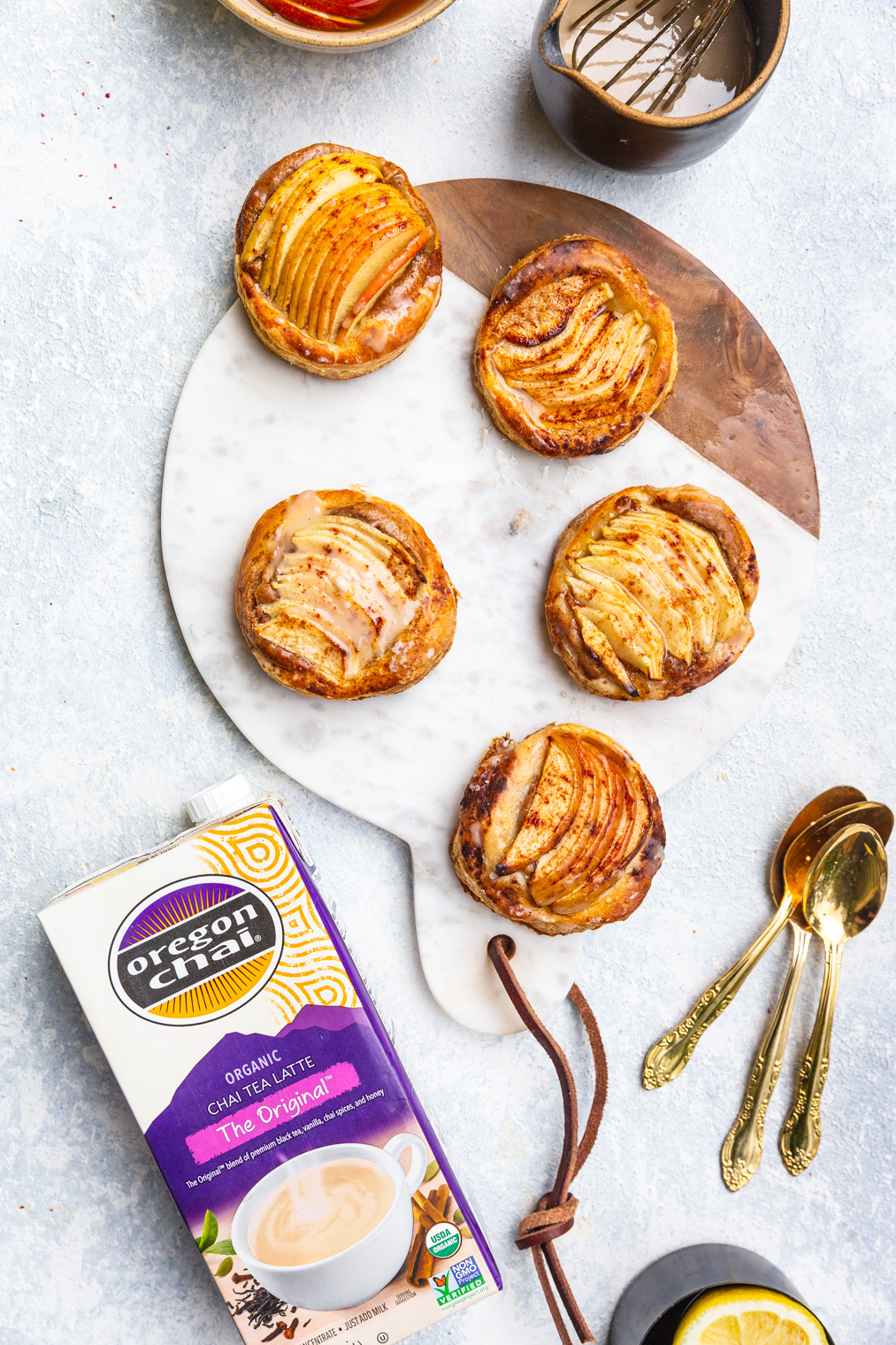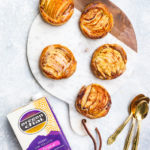 Chai Apple and Almond Puff Pastry Tarts
These easy Chai Apple and Almond Puff Pastry Tarts can be whipped up in under an hour and are the perfect fall dessert to enjoy on a chilly day.

Ingredients
1

pound

frozen puff pastry

(I used 2 sheets from the puff pastry found in the frozen food section at the store)

1/2

cup

almond butter

(make sure the only ingredients in it are almonds - no added sugar!)

1/4

cup

Oregon Chai Tea Latte Concentrate

3

apples

juice from 1 lemon

cinnamon

for dusting

1

egg

whisked with 1 Tbsp water
For the glaze
1/2

cup

powdered sugar

~1/4

cup

Oregon Chai Tea Latte Concentrate
Instructions
Preheat oven to 400 degrees F and line two baking sheets with parchment paper. Remove frozen puff pastry from the freezer and let thaw at room temperature for 20 minutes.

Add almond butter to a food processor and turn it on. With it running, slowly pour in Oregon Chai Tea Latte Concentrate and continue to process until completely blended. The end result should be smooth and spreadable but not runny. Set aside.

Core the apples and thinly slice them (I kept each side of the apples slices grouped together so I could easily fan them onto the tarts (see photos). Squirt the lemon juice over the apple slices to keep them from browning.

Unfold the puff pastry sheets so that they both lay flat. Use a 3" biscuit cutter to cut circular tart bases and transfer them to prepared baking sheets.

Place 1 Tbsp. almond butter mixture into the center of each round pastry piece and then top with 1/4 of apple slices (fanning them as scene in the photo above). Dust each pastry with a dash of cinnamon.

Brush the egg wash around the edges of the tarts and place in the freezer to chill for 10 minutes (you'll want your pastry to be very cold when it goes into the oven to avoid spreading).

Bake for 20-25 minutes or until the edges are browned and golden. Remove from oven and let cool for 5-10 minutes. Serve warm.

In a small bowl, whisk together the powdered sugar and 2 Tbsp Oregon Chai Tea Latte Concentrate. If needed, whisk in an additional 1 or 2 Tbsp of concentrate until you end up with a thick but pour-able glaze. Drizzle the glaze evenly over the tarts and serve tarts warm.