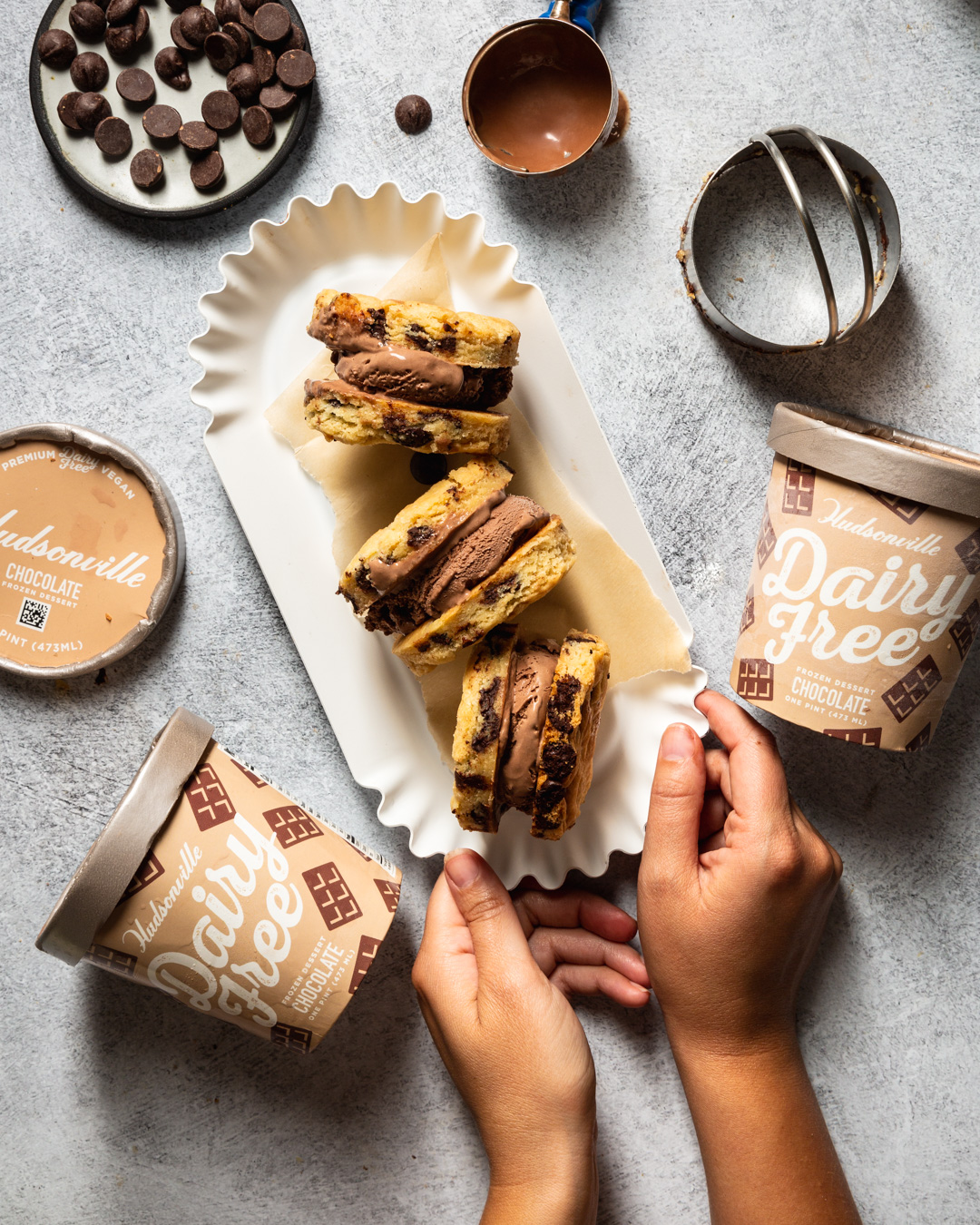 Vegan Chocolate Chip Shortbread Ice Cream Sandwiches
These vegan Chocolate Chip Shortbread Ice Cream Sandwiches are the perfect sweet treat to keep you cool this summer!
This is a sponsored conversation written by me on behalf of Hudsonville Ice Cream. The opinions and text are all mine. Thank you for supporting the brands that make VV possible.
In a hurry? Click here to JUMP TO RECIPE!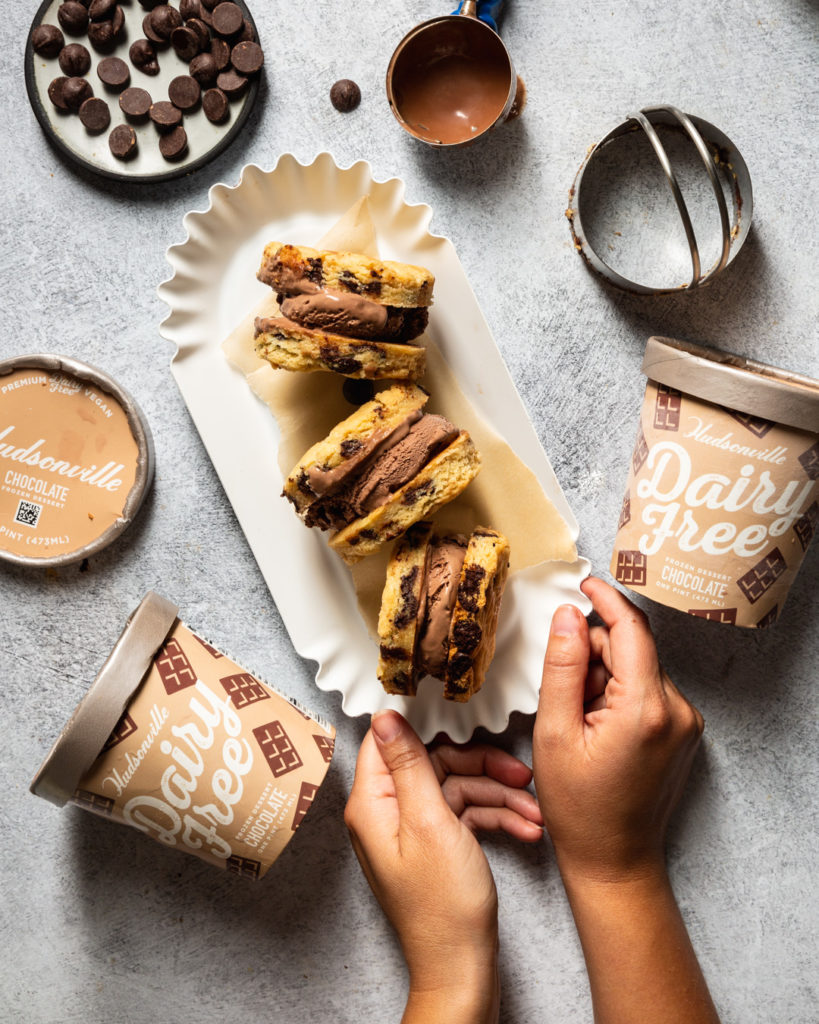 It's HOT here in the Midwest right now – like 'can't go outside unless I'm in a pool and have ice cream in my hand' hot. Although I can't help you with the pool part, I am here today to supply this vegan chocolate chip shortbread ice cream sandwich recipe to you in hopes it makes your summer just a little bit more refreshing.
I stuffed these indulgent shortbread cookies with a pint of Hudsonville Ice Cream's Dairy Free Chocolate which gets its creamy and rich texture from oat milk and coconut cream. I knew I couldn't go wrong with chocolate ice cream for this recipe but they also have six other fun flavors (such as Cherry Fudge, Caramel Cookie Dough, Peanut Butter Truffle) which would all be delicious stuffed into these cookie. Don't have Hudsonville Ice Cream's Dairy Free Chocolate already on hand? This scoop locator makes it super easy to find Hudsonville at grocery store near you and make sure to use this $2 off coupon when purchasing it for this recipe!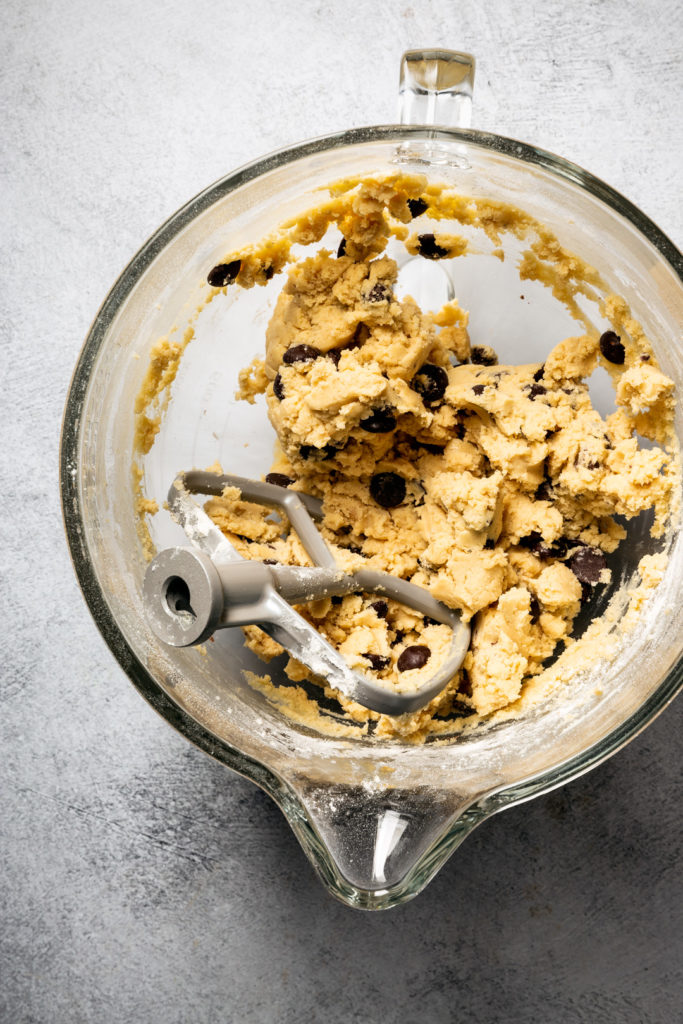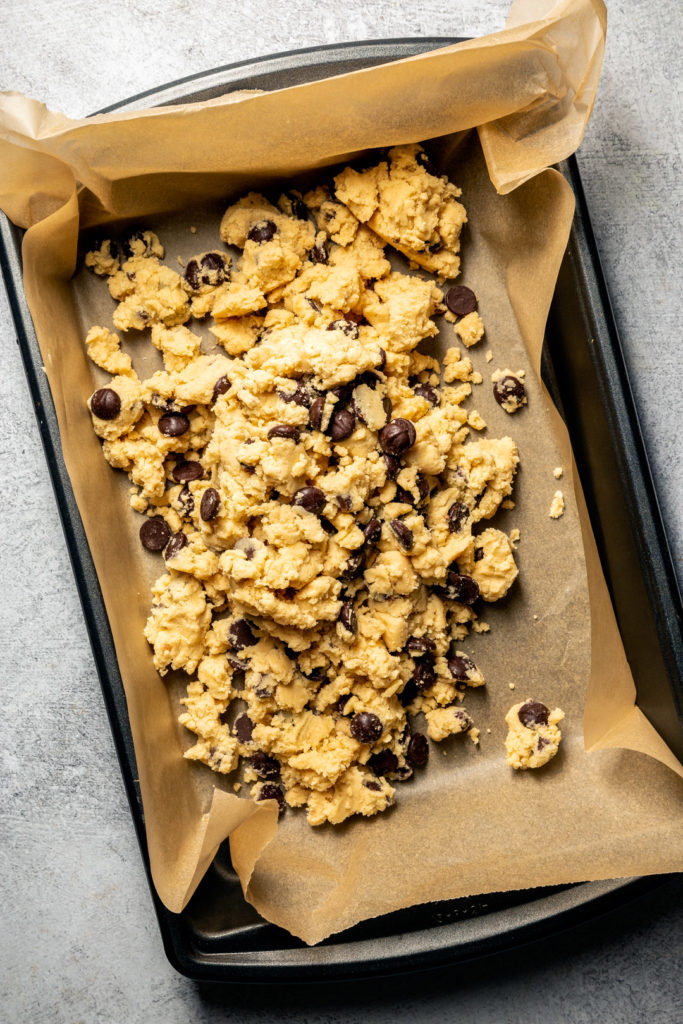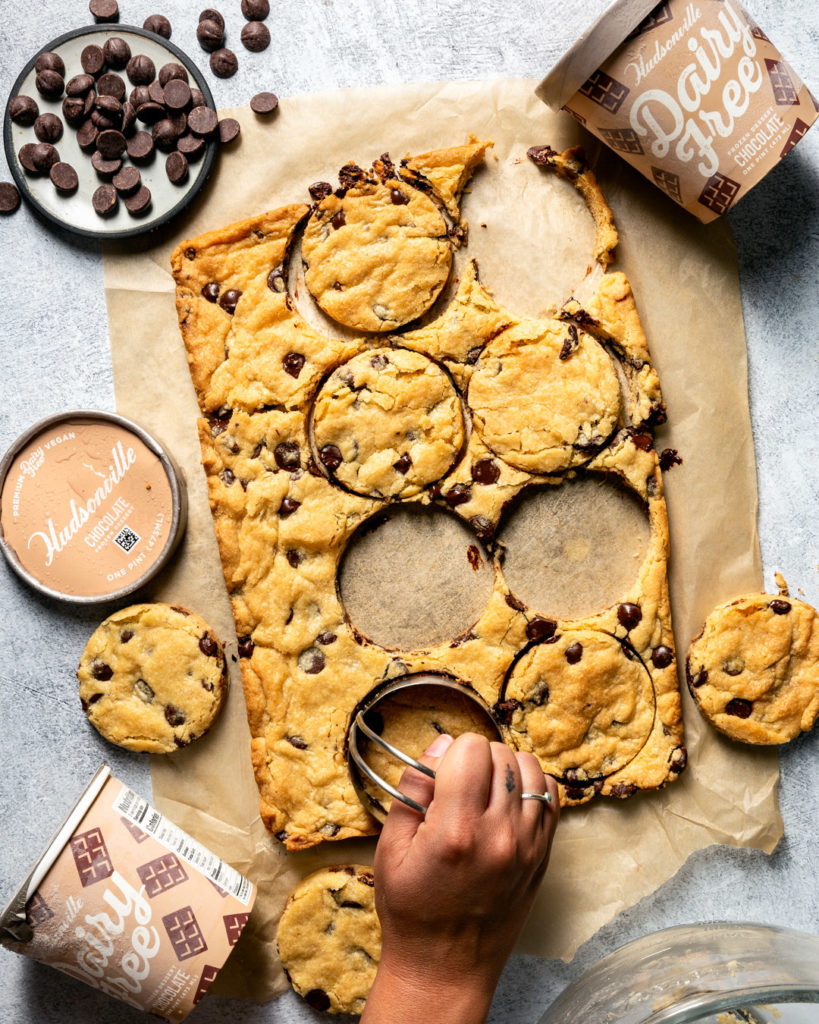 Before you dive into making these cookies, I've got a few notes to go over with you! First up, the timing is very important on cutting the cookies into their round shape – you should use a cookie cutter to cut them exactly 10 minutes after you pull them out of the oven as they will be hard enough to keep their shape (so they don't spread more as they cool) but warm enough still that they shouldn't crumble. You should end up with half a dozen ice cream sandwiches if you use a 2 1/2 inch cookie cutter. As you can see by the photo above, I made the mistake of not starting at the very edge to cut out my first piece so I ended up only getting 2 cookies in each row but you should have no problem getting 3 if you start at the very edge. Wyatt and I ended up devouring all the bits of cookie scraps that were leftover but if we hadn't, I would have probably crumbled them up and folded them into the ice cream for an extra crunch.
To make these vegan, I used Earth Balance "butter" as it's my go-to vegan butter but I'm sure any vegan butter would work here. Also, make sure you pick out chocolate chips that are vegan (pretty sure I used the Simple Truth brand for this recipe). And finally, as you can imagine, these melt quickly so wait until the cookies are cooled and serve them up as soon as you are ready to eat them.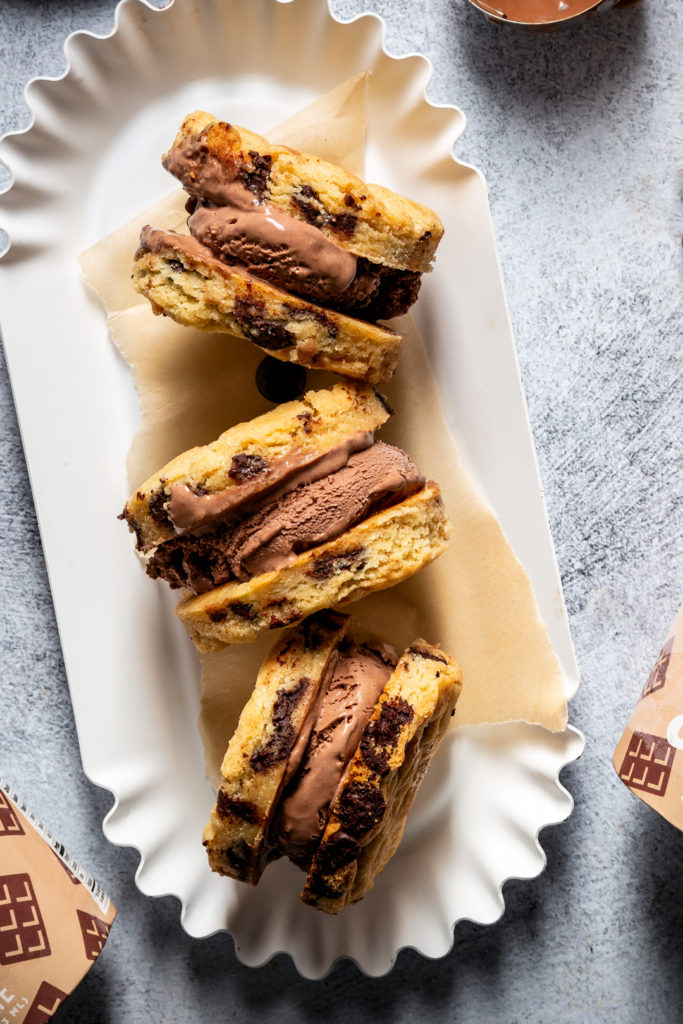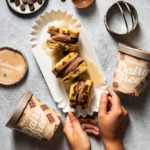 Vegan Chocolate Chip Shortbread Ice Cream Sandwiches
These vegan Chocolate Chip Shortbread Ice Cream Sandwiches are the perfect sweet treat to keep you cool this summer!
Ingredients
1

cup

vegan butter

softened

1/2

cup

brown sugar

1/2

cup

granulated sugar

1

tsp

vanilla extract

1

tsp

salt

2

cups

all-purpose flour

1

cup

vegan chocolate chips

1

pint

Hudsonville Ice Cream's Dairy Free Chocolate
Instructions
Preheat oven to 350 degrees and line a 9×13 baking pan with parchment paper, leaving overhand on the parchment paper so it's easy to grab later.

Using a stand mixer fitted with the paddle attachment, beat on medium speed, the vegan butter, brown sugar, and granulated sugar until light and fluffy.

Turn the mixer speed down to low and add in the salt, vanilla extract, and flour, just until incorporated. Use a spatula to fold in the chocolate chips.

Transfer the dough to the prepared baking sheet and firmly pack the dough into the sheet until it's evenly distributed across the pan.

Bake for 20-25 minutes or until turning golden brown on top. Remove from oven and let cool for exactly 10 minutes.

Pull out the cookies from the pan by grabbing both sides of the parchment paper and gently transferring to a work surface. Starting at the very corner of the shortbread, cut 4 rows of 3 cookies each using a 2 1/2 inch cookie cutter (you should end up with 12 cookies total). Gently transfer cookies to a cooking rack (being careful with them as they will still be soft at this stage). Let the cookies cool completely.

When ready to serve, scoop out a big ice cream scoop full of Hudsonville's Dairy Free chocolate ice cream and place in the middle of the inside of a cookie. Top with another cookie and gently smoosh together so the ice cream spreads to the outside of the cookie rims. Repeat with the rest of the cookies and serve right away!