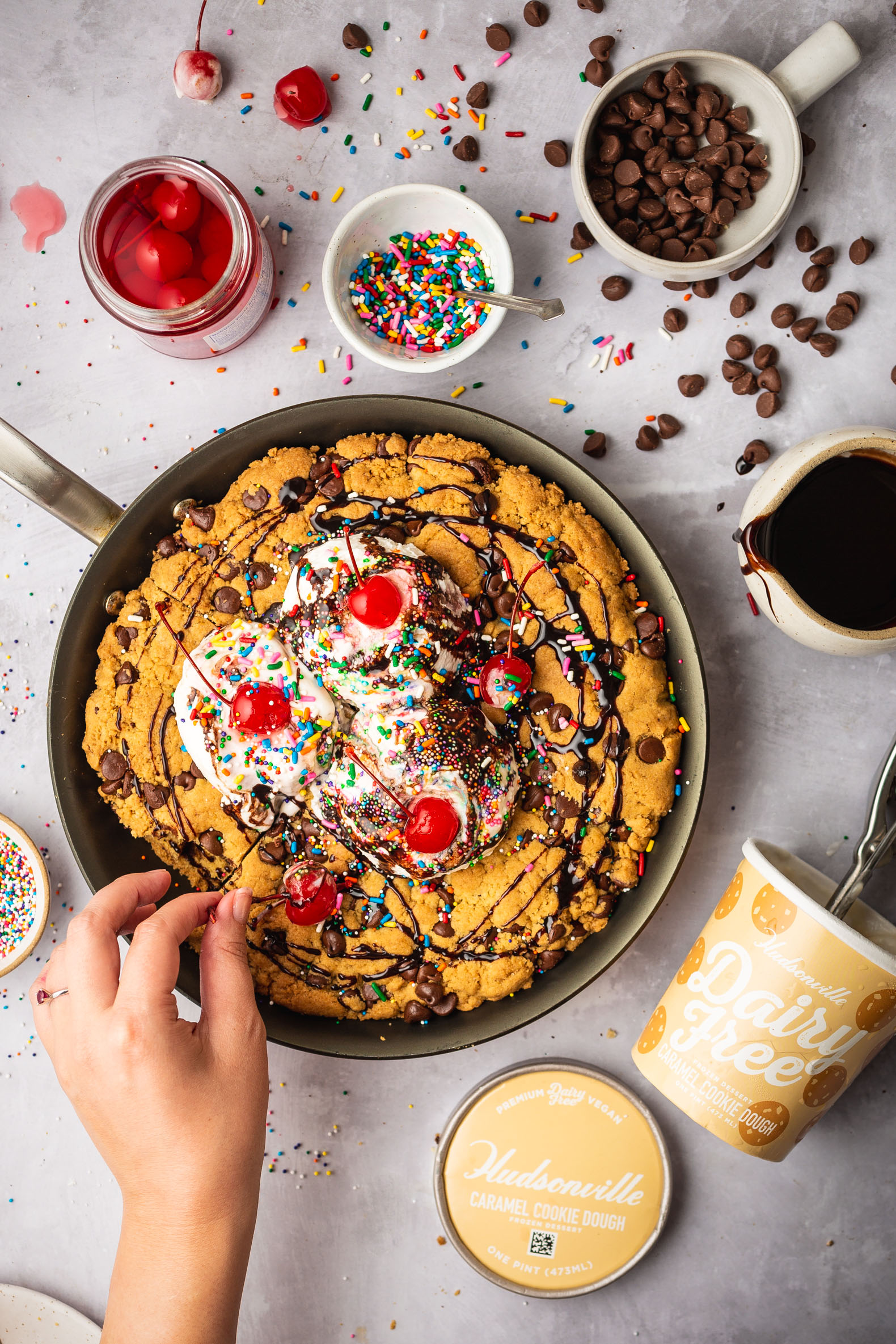 Cookie Lover's Sundae: Chocolate Chip Skillet Cookie with Caramel Cookie Dough Ice Cream
Happy National Ice Cream Month! We are kicking things off with this Cookie Lover's Sundae! It's a huge chocolate chip skillet cookie that is then topped with Hudsonville Ice Cream's Caramel Cookie Dough Ice Cream, sprinkles, and cherries!
This is a sponsored conversation written by me on behalf Hudsonville Ice Cream. The opinions and text are all mine. Thank you for supporting the brands that make VV possible.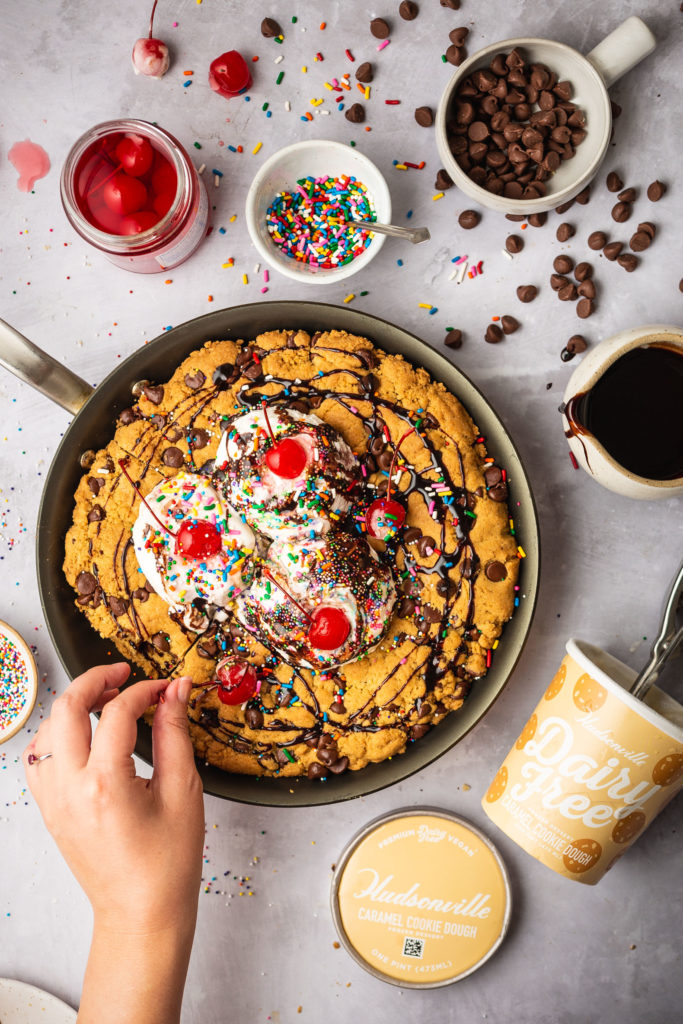 After making this insanely delicious cookie lover's sundae, it got me thinking about why I don't eat more sundaes. Is it that adults grew out of them? I remember eating them all the time as a kid and yet rarely have them now. But why? Am I too cool for sprinkles and a cherry on top? I better not be! I don't like ice cream and cookies? We all know that is a lie! They are delicious and refreshing and can easily feed a crowd so why has it taken me this long to get a sundae recipe on VV?! It's 2019 and I'm declaring sundaes the new summer dessert for adults (and kids)!
For this post, I partnered up with Hudsonville Ice Cream to showcase their new Dairy Free ice cream and I gotta say – it's so good! It's creamy (which is hard to find in non-dairy ice cream) and made with a base combination of oat milk and coconut cream. The whole Dairy Free line is filled with fun flavor combos like Caramel Cookie Dough, Birthday Cake, and Peanut Butter Truffle! Make sure to check out their website for more fun flavors and info about the launch! Also, make sure to check out their scoop locator to find a store near you that sells Hudsonville Ice Cream's new Dairy Free Frozen Dessert!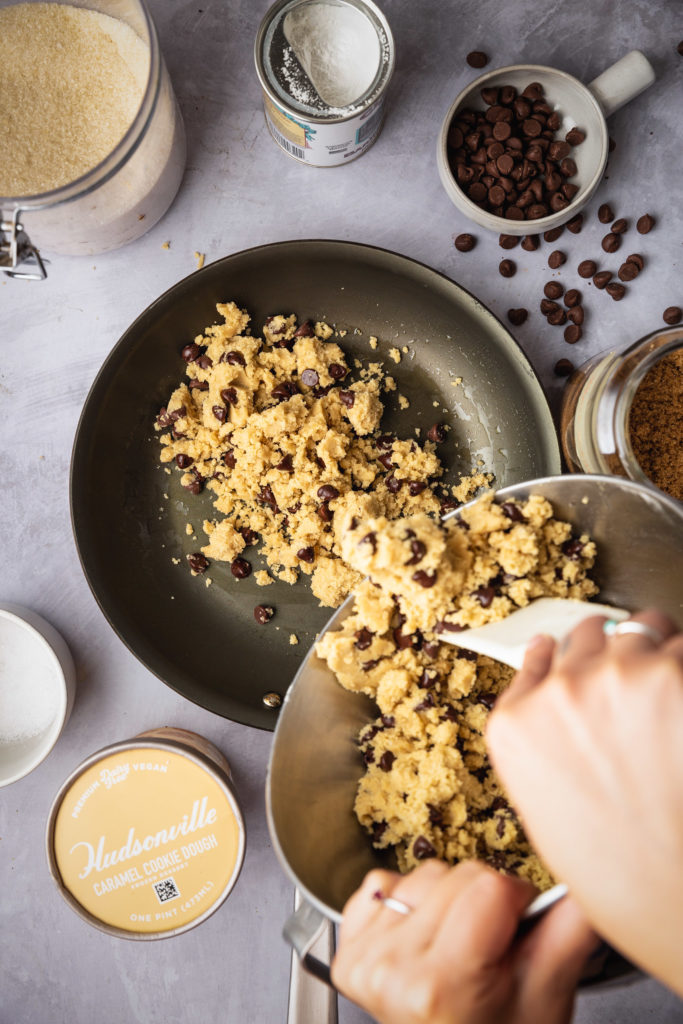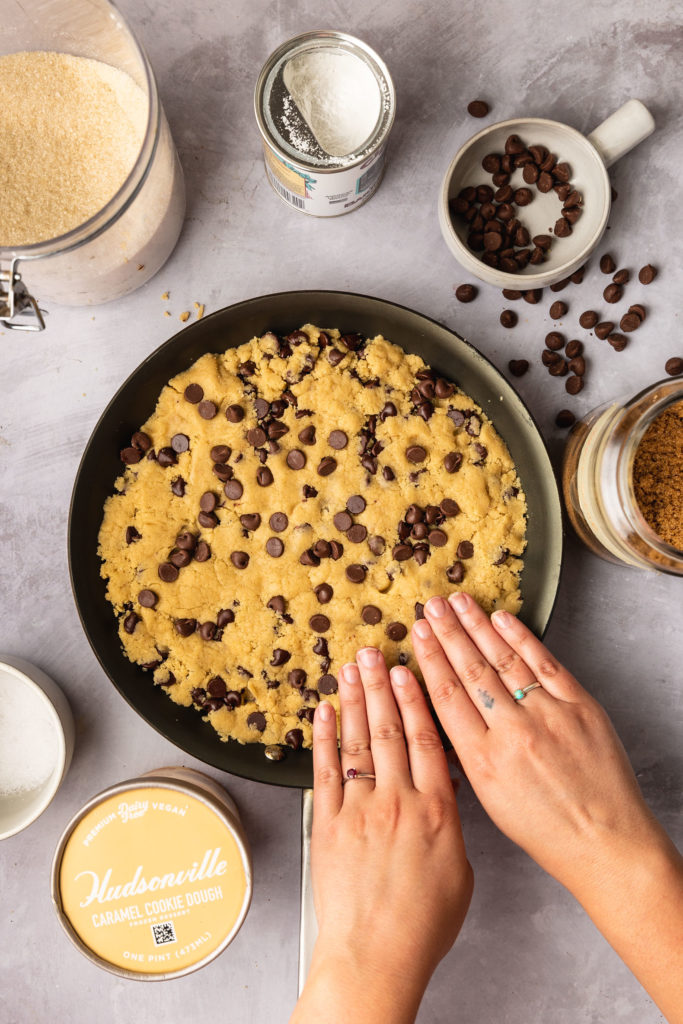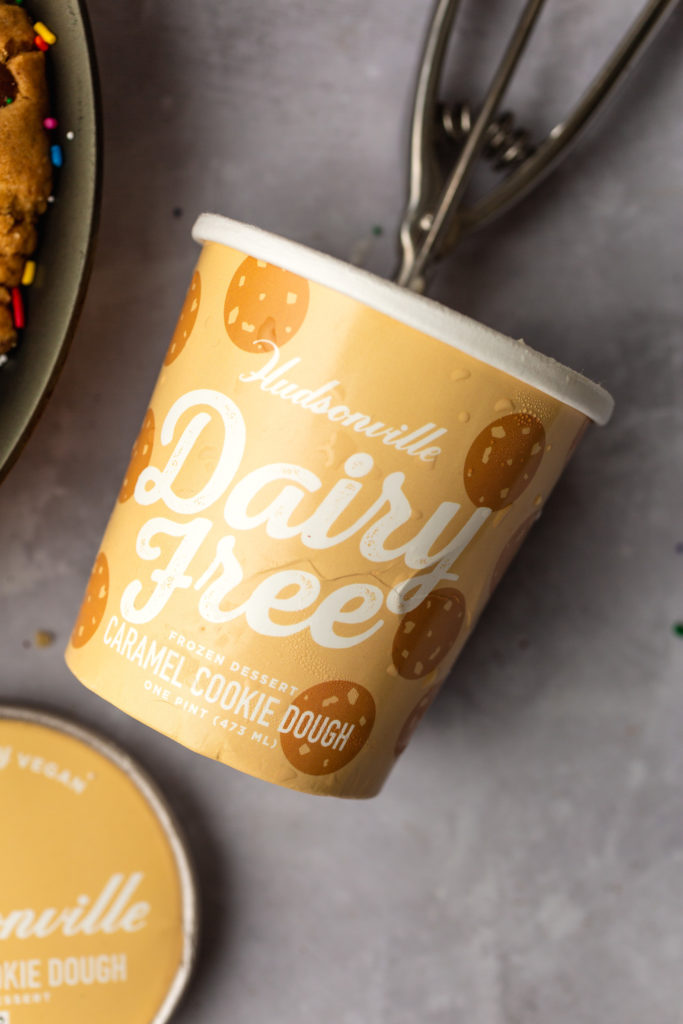 Now let's dive into the details on how to make this delicious cookie lover's sundae! First off, if you are going the adult route, may I suggest going with a little fancier cherry like the Luxardo Maraschino Cherries or Woodford Reserve Bourbon Cherries? You won't get that artificially bright red on top but, if we are being honest, that's probably a good thing anyway, since there is nothing natural about it.
If making this for a crowd, the skillet cookie can be made ahead of time so you don't have to be prepping while you have guests over. I do suggest if you go that route that you warm the cookie up right before serving so that the chocolate chips will be gooey and the warm cookie will still have a wonderful contrast to the chilled Hudsonville Ice Cream's Dairy Free Caramel Cookie Dough ice cream.
The cookie itself is vegan and I opted for olive oil instead of non-dairy butter since I love how moist it makes the cookie. There's also so much going on with this cookie that you don't have to worry about the olive oil flavor coming through.
Also, depending on what you have on hand and how indulgent you want to get, you can either add more chocolate chips to the top or drizzle chocolate syrup. I've had really delicious store-bought hot fudge or you can make your own depending on how much time you want to spend on this sundae!
I think that covers it. Now let's get baking so we can get to eating this delicious treat!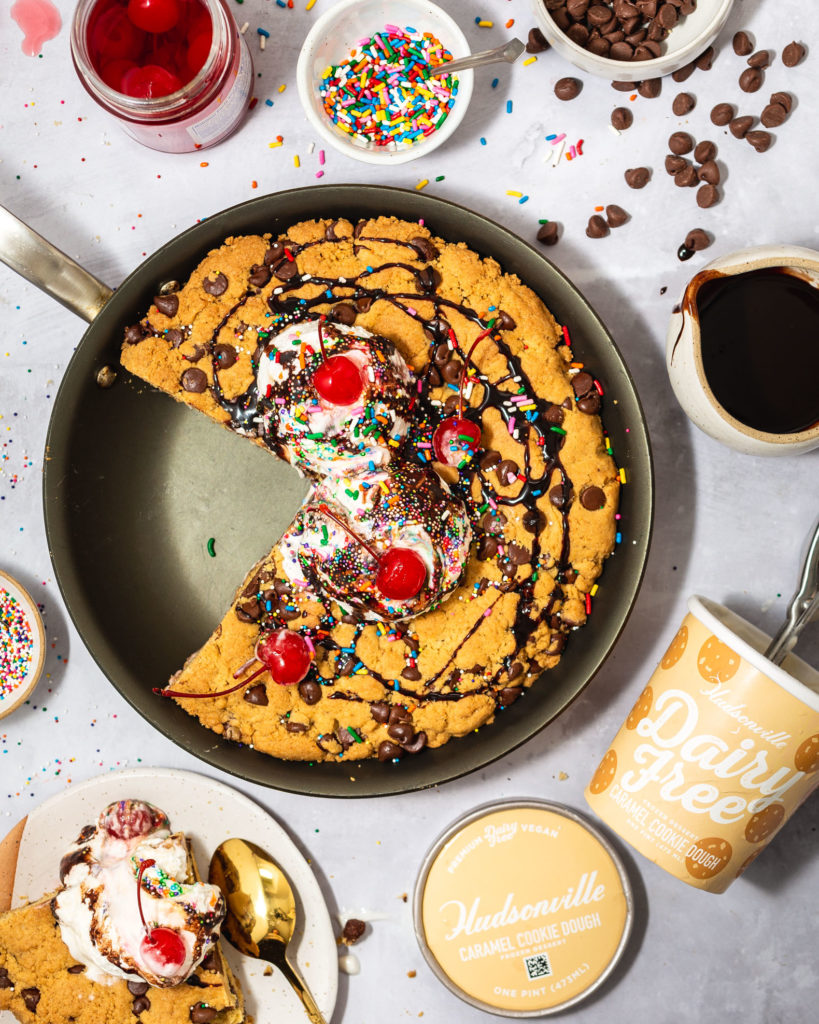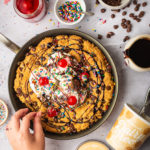 Cookie Lover's Sundae: Chocolate Chip Skillet Cookie with Caramel Cookie Dough Ice Cream
Ingredients
For the Chocolate Chip Skillet Cookie:
2

cups

all-purpose flour

1

tsp

baking powder

1

tsp

baking soda

1/2

tsp

sea salt

1

cup

brown sugar

1/2

cup

olive oil

1/4

cup

non-dairy unsweetened milk (I used coconut)

1

cup

chocolate chips
For Everything Else:
1

pint

Hudsonville Ice Cream's Dairy-Free Caramel Cookie Dough Ice Cream

1/4

cup

sprinkles

1/4

cup

chocolate chips OR chocolate syrup

marachino cherries

for topping
Instructions
Preheat oven to 350 degrees and grease a 9 inch heat-proof skillet.


In a large mixing bowl, whisk together all-purpose flour, baking powder, baking soda, salt, and brown sugar until combined.


Make a well in the center of the dry ingredients and add in the olive oil and milk into the center. Whisk together the milk and olive oil until combined (it's okay if a little of the dry ingredients gets in there) and then switch to a wooden spoon to mix everything together until just combined.


Add 3/4 of the chocolate chips and mix until incorporated. Transfer to greased pan and press down dough evenly down onto pan. Sprinkle remaining 1/4 cup chocolate chips on the top.


Bake for 30 minutes or until golden brown. Remove from oven and let cool slightly.


When ready to serve, scoop Hudsonville Dairy-Free Caramel Cookie Dough Ice Cream over the top, add sprinkles, chocolate chips or chocolate syrup, and top with cherries. Pass around spoons and dig in!