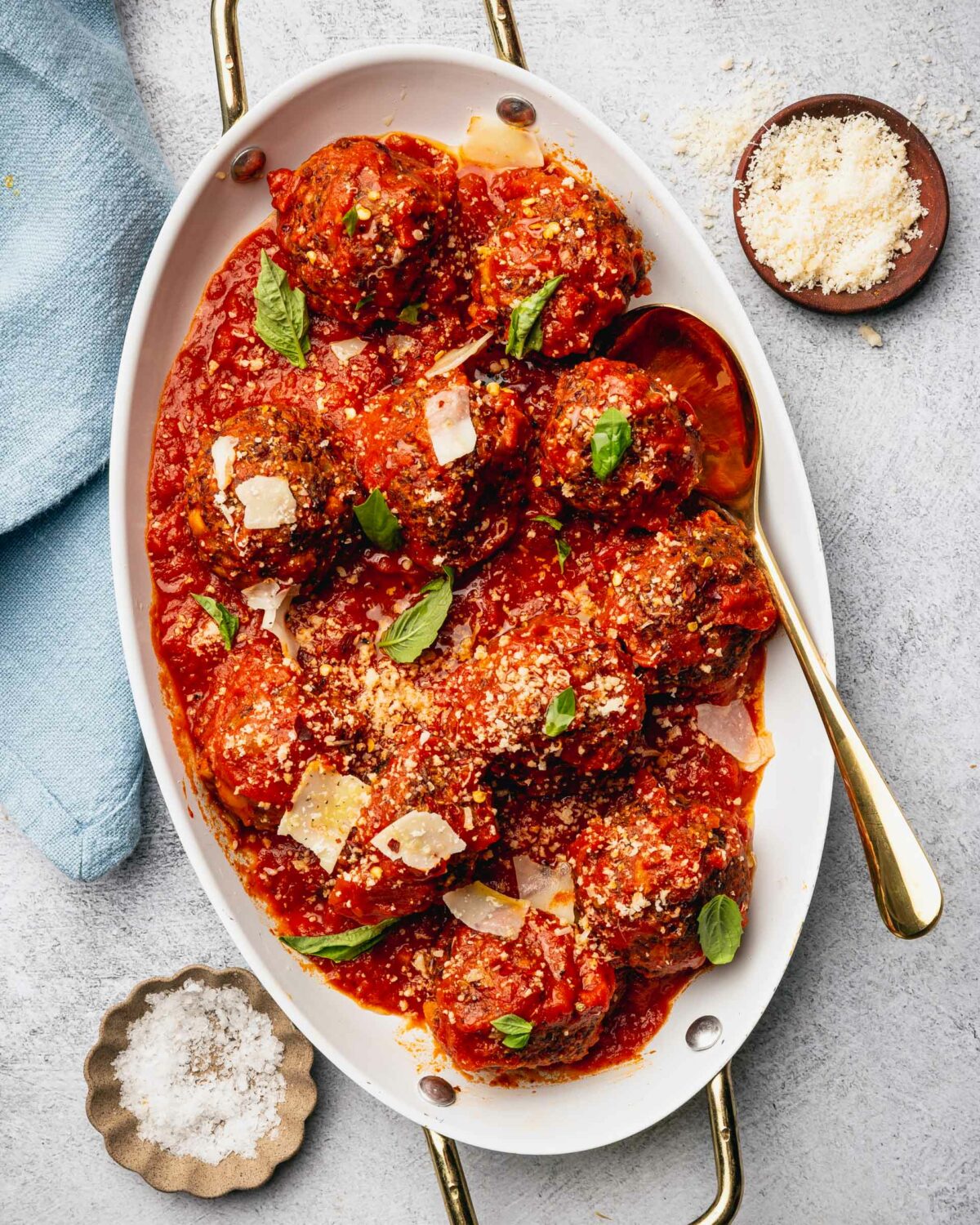 Vegetarian Meatless Meatballs
These vegetarian meatless meatballs are made up of a mixture of quinoa, walnuts, veggies, and herbs for a protein packed meal that is sure to become a new staple in your house.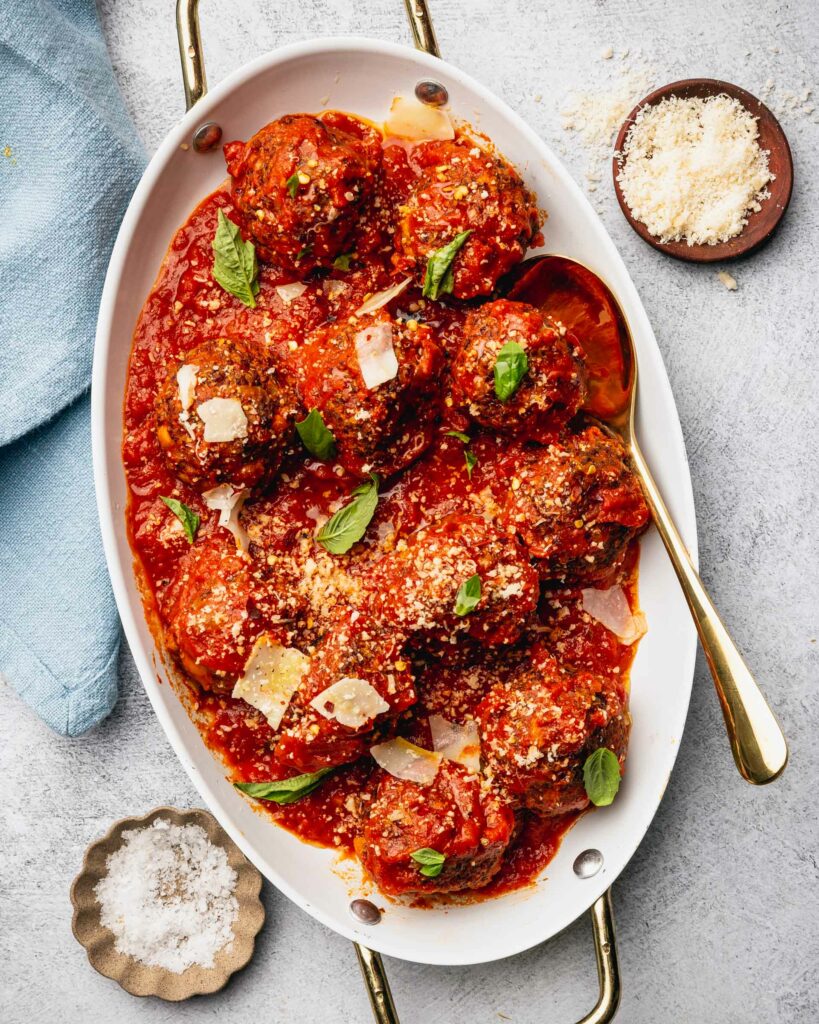 I originally was planning to update my vegetarian lentil meatball recipe I posted a few years ago but I realized I've been turning to a form of this recipe lately when making veggie burgers and knew it would make a great meatball option as well. The recipe is inspired by what Superiority Burger, a vegan spot in NYC, puts in their veggie burgers. These meatless meatballs start with a base of red quinoa which is then folded into some spices, cooked veggies, and smashed chickpeas. We add additional texture to it all with breadcrumbs and walnuts and then use eggs (more protein!) as the binding agent to help them hold together.
The flavor of these meatballs is mild enough that they work well with almost any traditional sauce you'd put on sausage meatballs (think marinara, gravy, sweet and savory sauce, etc). In the images I've included in this post, they were topped with marinara sauce, salty cheese, and fresh parsley / basil for an Italian dinner night. I tried sautéing some of the meatball on the stove to brown them before transferring to the oven to cook but found those ended up a bit drier so I wouldn't recommend it.
This recipes makes a lot – I ended up with close to 30 large meatballs and could eat 2 in one sitting. I ended up freezing half the batch which works out great. If you prefer a smaller meatball, you could also make these meatballs half their size and bake for a few less minutes (to keep them from drying out).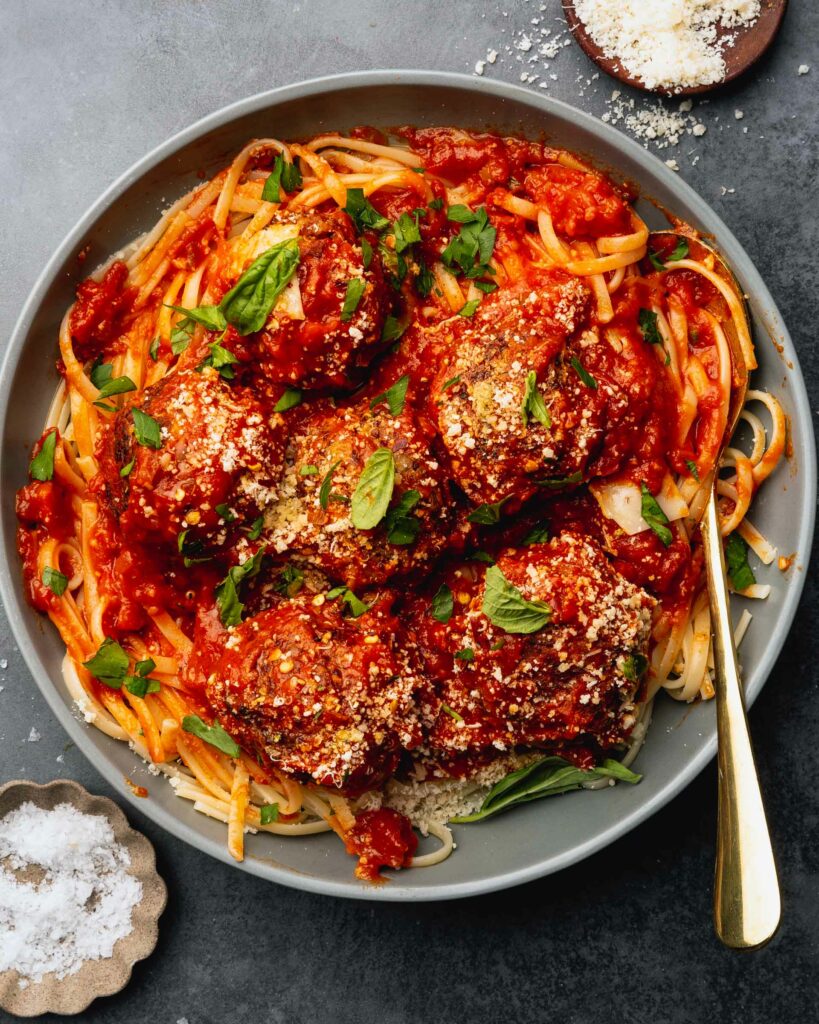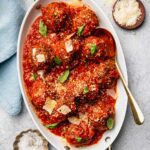 Vegetarian Meatball Recipe
These vegetarian meatless meatballs are made up of a mixture of quinoa, walnuts, veggies, and herbs for a protein packed meal that is sure to become a new staple in your house.
Ingredients
1

cup

red quinoa,

rinsed

1

Tbsp

fennel seeds

1

Tbsp

olive oil

1

medium

yellow onion,

diced

2

large

carrots,

diced

2

garlic cloves,

minced

1/2

tsp

salt

1/2

tsp

freshly ground black pepper

1

tsp

smoked paprika

1

16 oz

can of chickpeas,

drained and rinsed

1

tsp

white wine vinegar

1/2

cup

coarse breadcrumbs

1/2

cup

chopped toasted walnuts

1

Tbsp

chopped fresh parsley

1

tsp

vinegar based hot sauce

2

large eggs,

lightly beaten
Instructions
Preheat oven to 400 degrees and line a baking sheet with parchment paper.

Place the quinoa and 2 cups of water in a medium saucepan and bring to a boil over high heat. Cover, reduce heat to low, and simmer for 15 minutes or until tender. Set aside and let cool completely.

Meanwhile, toast the fennel seeds in a medium skillet over medium heat, tossing often, for 3 to 4 minutes or until starting to brown. Transfer to a cutting board and gently roll a knife over the seeds to chop (they tend to fly around if you cut fast so be gentle while you chop them). Set aside.

Use the same medium skillet to heat olive oil over medium heat. Add onions and carrots and saute until translucent and softened, about 5 minutes. Add in minced garlic, salt, pepper, chopped fennel seeds, smoked paprika and cook for another 30 seconds.

Add drained chickpeas and cook for another 5 to 7 minutes or until the chickpeas start to soften. Splash in the white wine vinegar to deglaze the pan and then remove from heat. Use a potato smasher to roughly mash the chickpea mixture and transfer to a large mixing bowl.

Fold the cooled quinoa into the chickpea mixture and then fold in the bread crumbs, chopped walnuts, parsley, and hot sauce. Taste and season with more salt if needed.

Whisk the eggs together in a small bowl and pour over the quinoa mixture. Fold the eggs into the mixture until fully incorporated.

Using clean hands and a 1/4 cup meansuring cup, scoop out 1/4 cup of the mixture and press it between your hands to compress and shape it into a ball. Transfer to prepared baking sheet and repeat with the rest of the mixture.

Bake for 20-25 minutes or until the center of the meatballs have cooked through.

Serve warm with your favorite pasta sauce, savory glaze, or gravy.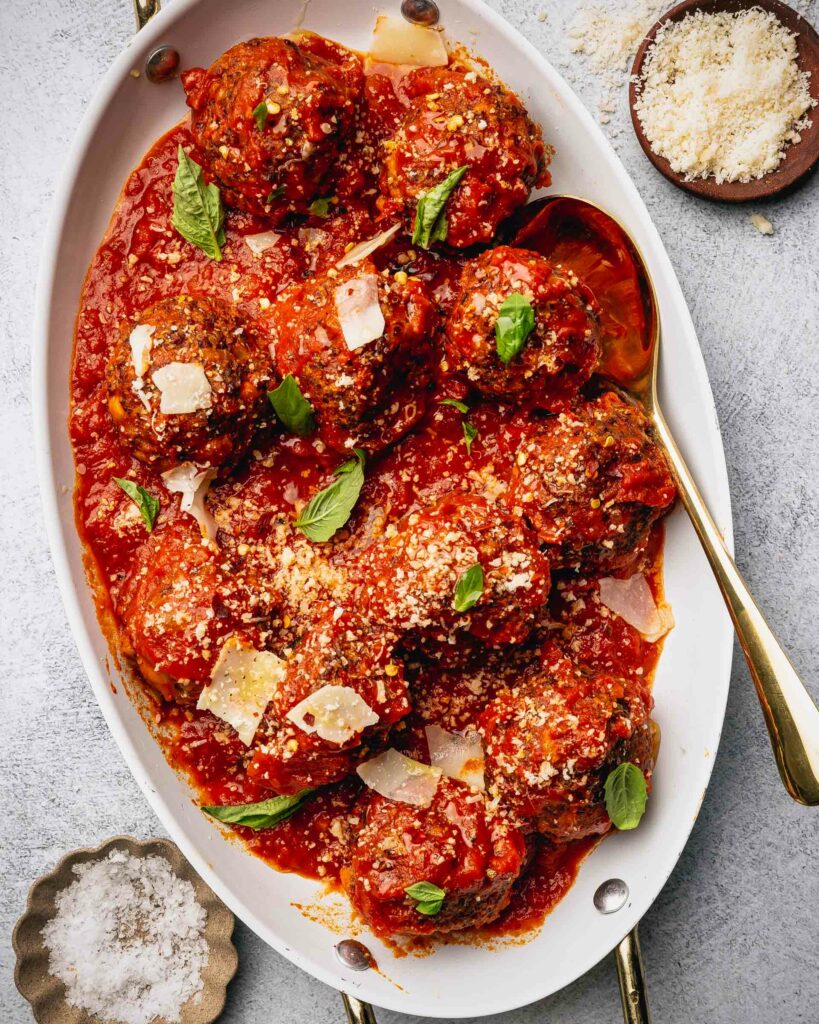 Make sure to tag Vegetarian 'Ventures on Instagram and use #vegetarianventures when trying this dish out!