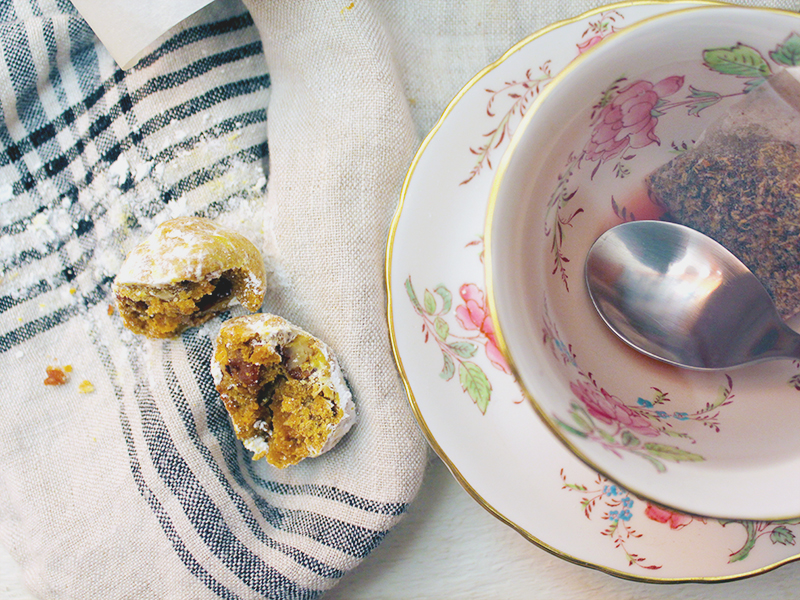 Virtual Vegan Potluck /// Mexican Wedding Pumpkin Cookies
Hello November! Let's welcome you in with a potluck, shall we? For everyone following the virtual vegan potluck, I hope you are enjoying scanning through copious amounts of vegan fare from all over the world! And for those of you who are regulars and have no idea what a virtual potluck even is, please feel free to scroll to the bottom of the page and check out the wonderful recipes that other bloggers made as part of this potluck.
Anyhow, I decided to be festive and made pumpkin cookies. I know, I know. Pumpkin is for October and Halloween but I don't care! It's totally delicious and I'm having too much fun turning regular recipes into fall ones. Plus, these cookies are [literally] rolled in sugar…how can that be bad?
Mexican Wedding Pumpkin Cookies
1/2 cup canola or coconut oil
1/2 cup pumpkin puree
1/2 cup cane sugar
1 teaspoon vanilla
2 teaspoons cinnamon
1 teaspoon ginger
1/2 teaspoon all spice
dash of cloves
1/2 teaspoon salt
1/2 cup pecans, chopped and toasted
2 cups all-purpose flour
Powdered sugar, for rolling the cookies
Preheat oven to 350 degrees and line a cookie sheet with parchment paper. In a large mixing bowl, beat together the oil, pumpkin, sugar, and vanilla. Once combined, turn the mixer down to low and slowly add in the cinnamon, ginger, all spice, clove, salt, and flour. Lastly, add in the chopped pecans (the dough will be VERY stiff and thick – perfect for shaping!).
Roll the dough into evenly sized balls (about the size of a golf-ball) and place on the cookie sheet (they won't expand much so you don't have to worry about them being too close together). Cook for about 15 minutes or until they start to slightly turn brown.
While still warm, roll the cookies in powdered sugar to completely coat them.
Scarf down with some warm chai tea or while snuggling under a warm blanket!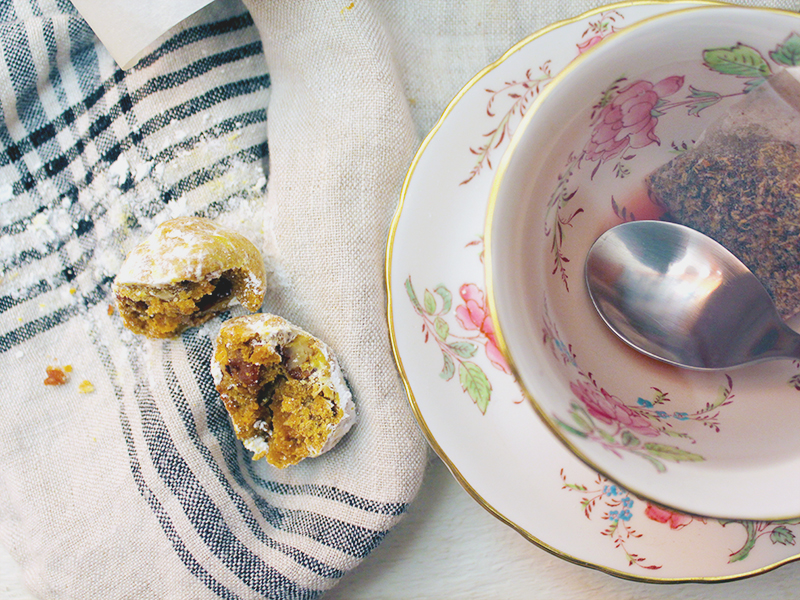 _________
Also, don't forget to check out the giveaway I am hosting and click on the images below to see more from the Virtual Vegan Potluck!