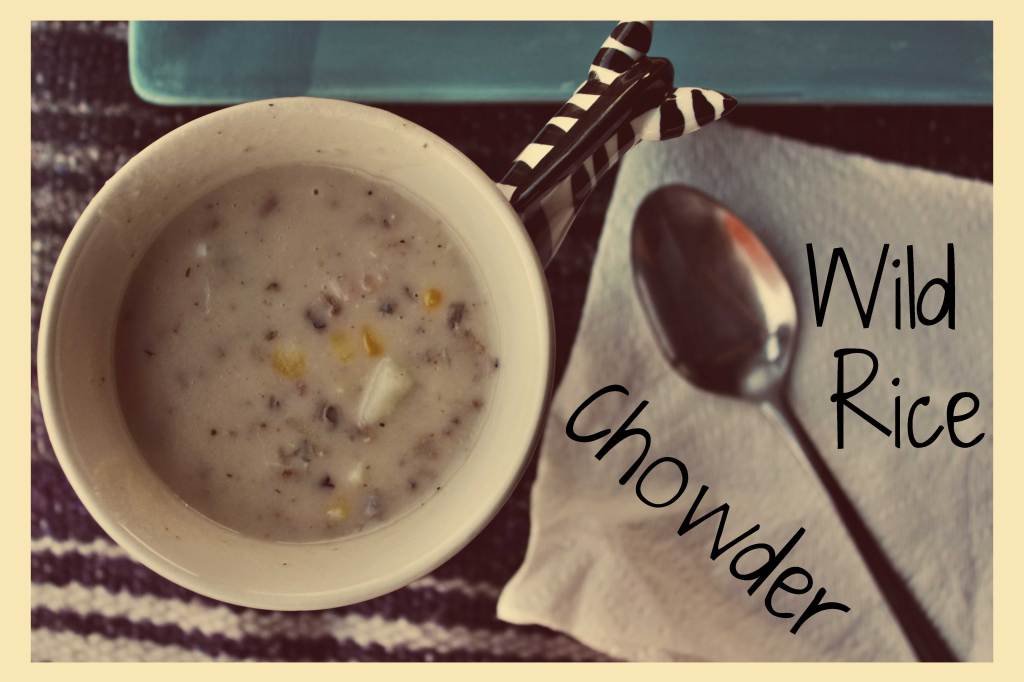 It's hard to believe with this 80 degree weather that I was craving soup just two days ago. But, putting myself in those shoes, it was a beautiful 60 degree day last Saturday and we enjoyed sandwiches and big coffee mug fulls of wild rice soup during a lovely picnic on the porch.
The chowder was delicious. I honestly have never hard wild rice soup before. This whole thing came about because I was at the store awhile back and saw the wild rice gleaming at me from the bulk section. It's so colorful and vibrant and I've never tackled a recipe with it so I decided purchasing some would be a good challenge. Unfortunately, it sat on my shelf for the next three months before I decided that this avoidance had to come to an end. I looked up recipes with wild rice in them and came across dozens of patties, salads, thanksgiving sides, and soups.
I was sold on the idea of soups but most of them used meats and the "vegetarian" ones were just blander versions of the original. I decided to take one of the meat recipes and completely revamp it for all your vegetarian needs!
I was nervous that I'd end up with a flavorless soup myself but this was not the case. It was so delicious! And thank goodness at that because it made enough leftovers for me to eat it three times a day for the next two weeks (AKA I may suggest cutting this recipe in half if you aren't looking for a large amount of yummy leftovers).
Wild Rice Chowder
1 cup wild rice, rinsed
2 cups water
2 Tbsp. olive oil
1 cup chopped onions
4 garlic cloves, minced
1/2 cup flour
4 cups vegetable broth
2 potatoes, cubed
3 carrots, sliced
1 tsp. dried thyme leaves
1/2 tsp. nutmeg
2 cups frozen corn
2 cups half and half
2 cups meatless crumbles
salt and pepper, to taste
Bring the two cups of water to a boil in a large saucepan. Add the rice and let simmer for 30 minutes or until the rice is tender. Remove from heat and set aside (do not drain so the rice can absorb up the excess water!)
In a large cooking pot, heat the olive oil up over medium heat. Add the onions and saute for about five minutes. Then add the garlic and saute for another minute.
Next, add in the flour and stir constantly for a minute. Then add the broth and whisk until a milk mixture is created. Add in the potatoes, carrots, thyme, and nutmeg. Bring to a boil and then reduce to a simmer for 20 minutes.
Next, add in the corn and meatless crumbles and simmer for another 20 minutes (or until the vegetables are tender). Then add the half and half and cooked rice and stir until everything is warmed up and creamy.
Serve warm in cute animal mugs with yummy sandwiches!
We also made these simple and delicious sandwiches to go with the soup! Enjoy!
Open Faced Grilled Cheese
Half a baguette, sliced in half length-wise
1 fresh tomato, sliced
2 Tablespoons olive oil
1 Tablespoon dried basil
2 teaspoon dried oregano
4 slices of Swiss cheese (or however many to your liking)
salt and pepper, to taste
Turn your broiler on low (if you have two options). Combine the olive oil, basil, oregano, and salt/pepper in a small bowl. Lather the bread pieces evenly with the mixture.
Top with the tomatoes, swiss, and then garnish with a few a bit more dried basil.
Broil for only a few minutes (I don't want to give exact times because everyone's broiler is so touchy and different). I would just turn the light on and watch it until the top gets brown. No more than 2 or 3 minutes.
Enjoy with yummy soup and your favorite porch spot!
Nom Nom.
Tuko being so cute and good while we enjoy our picnic on the porch!