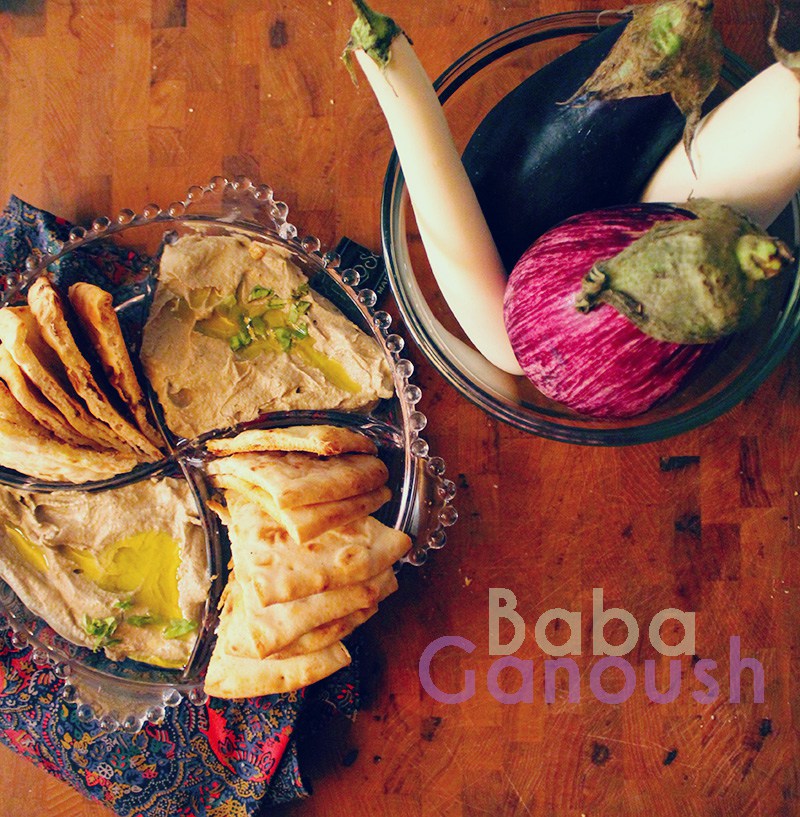 As I mentioned in my last post, this weekend was a busy one for me because of several scheduled work functions. I bring this up because I was assigned in charge of purchasing "snacks" for our boat trip on Saturday. Snacks? On a pontoon boat? My first thought was….but there's no fridge! Where will I put all the hummus and carrots? When I mentioned this to my co-worker she laughed and said 'I think by snacks he meant Doritos and Oreos'. Oh, duh! I don't really buy potato chips or pre-made cookies so my first thought was what I eat as snacks…not 80% of the American population. We ended up compromising on Newman O's (those things are pretty tasty!) and baked goldfish crackers.
The whole point of that anti-climatic story is that hummus is my everyday snack. I absolutely love hummus…. hummus for my carrots, hummus for my celery, hummus for my pita…you get the point. What I am trying to say (and I'll stop beating around the bush) is that making Baba Ganoush was a no-brainer when I realized that I have an entire vegetable drawer in my fridge filled with eggplants (thank you, CSA box). We've been making homemade hummus for years now so I'm not sure why it took months of receiving dozens of eggplants in my CSA box for this to click. Perhaps I had to see the recipe in front of me (at which point I realized it is literally EXACTLY the same as making hummus minus the chickpeas and plus the eggplants).
And so, it happened. Move over hummus and helloooo Baba Ganoush. We ate this entire serving the night I made it and have already made several more batches this week (which has caused me to only have HALF a drawer full of eggplant now!). This stuff is addictive…it's even smoother (dare I say velvetier) than my homemade hummus. Lather this on some warm pita bread or take it to work with some chopped carrots for an afternoon snack. You may never daydream about hummus again (if that is something you even do)…
Baba Ganoush
3 medium eggplants
1/2 cup tahini sauce
Juice from 1 lemon
1 teaspoon salt
4 garlic cloves, minced (use less if you like it less garlicky)
1 teaspoon cumin
1 Tablespoon olive oil
1/4 cup cilantro
Preheat oven to 375 degrees and poke the eggplants all over with a fork. Place eggplants on a baking sheet and roast for 30 minutes or until very soft (should be able to pierce a knife through them).
Let cool enough until able to handle. Slice and scoop out the insides of the eggplant into a blender or food proceesor. Add the rest of the ingredients and blend until smooth. Taste and adjust to your liking (perhaps more lime juice or salt).
 Garnish with cilantro and olive oil. Enjoy with warm pita and serve at your next Twin Peaks screening.