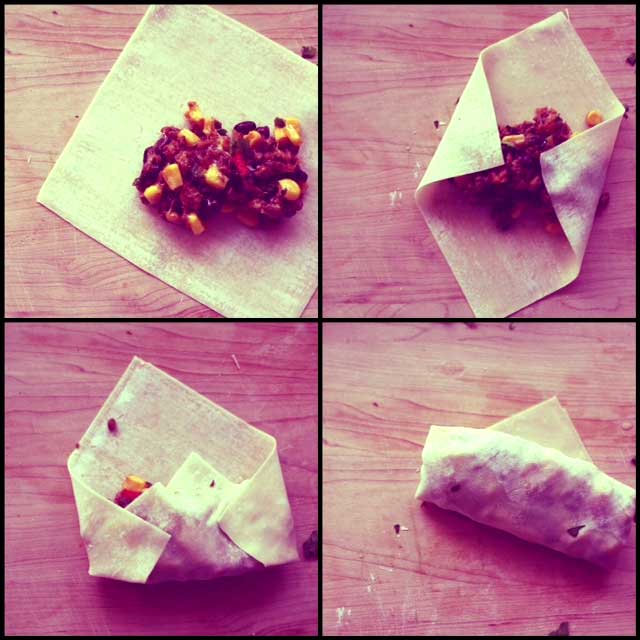 Baked Southwestern Egg Rolls with Cilantro Lime Sauce
These remind me of "pub grub"; I really don't like sports…or chains so when I do end up at Chilis or TGI Friday's (I guess those are bad examples of "Sports" bars but you know what I am talking about), it's always out of desperation and I am normally so hungry I could eat anything on the menu (and then it usually turns out I cant eat anything on the menu- even the salads are drenched in meat!). Anyways, I always see these as appetizers and skip right over them knowing they are going to be filled with beef. I guess these were a product of my frustration about having to skip over clever (well…relatively clever) food ideas because of my diet restrictions.
They turned out really yummy. Crunchy on the outside with gooey, hot, cheesy insides. I kind of wished I had stuck avocado inside or made some guacamole to go along with them but that's probably just because I am avocado obsessed. You should feel free to add (like avocado or more jalapeno, if you like it hot) or take out (replace the crumbles with more beans if you don't have any on hand) whatever you'd like.
Oh! Also, these only make between 6 to 10 (depending on how much you stuff them) so if you're thinking about making them as an appetizer for lots of guests, I may suggest doubling the recipe. Mmmkay, that is all! Happy Eating!
Baked Southwestern Egg Rolls with Cilantro Lime Sauce
About 10 wonton wrappers
1 Tbsp olive oil
2 green onions, sliced
1/4 cup chopped red bell pepper
1 cup of black beans, rinsed very well
1 1/2 cups corn (canned or frozen)
1 heaping tsp cumin
1 heaping tsp chili powder
dash of cayenne
dash of salt
3/4 cup shredded Monterrey jack cheese
For the dip:
 1 cup sour cream
1 tsp cumin
1/2 tsp chili powder
1 tsp lime juice
1/2 cup cilantro, chopped
dash of salt
To make the sauce: stick all the ingredients in a food processor (or blender) and mix for about 2 or 3 minutes or until everything is well combined. Stick in the fridge while preparing the eggrolls to help solidify the flavors.
For the egg rolls: Preheat oven to 400 degrees. First, warm up a tablespoon of oil in a large skillet over medium heat. Add in the frozen crumbles and saute for about 3 minutes. Next, add the corn, jalapeno, black beans,onions, red pepper, and seasoning. Saute for another 3 to 5 minutes or until everything starts to soften. Remove from heat and fold in the cheese.
Take a look at the picture below to help guide you with wrapping! Basically, you are going to take about 2 Tablespoons full of mixture and put it in a long line diagonally across the wonton. Next, fold the corners directly on the left and right and then roll up the wonton from the bottom. I know it sounds complicated in writing but hopefully the picture will help!
Coat the tops with a tiny bit of olive oil. Cook for ten minutes. Enjoy with the chilled sauce and a beergarita!