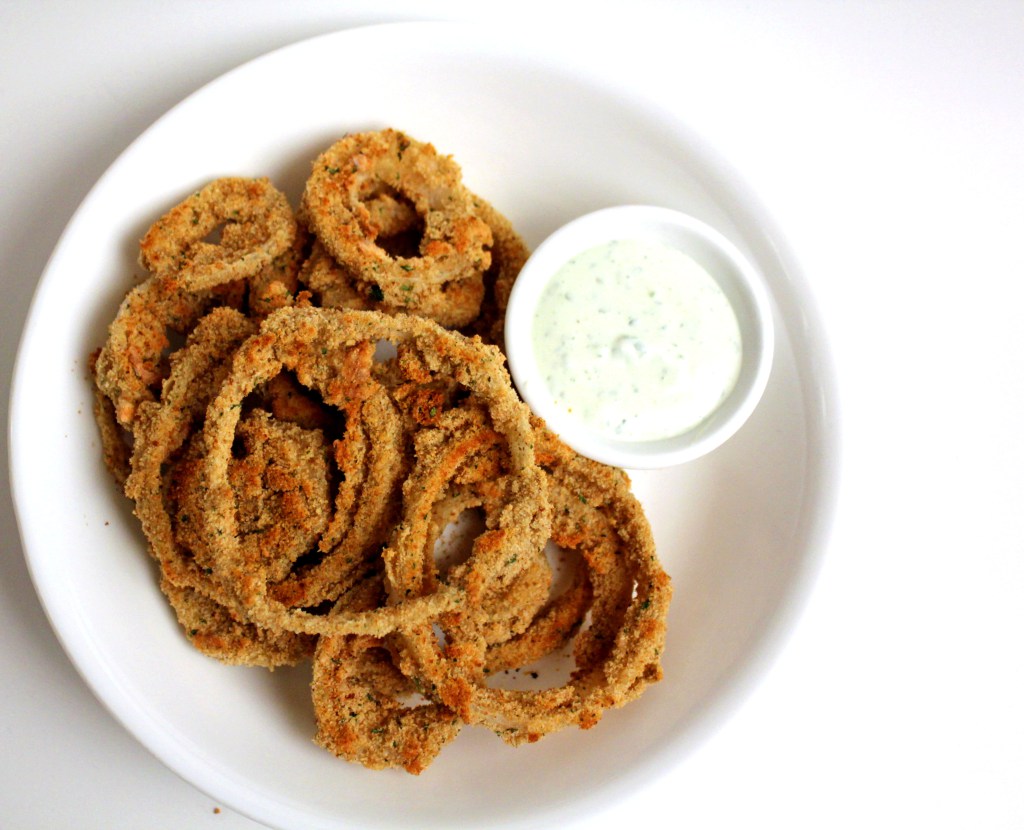 I use to have this method (well, I think a lot of people use this method) where if I don't buy junk food at the store than I won't eat it. Easy enough, right? Well then I met my boyfriend who craves milkshakes, french fries, and burgers every night around 11 or so (I despise the fact that the boy does not have an ounce of fat on him…) which was just not going to work for my diet. We compromised somewhere in the middle with hummus, popcorn, etc but there are times where he still manages to drag me to the dark side by insisting on a midnight milkshake run.
This has challenged me to try to "heathify" the greasy foods he craves. I know, I know…it just SOUNDS dreadful and most people think it's impossible to BAKE something that we've grown to love DEEP FRIED but it's more satisfying than you'd think. These onion rings are crispy, flavorful, and fast to whip up. So even though you weren't able to drive thru to acquire them in five minutes, you know every single ingredient that goes into them and can feel satisfied knowing that they are just as good (probably even better. Who has honestly had warm, crispy and satisfying onion rings from Burger King? We all know they always turn out cold and soggy- YUCK).
I adapted the onion ring part of the recipe from Isa's Appetite for Reduction. The key to success for this recipe is an assembly line to dip the onion rings from one thing into the other. This makes it so efficient and accessible to whip up in no time (no matter how lazy you are feeling at midnight).
Baked Onion Rings
1 large onion, sliced
1/2 cup all purpose flour
2 teaspoons corn starch
1 cup almond milk
1 teaspoon apple cider vinegar
1 cup Italian bread crumbs
1 teaspoons salt and pepper
2 teaspoons oil
For the Basil Cream Sauce:
1/2 cup sour cream
1/4 cup fresh basil leaves
1 tablespoon cold water
salt/pepper, to taste
Preheat oven to 425 degrees. Line a baking sheet with waxed paper (or grease it).
Use two wide bowls to whip up the batters. In one, combine the flour and cornstarch. Slowly add in the milk and whisk while doing so. Finally, Add in the vinegar and whisk until well incorporated.
In the other bowl, Mix together the bread crumbs and salt. Then add the olive oil and use your fingers (this is the fun part!) to mix create a crumbly breading.
Now create an assembly line by putting the things in this order: onions, cornstarch mixture, breading, and the greased baking sheet. Now dip the onions in each bowl in that order and make sure that they get well incorporated with the breading; stick on the baking sheet and repeat with the rest of the onions.
Cook for about six minutes and then flip the onions and cook six or so minutes.
Preparing the Basil Cream Sauce: While those are cooking, make your super easy sauce. Just throw all the ingredients into a food processor and blend until the basil has broken down and turned the sauce into a light green color. Serve with the onion rings.
Munch down to cure your evening munchies while watching another rerun of 'Unsolved Mysteries'