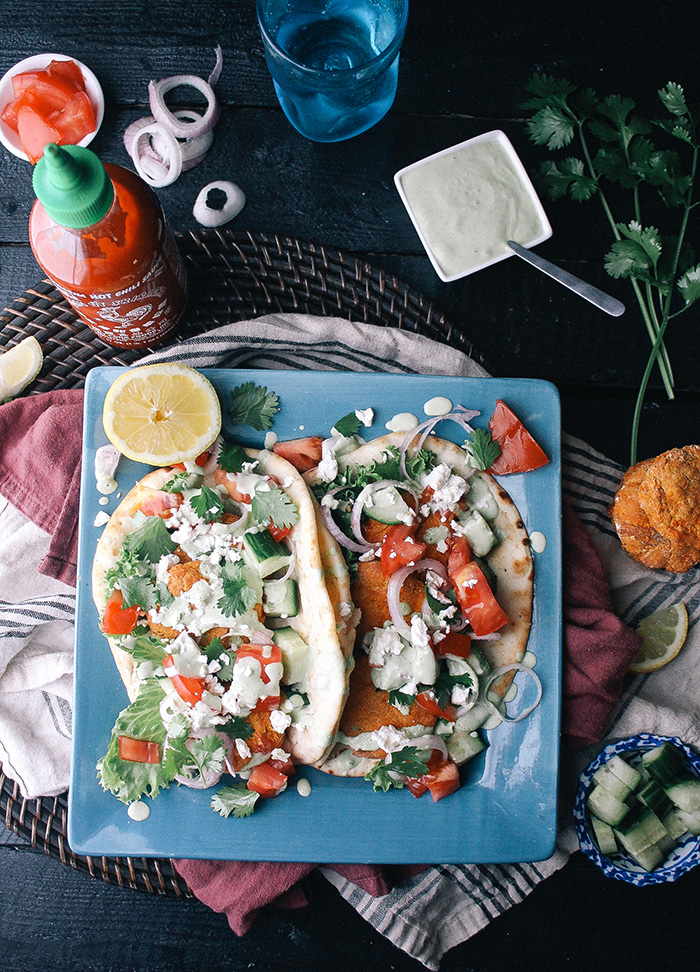 Baked Sweet Potato Falafel with Cilantro Yogurt Sauce
I grew up in a town where 'world cuisine' meant heading to a chinese buffet or picking up a deep dish pizza. It wasn't until I moved to Bloomington that I discovered the wonderful world of Falafel and Coconut Curry and Samosas and Naan and Pad Thai. Fast forward five years later and I can't imagine living my life without these foods. Ethnic foods bring a world (literally) of variety into a vegetarian diet. I couldn't imagine wanting to whip up anything else besides a big bowl of Curry or Samosa Patties on a rainy day.
These baked sweet potato falafels are a fun twist on the traditional deep fried chickpea falafel. Full of protein and vitamin B6, these little patties will fill you up and leave you feeling satisfied with out all the grease. They also reheat wonderfully for a great left-over lunch.
Note that you can also bake or boil the sweet potatoes in the recipe below to reach a desired 'mashed' consistency. I chose steaming because it's supposed to retain the most nutrients out of any of the cooking methods. ALSO, you can easily make this recipe vegan by omitting the feta topping and choosing a vegan sauce to put on the patties (how about this vegan avocado cilantro dressing?)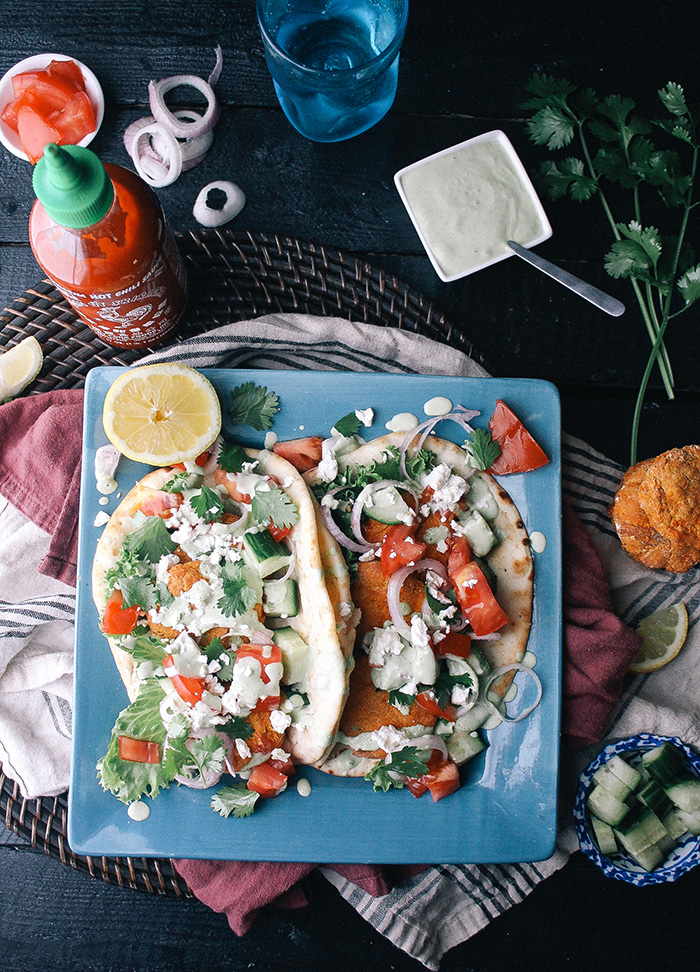 Baked Sweet Potato Falafel with Cilantro Yogurt
2 sweet potatoes, diced
1 teaspoon cumin
1 garlic clove, minced
juice from half a lemon
1 cup chickpea flour
olive oil
salt/pepper
Cilantro sauce:
1/2 cup chobani plain greek yogurt
1/4 cup cilantro, chopped
Juice from half a lemon
1 teaspoon cumin
salt/pepper
Delicious additions:
Pita bread
cucumber, diced
tomato, diced
Feta, crumbled
shallot, chopped
lettuce
sriracha
To make the sauce: Place all ingredients in a blender or food processor and blend until combined. Let set in the fridge for at least a half an hour after mixing (this will help the flavors meld together).
For the patties: Place diced sweet potatoes in a steamer basket and transfer basket to a pot. Fill the pot with about an inch of water and cover with a lid. Let steam for 10-15 minutes (depending on how big you diced the potatoes). Remove the steamer and let cool slightly
Mash the sweet potatoes with the cumin, garlic, lemon, chickpea flour, salt, and pepper. Transfer to the fridge for at least 30 minutes or until the batter has firmed up (this will help form the patties better).
Pre-heat oven to 425 degrees and grease a baking sheet. Using floured hands, shape the batter into 2 inch circle patties that are about a 1/2 inch thick. Repeat with the rest of the batter and place all patties on the greased cooking sheet. Brush the tops with olive oil and bake for 30-45 minutes or until the tops begin to brown.
Serve warm inside warmed up pitas with cilantro yogurt sauce, cucumbers, tomatoes, lettuce, shallots, and any other produce that sounds refreshing.